Jump to Recipe
My Recipes
Go to Collections
This Spicy Mexican Corn Dip is a BOMB appetizer! It's hearty and warm, and get this–it's a healthy dip recipe! You can make it as spicy as you like, and enjoy impressing your friends with this easy appetizer recipe. This Spicy Corn Dip recipe is so good you'll want to double it.
I'd say that this Mexican Corn Dip is good, or easy, or popular–but seriously, it's amazing. And it's gotten a healthy makeover!
I have a friend who made this dip recipe while I was visiting her a few years ago, and I started making it for my friends in Arizona. Now, I can't stop making it. I've even come up with a healthy version of it–you're going to love this.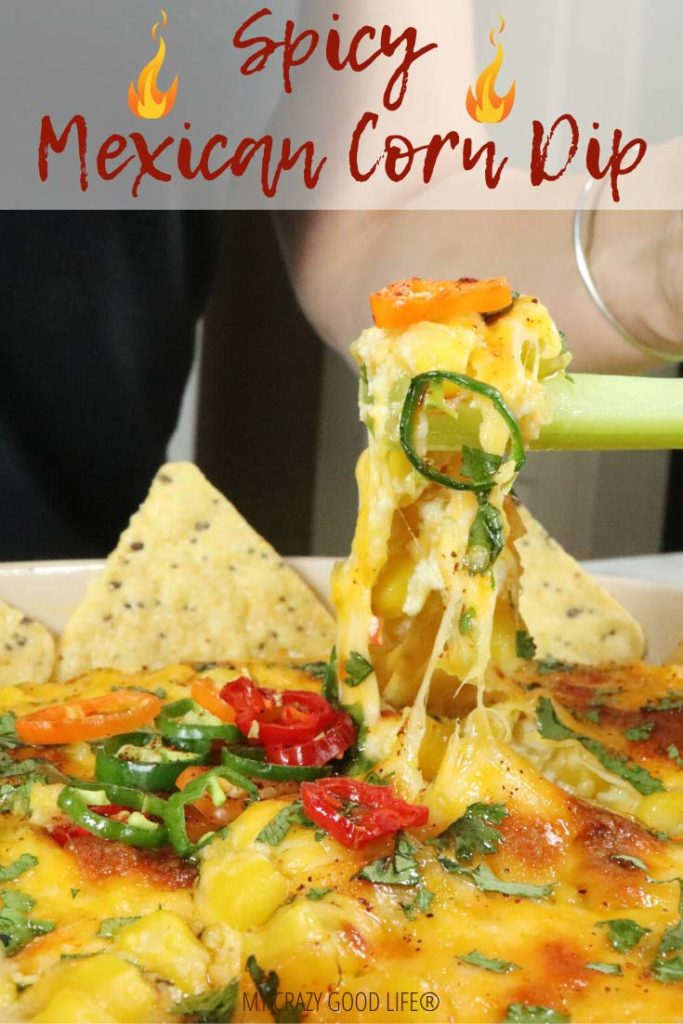 When I introduce people to this spicy corn dip, they rave. Then they ask for the recipe. Then they tell me they made the recipe, they impressed all their friends, and they shared the recipe.
Guys this is the easiest recipe to make–seriously. For the amount of praise it gets, you'd think it's a difficult recipe, but it's SO easy!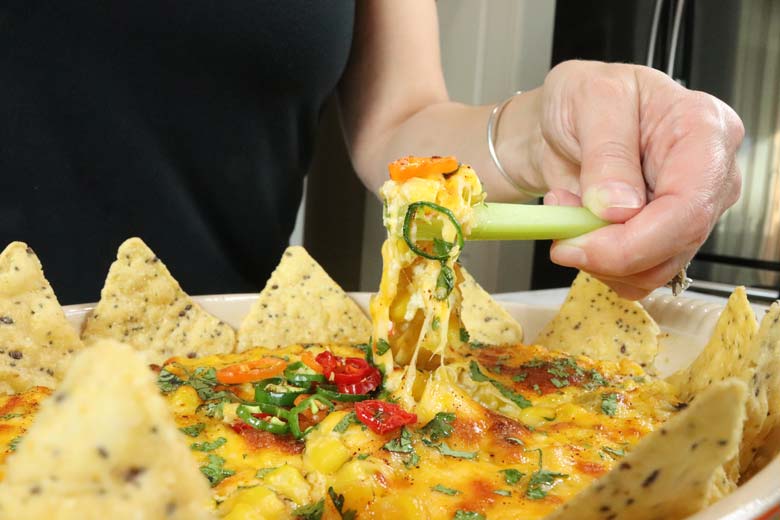 JUST TAKE ME TO THE SPICY MEXICAN CORN DIP RECIPE ALREADY!

I have readers from all levels of comfort and experience in the kitchen on my site, and I receive a lot of questions about recipes.

To better serve all of my readers here at My Crazy Good Life, I've made a commitment to put a ton of helpful information in all of my posts.

If you'd like to skip over the information about freezing, swapping ingredients, and diet information, please simply scroll to the bottom of the page, where you will find the easy printable Spicy Mexican Corn Dip recipe!

Ingredients for Spicy Mexican Corn Dip
There are two variations of this recipe–the original version and the healthy version. With regard to taste, I actually think the healthy version is creamier and more delicious. It doesn't have as much grease on the top after it's cooked, and of course the big bonus is that it has more protein and less calories than the original version.
Though I don't normally make recipes with so many "out of the pantry" ingredients, this one is perfect because you can always have the ingredients on hand. No running to the store last minute, no advance planning for making the dip. I always keep the canned ingredients in my pantry and the refrigerated ingredients are ones that we always have in there.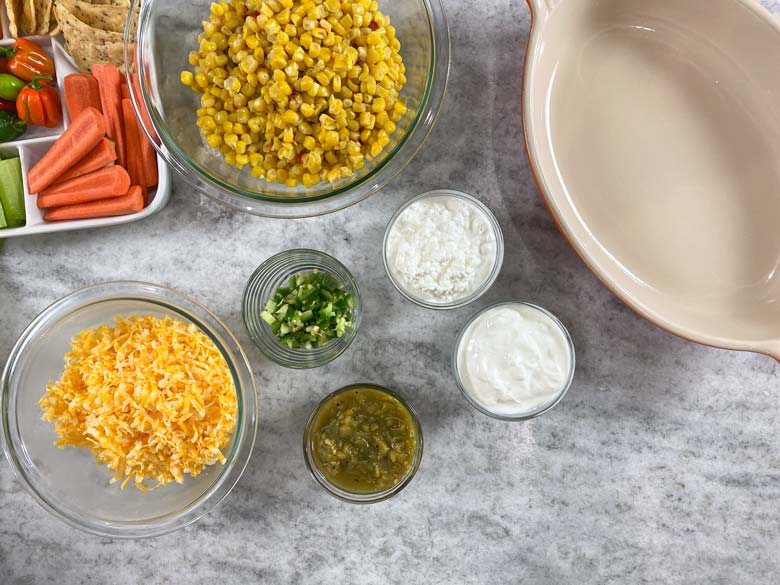 Original Recipe (with mayo)
1 can green chilies
1 can of jalapeños (or fresh!)
1 can fiesta corn (drained)
3/4 cup mayonnaise
1 1/4 cup shredded Mexican cheese
Nutrition Information per serving of the recipe with mayo (serves 8):
Calories: 400
Carbohydrates: 18g
Protein: 6g
Cholesterol: 33mg
Sodium: 534mg
Potassium: 172mg
Fiber: 3g
Sugar: 6g
Calcium: 128mg
Healthy Recipe
You can save more than 200 calories and double the protein in this recipe by using the healthy ingredients that are located below in the printable recipe! The ingredients and measurements for the healthy version of this dip are in the printable recipe below.
The healthy recipe uses green chilies, jalapeños, fiesta corn (which is just corn with chopped green and red bell peppers in it), cottage cheese and Greek yogurt, and cheese.
What do I serve with this tasty dip recipe?
This is a great recipe to make for friends and family members. It's also so versatile! You can top this recipe with sour cream, cilantro, chili powder, and even green onions without taking away from the overall taste and flavor. I think this recipe is similar to a Mexican street corn recipe or dip, but it's better. I like to serve it up with fresh veggies or corn chip varieties so people can scoop some up and enjoy!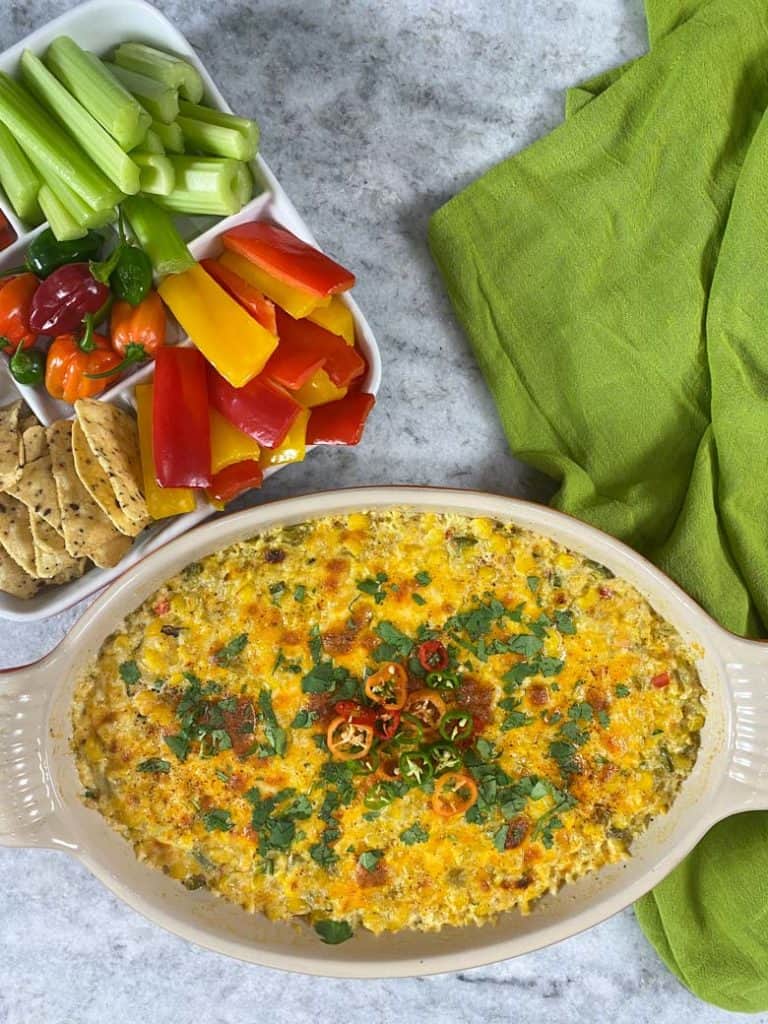 Directions for Mexican Corn Dip:
Let's take a look at how easy it is to make this crowd pleasing corn dip recipe.
1. Lightly grease one oven safe dish. You can use a cast iron skillet for this recipe too!
2. Stir to combine all ingredients (but reserve 1/4, or one handful of the shredded cheese) in a mixing bowl. Add the mixture to your dish and flatten it out a bit so it cooks evenly. Make sure to drain your corn!
3. Sprinkle shredded cheese on top (it makes the dip look so much prettier at the end!).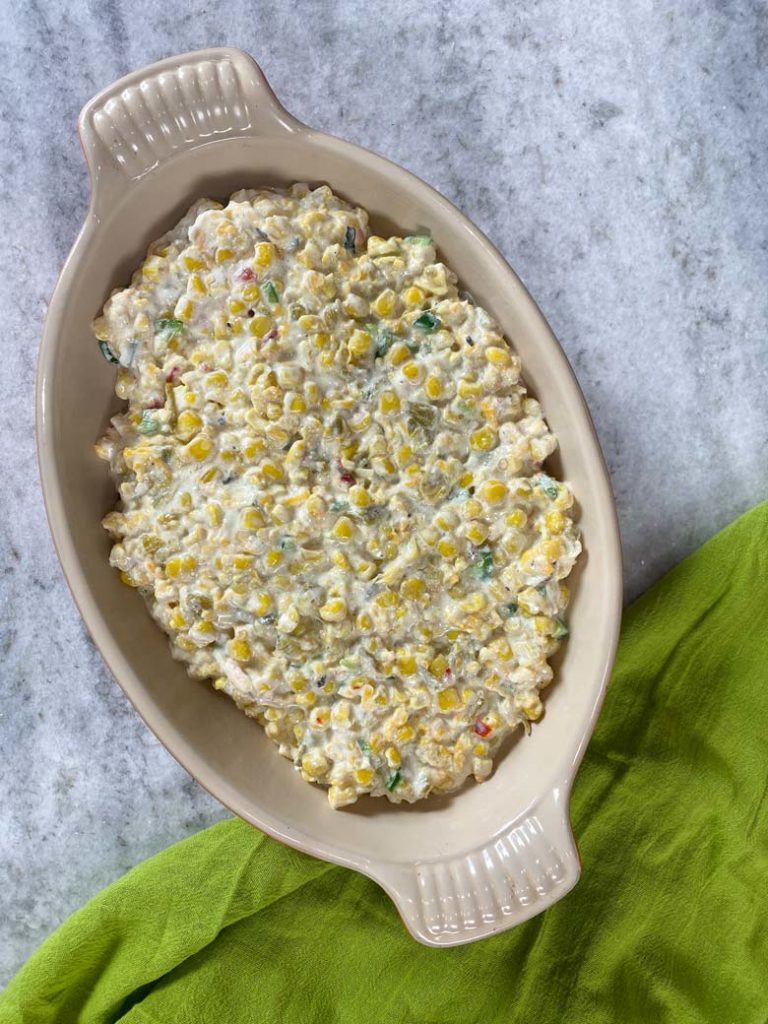 4. Set your oven to 350 degrees and bake the dip for 20 minutes. When the dip is beginning to bubble, you know it's done.
Now, set your oven to broil for two minutes but stay right there and watch it–the dip will go from brown to burned in just a few seconds.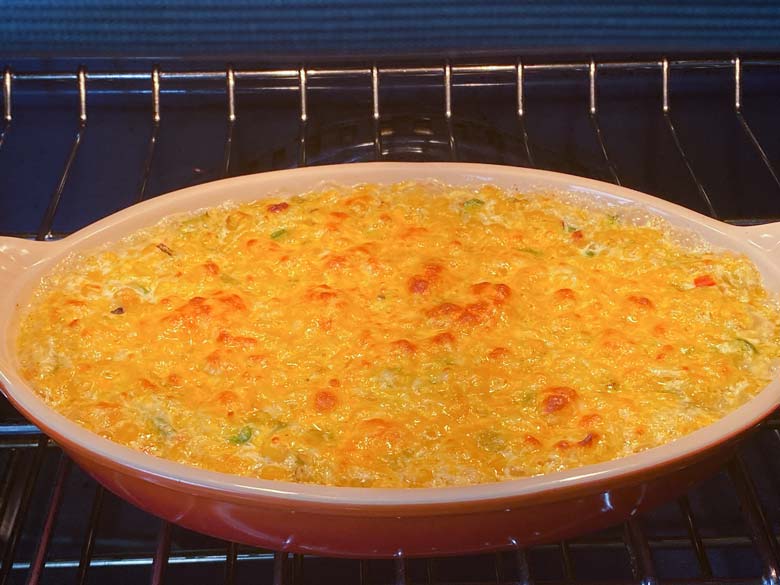 5. Serve with tortilla chips, corn chips, or fresh veggies!
Can I have this hot corn dip recipe on Weight Watchers?
One serving of this dip is 1/3 cup. The healthy version of this recipe is 3 Blue Plan Points per serving. As I mention in the video, I can't think of a reason to not use the healthy recipe over the original one. It's just as creamy but less calories and extra protein!
21 Day Fix Container Information
Serving size is about 1/3 cup. Containers for the entire recipe are 3 yellow containers (for the corn), 2 red containers (for the cottage cheese and greek yogurt), and 3 blue containers (for the cheese). For each serving, count 3/4  yellow container, 1/3 red container, and 1/2 blue container.
If you'd like to make this recipe without cheese to save your blue container, it still tastes delicious! It's still super creamy and hearty. Your counts per serving would be 3/4 yellow container and 1/3 red container per serving.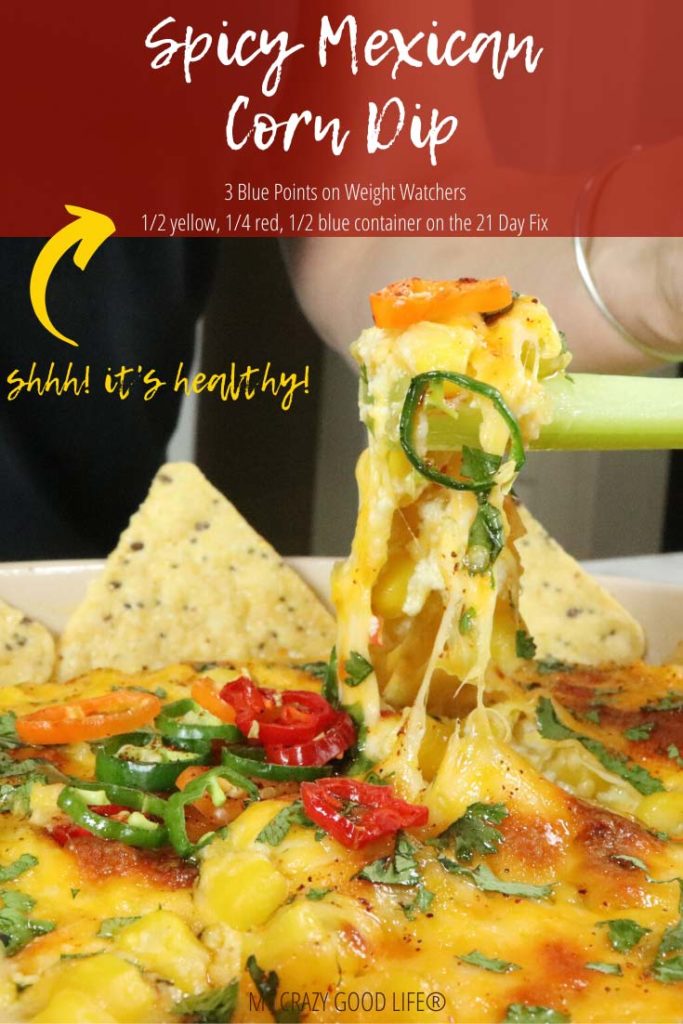 Looking for more great recipes to try?
If you're looking for more delicious appetizer recipes, or perhaps some margaritas to pair this dip with, I have some right here. This delicious corn dip recipe goes great on a grazing table during the holidays or as an appetizer for game night, drinks with friends, etc.
There has never been any leftovers when we make this great recipe but if you end up with some you can easily refrigerate and enjoy cold or reheated throughout the week!
Printable Spicy Mexican Corn Dip Recipe:
Spicy Mexican Corn Dip
This Spicy Mexican Corn Dip is a BOMB appetizer! It's hearty and warm, and get this–it's a healthy dip recipe! You can make it as spicy as you like, and enjoy impressing your friends with this easy appetizer recipe. This Spicy Corn Dip recipe is so good you'll want to double it.
Ingredients
Ingredients
1

can

green chilies

diced

1

can

jalapeños

diced, or fresh (optional)

1

can

fiesta corn

drained (it's the corn with red and green peppers in it)

1

C

mexican cheese

shredded, unseasoned

3/4

c

cottage cheese

3/4

c

greek yogurt

plain
Instructions
Lightly grease one pie plate (or use a cast iron skillet)

Mix together all ingredients and add to your plate or skillet.

Bake at 350 degrees for 20 minutes.

Brown the top of the dip for 2 minutes on the broil setting. Watch the oven, though–it goes from brown to burned quickly!

Serve with tortilla chips or veggies.
Video
Notes
Serving size is about 1/3 cup. 
Nutrition
Calories:
158
kcal
|
Carbohydrates:
15
g
|
Protein:
11
g
|
Fat:
7
g
|
Saturated Fat:
4
g
|
Cholesterol:
20
mg
|
Sodium:
350
mg
|
Potassium:
146
mg
|
Fiber:
2
g
|
Sugar:
5
g
|
Vitamin A:
279
IU
|
Vitamin C:
7
mg
|
Calcium:
162
mg
|
Iron:
1
mg
Nutrition & Diet Information