Today I'm sharing with you a delicious dip recipe that everyone will love. Spicy Mexican corn dip is a crowd pleaser in my kitchen…always!
I have a dear friend who made an amazing dip recipe while I was visiting her a few years ago, and I started making it for my friends in Arizona. Now, I can't stop making it.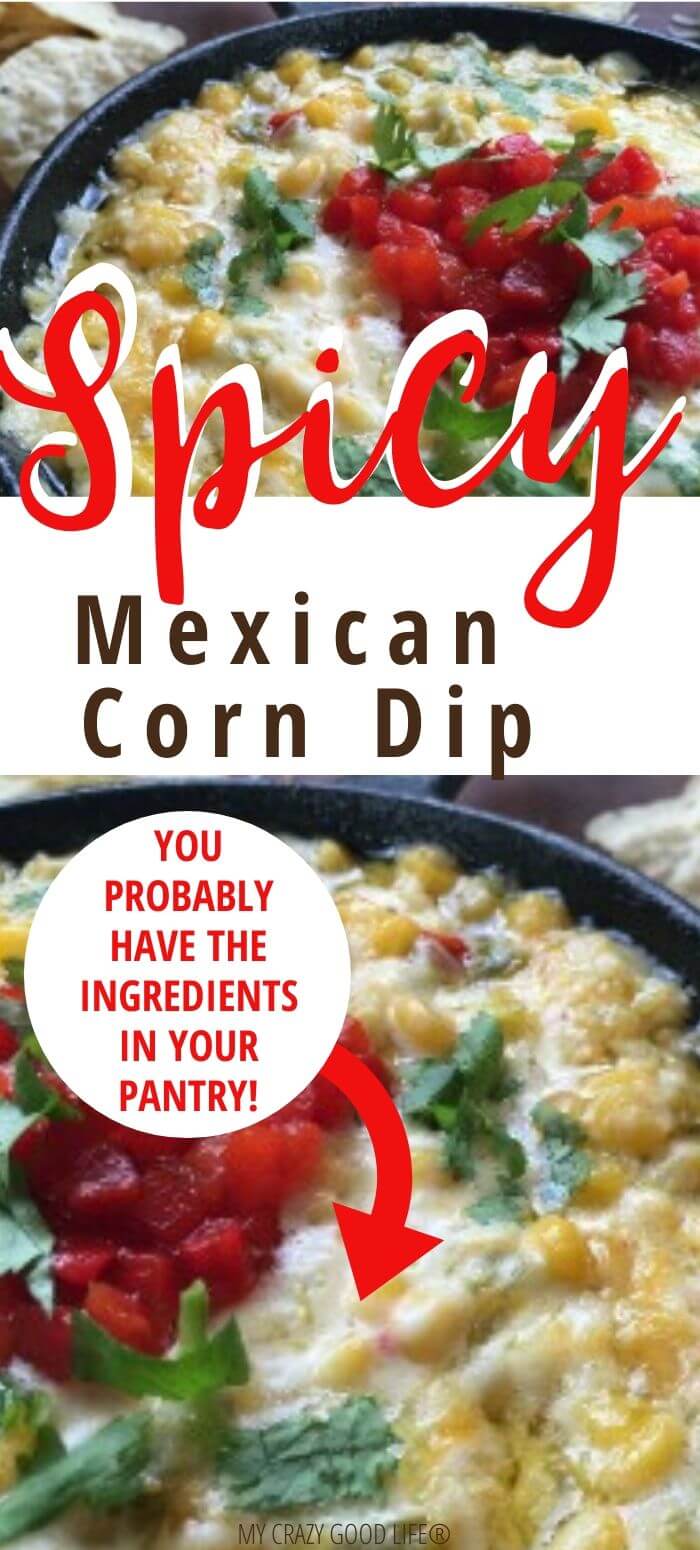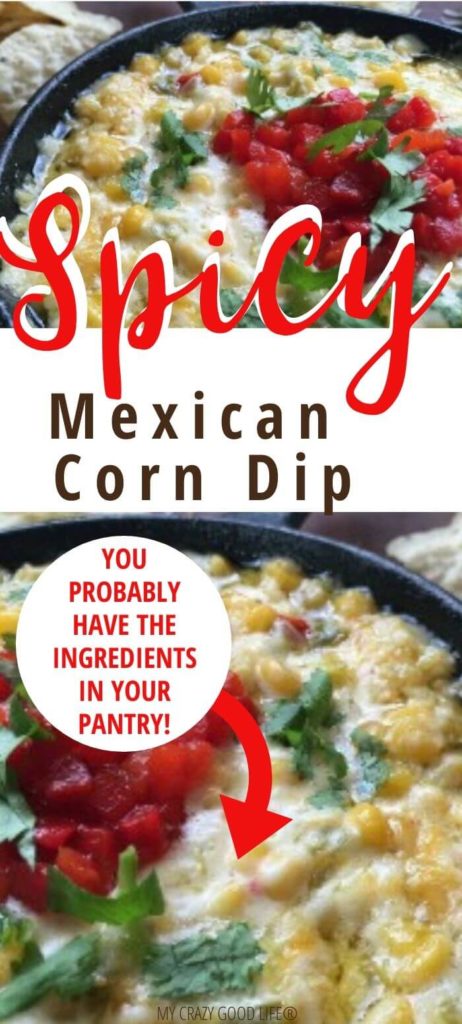 When I introduce people to this spicy corn dip, they rave. Then they ask for the recipe. They talk about it for a few days. Then they ask when I'll make it again…the truth is that this recipe could not be easier to make, truly!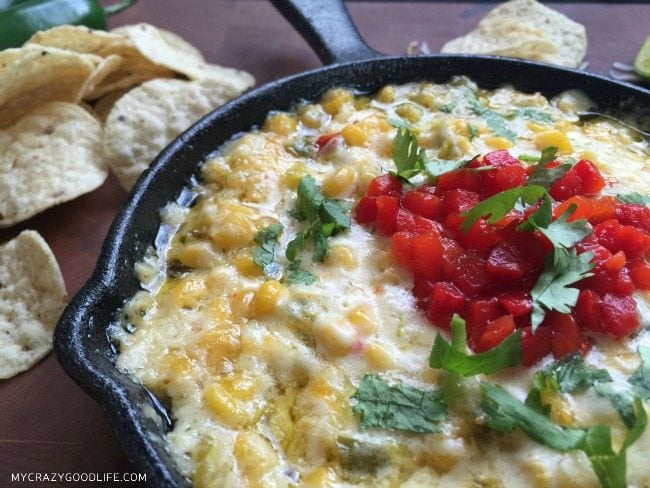 It's a vicious cycle I'll gladly participate in though. The dip is de-licious and it's unique in a way that buffalo chicken dip or spinach and artichoke dip just can't beat! I mean just look at the melty goodness that comes out of this pan?! It's incredible and once you start making it you'll be hooked too.
Ingredients for Spicy Mexican Corn Dip
Though I don't normally make recipes with so many "out of the pantry" ingredients, this one is perfect because you can always have the ingredients on hand. No running to the store last minute, no advance planning for making the dip. I always keep the canned ingredients in my pantry and the refrigerated ingredients are ones that we always have in there.
Green chilies
jalapeños
fiesta corn
mayonnaise
Mexican shredded cheese blend
As usual you can find the full amounts for each ingredient in the recipe card at the bottom of the post the list above is just to help you get an idea of what you will need and what is included in the recipe for my spicy Mexican corn dip!
What do I serve with this tasty dip recipe?
This is a great recipe to make for friends and family members. It's also very versatile. You can add things like sour cream, bell pepper, chili powder, and even green onions to this hot corn dip without taking away from the overall taste and flavor. I think this recipe is similar to a Mexican street corn recipe or dip! I like to serve it up with fresh veggies or corn chip varieties so people can scoop some up and enjoy!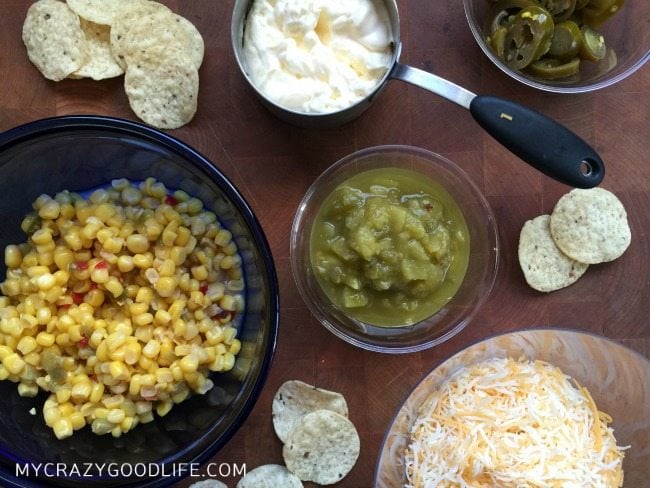 Directions for Mexican Corn Dip:
Let's take a look at how easy it is to make this crowd pleasing corn dip recipe.
1. Lightly grease one pie plate (or use a cast iron skillet).
2. Mix together all ingredients in a mixing bowl or use the skillet and then add to your pie plate or skillet if using a mixing bowl. Make sure you stir to combine everything well and save just a few veggies to top your dip!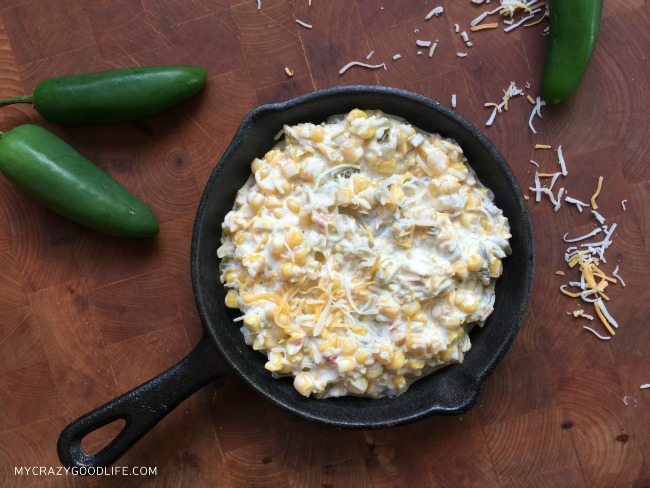 3. Bake at 400 degrees for 30 minutes (though, I've been known to cook it for less time and extend the next step's broil time so it's done faster).
4. Brown the top of the dip for 5 minutes on the broil setting.
5. Serve with tortilla chips, corn chips, or fresh veggies!
Can I have this dip recipe on Weight Watchers?
This spicy Mexican corn dip recipe is a little high in points as is…I'm going to share some ways that you can reduce that number though. As stated in the recipe card below this recipe makes 8 servings at 15 points each.
Here are some ways that you can reduce the amount of points per serving. Remember, if you make these changes you'll need to recalculate the recipe so you have accurate points per serving based on the changes you decide to make for yourself.
Use light mayonnaise. You can have twice as much for the same points (3 points per 2 Tbsp) versus regular mayonnaise (3 points per 1 Tbsp).
Use reduced fat shredded cheese. Again you'll be cutting out a lot of points by using a light cheese blend.
Double up the corn! Adding more corn, jalapeños, chilies, etc will give you more bulk which you can translate to more servings per batch! It's a little less rich this way and still equally spicy and delicious.
I've made simple changes like these to get this recipe down to less than 5 points per serving and you can do the same! As always, if you decide to make this recipe with changes I can't guarantee the results.
I've tried it with the lower fat cheese and mayonnaise and the changes to flavor and texture are minimal so I feel confident suggesting those as your best bet.
Looking for more great recipes to try?
If you're looking for more delicious recipes, or perhaps some margaritas to pair this dip with, I have some right here. This delicious corn dip recipe goes great on a grazing table during the holidays or as an appetizer for game night, drinks with friends, etc.
There has never been any leftovers when we make this great recipe but if you end up with some you can easily refrigerate and enjoy cold or reheated throughout the week!
Printable Spicy Mexican Corn Dip Recipe:
Spicy Mexican Corn Dip
This spicy Mexican corn dip is a delicious appetizer recipe!
Ingredients
Ingredients
1

can

green chilies

diced

1/2

can

jalapeños

diced, or fresh

1

can

fiesta corn

(with red and green peppers in it)

3/4

C

mayonnaise

1 1/4

C

mexican cheese

shredded, unseasoned
Instructions
Directions
Lightly grease one pie plate (or use a cast iron skillet)

Mix together all ingredients and add to your plate or skillet

Bake at 400 degrees for 20 minutes (though, I've been known to cook it for less time and extend the next step's broil time so it's done faster)

Brown the top of the dip for 5 minutes on the broil setting

Serve with tortilla chips
Notes
Weight Watchers Freestyle Smart Points: 7 when using reduced fat cheese
Nutrition
Calories:
265
kcal
|
Carbohydrates:
14
g
|
Protein:
6
g
|
Fat:
21
g
|
Saturated Fat:
6
g
|
Cholesterol:
25
mg
|
Sodium:
381
mg
|
Potassium:
127
mg
|
Fiber:
2
g
|
Sugar:
4
g
|
Vitamin A:
264
IU
|
Vitamin C:
7
mg
|
Calcium:
119
mg
|
Iron:
1
mg