This site contains affiliate links. Please see Policies for more information.
These meal prep tips for beginners will show you how to meal prep as well as easy ways to plan ahead and make life simple and easy in the kitchen.
Whether you're making meals for yourself or the entire family, prepping beforehand can save you time, save you money, meet your health goals, and reduce your stress in the kitchen.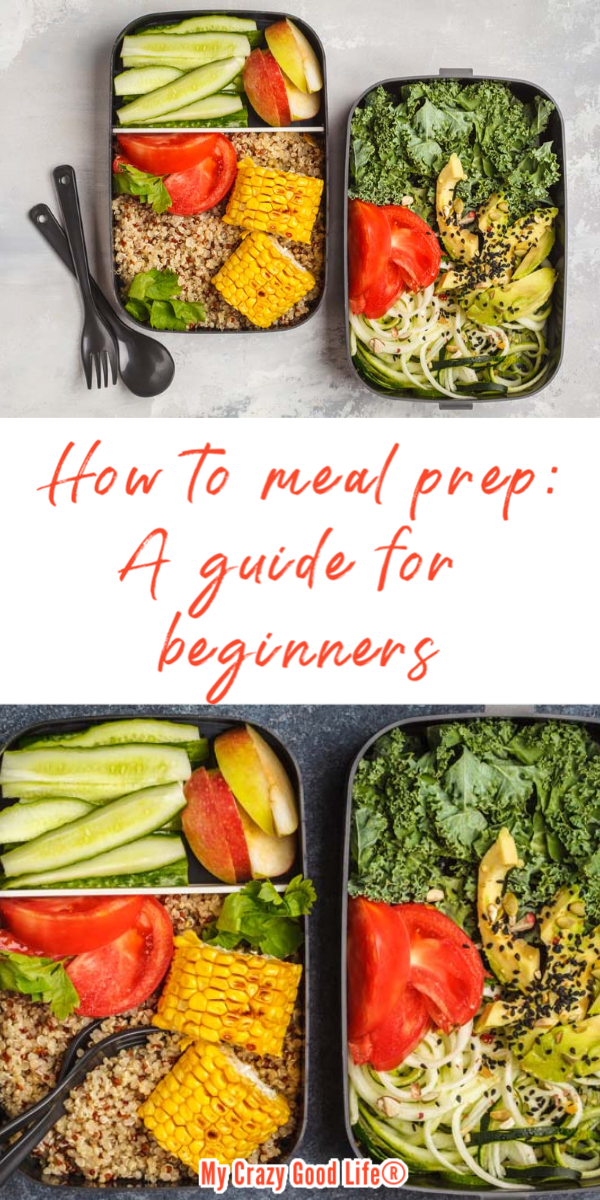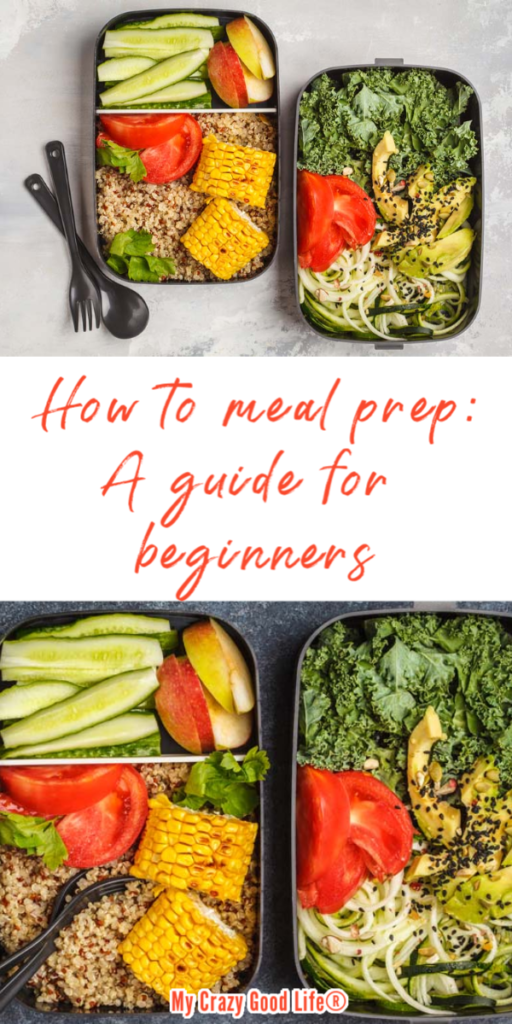 Why should I meal prep?
I love prepping snacks and lunches for the week because these are the things I struggle with if you're not within reach for me. If I don't have healthy snacks ready to eat, I end up grabbing a handful of chips. If I don't have lunch prepped, I skip it or typically grab something unhealthy because I'm in a hurry.
When it comes to breakfast and dinner, I enjoy cooking them every morning and night. Because of this, I don't typically prep my breakfasts and dinners ahead of time.
The thing is…if you don't want to meal prep, you shouldn't. If you enjoy cooking three meals a day for your family, and the thought of preparing meals for the week stresses you out, maybe meal prep isn't for you?
If you are eating portioned meals on the Fix, you might want to check out these free 21 Day Fix meal plans that are already made for your specific calorie needs.
Meal Prep Tips and Tricks:
While you probably don't need to add to your kitchen before prepping, some of the things I love most for prepping can be found in my Amazon store. From food storage, small kitchen appliances, and time saving utensils, I've created a beautiful and helpful store for you.
First, Make a List
The first thing you should do is make a list–it will help you stay organized.
The list will be made up of meal prep recipes and ingredients you will need to make your meal. Check the list against what you already have in your kitchen before heading to the grocery store!
Did you know that I've pulled together an entire section of My Crazy Good Life that has easy meal prep recipes? These healthier foods and recipes keep well in the fridge or freezer and can be easily frozen and reheated in case you make too much or your plans change halfway through the week.
Recipes specific to meal prepping are important because they're hearty and keep well in the fridge. I love using sweet potatoes, hearty vegetables like broccoli and cauliflower, and pasta dishes for meal prep ideas.
Another amazing feature that has recently been added to this website is the ability to make a grocery list from any recipe or recipes that you choose!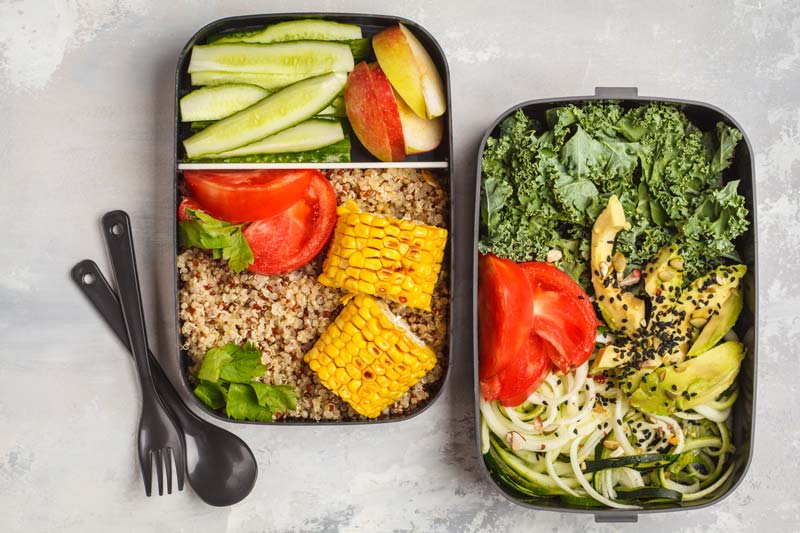 How to make a grocery list on My Crazy Good Life:
Time needed: 5 minutes
You can save single recipes or full meal plans, then print grocery lists for free right here on the My Crazy Good Life website. Here's how:
Create an account

You'l need to create an account so that you can save your recipes. If you save recipes without creating an account, they won't be saved if your browser times out.
Click here to create an account, or scroll up to the top toolbar and hover over Recipe box.

Find a recipe

Find a recipe you'd like to add to your recipe box and scroll down to the printable recipe. Click Save Recipe. It's on the right side of the box under the picture, where you can print and rate the recipe.

Go to your saved recipes

The Save Recipe button changes to Go to Collection after you add it. Click Go to Collection to see your saved recipes.

Click on the recipe (or recipes) you'd like to create a grocery list for

You'll see options on the right to add more recipes, remove recipes, show the nutrition facts, print the recipe, or create a shopping list. Go ahead and click Shopping List.

Print your list

This is your list! Go ahead and print it out and make adjustments where necessary. I always shop my pantry before heading to the grocery store.
Now, Prep the Foods
There are two main ways to meal prep–you can prepare the ingredients to cook later, or you can dive right in and cook all of your meals right now.
If you're wanting to prepare the ingredients to cook later, follow the next few steps:
Once you have all the ingredients you need, prepare (or prep) every last item. Clean and cut meats, clean and dry fruits and veggies before storing them in your fridge, prepare your seasonings, and place everything in containers so they are easy to grab when you need them for a meal.
When veggies, meat, and other ingredients are already chopped, mixed, and cleaned, it is much easier to throw together a meal that is healthy and cost effective!
Next, Start Meal Prepping by Batch Cooking
If you're wanting to cook all of your meals right now, follow the next few steps:
It takes just a few minutes to make a plan for your batch cooking session. Write down the order that you'll cook your meals in–this is so very helpful and can help you stay on track so this prep session doesn't take all day long.
I always start by cooking the recipe that requires the least amount of prep. While that recipe is cooking, prepare the ingredients for the next recipe.
Keep in this cycle–while one recipe is cooking, prep the next one. If you have extra time, cut veggies for snacks, portion out nuts and other snacks, or clean up your kitchen.
As meals finish cooking, you can place them in individual meal prep containers, place the entire meal into a large meal prep container, or stick the meals right in the freezer for use later in the week.
Looking for Smoothie Prep?
If you plan on making a smoothie, there is a trick to stop from making too much! Fill your blender with all of the the ingredients you need except for the liquid and protein powder. Once you have your smoothie ready, dump the ingredients into a zipper bag so that one bag equals one smoothie.
Place the bags in the freezer to keep them fresh. When you're ready to make a smoothie, take the bag out and let it defrost a bit, then throw everything but the bag into the blender. Add your protein powder and liquid, and blend!
How about salad in a jar?
If you're going to prep salads for the week, you'll definitely want to prep them individually (instead of one huge salad that you pull a little from every day).
The best way to prep a salad ahead of time is to separate each portion into glass jars–mason jars are perfect. Each jar is one serving of a salad, and the glass jar will keep it as fresh as possible.
Put your salad into the jar with all wet ingredients and sturdy veggies on the bottom and the lettuce on top! Add a folded paper towel to the top before putting the lid on–this will help soak up the moisture and allow your prepped salads to keep longer. Here's my Mason Jar salad recipe to get you started!
Looking for more help? You might enjoy my beginner series for meal planning and prepping:
If you're feeling overwhelmed with the idea of meal prepping, you should check out this post from my friend Randa about the 5 most common meal prep mistakes–it can help you!
The best meal prep recipes: Save
Like I mentioned above, the best meal prep recipes are ones that are hearty, keep in the fridge all week, and can be easily frozen and reheated in case your plans change or you make too much.