This site contains affiliate links. Please see Policies for more information.
Welcome to the third of a four-part series on how to meal prep. The first two introduced you to the concept and started with light meal prepping. If you'd like to revisit those, or skip ahead, here are the links:
In level 3, we'll build off of what we have already prepped and add Breakfast. Plan on this taking 2-3 hours when using an Instant Pot to help.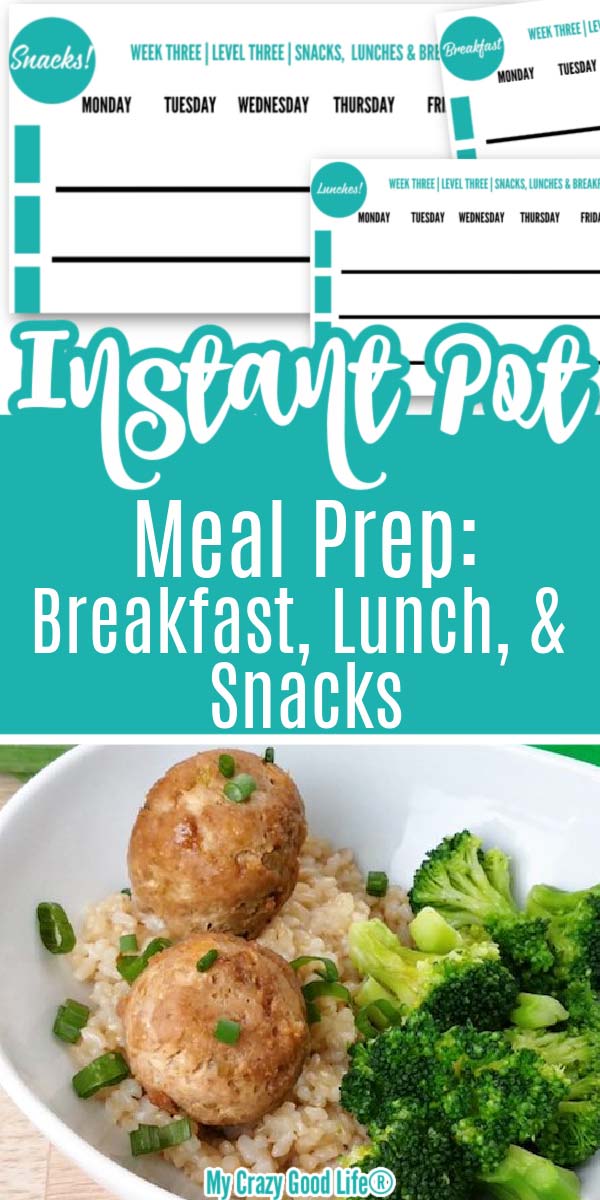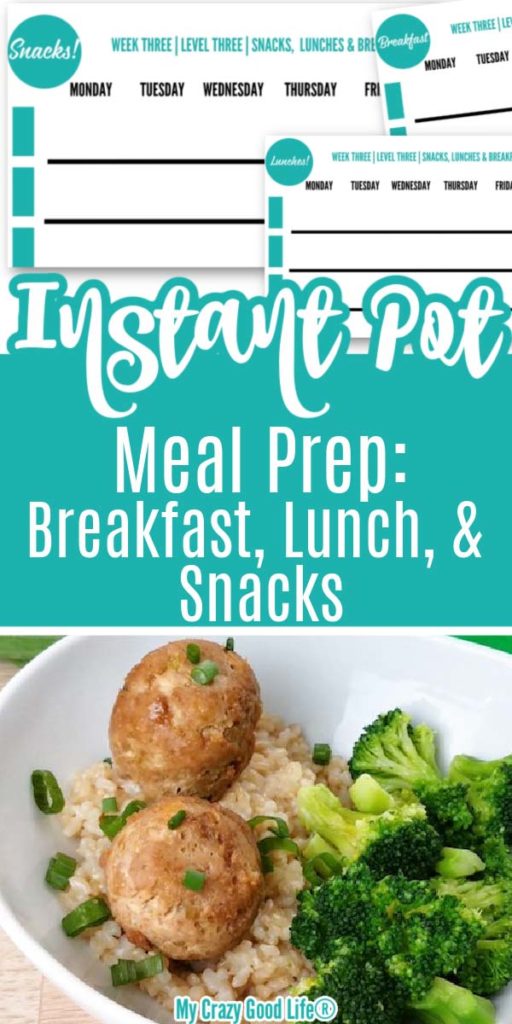 This step is where meal planning and prepping can become overwhelming–it's a lot of time in the kitchen.
There are tricks to help combat this, like not cooking everything all at once. Combining the spices and other ingredients and then setting them aside to cook later can really help ease the long prep day.
What meal prep tools do I need?
The rights tools can not only save time, but make meal prep easier. Here's the list of my kitchen essentials:
While I love to meal prep with the Instant Pot (it's a staple in my kitchen), you can do all of this without a pressure cooker. Most of my recipes have stovetop, oven, crockpot, and Instant Pot instructions. Use what you're comfortable with!
Let's begin with some FAQs:
Why do I always waste food when I meal prep?
Some people end up wasting food after they meal prep. There are several reasons that this happens: 1. They prep too much food.
2. They prep recipes or food that doesn't last a full week.
3. They get bored with the food they make, and eat out or make something else.
How do I avoid food waste when I meal prep?
1. Make easy to freeze recipes and put the prepped food in the freezer when you make it. Pull it out the night before you eat it.
2. Make several recipes and plan on freezing half of each so you can have some variety in your lunches.
3. Only buy the food and snacks that you have a solid plan for.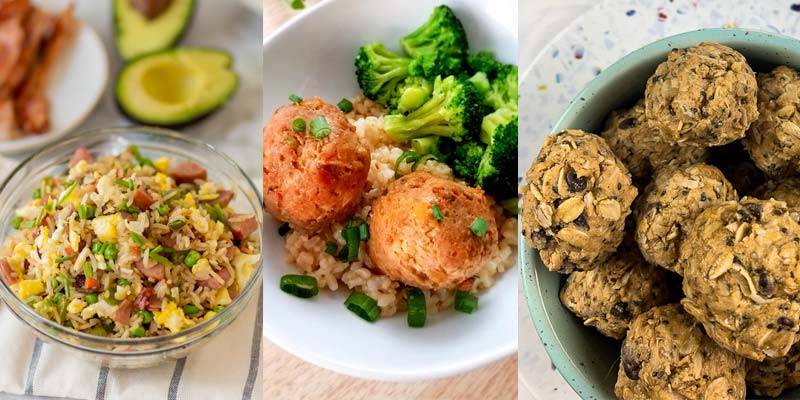 Let's plan breakfast, lunch, and snacks
As always, start your plan session by reflecting on the prior week and evaluating what worked and what didn't. Answer the following:
How much food do I need? How many people do you need to prep for?
Check your calendar to see what's going on during the week and adjust your meals accordingly.
What do you want extra of? It's always a good idea to have extra non-perishable snacks handy
Looking for something different?
If you're wanting completely different recipes, you can choose from my Easy to Meal Prep recipes, healthy Instant Pot Meal Prep recipes, or choose one of your own! I also have a category of recipes that take 30 minutes or less if you're focused on time. 
You don't have to stick to the Instant Pot! If you have another recipe you love–maybe a sheet pan dinner, for example, use that! Making whatever you like to eat will help you be successful in this meal prep.
Snack Prep:
Most of our snacks this week are store bought, but I also highly recommend these Peanut Butter Protein Balls.
Chips and Salsa Store-bought tortilla chips and fresh salsa from the grocery store. Our son eats these after school.
Guacamole cups We like the 100 calorie packs of guacamole that you can buy at the grocery store. They're usually by the fresh salsa, and they're super easy to store.
Nuts We buy unsalted nuts from Costco and I portion them out into small zip bags.
Raw Vegetables We snack on raw vegetables every day (carrots, celery, cucumbers, radishes, and bell peppers).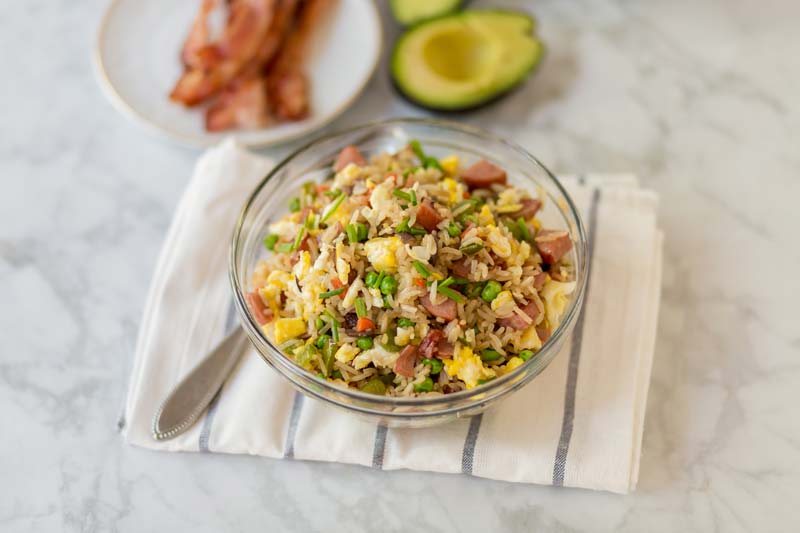 Breakfast Meal Prep:
Breakfast Fried Rice

This is one of our favorite meals to make for breakfast (or lunch, or dinner!).
Feel free to omit the meat entirely, or to use just one of the.meat options if you'd like.
There are both stovetop and Instant Pot directions for this recipe.
We eat this recipe as it in a bowl or add it to breakfast burritos–it's delicious either way!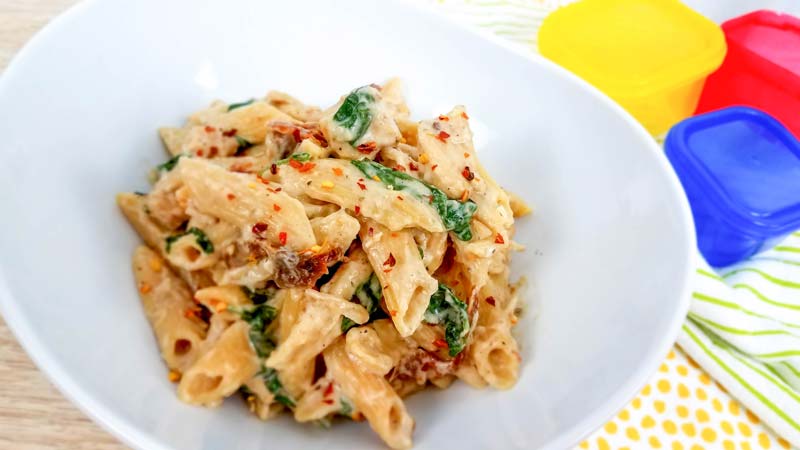 Lunch Meal Prep:
I am prepping these two recipes for lunch. My husband and I will swap every other day so we don't get bored. I added a few notes about adaptations that you might want to make:
Teriyaki Meatballs

You're can use any ground meat that you prefer in this recipe.

This recipe can be made in the Instant Pot, Oven, or Slow Cooker.

Liquid aminos can easily be swapped out for low sodium soy sauce or Tamari. Personally, we prefer Tamari

Tuscan Chicken Pasta

This recipe can be made in the Instant Pot, Stovetop, or Slow Cooker.
You can use halved grape tomatoes instead of the sun dried tomatoes if you prefer.
Remember, you don't have to make exactly what I'm making and you don't have to rely only on Instant Pot recipes.
Adjust and make what works best for you. This is all part of the process to build your experience and confidence to help you be successful!
Enter your email here for access to the free meal planning printables (calendars and shopping lists) that I have prepared for you.
By entering your email address, you will be added to the My Crazy Good Life email list. You can unsubscribe at any time. The information will only be used to provide you with updates according to our privacy policy, found on our website. We will never sell your info. If you don't receive your sign up link or printables, please check spam. If you still don't see it, please email me at beccaludlum@gmail.
Let's Go!
1. Make a grocery list
To create my grocery list, I read my recipes line by line and add items to my list after checking my pantry for them. I like to divide the sheet into the two main sections of the grocery store–inside aisles and outside aisles.
You can also scroll down to see the printable grocery list for this meal prep. If you'd like to save these recipes or make free meal plans of your own, Click here for detailed directions on how to make (free!) meal plans and print grocery lists here on My Crazy Good Life.
2. Meal prep
My most important meal prep tip: Never stop moving. While one recipe is cooking, you should be chopping, prepping, or cleaning. Any time you try to leave the kitchen to do another task, you'll be adding time onto your prep session.
I like to start by making the easiest recipe first–in this case, it's the rice that goes with the breakfast rice and teriyaki chicken.
Prep all of the other ingredients for the Breakfast Rice so when the rice is finished cooking, you can remove the rice and add the veggies and meat right to the pot.
While the rice is finishing up, gather your ingredients together for the Teriyaki Meatballs. Remember to keep the ingredients for the sauce separate from the ingredients for the meatballs.
When the rice is finished cooking, divide it up between what you need for the rice and what you need for the meatballs. Finish the Breakfast Rice up by cooking the meat and veggies and adding the sauce. Stick it in the fridge :)
Make the Teriyaki Meatballs. After putting them in the pot, begin prepping your ingredients for the Tuscan Chicken Pasta. If you have extra time, this is where you'll make your Protein Balls.
When the meatballs are finished cooking, you can cook broccoli quick by following these directions:

Cook the meatballs for 3 minutes less, and at the end of the cook time, add chopped broccoli to your Instant Pot (on top of the meatballs) and close the lid again. Set the pot to cook for 0 (yes, zero!) minutes. The pot will actually be cooking as it comes to pressure and will then immediately release pressure. When it's done, quick release and your broccoli should be perfectly cooked! 

After the meatballs are cooked, stick them in the fridge and begin cooking your Tuscan Chicken Pasta. As that meal is cooking, go ahead and finish making your Protein Balls.
When the Pasta is finished, put that in the fridge and clean up–you're all done!
More healthy Instant Pot recipes:
If you're looking forward to eating healthy this week, try some of these recipe ideas (one of our favorites is this Instant Pot Chicken), browse my Easy to Meal Prep Recipes.
When you're ready for the final piece of this meal prep puzzle, head over to Level 4: Breakfasts, Lunches, Dinners, and Snacks