Do you need some help meal planning and prepping? It's not easy, and it's definitely a good plan to start small, since not everyone needs the same level of meal planning and prepping. Here's how I save time by meal planning breakfast and lunch for the week.
Meal planning can be overwhelming–so can meal prep! Trying to do all of the cooking for the week at one time is something that none of us love to do, but I really feel that you can be efficient once you figure out which level of meal prep is right for you.
This is not strictly an Instant Pot meal prep–you can do this without an Instant Pot or electric pressure cooker, it just might take longer–which is fine!
Remember, whether you are comfortable using your stove, a Crock Pot, or an Instant Pot, you need to make this work for you.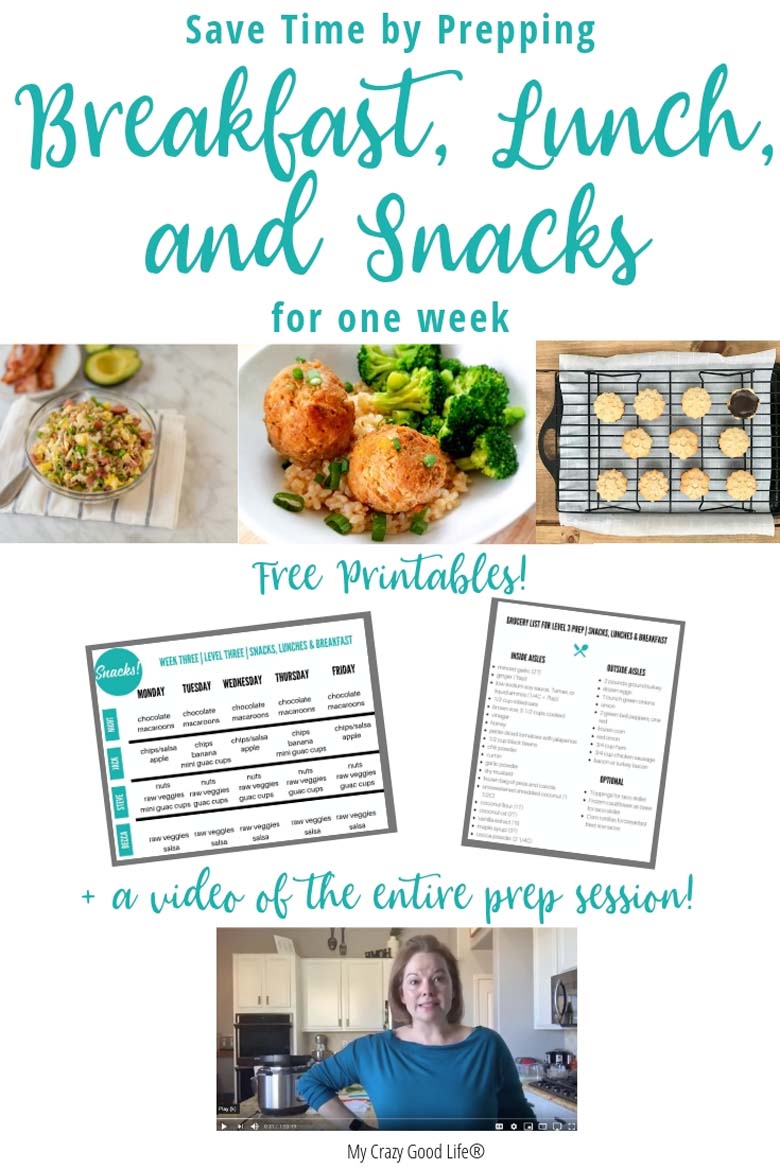 About this meal plan and prep series:
I break meal planning and prepping down into four levels:
Level One: Just Snacks | Getting Started with Meal Planning
Level Two: Snacks and Lunches | Meal Planning and Prepping Lunches and Snacks
Level Three: (this article) Save Time by Meal Planning Breakfast and Lunch (with snacks)
Level Four: Snacks, Breakfast, Lunch, and Dinner | How to Plan and Prep Your Meals in Under Four Hours 
Why should I meal prep?
You should meal prep if you want to–seriously. If you're the type of person who loves to cook every day, don't stress about prepping! I prefer to make only lunches and snacks for the week for my house and cook breakfast in the mornings and dinners every night of the week.
In general, many people plan and prep to save money, have a plan for leftovers, and know that they have meals for the week ready before the week begins.
Some people find that they have a lot of food waste by meal prepping, and at that point it just doesn't make sense.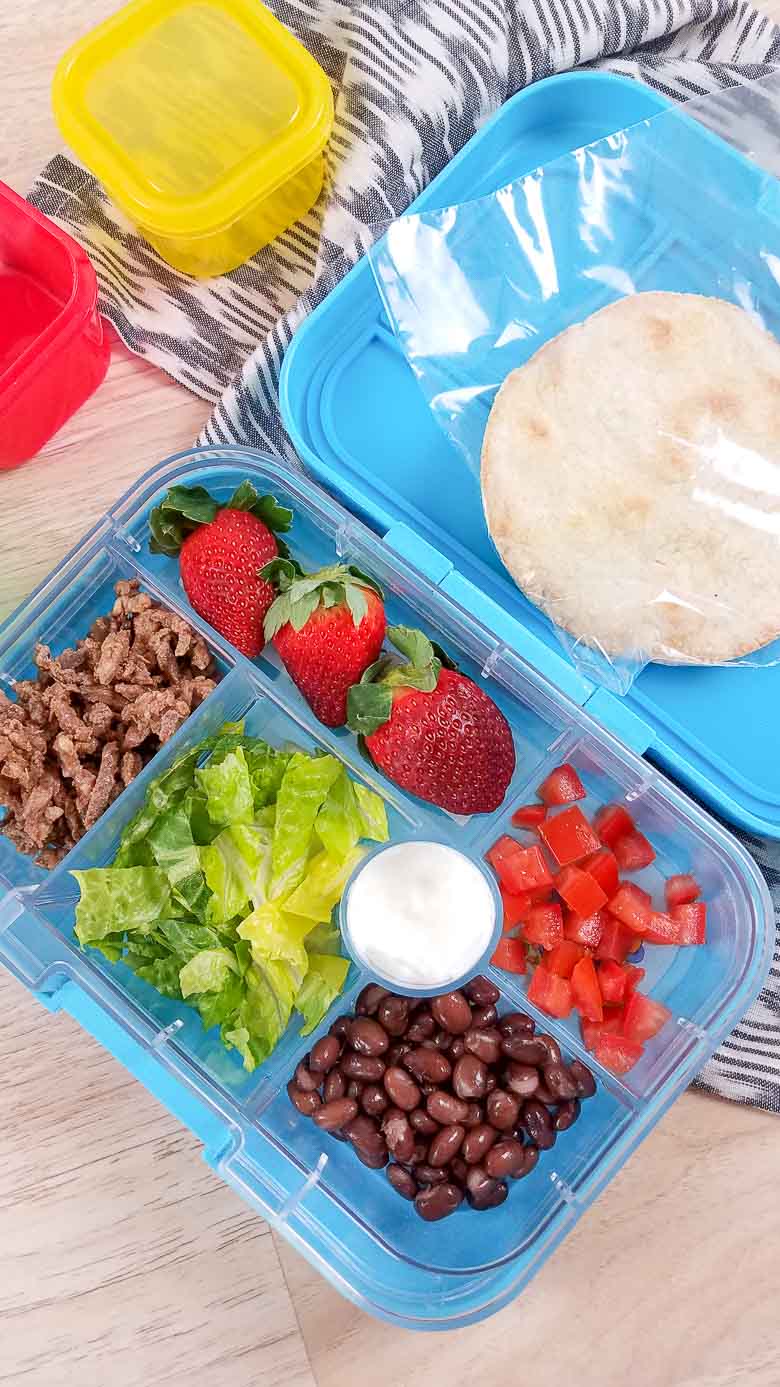 How do I avoid food waste when I meal prep?
Some people end up wasting food after they meal prep. There are several reasons that this happens:
they prep too much
they prep recipes or food that doesn't last a week long
they get bored with the food they make, and eat out or make something else
I've found some ways to avoid wasting food when you meal prep:
Make easy to freeze recipes and put the prepped food in the freezer when you make it. Pull it out the night before you'll eat it.
Make several recipes and plan on freezing half of each so you can have some variety in your lunches
Only buy the food and snacks that you have a solid plan for. No need to stock up on extra strawberries because they're on sale if you didn't plan for them.
How to start meal planning breakfast, lunch, and snacks
It's important to always start your plan session by looking back to last week and asking yourself a few questions:
Step One: How much do I prep?
How many people will be in the house this week?

Think about sports, days off, half days, field trips, and work schedules.

When does your household usually snack?

Should you plan to prep daytime and nighttime snacks, or are daytime snacks enough?
Step Two: What do I prep?
What does your household enjoy eating and snacking on?

Can you make it a balance of healthy and delicious?

What will easily last for the week? I look for hearty recipes and foods that keep well and are easy to freeze like sweet potatoes, chicken breasts, hard boiled eggs (you probably won't be freezing these), and steel cut oats.
This is what our menu looks like for snacks: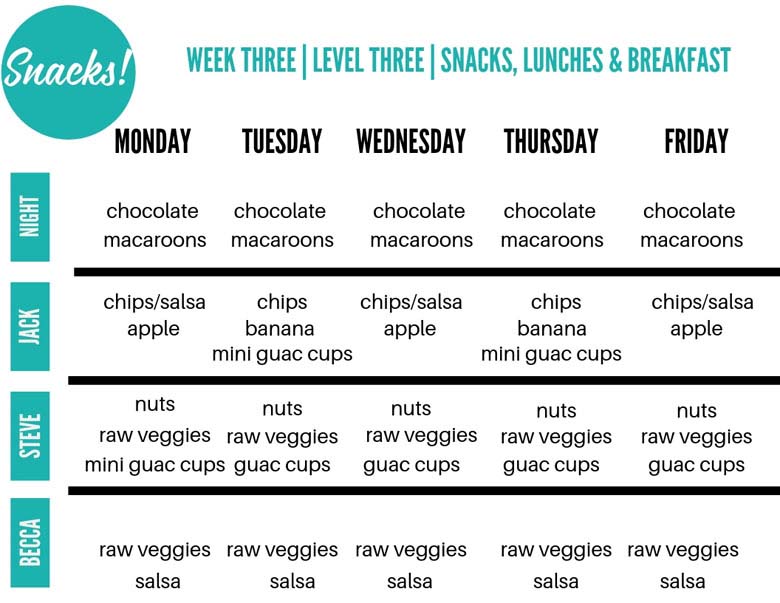 This is what our breakfast menu looks like–no need to be complicated, just make it easy!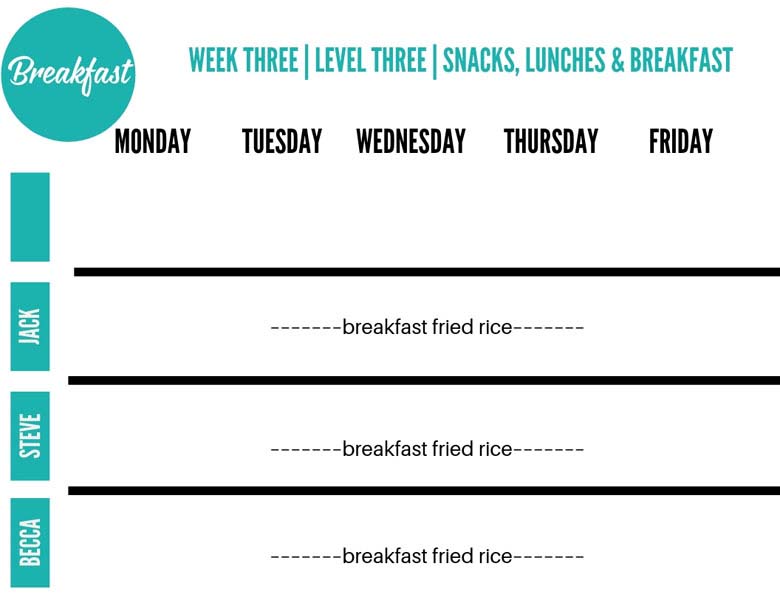 And our lunch menu for the week. My husband and I will swap every other day with lunches to help us not get bored: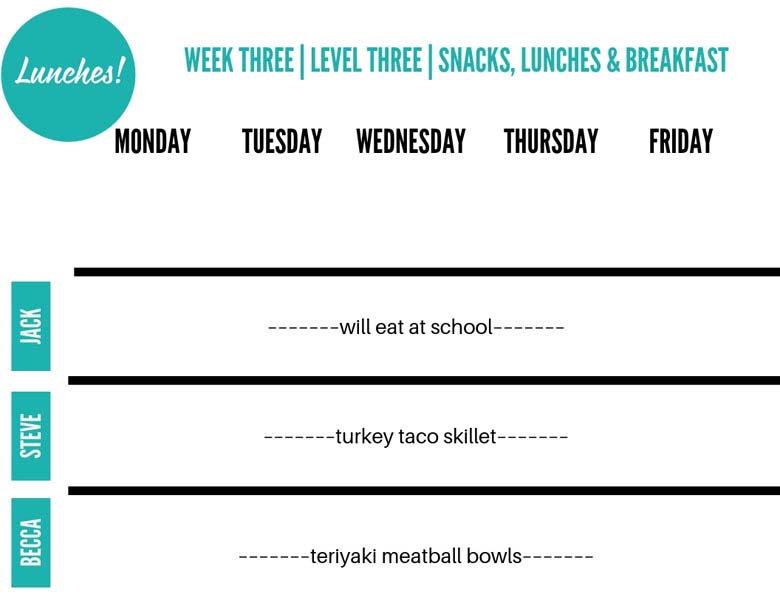 Step Three: What extras should I have on hand?
What happens if we are hungrier than usual for one or two days?

What about when friends or extended family come over and snack?

Any chance your significant other will eat extras?
Always have have a few extras on hand for emergencies. Granola bars, nuts, and fruit that lasts a bit, like an orange, are great for these extras.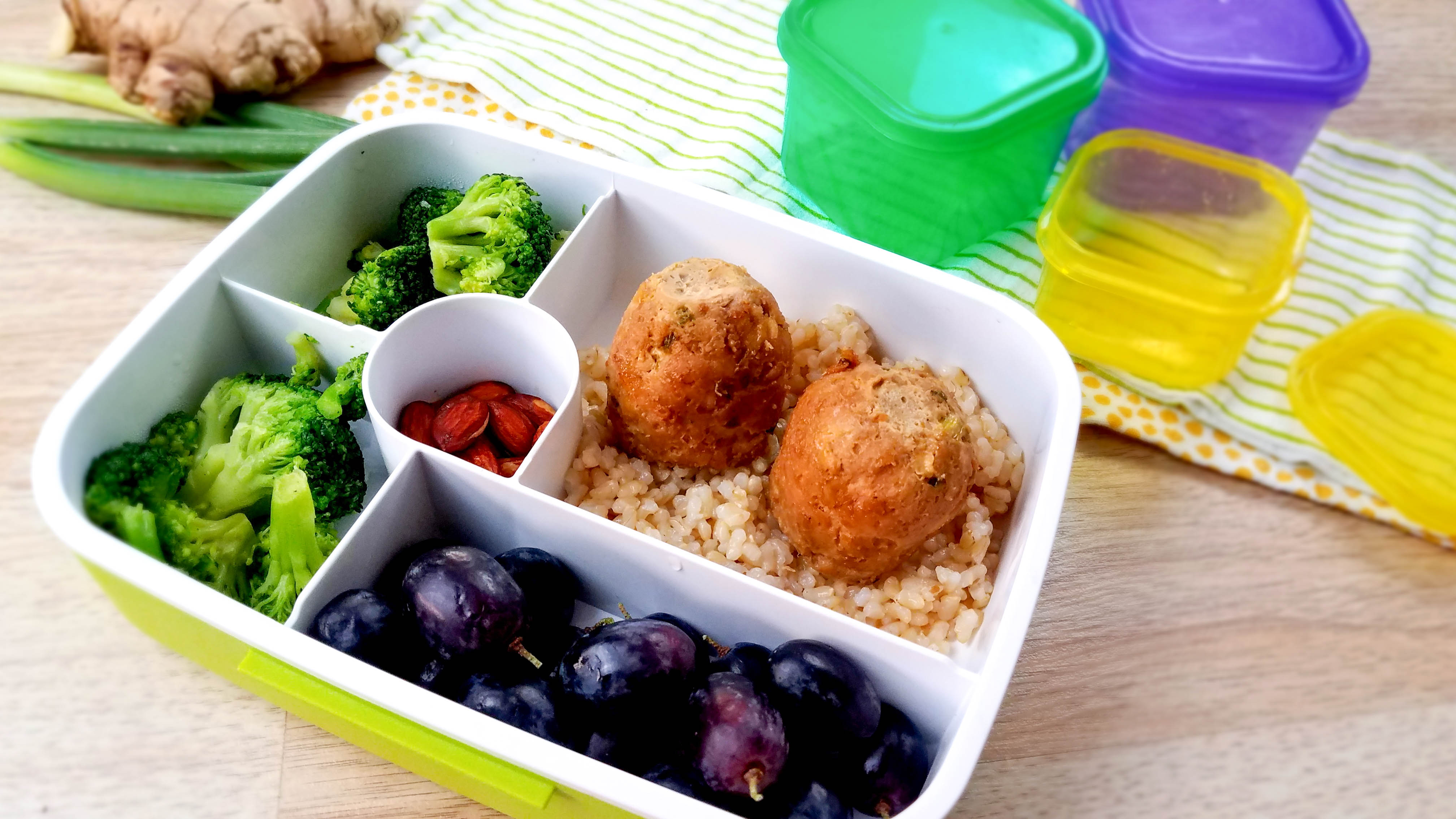 How long does it take to meal prep?
That's the most common question I'm asked! It totally depends, to be honest.
How many people are you prepping for?
How many meals are you prepping? This is what I call your prep level.
Are you using a Crock Pot, Instant Pot, or just the stove and oven?
One of the reasons I created this series was because I wanted my readers to see exactly how long it took me to prep for different level. Here's my final data:
Level One | Snacks Only: 15 minutes to plan and create a shopping list, 45 minutes to prep
Level Two | Snacks and Lunches: 25 minutes to plan and create a, 1 hour and 15 minutes to prep.
Level Three | Snacks, Breakfast, and Lunch: 40 minutes plan, 1 hour and 50 minutes to prep.
Level Four | Snacks, Breakfast, Lunch, and Dinner: 1 hour to plan, 3 hours to prep.
Let's Meal Plan!
This week we will be making snacks, lunches, and breakfast. Remember, making what I make is not the focus–The focus is to learn more about what you and your family need in terms of meal planning and prep, and to take the stress out of meal planning and prepping by being aware of your needs and slowly building up to the level that is helpful to you.
If you'd like some more healthy recipe ideas (one of our favorites is this Instant Pot Chicken), take a peek here at my easy to meal prep recipes: Easy to Meal Prep Recipes
Enter your email below for the meal planning printables (calendars and shopping lists) that I have prepared for you.
By entering your email address, you will be added to the My Crazy Good Life email list. You can unsubscribe at any time. The information will only be used to provide you with updates according to our privacy policy, found on our website. We will never sell your info. If you don't receive your sign up link or printables, please check spam. If you still don't see it, please email me at [email protected]
Breakfast
Breakfast Fried Rice is one of our favorite meals to make–for breakfast, lunch, or dinner! It's quick to come together and lasts for a bit in the fridge, and you can easily make substitutions in the recipe for your preferences.
You can make breakfast tacos or burritos with this fried rice recipe, or you can eat it out of a bowl like…fried rice ;)

We often double the eggs in this recipe, leave out the coconut sugar, and leave out the ham. It's very easy to adapt.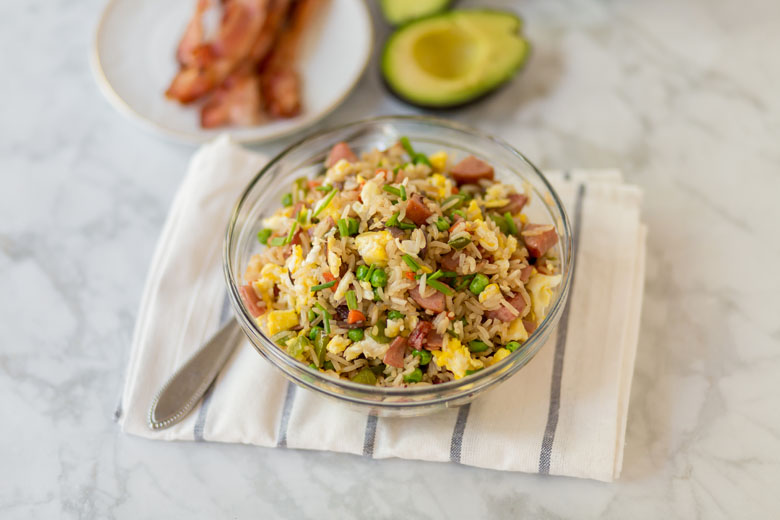 Lunch
I am prepping these two recipes for lunch, and am adding a few notes about adaptations you might want to make:
Teriyaki Meatballs

You're welcome to use any ground meat you prefer in this recipe.

This recipe can be made in the Instant Pot, Oven, or Slow Cooker. You do not need the silicone egg bite molds for this recipe.

Liquid aminos can easily be swapped out for low sodium soy sauce or Tamari. Personally, once our family tried Tamari we never bought another bottle of soy sauce. The taste is so much better.

I love that this meal comes together so quickly and freezes so well! I'll be prepping my rice for this recipe and the Fried Rice like this.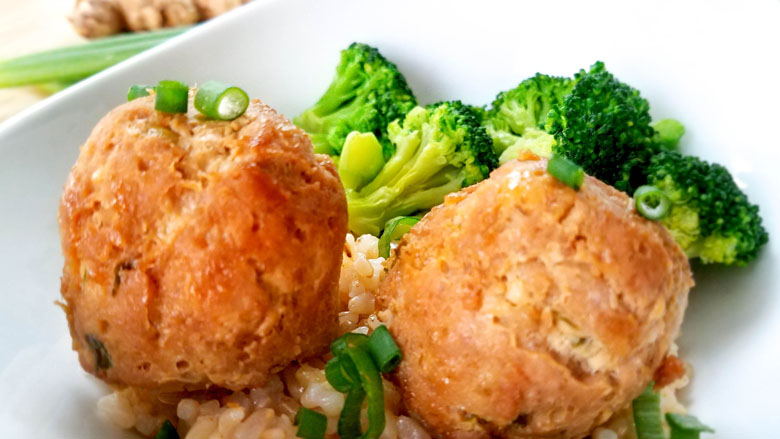 Quick Turkey Taco Skillet

We love adding fresh jalapenos to this recipe while it's cooking, and we often eat this either in tortillas or in a bowl with roasted or steamed cauliflower

like this

.  

Again, feel free to swap out the ground meat you use.

I've been asked a lot about my cookware. You can see it in my Amazon store.
Snacks
Most of our snacks this week are store bought, but I did add a fun recipe  for chocolate macaroons if you'd like to make them. They do require a food processor, FYI. If you'd like to make something without a food processor needed, I highly recommend these Peanut Butter Protein Balls. 
If you're wanting completely different recipes, you can choose from my Easy to Meal Prep recipes or choose one of your own! I also have a category of recipes that take 30 minutes or less if you're focused on time. 
ChipsSalsa are store-bought tortilla chips and fresh salsa from the grocery store. Our son eats these after school.
Guacamole cups are the 100 calorie packs of guacamole that you can buy at the grocery store. They're usually by the fresh salsa, and they're super easy to store.
Nuts We buy unsalted nuts from Costco and I portion them out into small zip bags.
Raw Vegetables We snack on raw vegetables every day (carrots, celery, cucumbers, radishes, and bell peppers). 
Next up? Your grocery list!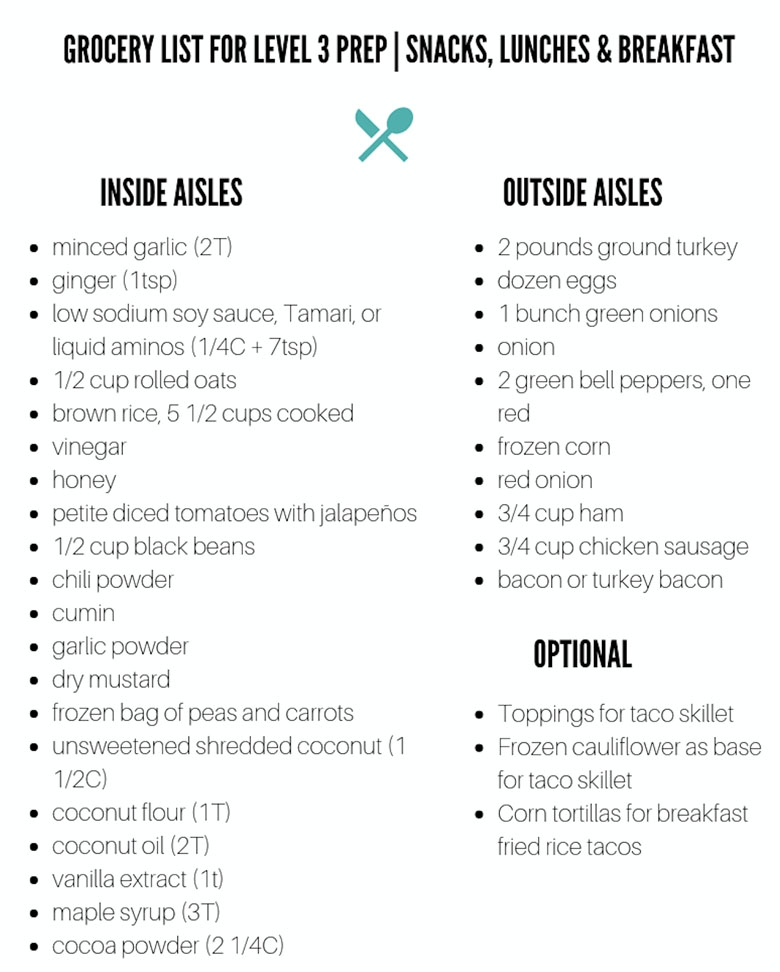 To create my grocery list, I read my Meal Plan line by line and add items to my list after checking my pantry for them. I like to divide the sheet into the two main sections of the grocery store–inside aisles and outside aisles.
Ready to meal prep?
Links for products used in this video:
Instant Pot (Click here to see it on Amazon)
Silicone Egg Bite Molds (Click here to see it on Amazon)
Food Processor (Click here to see it on Amazon)
Shop my Amazon Store to see my cookware (under As Seen on My Crazy Good Life)
We have one week left–the big one. Next time, we'll be making breakfast, lunch, dinner, and snacks!