This site contains affiliate links. Please see Policies for more information.
Let's take a look at how to cook white rice in the Instant Pot, it's something the IP was made for! We'll also discuss which rice is healthiest, if you can freeze white rice, and whether you should rinse white rice before cooking it.
Did you know that there are more than 40,000 varieties of rice in the world? We're just going to look at the three main types of white rice: traditional white, basmati, and jasmine rice.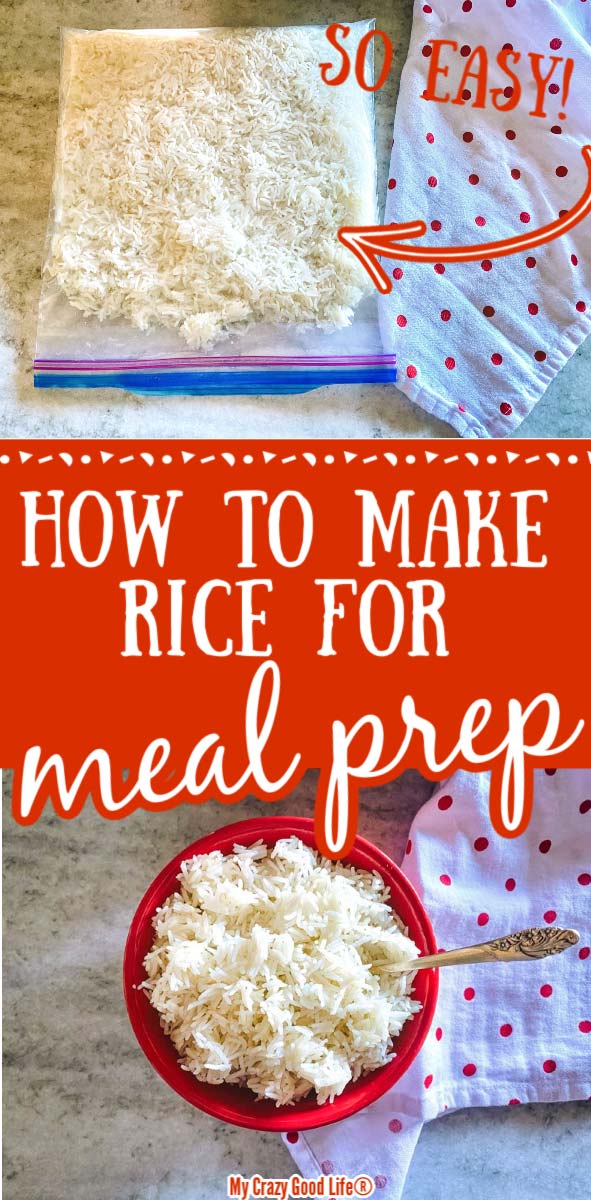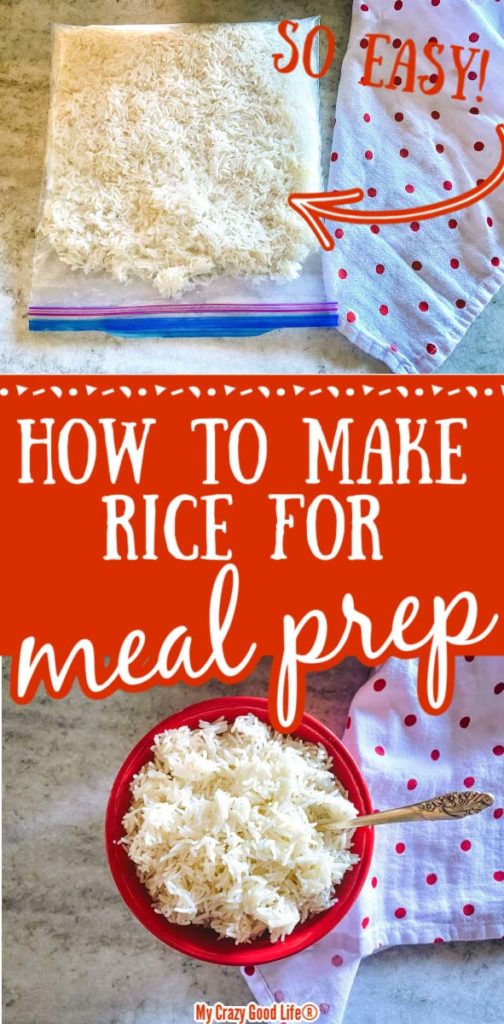 Is white rice healthy? Which rice is the healthiest?
While white rice is the most common type of rice, it's also the most processed. During processing, the bran and germ are removed, which is where most of the nutrients are found. This is why many call this rice an "empty carb."
Some white rice is enriched during the processing, this means that some nutrients are added back into the rice. White rice also has a higher glycemic index. For these reasons, red rice, wild rice, black rice, and brown rice are healthier options.
White rice is not all bad, though, and it does have its place and it does have health benefits. It can be easier to digest, and the processing typically reduces the arsenic levels typically found in whole grain rice.
White Rice
3/4 cup of white rice has:
about 181 calories
0 grams of fat
about 40 grams of carbs
3.2 grams of protein
Regular white rice has a glycemic index of 72, which is the highest of all the rice varieties. Click here to read more about the glycemic index of rice.
Jasmine Rice
Jasmine rice is native to Southeast Asia and Thailand. It's a soft, long grain rice that is sticky and has a high floral aroma–it's often nicknamed "popcorn rice." Instant Pot Jasmine rice is cooked the same as traditional white rice.
3/4 cup of cooked jasmine rice has:
160 calories
0 grams of fat
35 grams of carbohydrates
3 grams of protein
The glycemic index of jasmine rice is about 68, just lower than regular white rice.
Basmati Rice
Basmati rice originated in the Himalayas and is slightly softer than jasmine rice with a nuttier flavor. Cooking basmati rice in the Instant Pot is the same as cooking white rice.
3/4 cup of cooked basmati has:
160 calories
0 grams of fat
35 grams of carbohydrates
4 grams of protein
There's also calcium and iron along with a bunch of other great amino acids that we need to help in building and maintain muscles!
Basmati rice has the lowest glycemic index of all the white rice varieties with a score of 50.
Basmati rice is the healthiest white rice choice given its lower glycemic index, has all 8 essential amino acids, lower calories, has more vitamins and mineral, and the lowest levels of arsenic.
How to cook white rice in the Instant Pot:
Cooking white rice in the Instant Pot couldn't be easier, you're just 3 simple steps away from perfectly fluffy rice! Whether you're cooking basmati rice, jasmine rice, or traditional white rice, it's super easy with the Instant Pot.
What makes cooking rice so easy is that Instant Pot dedicated a preset button for white rice and makes it nearly fool proof! All varieties of white rice cook for 4 minutes in the Instant Pot with a 1:1 (water to rice) ratio. That's a cup of water to a cup of rice.
Recipe Tips:
For added flavor, substitute chicken or vegetable broth for the water, just keep the same 1:1 ratio.
Add more liquid to your rice if you like sticky rice.
Time needed: 4 minutes
Instant Pot directions – 3 Easy steps
Spray your pot

I always spray the inner liner of my Instant Pot with nonstick cooking spray. This helps the rice not stick to the bottom of the pot.

Add rice and water

Remember the one to one ratio, and stir together to keep from sticking to the bottom.

Close the lid

Lock the lid in place and turn the pressure valve to sealing.

Press the rice button

The Instant Pot will automatically adjusts based on the volume of rice and water. It will cook on high pressure.

Release the pressure

Allow the pot to naturally release pressure. This helps the rice finish cooking as well as allow the rice to separate from the bottom of the pot–so it doesn't stick.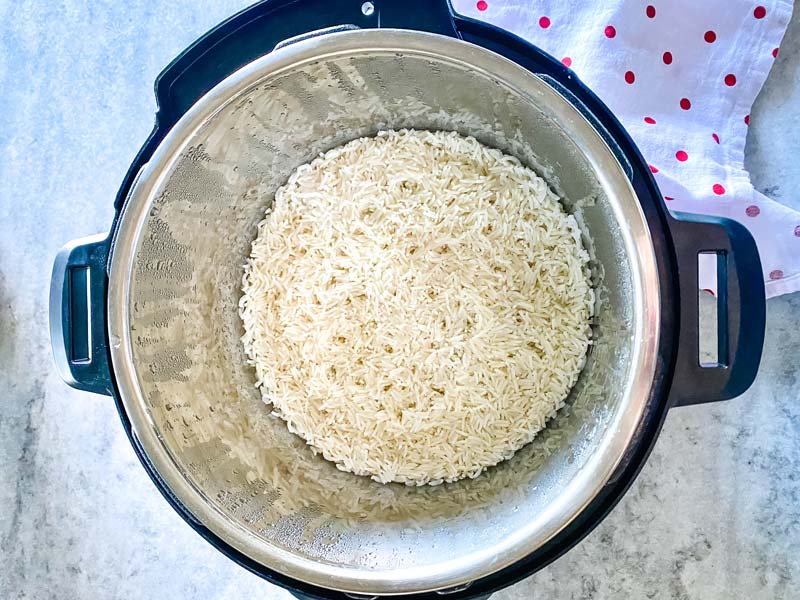 The Instant Pot website includes a note to turn off the "keep warm" feature when cooking rice, as it allows the bottom of the pot to cool and the rice to separate from the pot.
Get the burn warning?
If you get the burn message when pressure cooking your rice, check these things:
Is there enough liquid in the pot?
Did you turn off the "keep warm" setting?
Is your rice overcooking?
Can you freeze white rice?
If you cook a huge batch for meal prep, freeze the extra rice. It reheats in the microwave really well.
My rice freezing tips
Freeze individual servings of rice in separate ziplock bags.
Write the cook date and serving size on the outside.
Spread the rice out in each back in a flat layer, this makes it easier to store and helps to evenly reheat when ready to eat.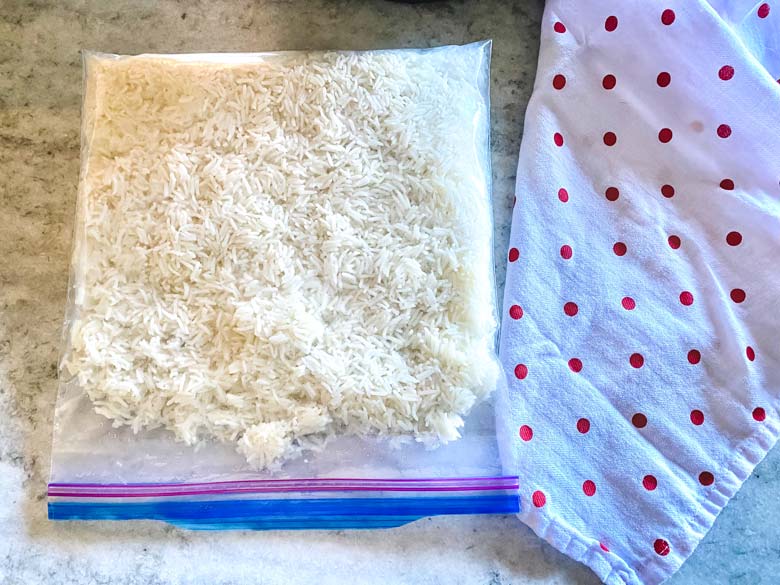 Should you rinse rice before cooking it? YES!
Rinse your white rice before cooking to remove the starchy coating and any debris left behind from processing. This is helps to keep your rice from clumping together and allows it to stay fluffy.
Keep in mind, though, that rinsing will also remove some of the nutrients that were added back to enriched rice. Always read your package of rice to see what the manufacturer suggests.
Soaking rice is another option. Some people soak rice instead of rinsing it, but in my research I've found that a quick rinse is all you need.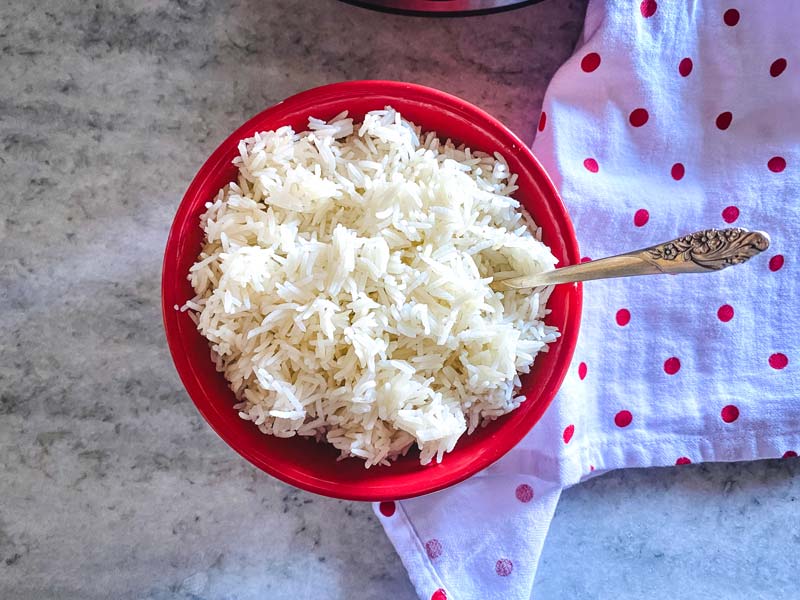 Want to learn more about the foods you eat?
I am constantly learning and sharing information in my journey to be healthier. Part of living a healthy lifestyle is understanding how the things I eat affect body. Here are some of my favorite topics:
Looking for great rice recipes?
These healthy recipes are soon be family favorites: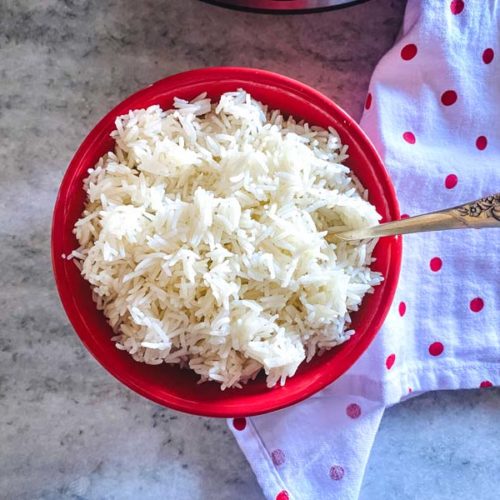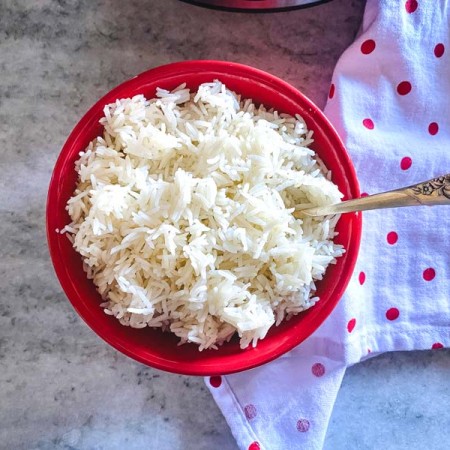 click the stars to rate!
Instant Pot White Rice
Approximate Serving Size: 1/2 cup
Servings 6 servings
How to cook white, jasmine, and basmati rice in the Instant Pot.
Equipment
Instant Pot 6 qt

Sealing Rings
Ingredients
1 cup white rice basmati, white, or jasmine
1 cup water
Instructions
Spray inner liner with nonstick cooking spray.

Add equal portions of rice and water to the Instant Pot. One cup of dry white rice will produce about 3 cups of cooked rice. 1 cup white rice, 1 cup water

Close the lid and turn the valve to Sealing.

Press the Rice button on the Instant Pot, or set the Instant Pot for 4 minutes at high pressure.

When cook time is finished, allow ten minutes of natural release before releasing the remaining pressure.
Nutrition
Calories: 113kcal | Carbohydrates: 25g | Protein: 2g | Fat: 1g | Saturated Fat: 1g | Sodium: 4mg | Potassium: 35mg | Fiber: 1g | Sugar: 1g | Calcium: 9mg | Iron: 1mg