This site contains affiliate links. Please see Policies for more information.
Do you want to learn how to cook brown rice in the Instant Pot? Of course you do! This simple method will give you perfect fluffy and sticky rice every time!
This post explains:
how to store brown rice for meal prep
which rice is the healthiest
the benefits of brown rice
what glycemic index is and why you should care about it
The Instant Pot is such a great tool in the kitchen. Not only does it simplify cooking, it helps you cook delicious meals that are perfectly suited for nutrition programs like 21 Day Fix, Weight Watchers, and even just traditional healthy recipes.
Click here if you're looking for information about white rice.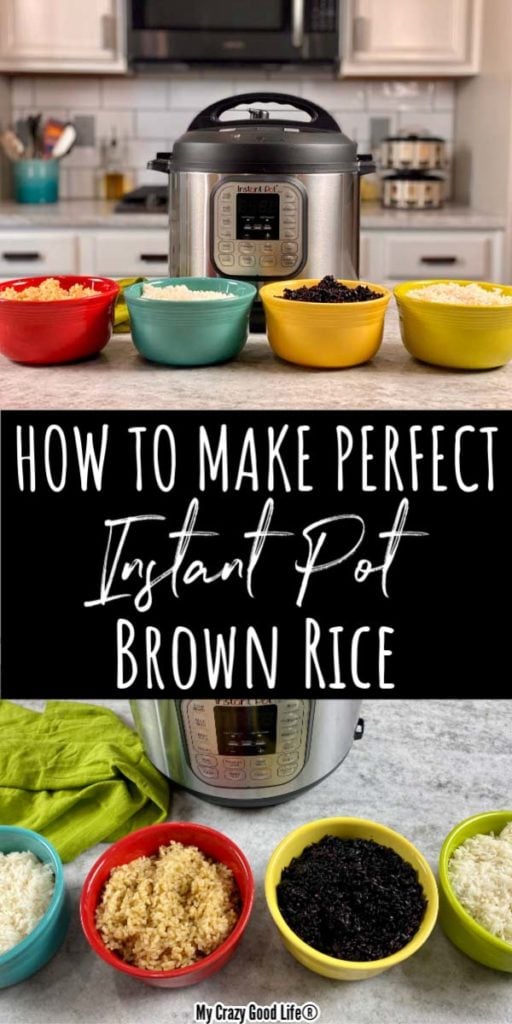 Meal Prepping and Freezing Brown Rice
Since you can cook so much rice at a time, freezing brown rice is a great way to help you stay prepared for any meal. After cooking, let the rice cool and put individual (or family) servings in a separate freezer bags.
Spread the rice out in a thin flat layer for easy storage and quick reheating. I recommend writing the serving size and cook date on the bags with a sharpie for easy identification. Refrigerate cooked rice for up to 6 days or freeze for up to 2 months.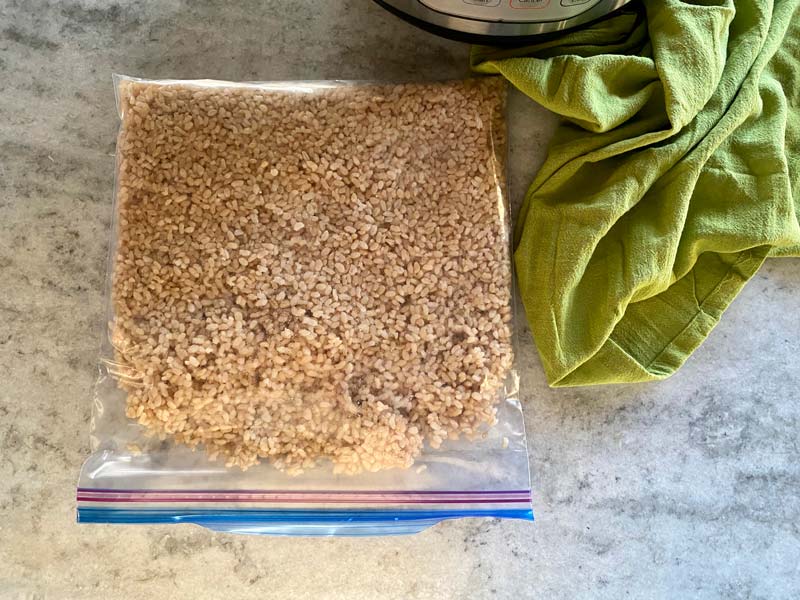 Which rice is healthiest?
White rice is the most common type of rice worldwide. Jasmine and basmati rice are other examples of white rice. White rice is highly processed, which means that most of the nutrients have been stripped out during processing (and most of the time added back in, you'll see this labeled as enriched rice).
Colored rice is healthier because its bran and germ remains intact (that's why it's considered whole grain rice). The bran is where the vitamins, minerals, and other nutrients exist. Colored rices are black, red, and brown rice–these are typically higher in protein and fiber.
Of the different colors, black rice is considered the healthiest rice as it's not only high in protein and fiber, but also contains antioxidants. In addition, these brown rice varieties have a lower glycemic index than white rice.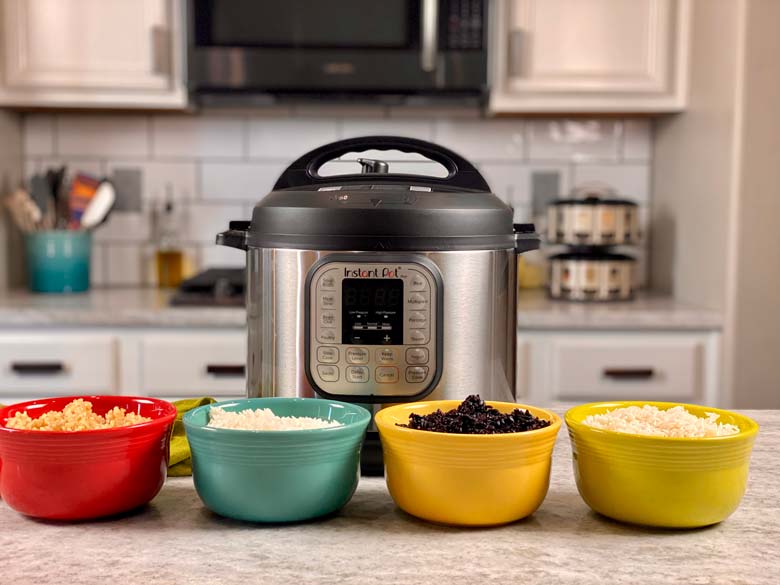 What is glycemic index?
Glycemic index is a value that is assigned to food that ranks items based on how fast they affect your blood glucose levels. The scale runs from 0 to 100.
Foods on the lower end of the scale slowly release glucose at a steady rate. Foods on the higher end release glucose rapidly and can lead to blood sugar spikes.
Eating low glycemic index foods such as brown rice, sweet potatoes, and whole grain breads help you feel fuller longer and tend to be a better choice for weight loss.
Glycemic index of rice:
White rice: 72
Red rice: 55
Brown rice: 50
Black rice: 42.3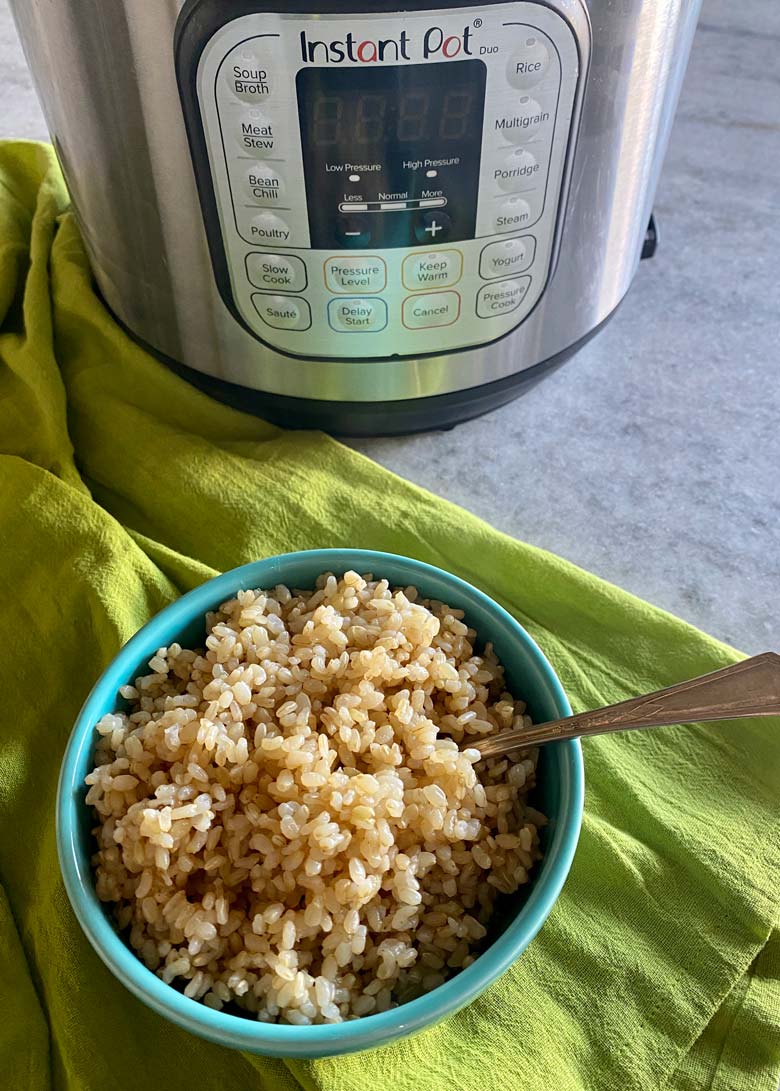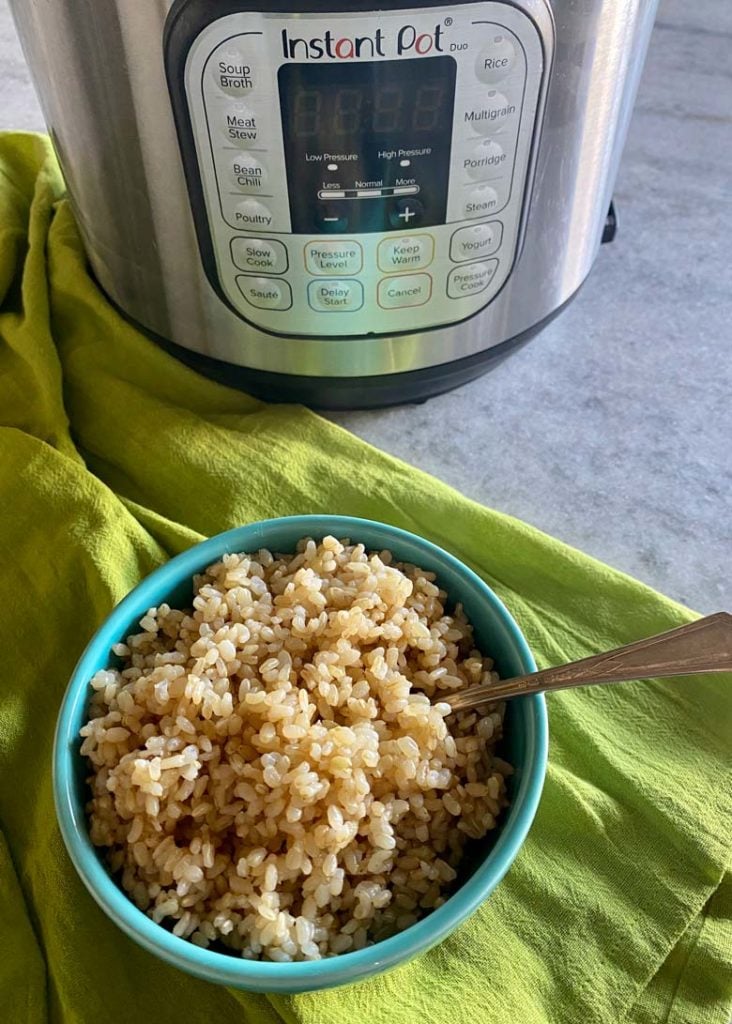 Is brown rice healthy?
Yes! It has a low glycemic index, it's packed full of nutrients, and is less processed than white rice. However, black and wild rice tend to rank slightly higher nutrition-wise.
There is a downside, though. Depending on where your brown rice was grown, it may contain arsenic.
Arsenic in rice
There are two forms of arsenic found in the environment–organic and inorganic. In fact, most varieties of rice contain both forms of arsenic by absorbing it from the air, soil, and water.
Brown rice does contain higher levels than white rice because the arsenic tends to collect in the outer bran of the rice that's removed in white rice varieties.
Ways to reduce arsenic in rice
There are a few ways that you can reduce the levels of arsenic:
Pre-rinse your rice. Rinsing rice before cooking can reduce the arsenic levels.
If possible, choose rice from the Himalayan region–it's said they have lower levels of arsenic in their soil.
Some people like to cook their rice in extra water so they can drain out impurities after cooking. In the Instant Pot, though, this can lead to very wet rice.
Health benefits of brown rice:
Despite the arsenic, there are still several brown rice benefits:
It can help decrease your risk for type 2 diabetes.
Contains 88% of your daily recommended amount of manganese, which promotes collagen production that helps with everything from skin healthy to promoting healthy joints and ligaments.
Lower glycemic index, that keeps you fuller longer.
It's said that brown rice is good for those with heart disease
How to cook brown rice in the Instant Pot:
This is my tried and true method for cooking the best brown rice in the Instant Pot. It's light, fluffy, and perfectly sticky. Cooking healthy brown rice in the pressure cooker makes for a delicious and hearty side for these Instant Pot recipes: teriyaki turkey meatballs, healthy orange chicken, and even mini meatloaf bites.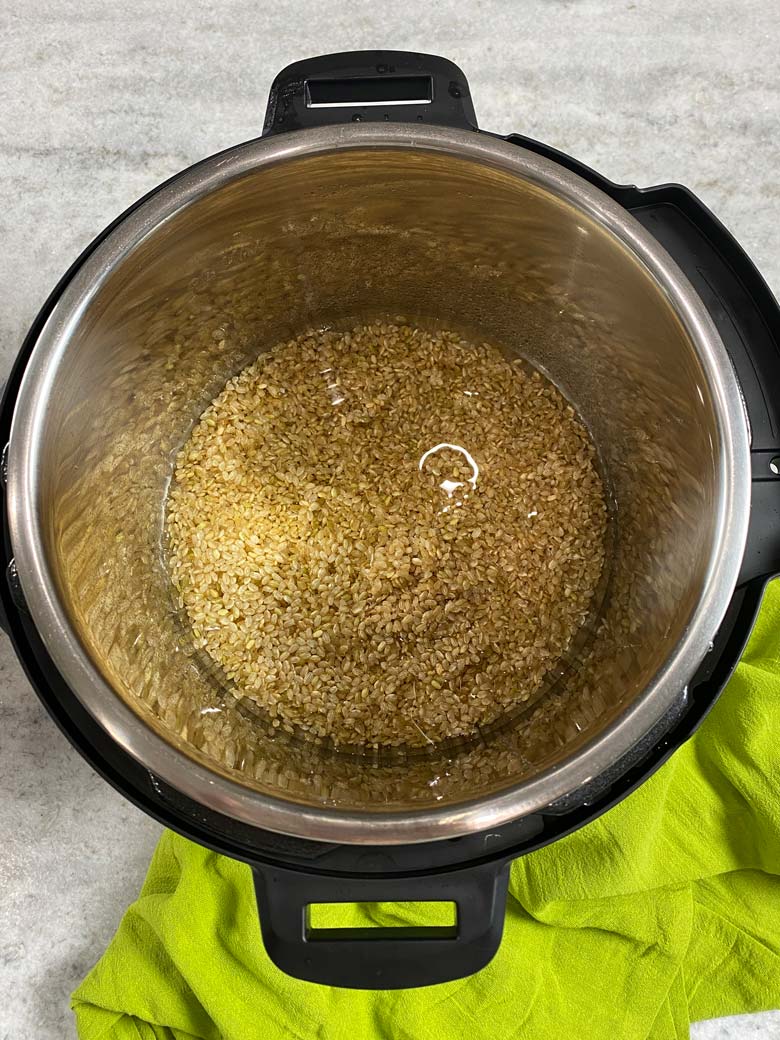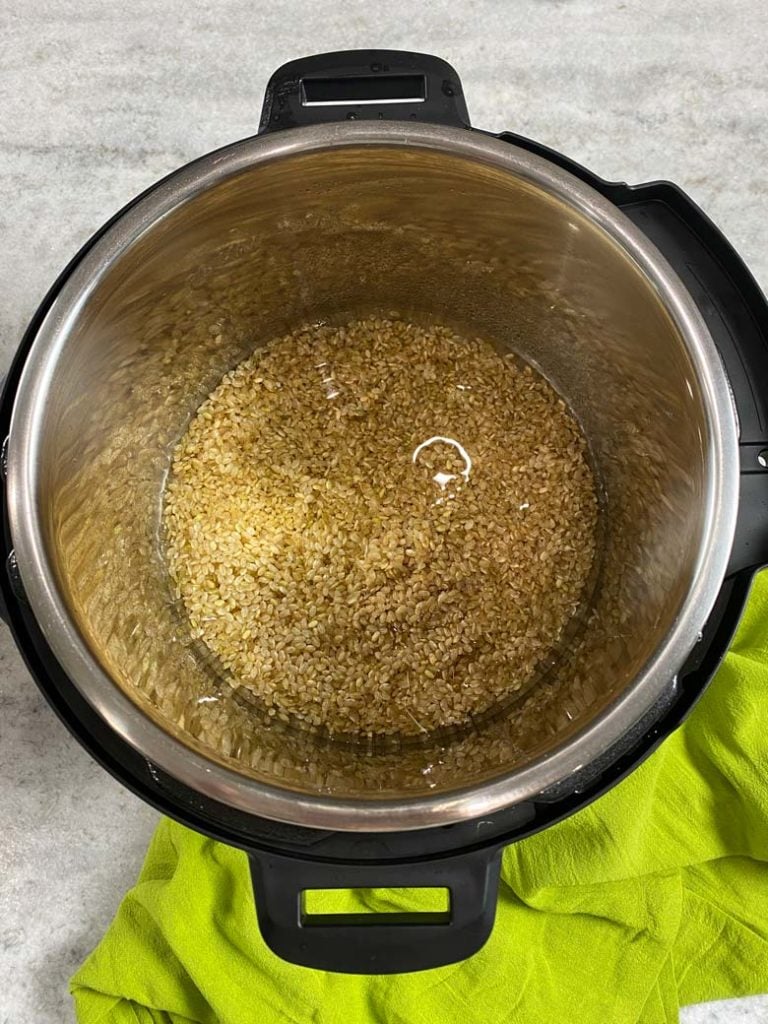 This Instant Pot brown rice is:
Monitor free: No babysitting a pot that is bubbling over on the stove
Light and Fluffy: The perfect brown rice every time
Cheap: Making this healthy grain yourself will save you so much money over the more expensive prepacked ones you can buy from Thrive Market and Trader Joes. The premade packets are $3-5 each.
Easy: Not even 5 minutes of active prep time, let the Instant Pot do the work, and you are done!
Time needed: 30 minutes.
Not counting the time your pot will need to come to pressure, making brown rice will take you about 30 minutes.
Set up your pot

I always spray my inner pot with nonstick cooking spray (like an olive oil spray) when I'm cooking something directly in the pot.

Rinse your rice

Rinse your rice for just a few seconds before putting it in the Instant Pot. Rinsing rice removes excess starch and helps ensure your rice is light and fluffy–perfectly cooked every time.

Sometimes failing to rinse rice before cooking will give you a burn warning in the Instant Pot because rice clumps together and sticks to the bottom of the pot.

Add water to your pot

The most important thing about cooking brown rice in your Instant Pot is the water to rice ratio. If you use too little, you'll get a burn warning. Too much water and your rice will be soggy and wet.

I use a 1:1 ratio for my rice, which is what Instant Pot recommends in their product manual. This means one cup of water to one cup of rice. This is for short and long grain brown rice and all white rice. Wild rice is the only rice that cooks at a 1:2 ratio.

Close the lid and set the time

Close the lid of your pot and turn your pressure release valve to Sealing. Use the Pressure Cook or Manual button and set the time to 20 minutes on high pressure.

Turn off your "keep warm" function by pressing the button. This helps the rice not stick to the bottom of your pot.

Allow a short natural release

After the cooking time is finished, allow your rice to naturally release pressure for at least 10 minutes. This allows the rice to cool naturally.

Quick releasing your rice will cause it to cool faster and stick to the bottom of your pot. Nobody likes cleaning that up!

Manually release pressure

After 10 minutes, manually flip the valve to Venting to release the pressure on your pot.

Remove the lid

You can eat the rice right away or allow it to cool and then freeze it for later.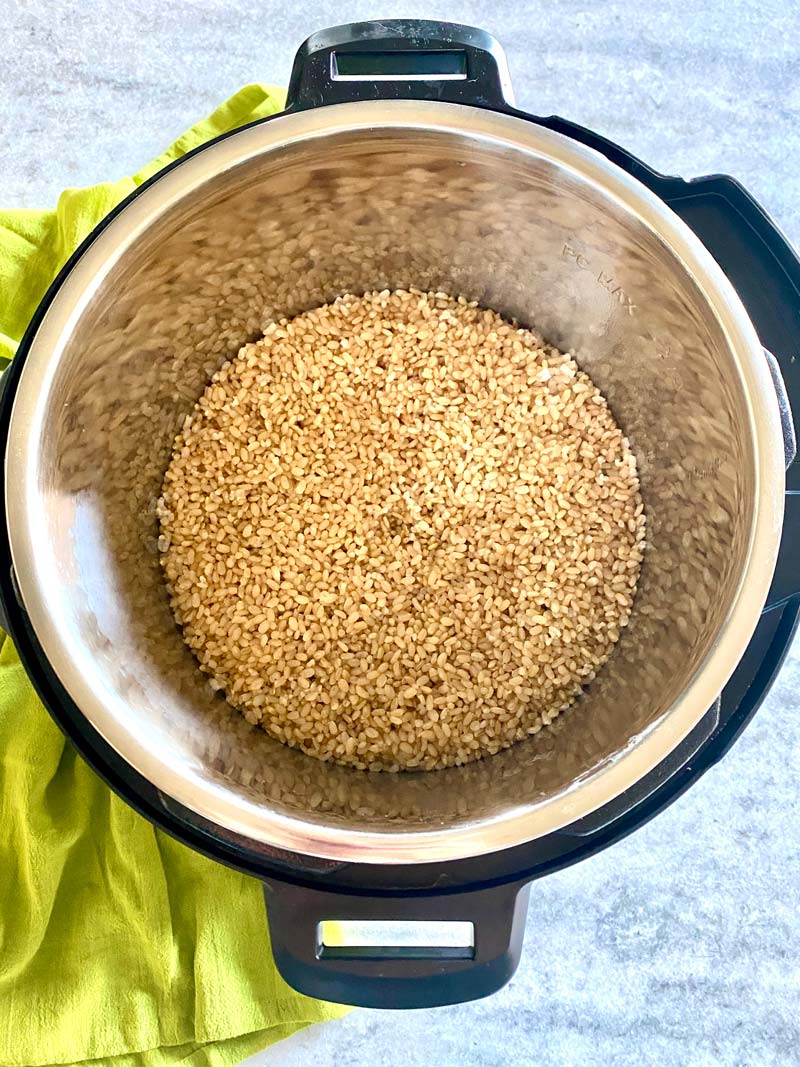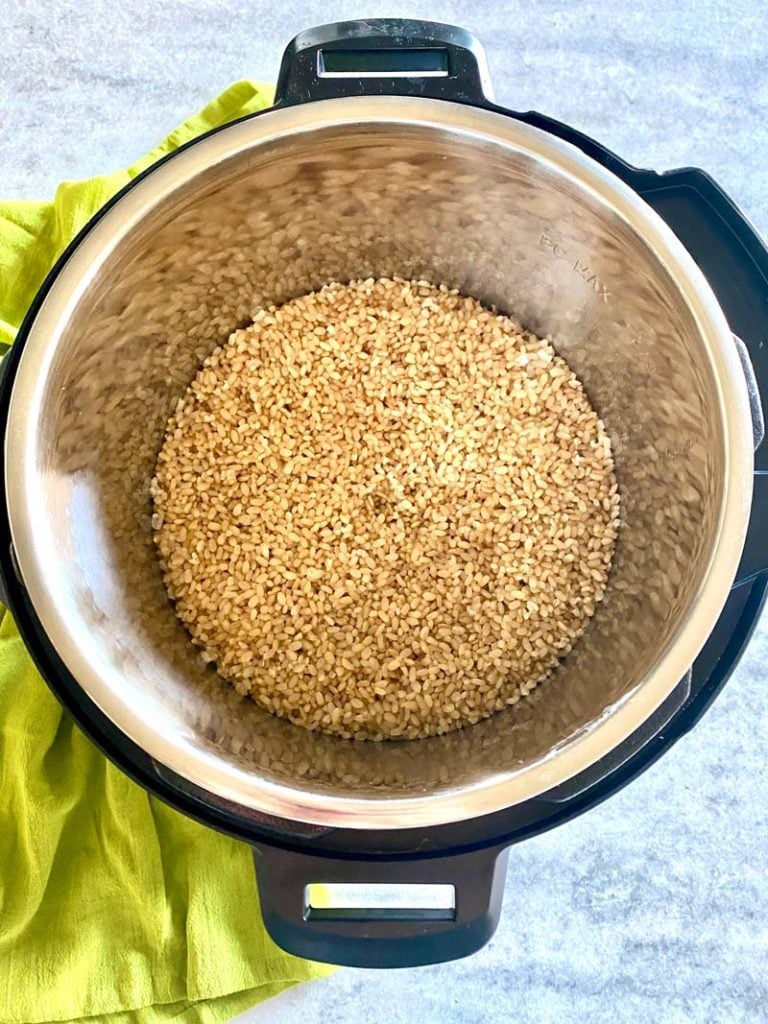 Recipe Tips:
For added flavor, use low sodium broth in your rice instead of water.
I've cooked up to four cups of dry brown rice with this 20 minute cook time.
If you've got questions about the Instant Pot burn warning I suggest this post.
Special Diet Information
Weight Watchers: One serving of this brown rice is 4 Blue Plan Points, 4 Green Plan Points, and 0 Purple Plan Points
21 Day Fix Brown Rice: This rice counts as one yellow container for every 1/2 cup of cooked rice.
More Instant Pot Recipes: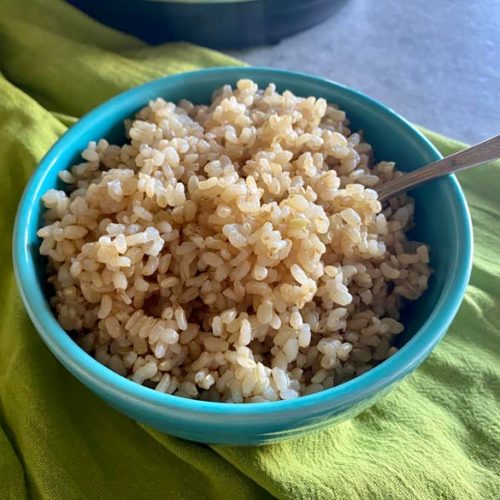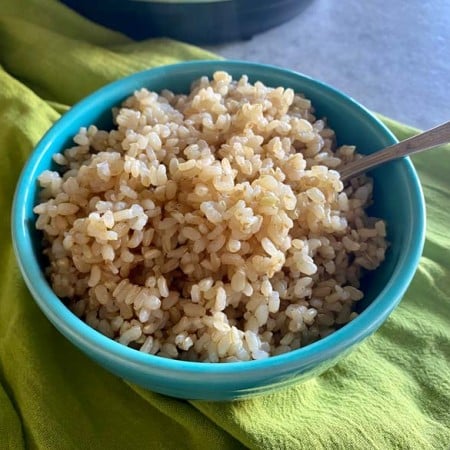 click the stars to rate!
How to Cook Brown Rice in the Instant Pot
Approximate Serving Size: 1/2 cup
Servings 10 servings
The perfect way to cook brown rice in the Instant Pot that comes out every time. Less than 5 minutes of active prep time for the perfect side dish!
Ingredients
2 cups brown rice long or short grain
2 cups water
Instructions
Rinse brown rice under warm water with a fine mesh strainer to remove excess starch.

Spray the inner pot with nonstick cooking spray.

Place water and rinsed rice into the Instant Pot and stir to combine, making sure all rice is in the liquid. 2 cups water, 2 cups brown rice

Put the lid on your Instant Pot and turn the pressure valve to sealing.

Press Manual/Pressure Cook setting and set time for 20 minutes cook time. Turn off your Keep Warm setting.

Allow the pot to do a natural pressure release for 10 minutes.

Release the remaining pressure and remove the lid.

Fluff rice and serve while hot. Store any leftovers in an airtight container in the refrigerator.

Store in the fridge for up to 6 days or in the freezer for up to 2 months. For full freezing directions, see article.
Video
Nutrition
Calories: 138kcal | Carbohydrates: 29g | Protein: 3g | Fat: 1g | Saturated Fat: 1g | Sodium: 4mg | Potassium: 102mg | Fiber: 1g | Calcium: 14mg | Iron: 1mg