This site contains affiliate links. Please see Policies for more information.
If you cook with an Instant Pot chances are you've seen the Instant Pot burn message. Today I'll show you what to do when your Instant Pot says "burn" and how to avoid the burn warning on your Instant Pot.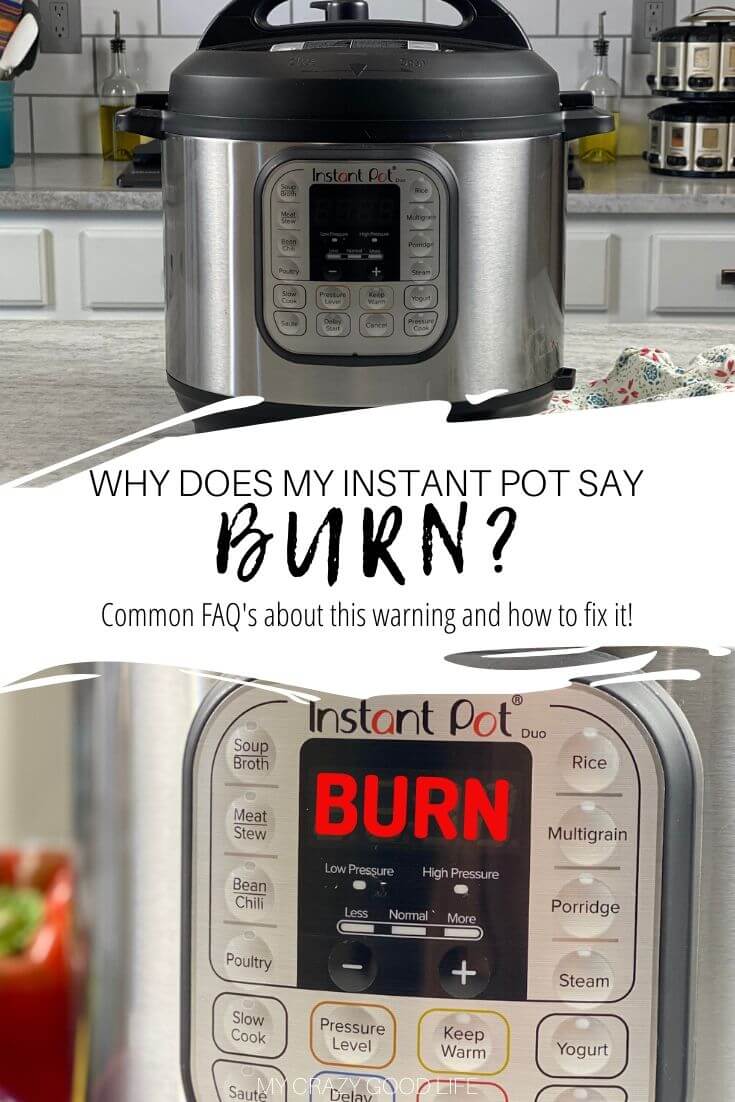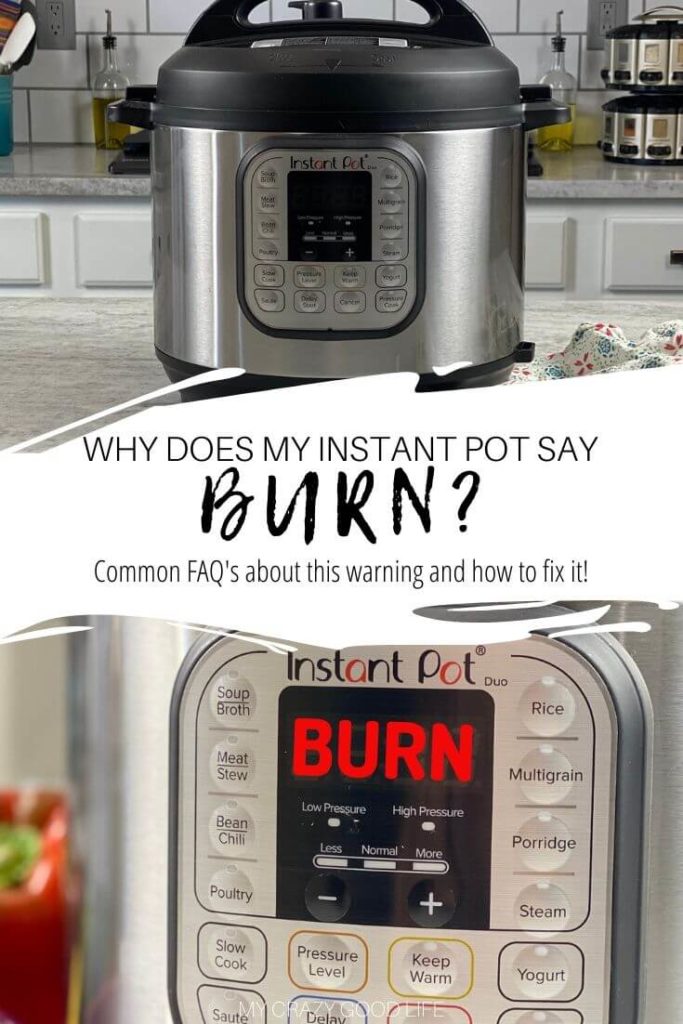 Why does my Instant Pot say 'burn'?
Your Instant Pot says burn because it thinks that something is burning in the bottom of your pot. There's a good chance something is, in fact, burning in your Instant Pot when you see the burn message on the front screen of your pressure cooker.
Here's the thing…some foods are more prone to this message, while others you almost never get a burn message for. I'm going to show you how to avoid the Instant Pot burn message altogether and what you can do when you get the dreaded Instant Pot burn notice.
What causes a burn on Instant Pot?
There are a number of culprits when it comes to diagnosing a burn warning on the Instant Pot screen. Thick sauces and food that can burn and stick to the bottom of the pot are two of the biggest problems.
Some people also get the burn warning on Instant Pot when they cook rice and noodle dishes that run out of liquid and get stuck to the bottom of the inner pot. If you are cooking something that would normally burn fast to the pan if it isn't stirred, you'll likely get a burn warning on the Instant Pot when cooking at high pressure.
What does burn mean on Instant Pot?
It doesn't mean that your dinner is completely ruined. Usually the Instant Pot will alert you when it knows there's no liquid left. The burn notice is telling you that there is a problem that can be fixed.
When you see the burn notice you'll need to quick release the pressure and open the lid. When you are pressure cooking it's important to make sure there's enough thin liquid or enough cups of water for the pot to evaporate and turn them into steam (to build pressure) for cooking.
Once the pot is open you can scrape the bottom of your pot and see what is going on. With tomato sauce and other thicker Instant Pot recipes, like chili, you'll likely need to add more liquid, stir everything really well, and adjust the cooking time–and maybe use low pressure instead.
How To Avoid Burn Messages:
There are a few ways you can avoid the Instant Pot burn issue.
Pot in Pot cooking with the Instant Pot is just putting another container inside the pressure cooker to contain your food. As long as there is enough water in the pot, you can't get a burn notice with pot in pot cooking because there's no food touching the inner pot or the heating element underneath.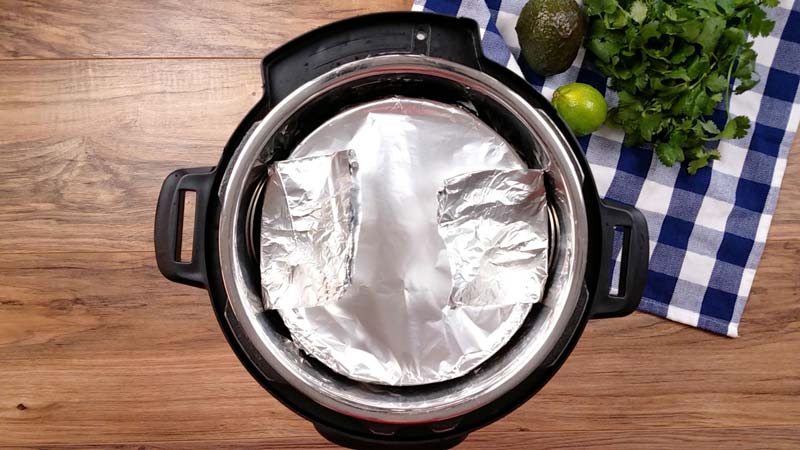 Another way you can avoid the burn Instant Pot warning is by adding extra liquid. If your recipe consistently gives you a burn warning, you should adjust it to include more thin cooking liquid.
Low pressure cooking is another way to keep the Instant Pot from saying "burn". You can use low pressure cooking for just about anything, it's just a matter of adjusting the time to compensate. The Pressure Level button on your Instant Pot will let you select your desired pressure level.

The heating temperature is also reduced when you cook on low pressure on an Instant Pot so make sure you double check the internal temperature of your food when adjusting the pressure settings.

Make sure your sealing valve is closed. If the sealing valve is left open the pot will try to heat and pressurize, but will eventually overheat.
Clean the float valve on your pot. Stuck on food can make it difficult to come to pressure and cause overheating.
Layer ingredients and don't stir the foods that often stick.
Use the trivet or steam rack whenever possible. This keeps food off the bottom of the pot.
Pressure Settings and Temperature
The pressure settings correspond to heat settings on your Instant Pot. This will vary slightly based on things like altitude, model, and fill of your inner pot.
Less: 180-190 degrees F
Normal: 190-200 degrees F
More: 200-210 degrees F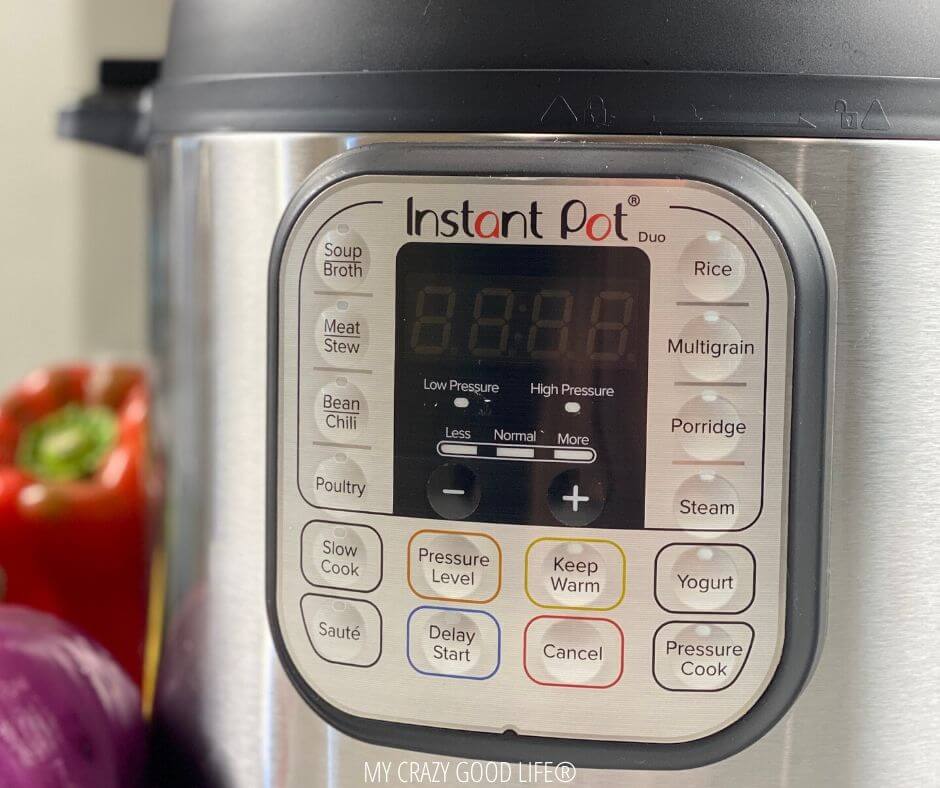 How to Fix Burn Messages on Pressure Cookers:
Here's a general process you can use to fix your recipe and finish cooking after you see a burn message on your pressure cooker.
Press cancel to stop the cooking process and turn off the heat.
Quickly release pressure in the pot by switching the valve to venting.
Remove the lid, careful to avoid the steam.
Stir the ingredients inside the pressure cooker and be sure to scrape away any bits that might be browned or stuck to the bottom of the pot.
Allow the pressure cooker to cool down while you add more cooking liquid, preferable something thin like cooking stock or water.
Replace the lid after everything is stirred well and you are sure there is liquid at the bottom of the pot.
Reset the cooking time and turn the vent to sealing.
If you are very worried about the burn warning happening again you can use low pressure when resetting your pot.
Can my sealing ring cause burn messages?
Yes, you can get an Instant Pot burn message from an improperly placed or malfunctioning sealing ring. Most people assume that something is physically burnt when they see the "burn" warning but in some cases the pressure cooker can give this warning if the sealing ring isn't seated properly or is damaged.
After you press cancel, vent the pot with a quick release, and check for burnt food on the bottom of the pot, make sure to give your sealing ring a check. It's good to replace them every 6-12 months based on your usage, discoloration, odors, etc.
Does using the sauté function make the Instant Pot say 'burn'?
Using the sauté function shouldn't mean that you get a burn notice on Instant Pot. That being said, if you are using the sauté function and then pressure cooking directly after, this may be the culprit. Make sure to remove your meat and deglaze the pot before switching into pressure cooking mode.
Any time you have something that is browning on the bottom of the inner pot there is a potential for a burn notice. Avoid this problem altogether by making sure you clear the bottom of the pot of any charred bits or burnt on residue before pressure cooking.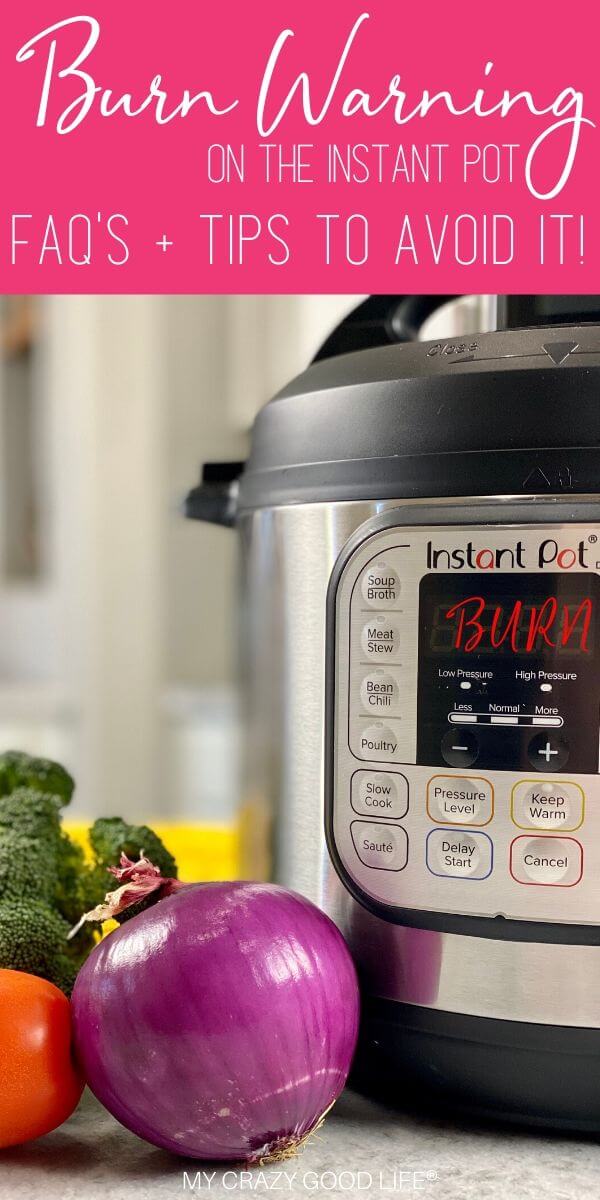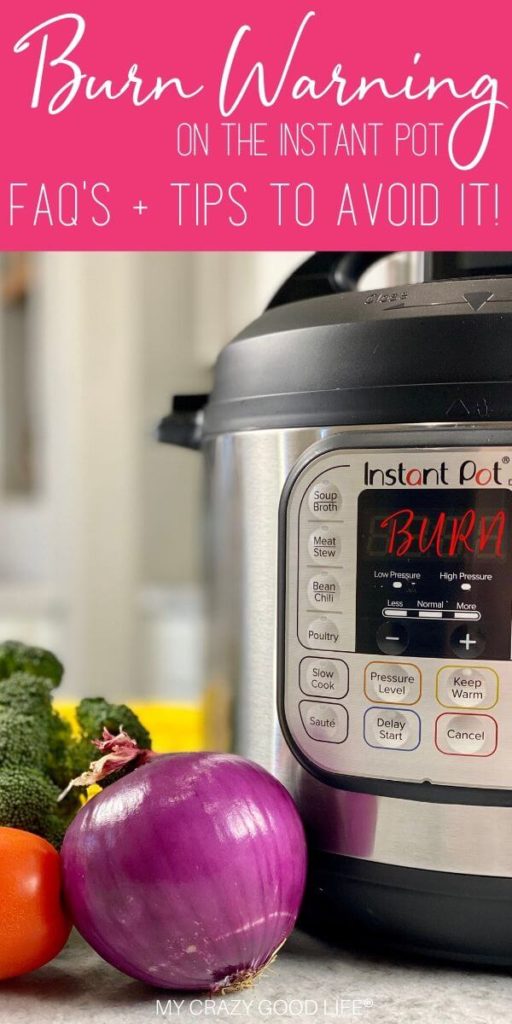 When to add thickener to avoid pressure cooker burn messages:
You should always add dairy, thickeners, and cream based sauces after the cooking process is complete. You can always use the sauté function or the keep warm function to let them come to temperature after the dairy products or thickener is added.
When the Instant Pot shows a burn warning and you have a cream base sauce, there's a good chance it's burned fast to the inner pot on the bottom because things like cheese, cream, and other dairy products burn quickly when not stirred consistently.
Since the pot needs to stay sealed to stay pressurized there's no real way to consistently stir the sauces until the main portion of the cooking is completed.
Looking for more Instant Pot related content?
I've put together everything from a beginners guide to the Instant Pot eBook to helpful posts on things like altitude changes and scaling recipes up or down to fit your 3 quart or 8 quart models! Check these posts out for more help with your Instant Pot cooking!