This site contains affiliate links. Please see Policies for more information.
Every once in a while an idea comes along and I think to myself, "why didn't you think of that sooner?" This is the situation with our fajita breakfast casserole recipe. Our breakfast fajitas will be your new favorite breakfast food.
Somewhere along the way we were told we should only eat fajitas for lunch and dinner, however that isn't true! We can eat breakfast fajitas first thing in the morning and feel great about it! It's so easy to pull together on busy mornings, and it's healthy!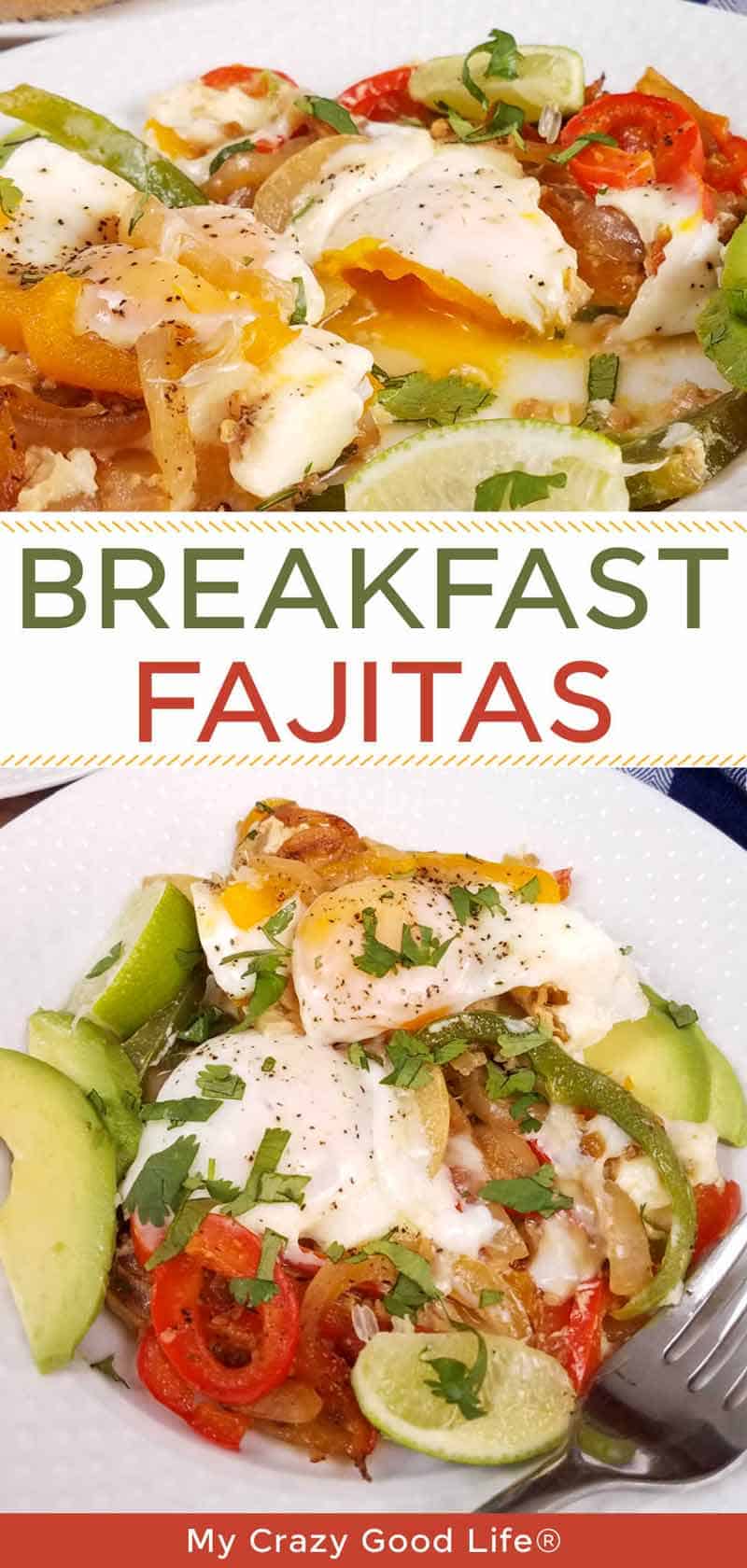 Move over breakfast tacos, our breakfast fajitas are delicious, and here to stay! This healthy breakfast fajita recipe is filling and starts your day off with #alltheveggies, flavor, and protein! It's fresh and much more flavorful than some of the make-ahead breakfast burritos I've tried in the past.
Where's the recipe?
Here at My Crazy Good Life, I have readers from all levels of comfort and experience in the kitchen on my site, and I receive a lot of questions about both harder recipes and easy recipes. To better serve all of my readers, I've made a commitment to put a ton of helpful information in my recipes.
If you'd like to skip over the information about prepping this recipe ahead of time, beginner directions about how to cook this recipe, nutrition, and healthy eating plan points, please scroll to the bottom of the post, where you'll find the easy to print Fajita Breakfast Casserole Recipe!
Ingredients in Breakfast Fajitas
Bell Peppers: Packed with vitamins, low in calories, and so flavorful! I prefer using red bell pepper, but choose your favorite colors (green pepper, yellow pepper, orange pepper, etc) to use in this recipe.
Onions: High in vitamin C. I prefer to use red onions because they're less inflammatory than other colors. If you only have a yellow onion on hand, feel free to use that.
Garlic: Garlic is delicious and belongs in all recipes. Fresh is always better than garlic powder, but if you are in a pinch garlic powder will do.
Vegetable seasoning: This jazzes the recipe up a little, and it's easy to make! You can easily make your own at home by following this homemade vegetable seasoning recipe.
Olive oil: I prefer olive oil and coconut oil when I cook. They're healthier choices and aren't as processed as some other oils. You can read more about which cooking oils are best.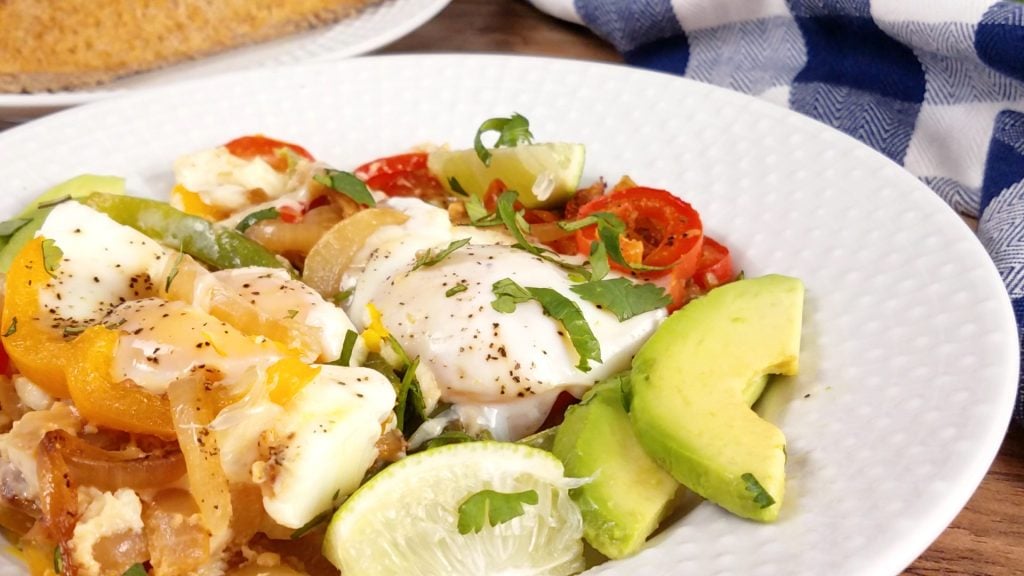 How to make Breakfast Fajitas in the Instant Pot
Time needed: 12 minutes
Don't forget to allow a few minutes for your pressure cooker to come to pressure and release pressure!
Slice the vegetables: Slice the peppers, garlic, and onion and combine in a medium bowl. Sprinkle vegetable seasoning over and mix to ensure seasoning is distributed throughout the vegetable mixture.
Sauté the vegetables: Turn the Instant Pot to sauté and spray with cooking spray or add olive oil to the bottom of the pot. Cook peppers, onions, garlic, and vegetable seasoning (optional) for 4-5 minutes, until the vegetables are fragrant. Your goal is to meld the flavors, not cook the vegetables.
Transfer to dish: Turn off the pressure cooker and transfer the bell peppers and onions to a round oven safe dish or pan. The general rule of thumb is that if a baking dish is oven safe, it will be safe for the pressure cooker.
Add your eggs: Gently crack your eggs and place them on top of the peppers. Your goal here is not to break the yolks. Cover the dish with foil.
Place the trivet on the bottom of the Instant Pot and add 1 cup water to the pot.
Place casserole inside the pot: If you don't have an accessory with handles, you can make a sling by folding a long piece of aluminum foil into thirds and place it under your dish, then gently lower it into the pot–on top of the trivet.
Close & seal: Close the lid of the pot and turn your valve to sealing.
Cook on high pressure: Cook for 2 minutes on high pressure. If you're not covering your dish in the pot, cook for 3 minutes. Please see Tips section if your eggs aren't cooked enough.

How to cook Breakfast Fajitas on the Stovetop and in the Oven
Stovetop
Preheat your pan or large nonstick skillet to medium-high heat and add olive oil. Sauté garlic, vegetable seasoning (optional), bell peppers, and onions for 1-2 minutes.
Gently crack the eggs on top of the vegetables, and reduce your heat to medium.
Cover the pan and allow it to cook for 1-2 minutes, until the egg whites are no longer translucent. If you'd like to test the eggs, gently press them with the backside of a spoon to see if the yolk is cooked to your liking.
Remove the pan from heat and serve. Garnish with hot sauce, avocado, limes, and cilantro if you'd like. I like to add a dollop of sour cream, but if you do this you'll need to recalculate your points.
Oven
Heat oven to 400º.
Toss the sliced onions and peppers with the garlic and vegetable seasoning (optional). Spread them out on a sheet pan or baking sheet that has been sprayed with olive oil.
Gently crack the eggs over the vegetables. Bake for 12-15 minutes or until the eggs are cooked to your liking. You can test the egg yolks by gently pressing them with a rubber spatula to see if it's cooked enough.
Remove from the oven and serve. Garnish with avocado slices, a little lime juice from lime wedges, and cilantro if you'd like.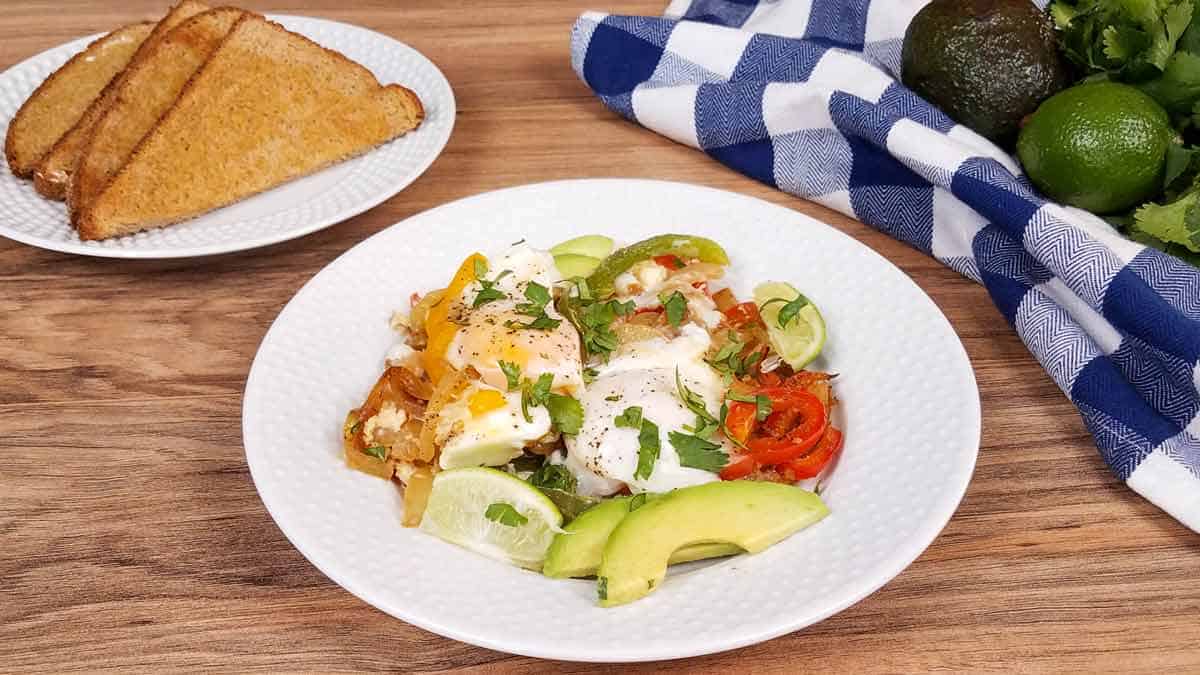 Recipe Tips
If your eggs aren't cooked enough for your liking, you can put the Instant Pot lid back on your pot and cook for "0" minutes. To do this, hit the Manual or Pressure Cook button and set your time to zero. The pot will come to pressure again, and you'll quick release that pressure–and your eggs should be perfect.
If you don't have time to prepare the vegetable seasoning recipe, feel free to use a little bit of garlic powder, onion powder, chili powder, and a dash of black pepper. Season to your liking.
If you prefer spicy breakfast fajitas, include sliced jalapeños in your vegetable stir-fry, or increase the amount of chili powder in your spice mix.
If any extra vegetables remain, store in an airtight container and use them for your next batch of breakfast fajitas tomorrow morning. This entire recipe is delicious enough to enjoy again.
Both a soft flour tortilla or a soft corn tortilla work great with this recipe. You can warm tortillas either in a pan on the stovetop or quickly in the microwave. Just be sure to recalculate your healthy eating plans.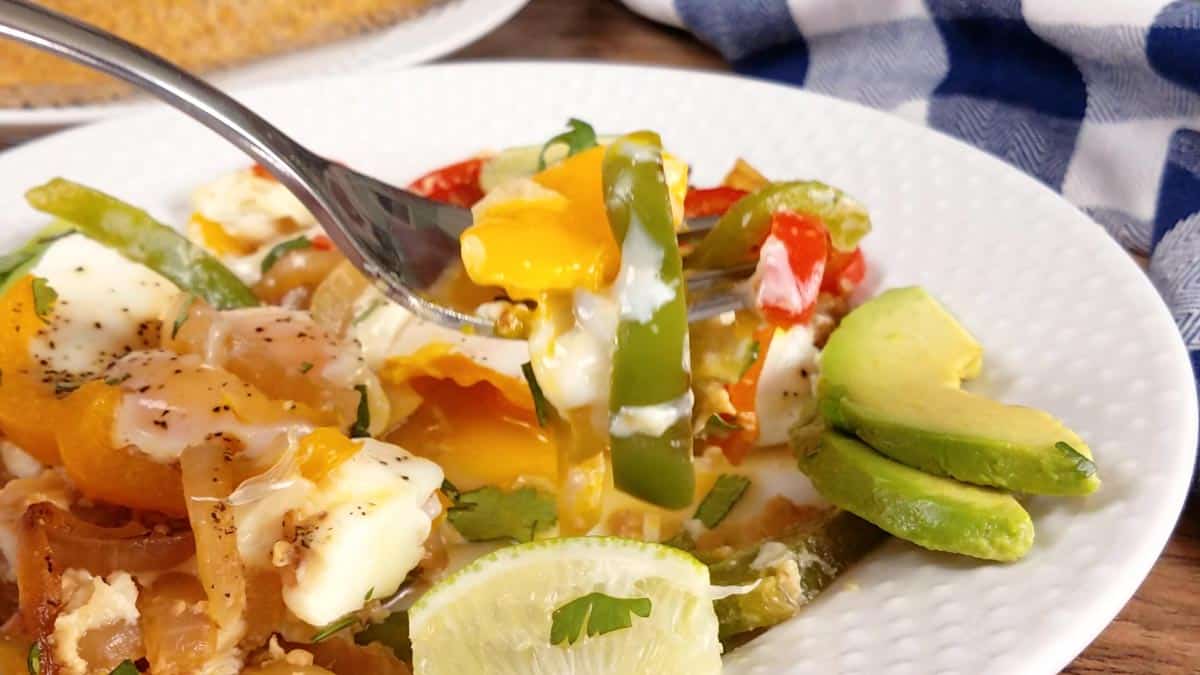 Healthy Eating Plans
Serving size is 2 eggs, and 1 cup cooked vegetables.
Weight Watchers
2 Blue Plan Points, 6 Green Plan Points, 2 Purple Plan Points, 2023 points: 2
21 Day Fix/Ultimate Portion Fix
1 green container, 1 red container, 1.5 teaspoons per serving.
Trim Healthy Mama
This is a Crossover recipe when using coconut or MCT oil instead of olive oil.
2B Mindset
This is a perfect 50% vegetable and 50% protein meal, just add your FFC!
More delicious recipes for breakfast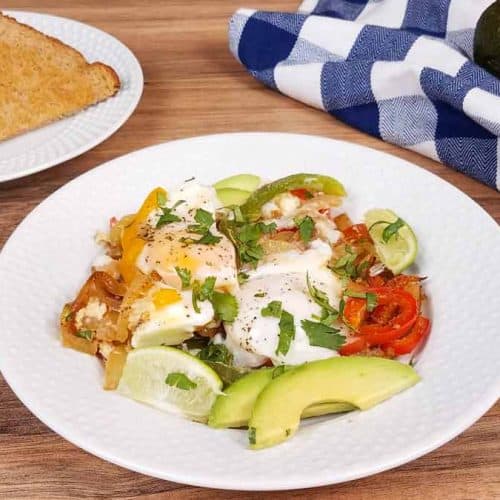 click the stars to rate!
Breakfast Fajitas Recipe
Servings 2
This Instant Pot Fajita Breakfast Casserole is the perfect quick breakfast for your busy morning! Fresh bell peppers and onions with over easy eggs make a healthy and filling breakfast.
Ingredients
1 tbsp. olive oil for sautéing
1/2 tsp garlic minced
1/2 cup onion sliced
1 1/2 cup bell peppers sliced
1/2 tsp homemade vegetable seasoning optional
4 eggs
Salt and pepper to taste and garnish with cilantro, limes, and avocado
Instructions
Instant Pot:
Turn the Instant Pot to sauté, add the olive oil and allow it to heat up. Add the garlic, onions, bell peppers, and vegetable seasoning (optional). Sauté for about 4 minutes until the contents are fragrant. 1 tbsp. olive oil, 1/2 tsp garlic, 1/2 cup onion, 1 1/2 cup bell peppers, 1/2 tsp homemade vegetable seasoning

Turn off the Instant Pot and transfer the bell peppers and onions to a round oven safe pan that will fit inside the pot. I used a 2-quart soufflé pan, but any oven safe dish would work.

Gently crack four eggs and place them on top of the peppers so that the yolk is intact. Cover with foil. You can use a large piece of foil folded into thirds to make a sling to raise and lower the dish from the Instant Pot. 4 eggs

Place a trivet in the Instant Pot insert and add 1 cup of water. Gently lower the covered dish to sit on top of the trivet. Lock the lid into place and move the pressure valve to sealing.

Cook on high pressure for 2 minutes and quick release.

Remove the dish from the Instant Pot. Top with avocados, cilantro, salt and pepper, and sliced limes as desired. I love to add a side of whole wheat toast to this! Salt and pepper to taste and garnish with cilantro, limes, and avocado
Stove Top:
Preheat a skillet on high heat and add the olive oil. Once the oil is hot ,sauté the garlic, onions, bell peppers, and vegetable seasoning (optional) for 1-2 minutes. 1 tbsp. olive oil, 1/2 tsp garlic, 1/2 cup onion, 1 1/2 cup bell peppers, 1/2 tsp homemade vegetable seasoning

Gently crack the eggs over the vegetables. Reduce the temperature to medium heat. 4 eggs

Cover the pan and allow to cook for about 1-2 minutes until the egg whites are no longer translucent. 

Remove the pan from the heat and serve immediately topped with avocado, limes, and cilantro. I love to add a side of whole wheat toast to this! Salt and pepper to taste and garnish with cilantro, limes, and avocado
Oven:
Preheat your oven to 400 degrees F.

Toss the onions, bell peppers, garlic, and vegetable seasoning (optional) in the olive oil and garlic then layer them on a baking sheet.1/2 cup onion, 1 1/2 cup bell peppers, 1/2 tsp garlic, 1/2 tsp homemade vegetable seasoning, 1 tbsp. olive oil, 1/2 tsp garlic

Gently crack the eggs over the vegetables. Bake in the oven for 12-15 minutes (depending on how soft you like your eggs–keep an eye on them). 4 eggs

Remove from the oven and serve immediately. Top with sliced avocados, limes, and cilantro. Salt and pepper to taste and garnish with cilantro, limes, and avocado
Notes
Healthy Eating Plans Serving size is 2 eggs, and 1 cup cooked vegetables. Weight Watchers: 2 Blue Plan Points, 6 Green Plan Points, 2 Purple Plan Points, 2023 points: 2 21 Day Fix/Ultimate Portion Fix: 1 green container, 1 red container, 1.5 teaspoons per serving. Trim Healthy Mama: This is a Crossover recipe when using coconut or MCT oil instead of olive oil. 2B Mindset: This is a perfect 50% vegetable an
Nutrition
Calories: 241kcal | Carbohydrates: 11g | Protein: 12g | Fat: 16g | Saturated Fat: 3g | Cholesterol: 327mg | Sodium: 131mg | Potassium: 415mg | Fiber: 3g | Sugar: 6g | Vitamin A: 3975IU | Vitamin C: 145.7mg | Calcium: 66mg | Iron: 2mg