This site contains affiliate links. Please see Policies for more information.
When it comes to the Instant Pot, there is definitely a bit of a learning curve to get up and running (or cooking). I've written this book to help you pull your pot out of the box and feel comfortable using it. How to use your Instant Pot: An easy-to-read guide to feeling comfortable using your electric pressure cooker is written specifically written for those who purchased their electric pressure cooker and promptly stuck in in the closet, in the box, where it's currently sitting because you don't feel comfortable using it.
Once you learn how to use Instant Pot pressure cookers you will likely be hooked…just like me!

How To Use Your Instant Pot eBook
A lot of people struggle to get comfortable with their Instant Pot. Since the Instant Pot is closed while it's cooking, it's a bit more of a myster than other cooking methods like since stove top and slow cooking where you can check in on the cooking process as you cook your meals. With an electric pressure cooker you have to dump it all in and let things take their course.
When I started posting Instant Pot recipes I had a lot of questions from readers about how to use the pot. This is what prompted me to put together this guide for the Instant Pot.
Why should I buy this book to learn how to use pressure cookers?
As someone with over 100 Instant Pot recipes tested and published here on My Crazy Good Life, I've used my electric pressure cooker a lot. I've learned the ins and outs of cooking with this appliance, and love helping my readers learn to use theirs. Below you'll find a list of the topics that make up this book, which will help you determine if this guide is right for you. This is an easy to read but in depth book about how your pressure cooker works and how to use it.
This book is a 35 page guide that will walk you through your Instant Pot from start to finish. I share helpful insights, troubleshooting tips, and even a quick and simple recipe to get you started. It's everything you need to know to take you from the closed box to an Instant Pot user.
Click here to purchase this eBook from my online store!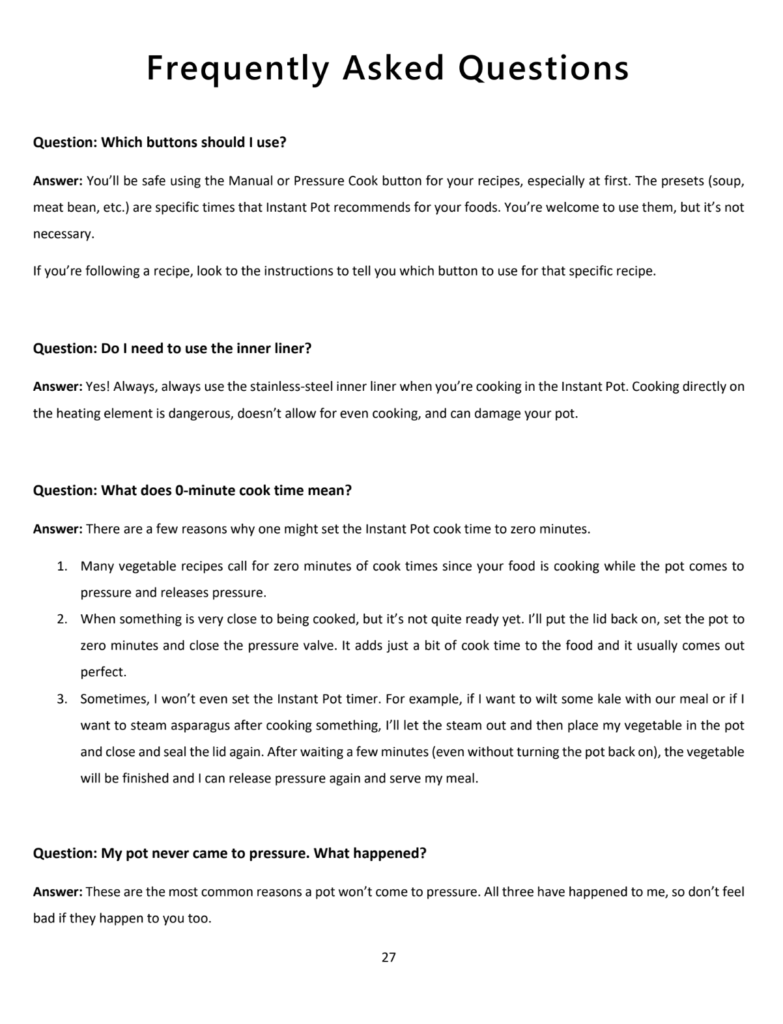 What is included in this book?
Here's the layout of the How to use your Instant Pot: An easy-to-read guide to feeling comfortable using your electric pressure cooker.
How to use your Instant Pot®
What Is an Instant Pot?
Instant Pot Features
Included Accessories
Why You're Going to Love Your Instant Pot
Different Instant Pot® Models
Instant Pot Models
Common Features Across All Models
Differences Between Models
Why You Shouldn't Be Nervous About Using Your Instant Pot®
Let's Talk About Pressure
Don't Let the Pressure Scare You
Releasing the Pressure
Natural vs. Manual Pressure Release
Recipe Fails: Why do they happen?
Adjusting for Size Differences
Size Differences and Coming to Pressure
How Much Liquid to Add for Each Size
Adjusting for High Altitude
Pay Attention to Your Altitude
Some Examples of High Elevations
How to Adjust for Altitude
How to Convert Recipes to Instant Pot®
General Instant Pot Cooking Tips
How to Convert Slow Cooker Recipes to Instant Pot
Cooking Times for Vegetables
Cooking Times for Meats
How to Remove Odors
Steam Cleaning the Sealing Rings
Replacing the Sealing Rings
Steam Cleaning the Instant Pot
Deep Cleaning the Instant Pot
Frequently Asked Questions (with step by step first recipe)
Instant Pot Printables
There is so much to learn about Instant Pot cooking. Words like "natural release and quick release" could easily leave you stumped if you have never used an electric pressure cooker. This book explains it all and helps get you on your way to using your Instant Pot a few times a week.
Click here to purchase How to Use Your Instant Pot from my online store!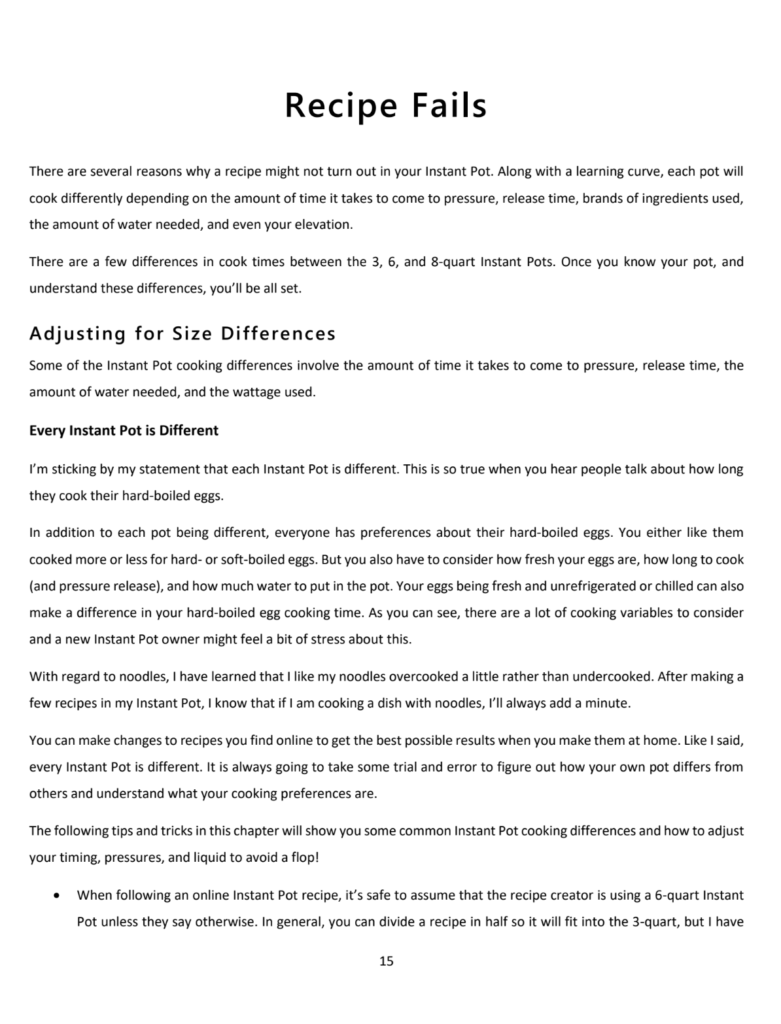 Are there recipes in this eBook?
This book is mostly focused on teaching you how to use Instant Pot models and their features. There is a basic recipe that walks you through how to cook hard boiled eggs included in the book so you can feel confident and capable when using the Instant Pot. If you are looking for a book that just has Instant Pot recipes you can pickup this Instant Pot Recipes eBook!
Is this eBook useful for other electric pressure cookers?
My eBook is for learning how to use your Instant Pot. Some of the tips, tricks, recipes, and features will be the same but this guide is specifically for Instant Pot models.
I cover the different kinds of Instant Pots, the different models available, and the accessories and features of those pressure cookers. It's likely that some of the information would translate to other electric pressure cookers but this book is written specifically for the Instant Pot brand.
Click here to purchase this eBook from my online store!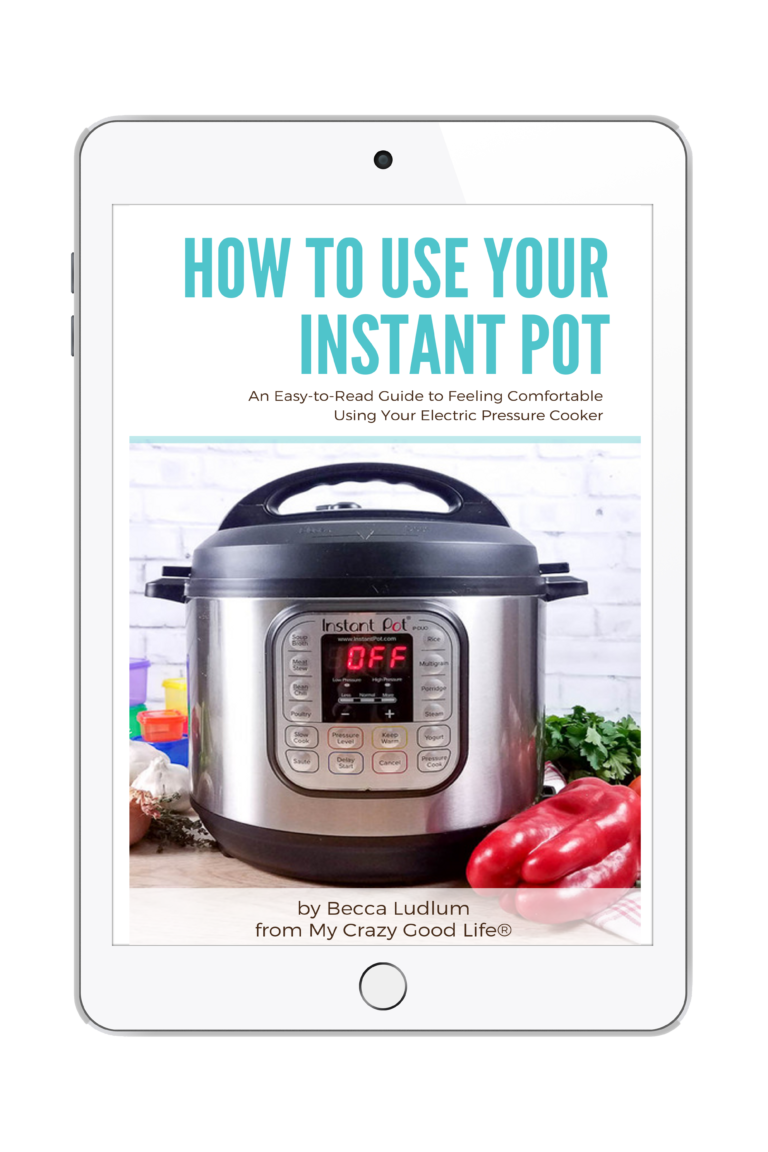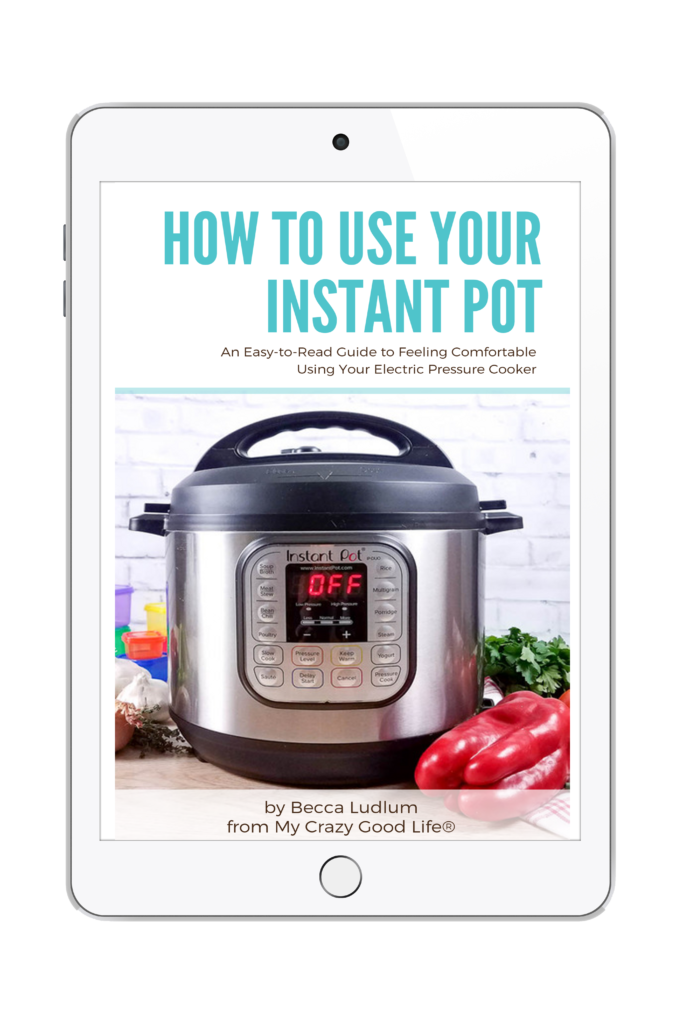 Are there other eBooks that I can check out as well?
I have quite a few recipe eBooks and informational eBooks in the store on my site. You can check out these other awesome eBooks for yourself and see which ones could be most useful for you!