Making Instant Pot dinners means you will have more time to spend on fun stuff, like crafting, or drinking margaritas. The possibilities are endless!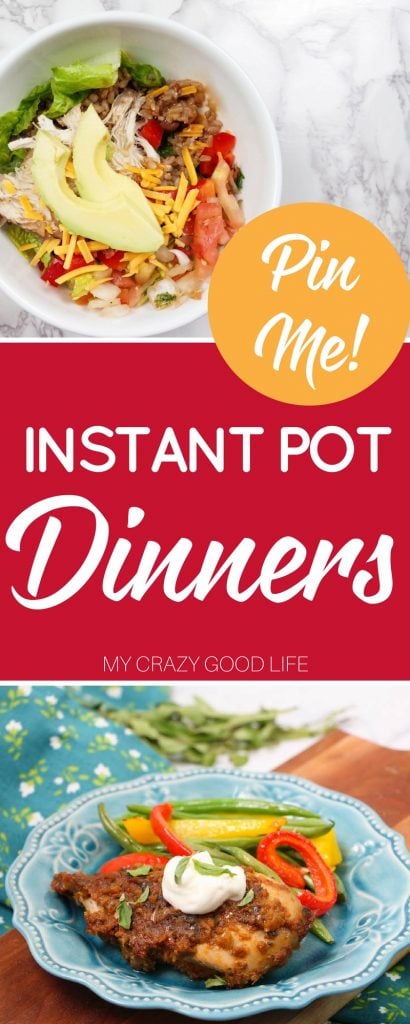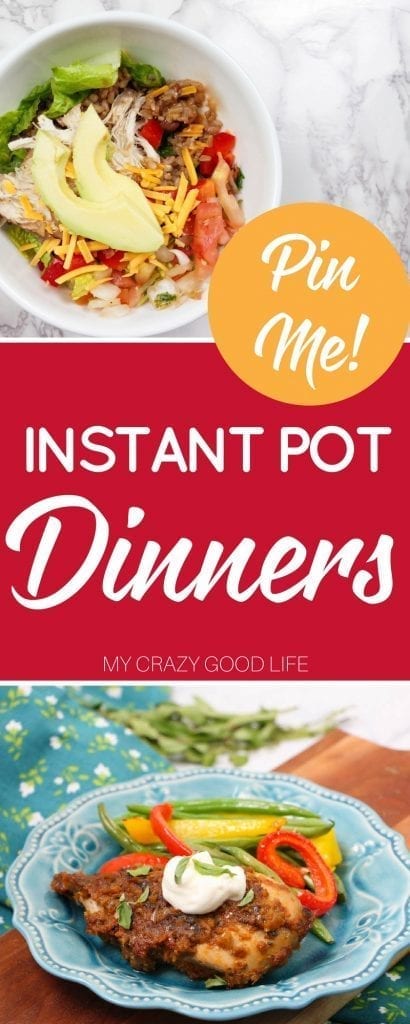 Using the Instant Pot to make meals, desserts, snacks, and even breakfast saves me time and energy. I love to use my Instant Pot for meal prep because I can set up a whole week of meals in very little time.
The Instant Pot can help you stay on track with a diet program, mine is great for 21 Day Fix recipes! Today I'm focusing on dinner recipes! These Instant Pot dinners are some of our favorites that we turn to on a regular basis.
If you've been looking for a fast, fun, easy way to get a healthy and delicious meal on the table in a hurry the Instant Pot can help make that dream a reality. I was skeptical at first but the Instant Pot truly has changed how I prep meals, make dinner for my family, and it has even changed the way I bake!
Instant Pot Dinners
You can figure out which Instant Pot is right for you here. Order your perfect Instant Pot here.
Instant Pot Spanish Rice and Chicken | My Crazy Good Life
Instant Pot Cilantro Lime Drumsticks | My Crazy Good Life
Cracked Out Chicken | My Crazy Good Life
Caprese Chicken | Confessions of a Fit Foodie
Balsamic Chicken | Confessions of a Fit Foodie
Instant Pot Bruschetta Chicken | Carrie Elle
Chicken Marsala | Confessions of a Fit Foodie
Buffalo Chicken | My Crazy Good Life
Instant Pot Asian Chicken | Confessions of a Fit Foodie
Instant Pot Orange Chicken | My Crazy Good Life
Gluten Free Instant Pot Mac and Cheese | Confessions of a Fit Foodie
Instant Pot Turkey and Cabbage Soup | Healthy Vittles and Bits
Zucchini Crab Soup | Confessions of a Fit Foodie
Instant Pot Beef and Broccoli | Hustle and Heart Fitness
Instant Pot Beef Stew | Desert Chica
Chicken Veggie Soup | Confessions of a Fit Foodie
Chicken Tortilla Soup | Confessions of a Fit Foodie
Chicken Burrito Bowls | My Crazy Good Life
Instant Pot Asian Chicken | Confessions of a Fit Foodie
Enchilada Chicken Stew | Paleo MG
Buffalo Chicken Chili | Confessions of a Fit Foodie
Instant Pot Beef Pho | My Crazy Good Life
Instant Pot Beef Gyros | My Crazy Good Life
Instant Pot
Tofu and Quinoa Biryani
|
Krishna's 21 Day Fix Meals
Instant Pot Meatloaf | Christine Pechulis
Instant Pot Slow Cooker Cajun Sausage Soup | Fit For Me
Instant Pot Crustless Pizza Casserole | Mastercook
Instant Pot Goulash | My Crazy Good Life
Instant Pot Macaroni and Cheese | My Crazy Good Life
Instant Pot
Lasagna
|
My Crazy Good Life
Instant Pot Stuffed Pepper Soup | My Crazy Good Life
Instant Pot
Pulled Pork
|
Confessions of a Fit Foodie
Butternut Squash Soup | Savory Made Simple
Instant Pot Beef Bolognese with Spaghetti Squash | Confessions of a Fit Foodie
Instant Pot Swedish Meatballs | My Crazy Good Life
Instant Pot Beanless Beef Chili | Confessions of a Fit Foodie
Lemon Garden Vegetable Soup | Foraged Dish