I'll admit that there are a lot of spices in this Instant Pot Beef Pho, but it's worth it–the Instant Pot helps for sure! It's also a 21 Day Fix Beef Pho recipe! If you're not on the 21 Day Fix, rest assured that it just means that it's a clean, healthy recipe that you can feel confident cooking for your family.
21 Day Fix Pho is hard to find, so this is the recipe you're looking for!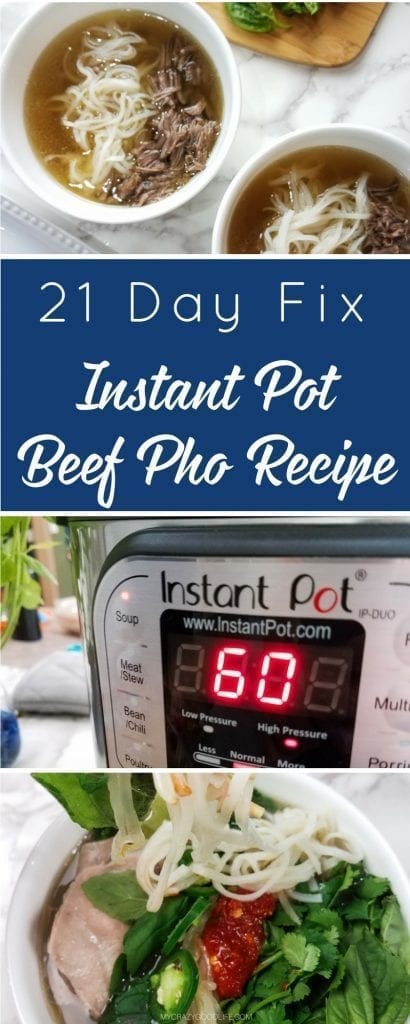 Instant Pot Beef Pho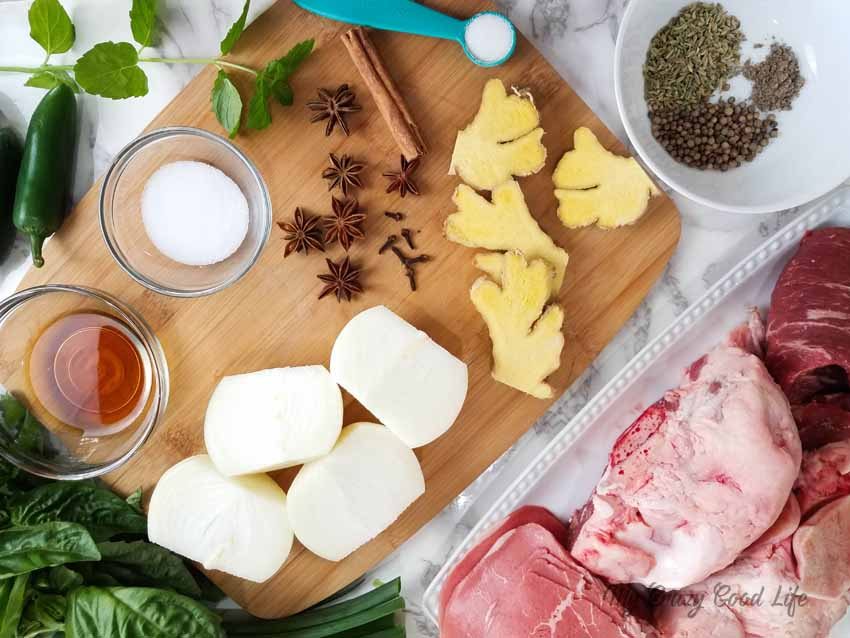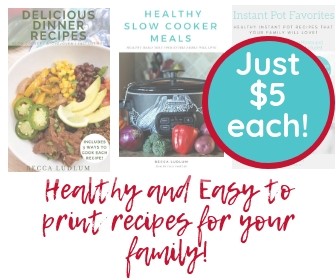 MY OTHER PROJECTS
Instant Pot Beef Pho Ingredients:
Broth:
1 lbs. beef brisket
3 lbs. beef soup bones
2 medium onions sliced in half
4 ginger branches sliced in half
6 whole cloves
6 whole star anise
1 tbsp. fennel seeds
1 tbsp. coriander seeds
1 tsp. sugar
1 tbsp. salt
1 tsp. ground cardamom
1 cinnamon stick
5 tbsp. fish sauce or Bragg's liquid aminos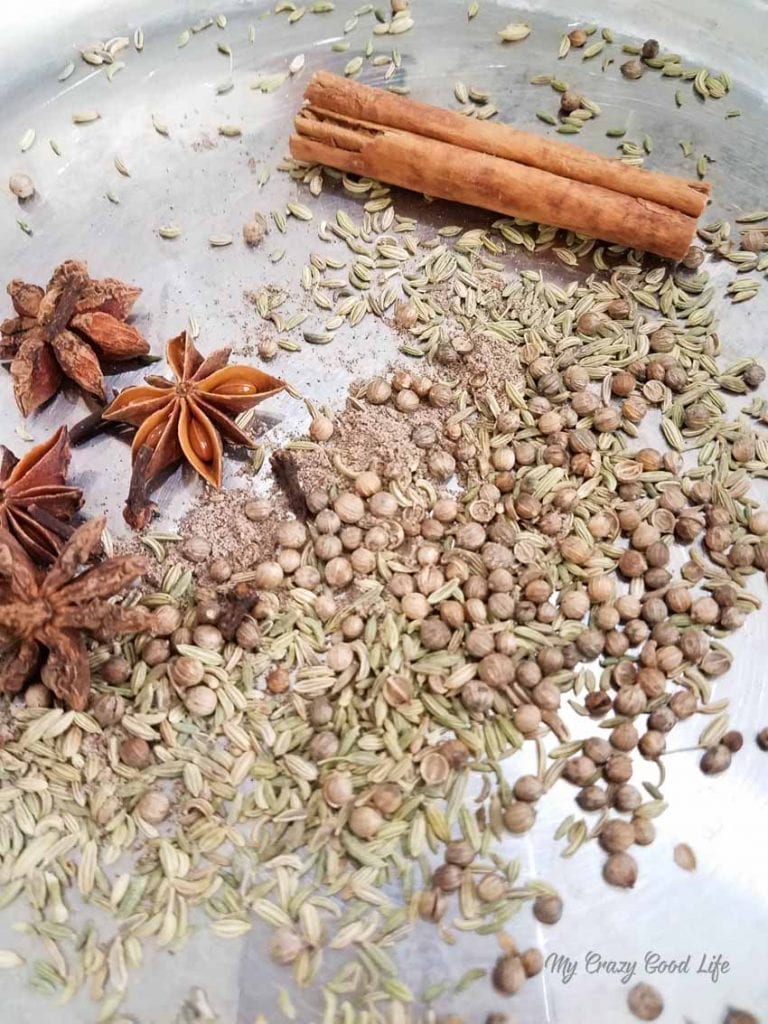 Toppings:
1 lbs. thinly sliced beef (any boneless roast or steak)
1 package dry rice noodles
sliced green onions
mint leaves
cilantro leaves
fresh basil
1 jalapeno, sliced
Mung bean sprouts
1-2 lime
chili garlic sauce (optional)
Directions for Instant Pot Beef Pho:
1) Preheat your oven to broil. Line a baking sheet with aluminum foil then spread out your soup bones, brisket, onions, and ginger. Place the baking sheet in the oven under the broiler for 10 minutes, then turn the meat, onions, and ginger to broil on the other side for an additional 10 minutes. Browning the onions, garlic, and meat will add great flavor to your soup.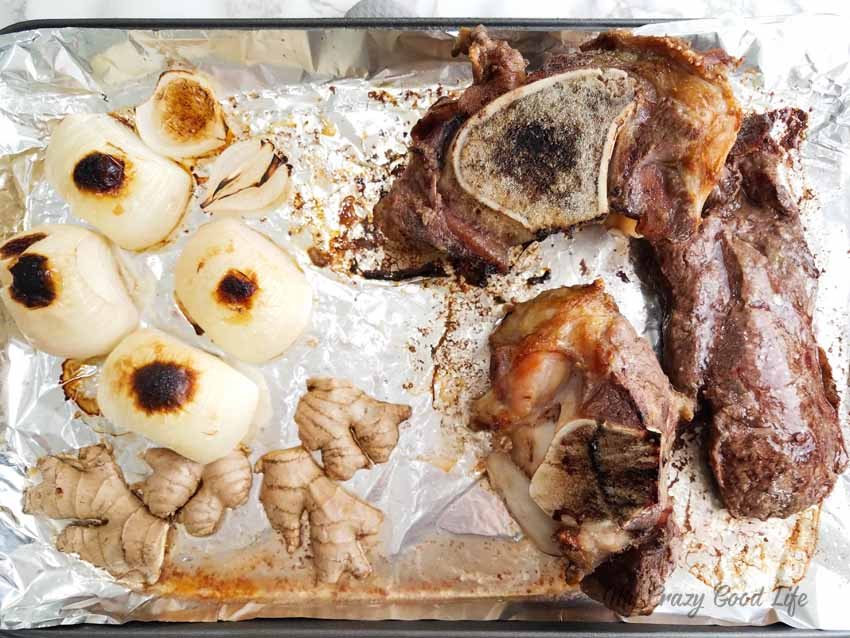 2) Add all your spices except the salt and sugar to a skillet, do not add oil. Dry roast the spices on high heat for 1-2 minutes stirring or shaking the pan about every 30 seconds. Dump all the spices into a nut milk bag, cheese cloth, or a coffee filter tied closed with twine. You are essentially creating a big tea bag for your soup.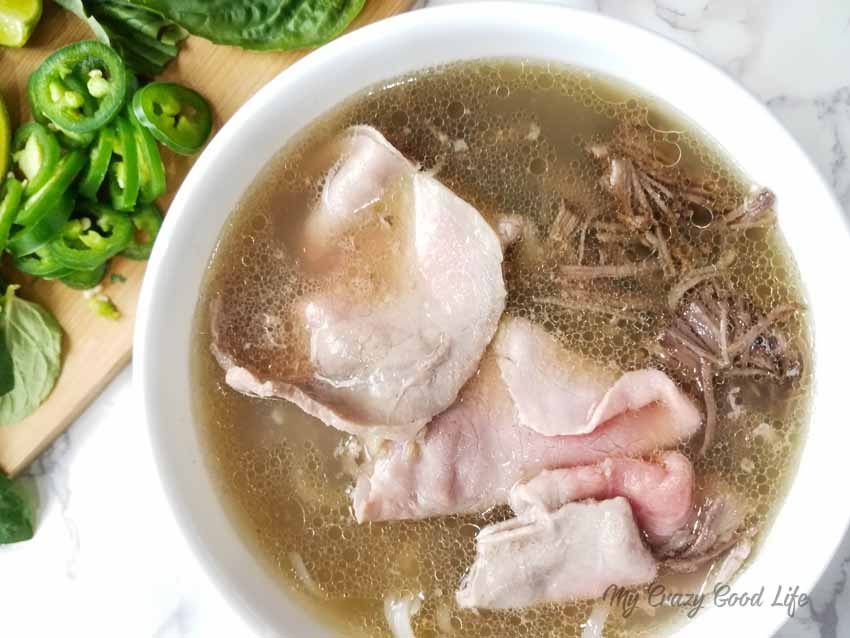 3) Place the brisket, soup bones, onions, ginger, and spice bag into your Instant Pot. Sprinkle the salt and sugar over the meat. Next, fill your Instant Pot with water up to the max fill line. Lock your lid into place and turn the pressure valve to seal. Cook on high pressure using the soup preset for 1 hour. When done, let the pressure release naturally. It will take about 2 hours for the Instant Pot to come to pressure, cook, and release all the pressure.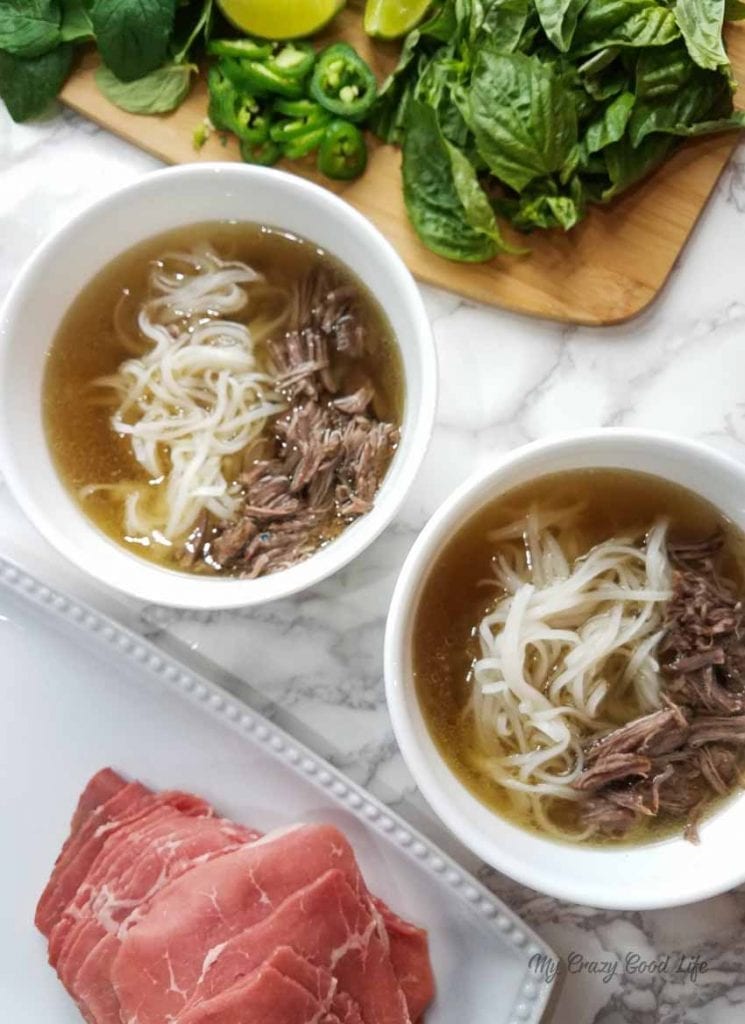 4) When the pressure is released remove the spice bag, onions, ginger, brisket, and soup bones. Put the brisket in a separate dish and shred. The rest can be discarded. The soup bones can be frozen for next time.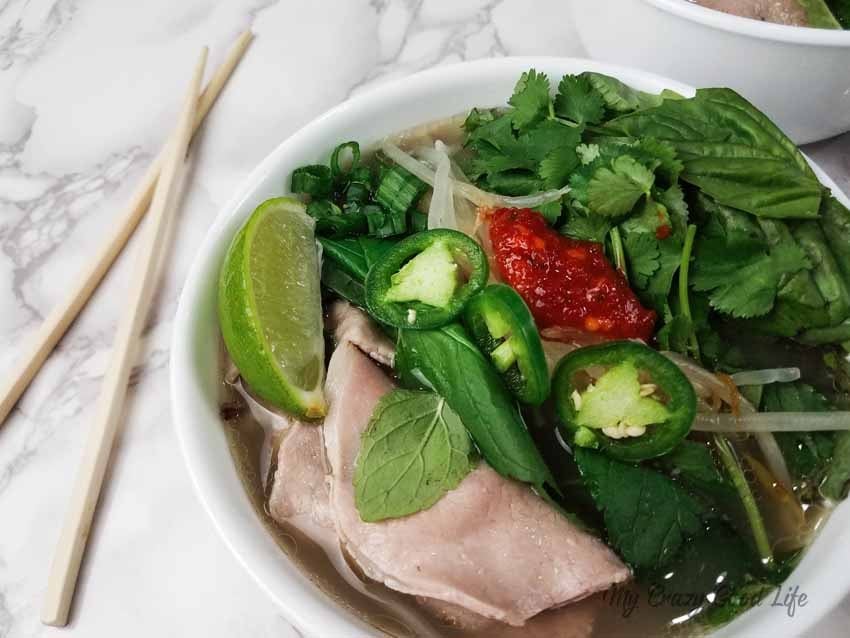 5) Mix the fish sauce into your broth, then turn the Instant Pot to saute. The saute setting will bring your broth to a boil and ensure it is nice and hot for cooking the thinly sliced beef later.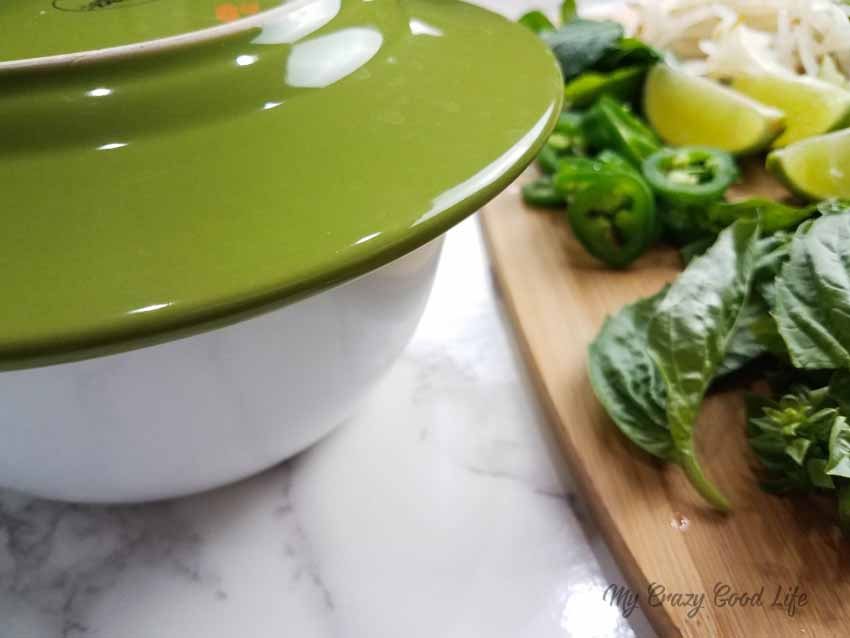 6) Cook your rice noodles according to the package and prepare your vegetables. When the noodles are done layer them in the bottom of your bowls. Toss in some shredded brisket, and then fill the bowl with hot broth. Place your thinly sliced beef directly in the bowl, use a spoon or chopsticks to push the beef into the broth. Lay a plate over the bowl to hold the steam in, let the beef cook for 2-3 minutes. Fill your bowl with toppings and enjoy!
21 Day Fix: This is so easy to count! Your broth is free, rice noodles can be filled into a yellow container before dumping it into your bowl. Fill your red container with beef before adding, and then put your toppings into a green container before adding them to the soup.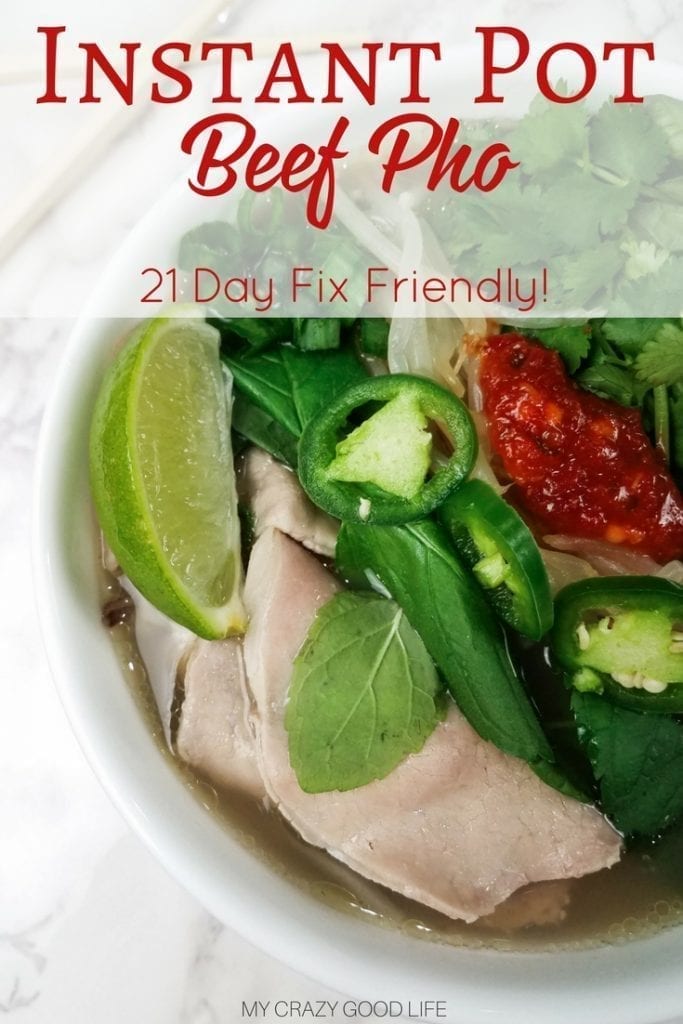 Save