This site contains affiliate links. Please see Policies for more information.
The Instant Pot has changed the way we make a lot of meals. It makes everything more quickly but it also infuses a lot of flavor into our normal meals.
We like to eat a lot of whole foods and the Instant Pot helps make sure that those delicious ingredients are packed full of delicious flavors from any and all seasonings we include. One thing I am just now discovering is the brave new world of Instant Pot dessert recipes.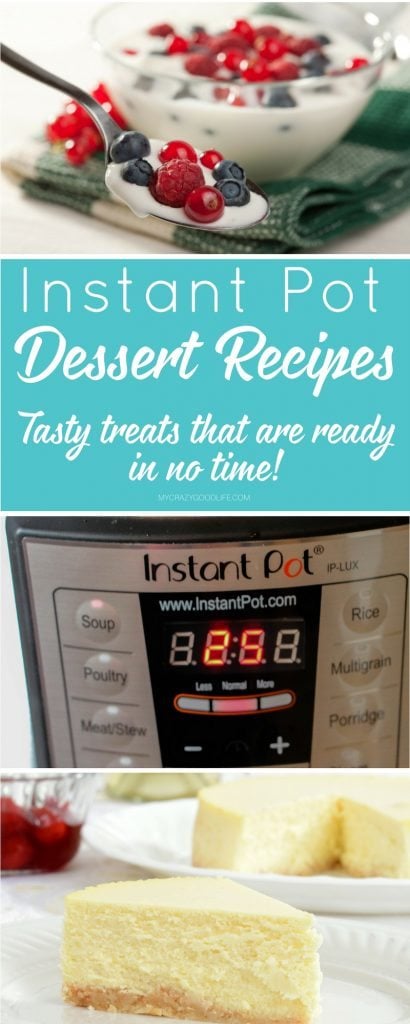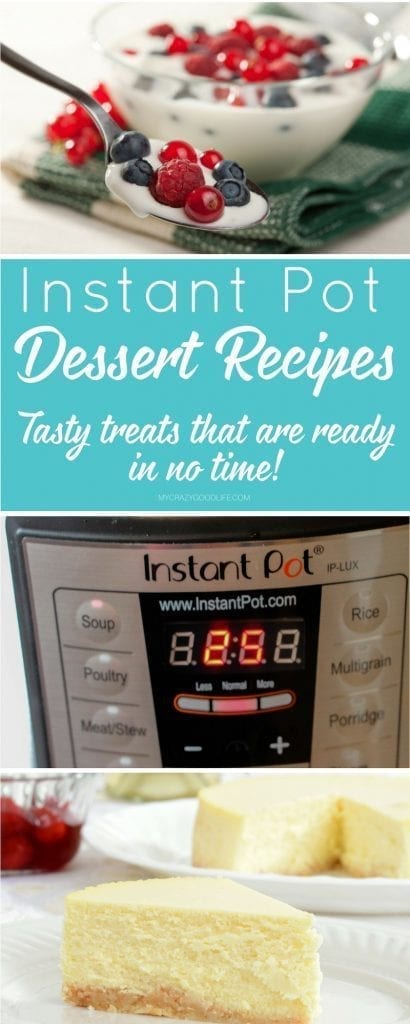 Did you know that you can make everything from yogurt to cheesecake in your Instant Pot for dessert? There are so many great recipes out there for desserts that can be made in the Instant Pot. No need to warm up the oven, heck you can even set the timer or use your phone to start the process when baking with the Instant Pot!
Use your favorite new kitchen gadget in every way possible by trying out some of these great Instant Pot dessert recipes. If you are looking for even more Instant Pot Recipes you are in luck, I love rounding up the most tasty ways to use my handy new pressure cooker.
Instant Pot Dessert Recipes:
Instant Pot Brownies 21 Day Fix Friendly | My Crazy Good Life
Instant Pot Apple Crisp | Center Cut Cook
Four Instant Pot Mug Cakes Recipes | Woodhaven Place
Mini Butterscotch Cheesecakes with Salted Caramel Sauce | Tablespoon
Instant Pot Oreo Cheesecake | My Baking Addiction
Apple Bread with Salted Caramel Icing | Adventures of a Nurse
Instant Pot Baked Apples | Real Advice Gal
Instant Pot Key Lime Pie | Living Sweet Moments
Instant Pot Coconut Yogurt | The Primal Desire
New York Cheesecake | Pressure Cook Recipes
Dolce de Leche Lava Cake | Living Sweet Moments
Guilt Free Chocolate Pudding Cake | This Pilgrim Life
Pumpkin Banana Chocolate Chip Bundt Cake | A Pinch of Healthy
Instant Pot Rice Pudding | Traditional Cooking School
Pressure Cooker Samoa Cheesecake | Pressure Cooking Today .
Instant Pot Bread Pudding | Health House 365
Save
Save