This site contains affiliate links. Please see Policies for more information.
We're always looking for a healthier version of potato fries. These baked carrot fries are a delicious alternative to regular french fries. For a french fry lover like myself that's a BIG statement.
Make our Baked Carrot Fries in your air fryer or oven, and lightly salt them to satisfy your french fry cravings!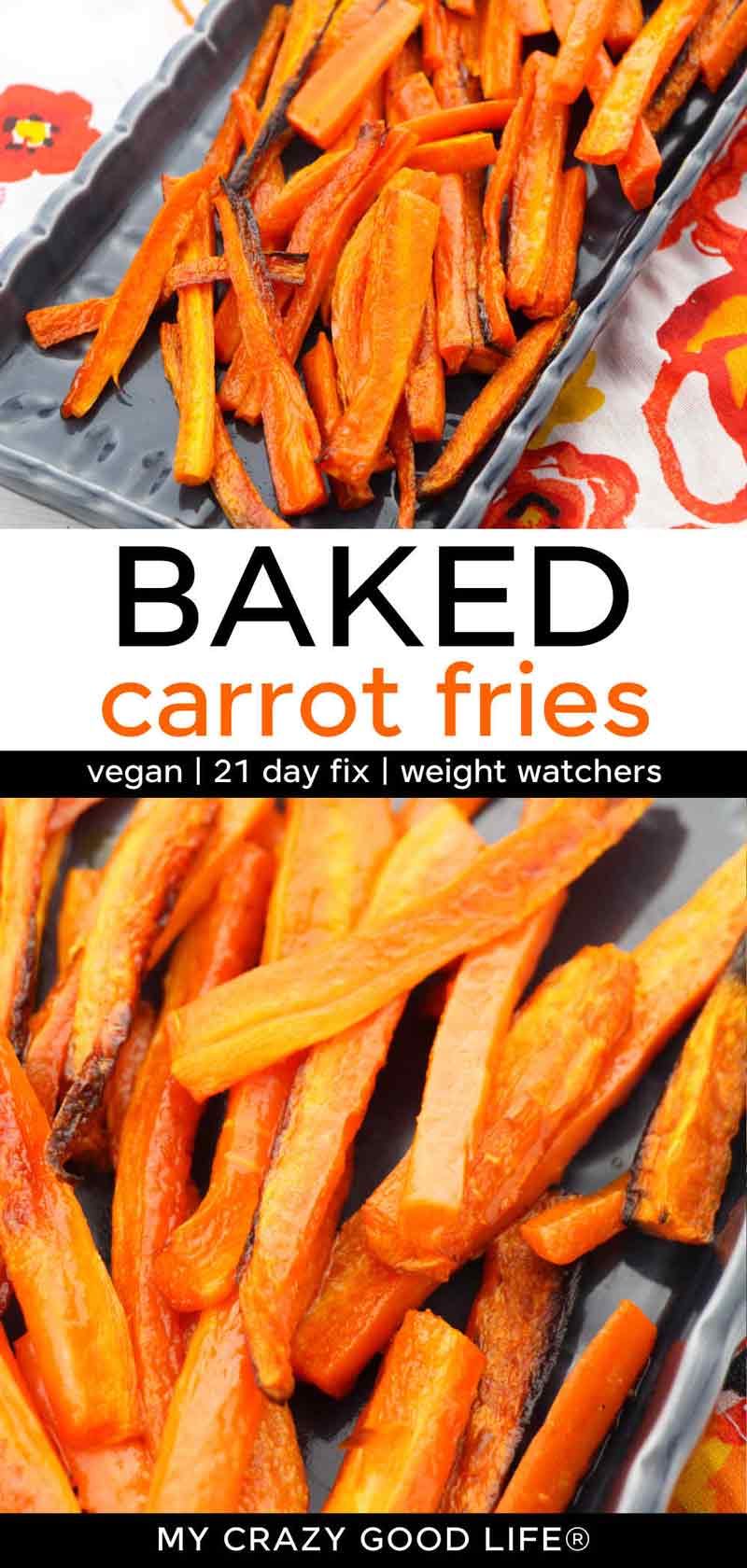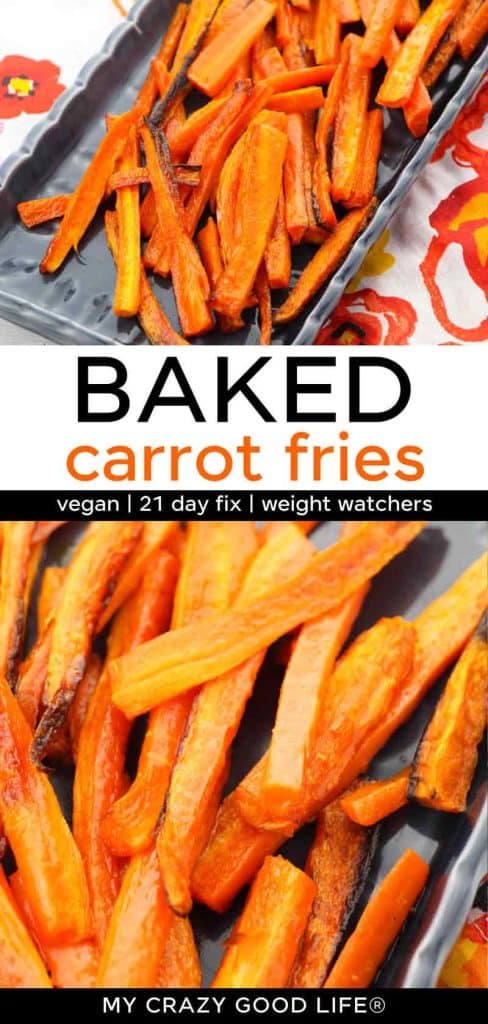 Our crispy baked carrot fries are a great way to get more healthy vegetables into your daily values. Our crispy carrot fries are made with only three simple ingredients, and make the perfect snack or side dish for your dinner.
Regular potato fries are delicious, there is no denying that. Our carrot fries are just as delicious, and will help keep your craving for traditional fries at bay.
The natural sweetness of the carrots pairs perfectly with the simple flavors of sea salt. It's the perfect combination of sweet, salty, and healthy! Our carrot fries are like sweet potato fries and will earn a five star rating from everyone in your family. 
Where's the Recipe?
Here at My Crazy Good Life we love it when our readers feel confident and empowered in the kitchen. We strive to provide detailed recipes that are helpful to all varying levels of cooking skills.
In our recipes we include detailed instructions, nutritional information, healthy eating plan points, as well as other helpful tips and tricks to help you be more successful. If you are ready to start cooking, simply scroll down to the bottom of the page to find the easy to print recipe for Baked Carrot Fries. 
Ingredients in Baked Carrot Fries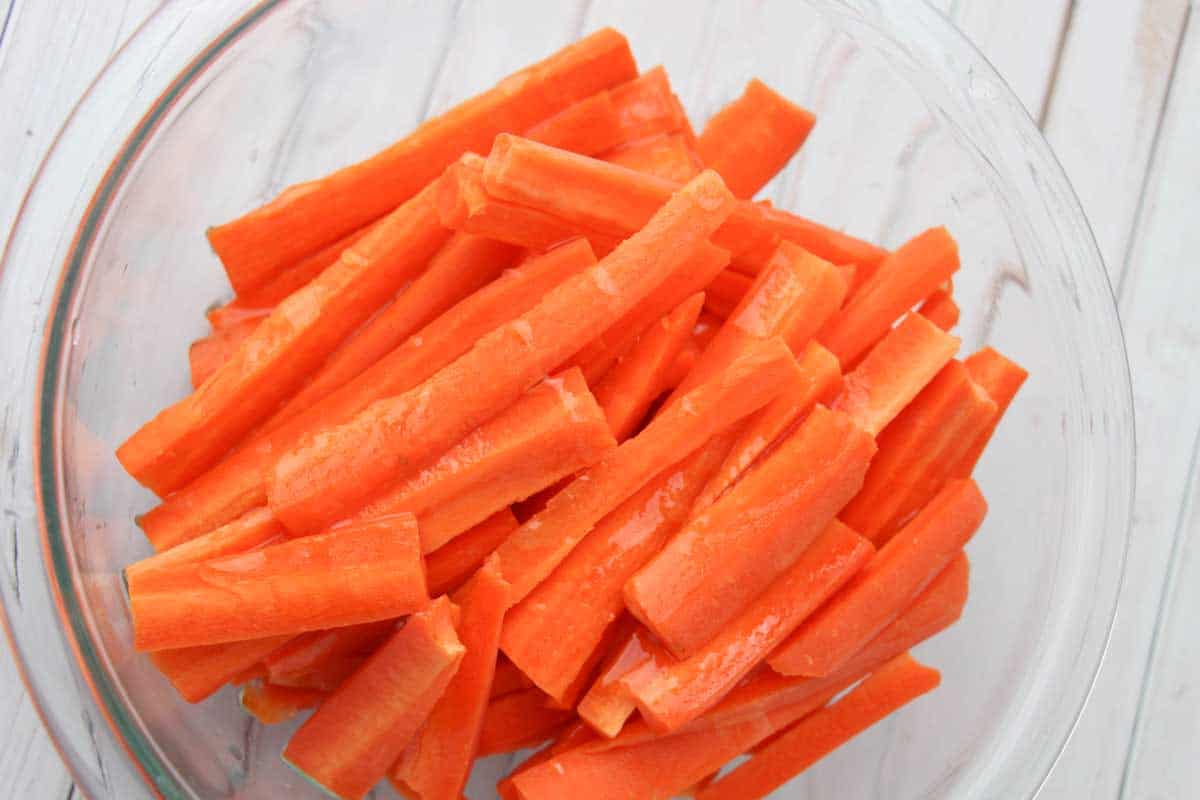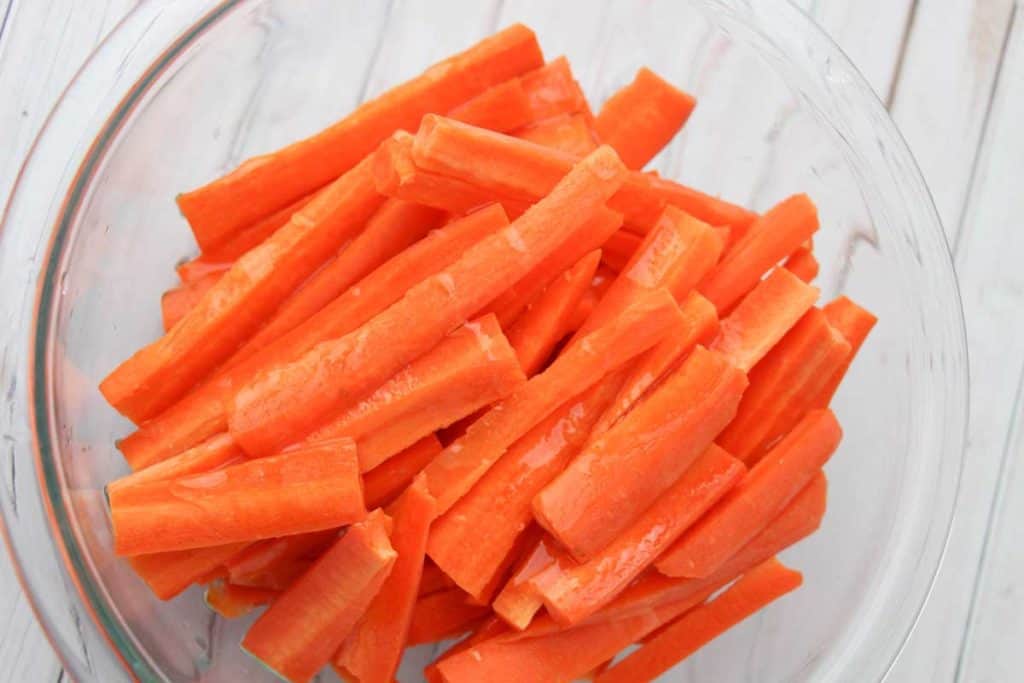 Instructions for Baked Carrot Fries in Oven or Air Fryer
If cooking these carrot fries in the oven, preheat oven to 350º.  
Peel carrots with a vegetable peeler (be careful!), slice into fry-sized pieces that are also a fry shape.
Place carrots in a large mixing bowl and toss with olive oil and salt to taste.
Spread carrot sticks in a single layer on a large baking sheet or sheet pan lined with parchment paper. Place baking sheet in hot oven. If cooking in the air fryer, try to place carrots as spread out, in an even layer, as much as possible.
If cooking in the air fryer, check every 2-3 minutes and remove when tips are brown.
If in oven, bake for 12-25 minutes at 350 degrees until carrots are browned.
Transfer to a large bowl and season with more salt if needed.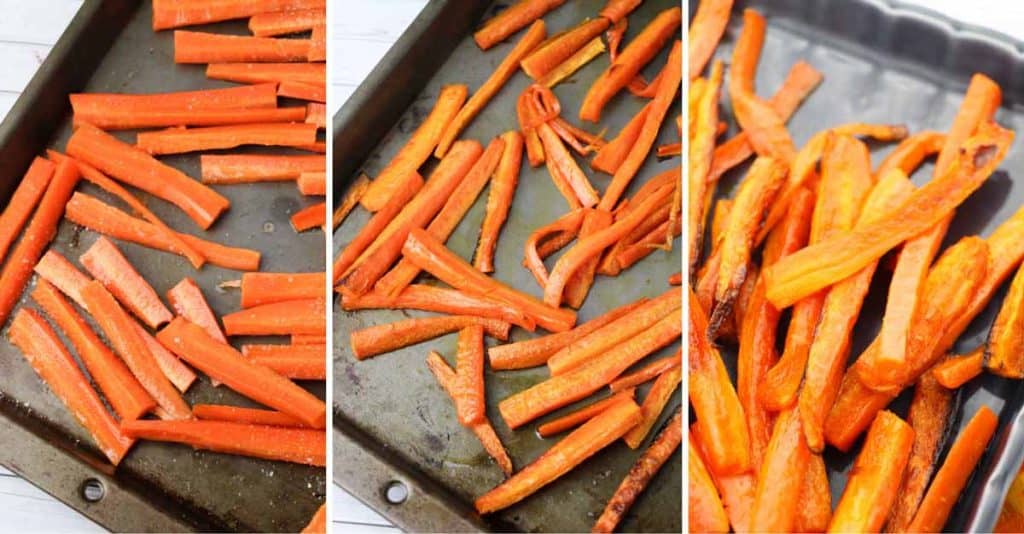 Recipe Tips
Our oven-baked carrot fries are easily modified and can serve as a starting point if you're feeling adventurous. Try sprinkling garlic powder, onion powder, or a light dusting of parmesan cheese the next time you make our carrot fries. If you do add additional toppings, please note that your healthy eating plan points would need to be recalculated. 
These carrot fries are best eaten fresh. You can store them in an airtight container and reheat later, however they aren't quite as crunchy. 
Try to cut your fries all the same size and shape. If you have smaller pieces, you might end up with super-burnt crunchy pieces of carrots.
This would be a great addition to many of your side dishes at the table for a special occasion.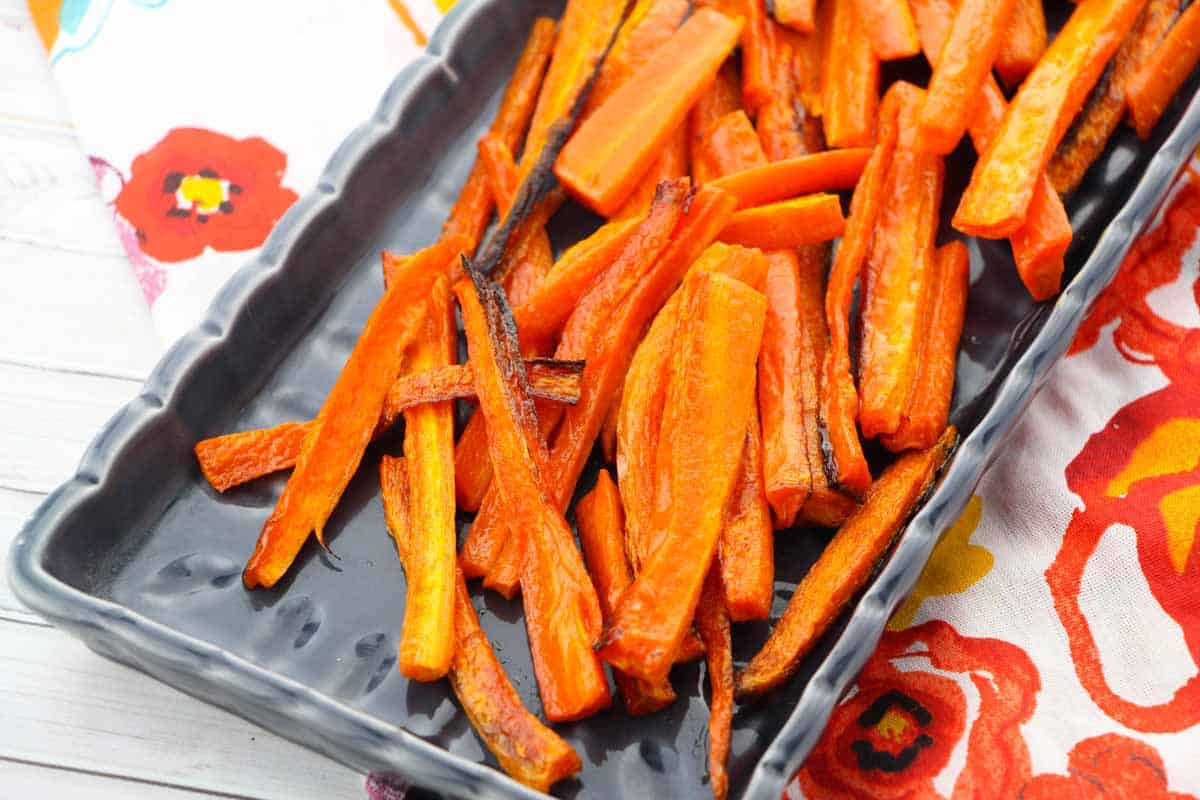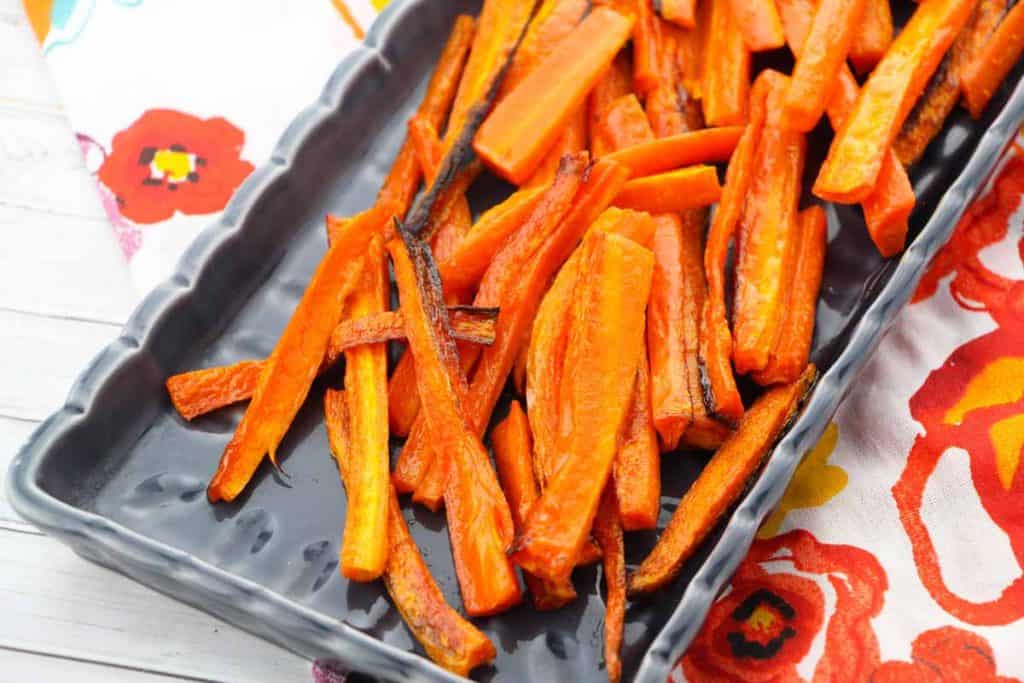 Healthy Eating Plans
Weight Watchers
2 Points on the 2023 Plan | 2 Blue, Green, and Purple Plan Points per serving
21 Day Fix
This 21 Day Fix Recipe for Baked Carrot Fries is a delicious way to use up your green containers for the day. Just fill your green container with these oven baked carrot fries and count as 1 green container and 1 tsp. 
2B Mindset
These Baked Carrot Fries are a delicious addition to lunch or dinner on 2B Mindset.
More healthy but delicious veggie recipes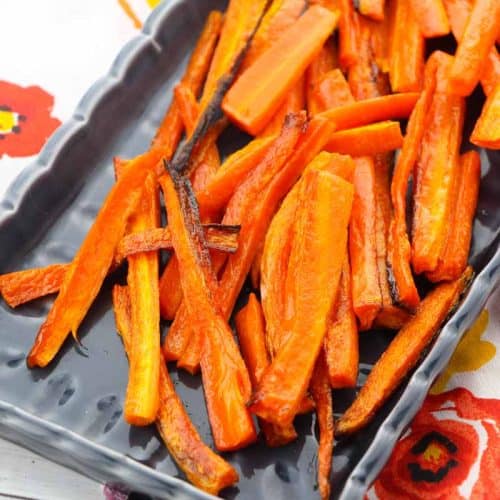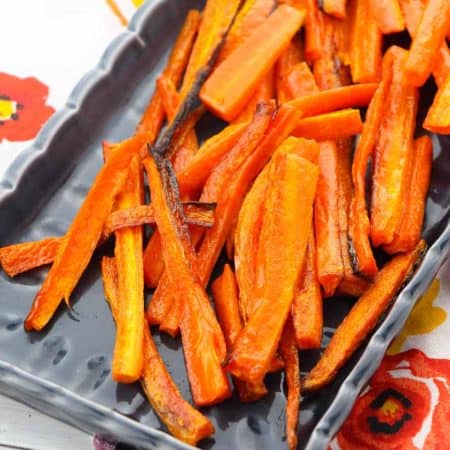 click the stars to rate!
Recipe for Baked Carrot Fries
Servings 2 servings
These Baked Carrot Fries are the perfect answer to your salt craving! You can use an air fryer or your oven to get crispy vegetable fries that will satisfy your craving!

Equipment
Kitchen Knife

Cutting Board
Ingredients
2 cups carrots peeled and sliced into fries
1 tbsp olive oil
½ tsp sea salt
Instructions
Peel carrots and slice to desired thickness. 2 cups carrots

Toss with olive oil and salt until evenly coated. 1 tbsp olive oil ½ tsp sea salt

If baking, pre heat oven to 350º. Line a baking sheet with parchment paper and evenly spread the carrots on top of the paper. Bake for 12-25 minutes until the carrots are browned and desired crispness.

If air frying, pre heat the air fryer to 350º. Add the carrots directly in the basket. Toss periodically (every 2-3 minutes) for even cooking. Remove when the tips begin to brown, or when desired crispness is reached.
Notes
21 Day Fix Container Counts: Fill your green container and count as 1 green container and 1 tsp.  Weight Watchers Points: 2023 Plan: 2 Points | 2 Blue, Green, and Purple Plan Points per serving
Nutrition
Calories: 114kcal | Carbohydrates: 12g | Protein: 1g | Fat: 7g | Saturated Fat: 1g | Sodium: 651mg | Potassium: 410mg | Fiber: 4g | Sugar: 6g | Vitamin A: 21384IU | Vitamin C: 8mg | Calcium: 42mg | Iron: 1mg