This site contains affiliate links. Please see Policies for more information.
This ice cream recipe is by far my family's favorite. We often make it with coffee ice cream, but cookies and cream is my personal favorite.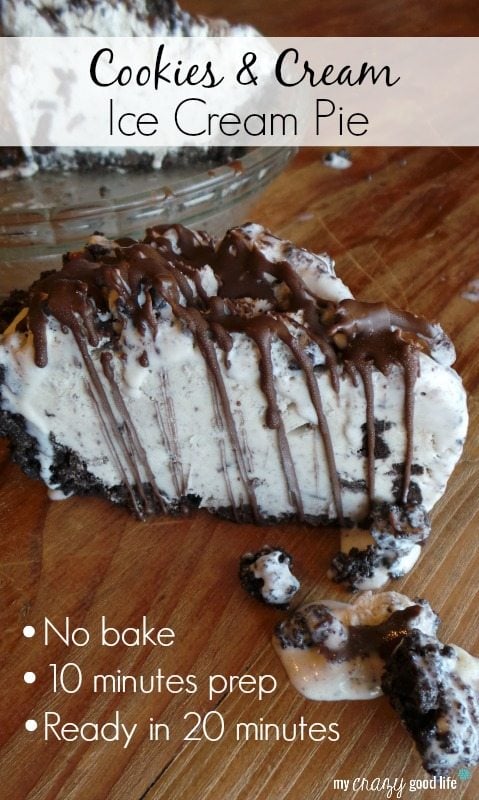 You'll need:
Greased pie plate
Oreos (chopped or crushed)
butter, melted
cookies and cream ice cream
Magic shell for topping
1. Chop the Oreos, and put them in a large bowl. When the boys were little they loved when I put the cookies in a Ziplock bag and let them bang the cookies with their hands or a wooden spoon.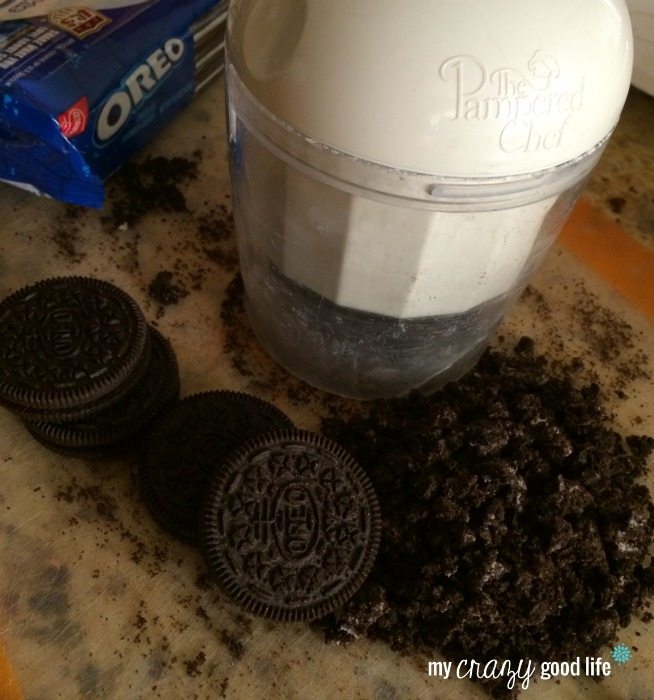 2. Melt your butter and pour it on top of the crushed cookies. Mix well.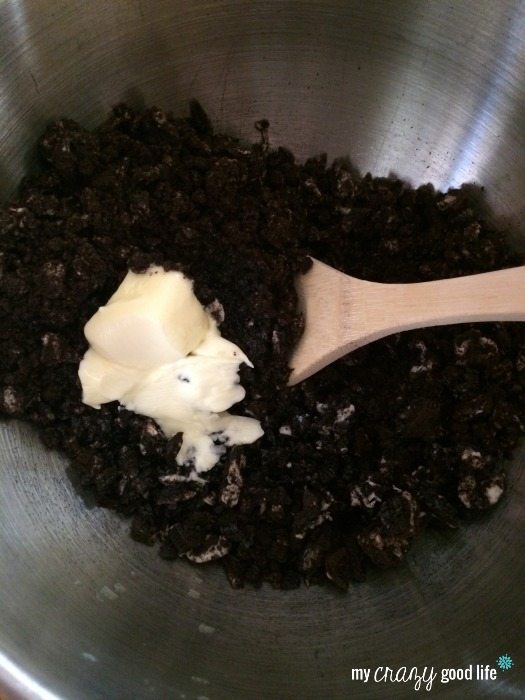 3. Add your cookie mixture to the greased pie pan. Use your fingers to press the mixture evenly around the sides and bottom of the pan.
4. Stick the crust in the freezer to harden, and pull out the ice cream to thaw a bit. I like to set a kitchen timer for 20 minutes or so.
5. After 20 minutes the crust should be hard enough and the ice cream should be soft enough.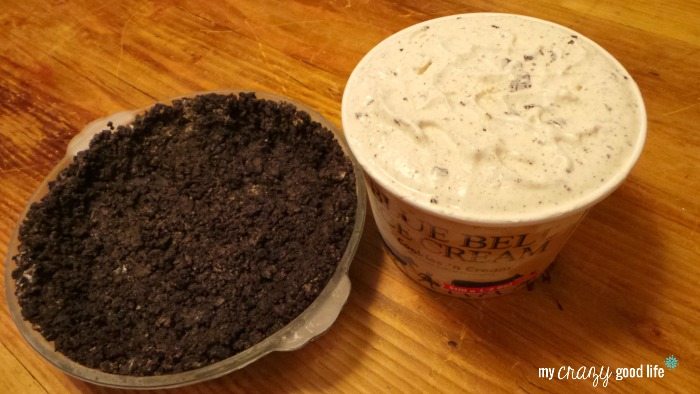 Scoop the ice cream into the crust, or just dump it all in. I use the back of a large spoon to break up the ice cream and push it into the crust. If the ice cream is not thawed enough, stick the container in the microwave for 15 seconds or so.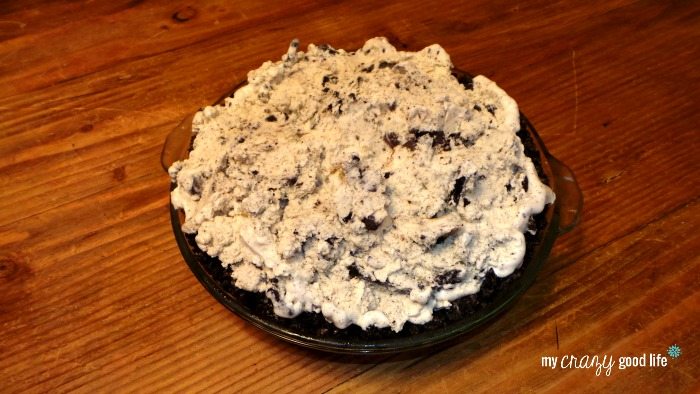 Drizzle Magic shell or Hershey's syrup on top, and freeze for at least 20 minutes before serving.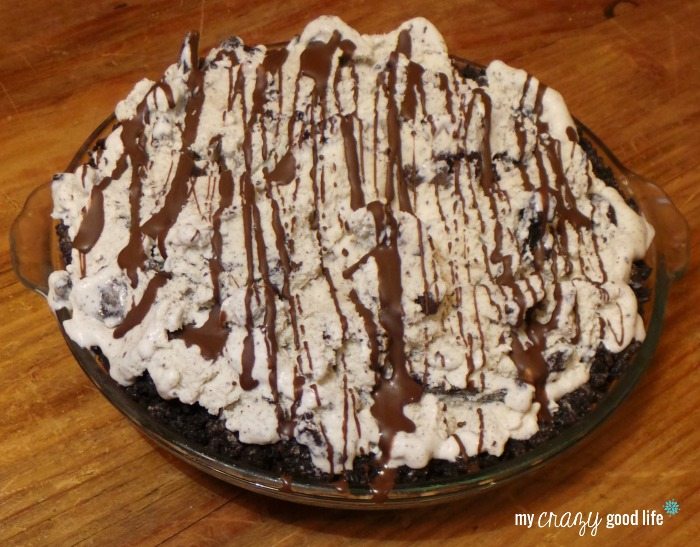 More delicious recipes: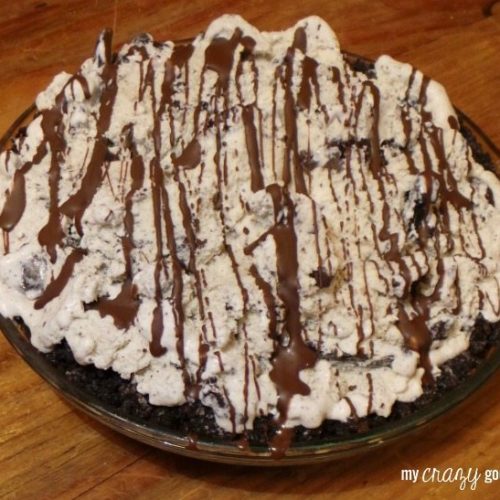 click the stars to rate!
Cookies and Cream Ice Cream Pie Recipe
Servings 8 servings
My boys are in love with this ice cream pie recipe–we have been making it for years. Switch the flavor of Oreos or ice cream and you're got a whole new dessert!
Ingredients
25-30 Oreos chopped or crushed
3/4 stick of butter melted
Greased pie plate
1 container of cookies and cream ice cream
Magic shell for topping
Instructions
Chop the Oreos, and put them in a large bowl. When the boys were little they loved when I put the cookies in a Ziplock bag and let them bang the cookies with their hands or a wooden spoon. 25-30 Oreos

Melt your butter and pour it on top of the crushed cookies. Mix well. 3/4 stick of butter

Add your cookie mixture to the greased pie pan. Use your fingers to press the mixture evenly around the sides and bottom of the pan. Greased pie plate

Stick the crust in the freezer to harden, and pull out the ice cream to thaw a bit. I like to set a kitchen timer for 20 minutes or so. 1 container of cookies and cream ice cream

After 20 minutes the crust should be hard enough and the ice cream should be soft enough.

Scoop the ice cream into the crust, or just dump it all in. I use the back of a large spoon to break up the ice cream and push it into the crust. If the ice cream is not thawed enough, stick the container in the microwave for 15 seconds or so.

Drizzle Magic shell or Hershey's syrup on top, and freeze for at least 20 minutes before serving. Magic shell for topping
Nutrition
Calories: 177kcal | Carbohydrates: 27g | Protein: 2g | Fat: 8g | Saturated Fat: 2g | Cholesterol: 1mg | Sodium: 173mg | Potassium: 81mg | Fiber: 1g | Sugar: 15g | Calcium: 8mg | Iron: 3mg