This site contains affiliate links. Please see Policies for more information.
For those of you trying to cut back on meat, enjoy meatless Mondays, or just looking for a delicious dinner idea, these Quinoa Tacos are Vegan and so delicious. Cooking the taco filling in the Instant Pot makes for a super easy dinner.
If you don't own a pressure cooker, it's ok! These can also be made on the stove or even in the slow cooker!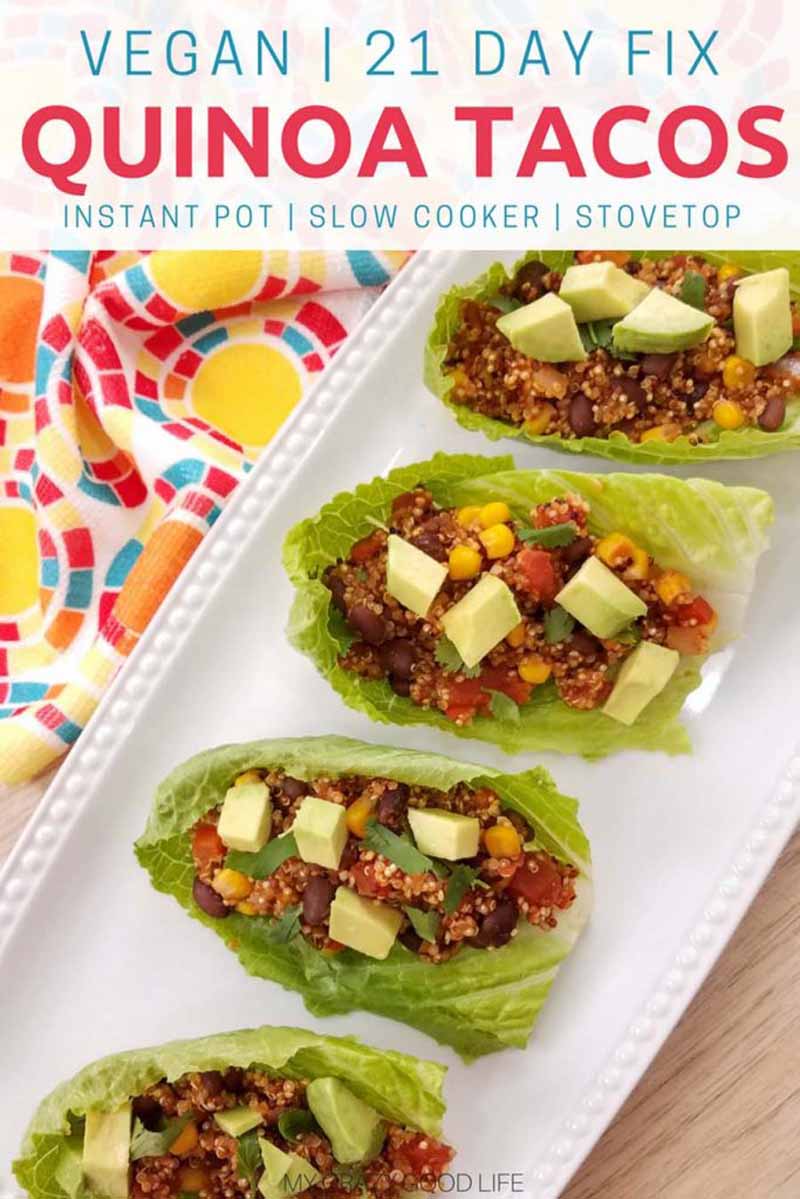 Vegan Tacos
We love eating this meal for Meatless Mondays or when we just want to skip the meat for a night. I love the protein that quinoa has in it, and it adapts so well to different seasonings!
The lettuce wraps are a great way to get more veggies in, too! I usually double up on them so if one cracks or breaks, the taco filling won't fall out!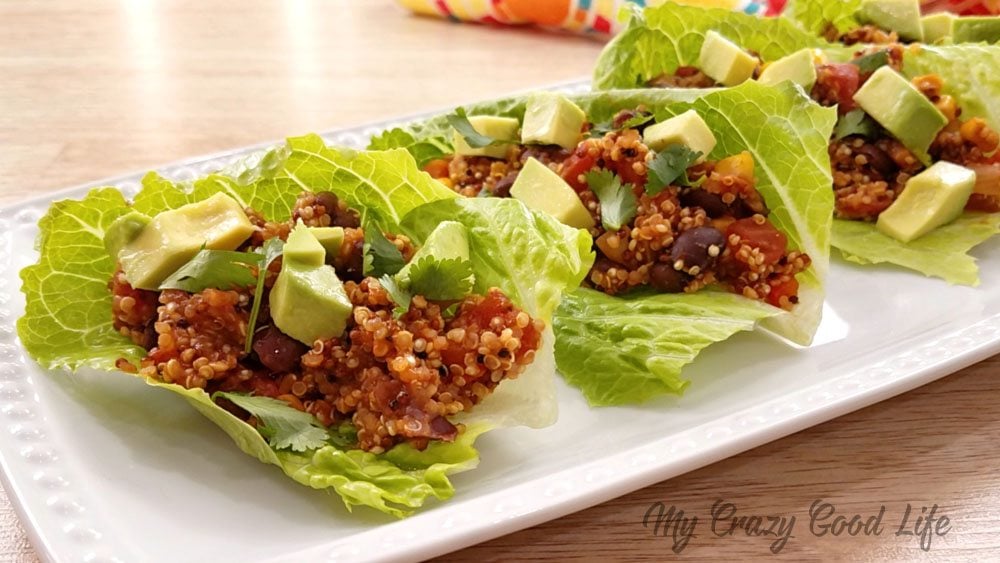 Vegan Taco Filling
This hearty quinoa is the perfect vegan filling for tacos. It's super easy to cook and with the black beans added, I swear you won't miss the meat!
The diced tomatoes with jalapeños is a great addition to give the taco filling some kick. Homemade taco seasoning rounds out this delicious meal.
Alternative Uses for Quinoa Taco Meat
You can easily use this taco filling as a salad topper, a stuffing for bell or mini peppers, or even on a baked potato! I love eating the quinoa taco filling with lettuce as shown in this post, but it's so versatile!
Ingredients:
quinoa
diced tomatoes with jalapeños
black beans
red bell pepper
corn (frozen)
garlic
onion
olive or coconut oil
water
cumin
paprika
chili powder
salt (to taste)
Directions for Quinoa Taco Filling
To make these Quinoa Tacos in the Instant Pot:
1. Turn the Instant Pot to sauté. Add the oil. When it is hot, sauté the onions, garlic, bell peppers, and quinoa until fragrant (about 1 minute).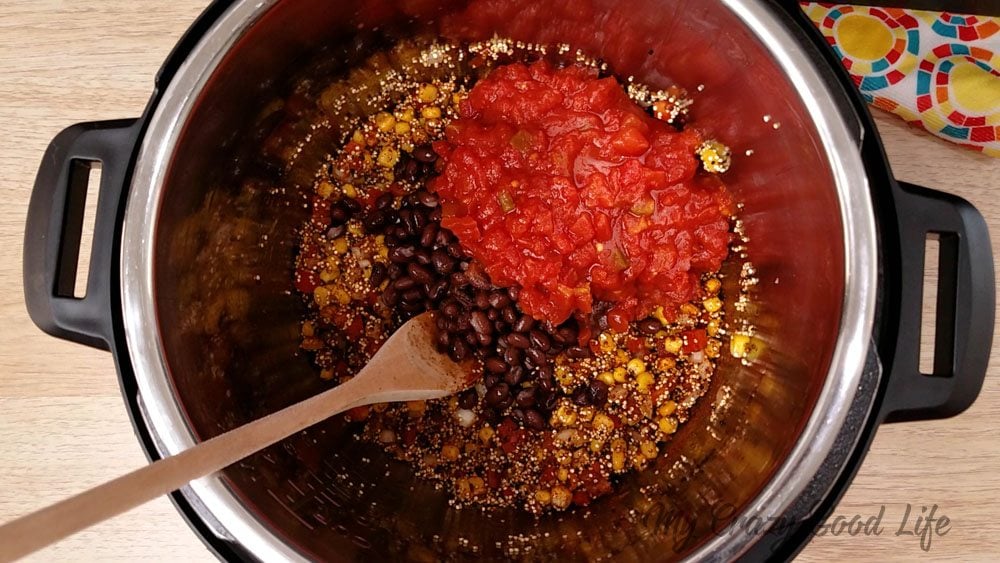 2. Mix in the rest of the ingredients. Close the lid and turn the pressure valve to sealing. Cook on high pressure for 1 min and let the pressure release naturally.
3. Turn off the Instant Pot, remove the lid, and let cool for about 5-8 minutes. There will be a little liquid left, but it will absorb as the filling cools. Fill your wraps, garnish, and serve.
To make Crockpot Vegan Tacos:
1. Grease the slow cooker insert with the olive oil.
2. Mix all the ingredients together in the slow cooker (minus lettuce, avocado, and cilantro garnish).
3. Add the lid and let cook on high for 3-4 hours. Turn the slow cooker off, give it a quick stir, and let cool for 8-10 minutes to allow any excess liquid to be absorbed.
4. Assemble, garnish, and serve.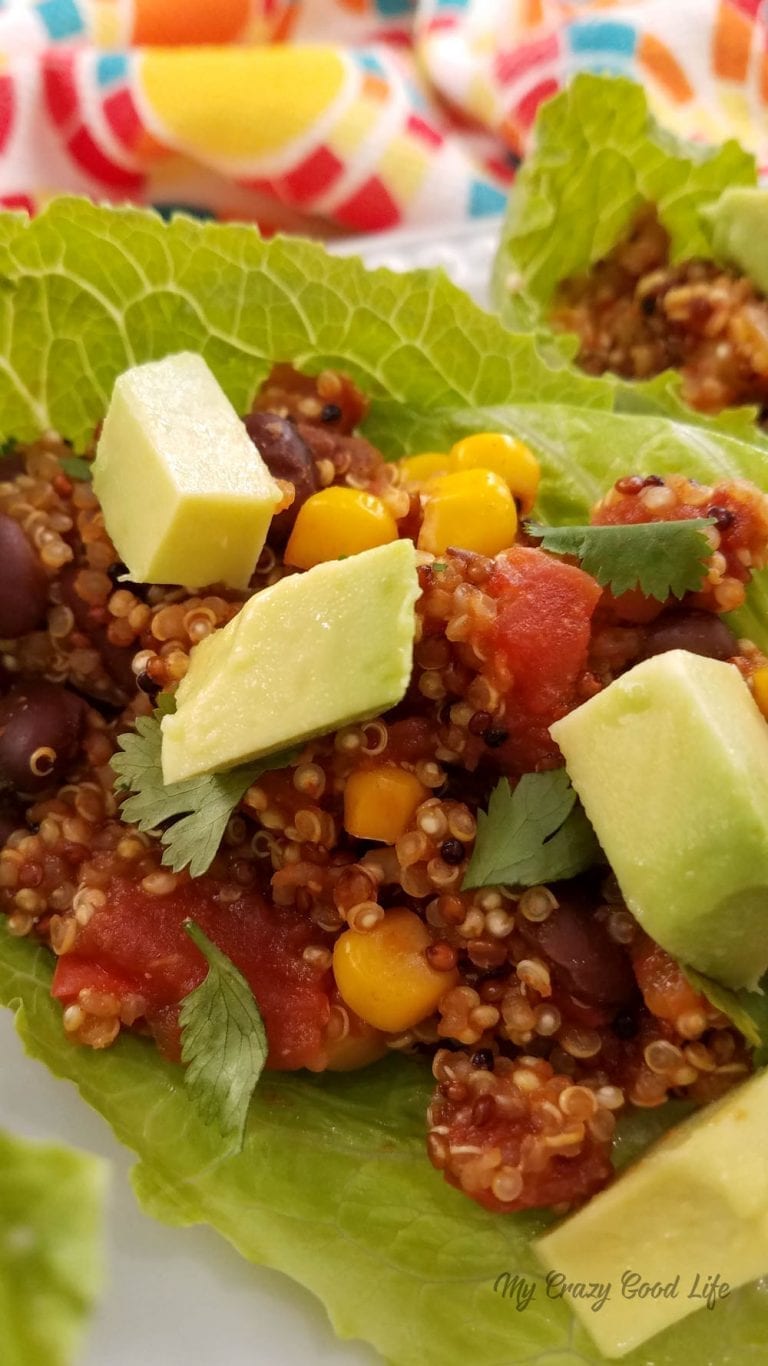 Stovetop Directions for Vegan Tacos:
1. Mix all the ingredients together in a large skillet or stock pot (minus lettuce, avocado, and cilantro garnish).
2. Bring the quinoa to a boil using high heat then reduce to medium-low heat. Cover the pan and let cook for 15-20 minutes, stirring occasionally.
3. When the water is absorbed and the quinoa is tender and translucent, turn the stove off. Allow to quinoa to rest for 5-10 minutes to cool. Assemble to wraps, garnish, and serve.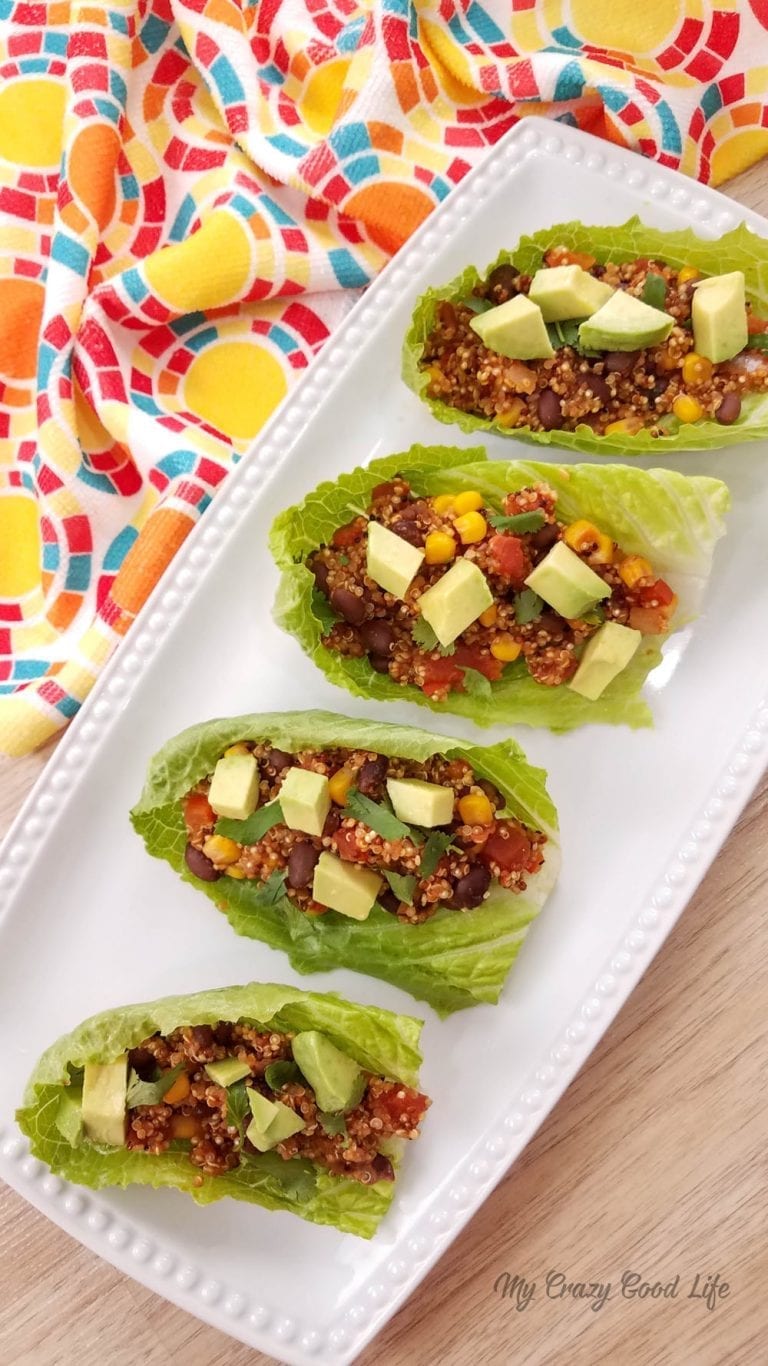 Serves: 6
Serving Size: 1/4 cup filling per wrap (2-3 wraps)
21 Day Fix Container Counts:
Total recipe: 14 yellow containers, 3 green containers plus garnish for entire recipe
Makes 6 servings, 3 wraps each: 2 1/3 yellow containers, 1/2 green containers, per serving, plus garnish
Weight Watchers:
3 Blue Plan Points | 6 Green Plan Points | 0 Purple Plan Points | 2023 points: 3 per serving (not including garnishes)
Want to serve this recipe up while on Trim Healthy Mama?
You can have this recipe on THM as an E recipe but you'll need to omit the corn. This recipe was created before we knew about THM guidelines but these tacos will be just as delicious even without the corn!
If you love this recipe, you might also like these similar recipes: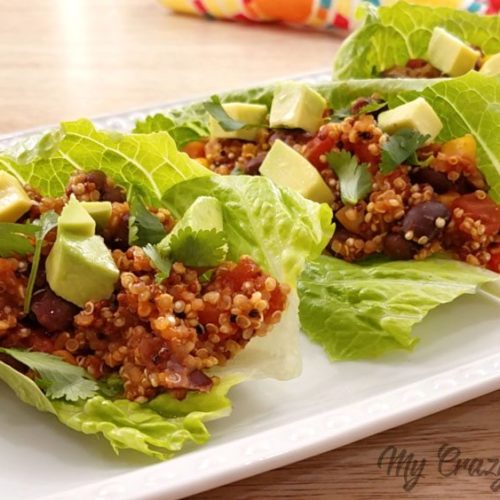 click the stars to rate!
Quinoa Tacos | Vegan Tacos Recipe
Approximate Serving Size: 1/4 cup filling
Servings 6 servings
These Quinoa Tacos are the perfect vegan taco recipe! Make these in the Instant Pot, Slow Cooker, or on the Stove. Whether you're looking for a meatless Monday recipe or just a vegetarian taco recipe, these are a great family friendly meal. Quinoa and black beans make for a filling taco recipe!
Ingredients
Vegan Quinoa Taco Filling:
1 tsp olive oil or coconut oil
½ onion diced
1 tsp garlic
½ bell pepper red, diced
1 cup quinoa rinsed
14 oz diced tomatoes with green chilies or diced with jalapeños
15 oz black beans can, drained and rinsed
1 cup corn frozen
1 cup water
Taco Seasoning:
1 tsp cumin
1 tsp paprika
2 tsp chili powder
Optional Toppings:
lettuce I used romaine hearts
avocado
cilantro
Instructions
Instant Pot:
Turn the Instant Pot to sauté. Add the oil. When it is hot, sauté the onions, garlic, bell peppers, and quinoa until fragrant (about 1 minute). 1 tsp olive oil, ½ onion, 1 tsp garlic, ½ bell pepper, 1 cup quinoa

Mix in the rest of the ingredients. Close the lid and turn the pressure valve to sealing. Cook on high pressure for 1 min and let the pressure release naturally. 14 oz diced tomatoes with green chilies, 15 oz black beans , 1 cup corn, 1 cup water, 1 tsp cumin, 1 tsp paprika, 2 tsp chili powder

Turn off the Instant Pot, remove the lid, and let cool for about 5-8 minutes. There will be a littleliquid left, but it will absorb as the filling cools. Fill your wraps, garnish, and serve. lettuce, avocado, cilantro
Crockpot:
Grease the slow cooker insert with the olive oil.1 tsp olive oil

Mix all the ingredients together in the slow cooker (minus lettuce, avocado, and cilantro). ½ onion, 1 tsp garlic, ½ bell pepper, ½ bell pepper, 14 oz diced tomatoes with green chilies, 15 oz black beans , 1 cup corn, 1 cup water, 1 tsp cumin, 1 tsp paprika, 2 tsp chili powder

Add the lid and let cook on high for 3-4 hours. Turn the slow cooker off, give it a quick stir, and let cool for 8-10 minutes to allow any excess liquid to be absorbed.

Assemble, garnish, and serve. lettuce, avocado, cilantro
Stovetop:
Mix all the ingredients together in a large skillet or stock pot (minus lettuce, avocado, and cilantro). 1 tsp olive oil, ½ onion, 1 tsp garlic, ½ bell pepper, 1 cup quinoa, 14 oz diced tomatoes with green chilies, 15 oz black beans , 1 cup corn, 1 cup water, 1 tsp cumin, 1 tsp paprika, 2 tsp chili powder

Bring the quinoa to a boil using high heat then reduce to medium-low heat. Cover the pan and let cook for 15-20 minutes stirring occasionally.

When the water is absorbed and the quinoa is tender and translucent, turn the stove off. Allow to quinoa to rest for 5-10 minutes to cool. Assemble to wraps, garnish, and serve. lettuce, avocado, cilantro
Notes
21 Day Fix Container Counts:  Total recipe: 14 yellow containers, 3 green containers plus garnish for entire recipe Makes 6 servings, 3 wraps each: 2 1/3 yellow containers, 1/2 green containers, per serving, plus garnish Weight Watchers: 3 Blue Plan Points | 6 Green Plan Points | 0 Purple Plan Points | 2023 points: 3 per serving (not including garnishes)
Nutrition
Calories: 193kcal | Carbohydrates: 35g | Protein: 10g | Fat: 3g | Saturated Fat: 1g | Sodium: 25mg | Potassium: 612mg | Fiber: 10g | Sugar: 4g | Vitamin A: 1424IU | Vitamin C: 25mg | Calcium: 41mg | Iron: 3mg
SaveSave