21 Day Fix Crock Pot Recipes that Do Not Use Chicken
The 21 Day Fix is an excellent way to jump start your journey to healthy living. Starting out with any new diet can be difficult but 21 Day Fix is all about portion control.
That means you can enjoy just about anything you want as long as you focus on moderation. Moderation helps you feel less like you are dieting and more like you are just going about your day in a more healthy way. Once you learn the basics of the 21 Day Fix diet plan you will find that it's super easy to eat healthily.
After you learn HOW to eat healthy you can more easily reach all of your health and fitness goals!
One great way to get started with the 21 Day Fix plan is with Crock Pot recipes. The great thing about 21 Day Fix Crock Pot Recipes is that they're easy, they make enough for a few days at a time, and they're never boring! I know not everyone is a big fan of chicken so these recipes are great for spicing things up on the 21 Day Fix Plan!
Here's the video recipe for the #1 recipe on my site right now, Crock Pot Pork Carnitas:
Because chicken is such a lean and healthy protein a lot of diets stress including it in recipes; if you are like me, that gets boring after a few rounds! If you are not a fan of chicken you can still enjoy the time saving and meal planning benefits of using 21 Day Fix Crock Pot Recipes. Here are some AWESOME 21 Day Fix Crock Pot Recipes that don't use chicken!!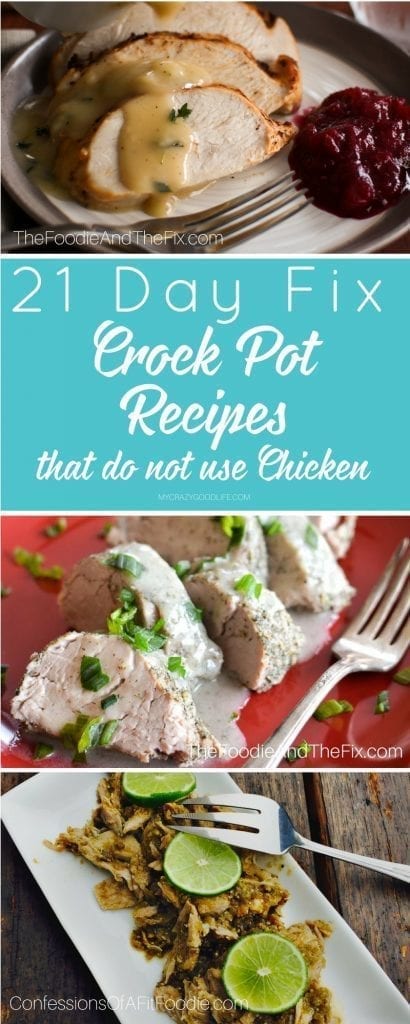 21 Day Fix Crock Pot Recipes NOT Using Chicken:
Pork Carnitas | My Crazy Good Life
Blueberry Lemon Zest Steel Cut Oats | My Crazy Good Life
Healthy Pot Roast | My Crazy Good Life
Slow Cooker Baby Back Ribs | My Crazy Good Life
Crockpot Turkey Chili | Carrie Elle
Ranch Pork Tenderloin | The Foodie and the Fix
Salsa Verde Pork | Confessions of a Fit Foodie
Slow Cooker Turkey Breast | The Foodie and the Fix
Crockpot Pineapple Pork Tenderloin | Erin Young Fitness
Beef Stew | Fit and Healthy With Kristy
Cajun Sausage Soup | Fit For Me
Slow Cooker Meatloaf | Christine Pechulis
Slow Cooker Ziti | Fit Life Bound
Crockpot Chipotle Burrito Bowl | Juliane Russell
Looking for even more crock pot recipes? Carrie Elle has a ton! 
Crock Pot Chili Mac | Sublime Reflection
Crock Pot Turkey Chili | Laura Bumbala
Slow Cooker Steak Fajitas | Fit Mom Angela D
Braised Short Ribs | Healthy Feels Happy
Crockpot Pork Tostadas | 21 Day Fix Food
If you are a chicken lover don't miss out on these awesome 21 Day Fix Crock Pot Recipes with Chicken!
Save
Save
29