These 21 Day Fix one pot meals mean less clean up, more time spent doing fun stuff, and a healthy meal the whole family will love.
It's truly the perfect scenario, at least in my world! These recipes are all delicious, 21 Day Fix compliant for me, and healthy options for the rest of the family. It doesn't hurt that they're easy to make and require me washing just one pot or pan!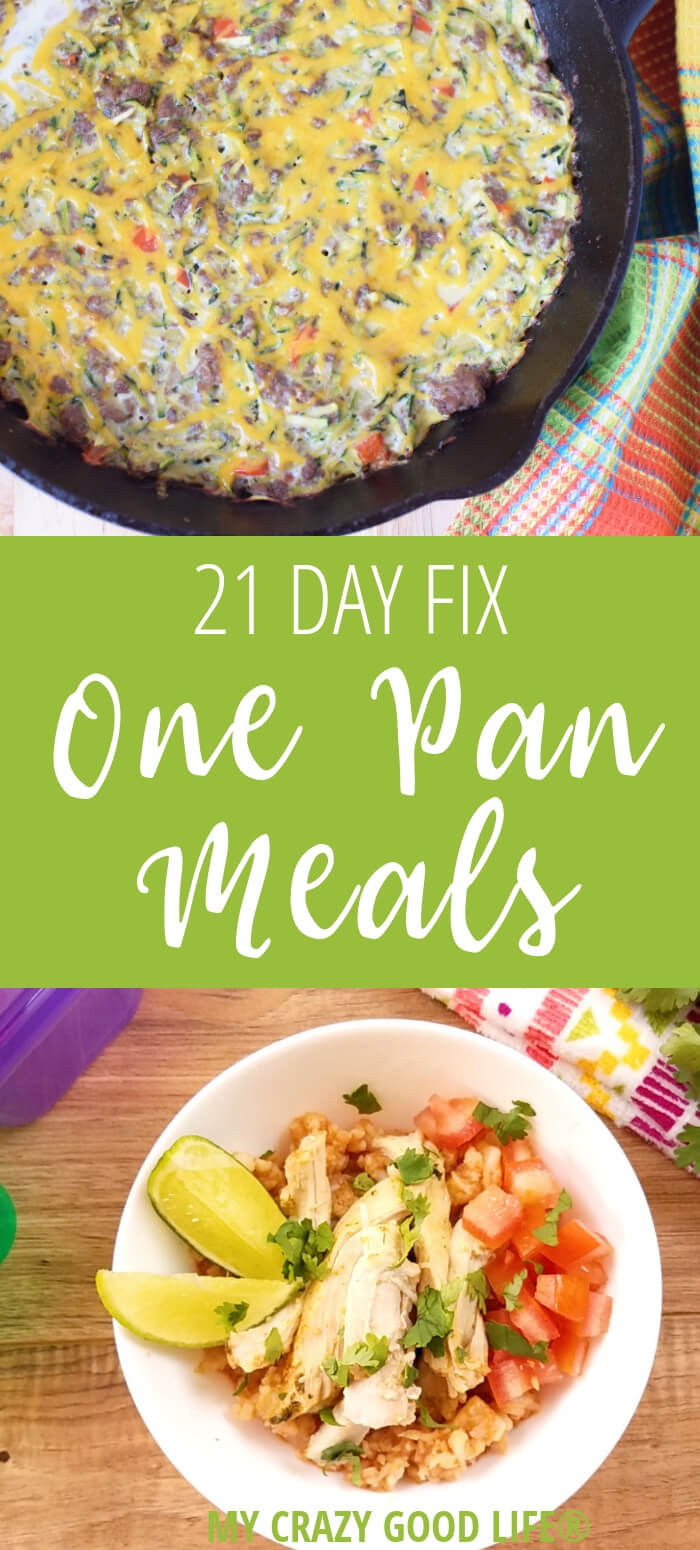 Where can I learn about the 21 Day Fix / Ultimate Portion Fix?
If you are new to the 21 Day Fix you can get the system here. If you're looking for a quick 101, I've explained what the 21 Day Fix is  here. And this is a must have 21 day fix resource that I've put together during my experience with the program.
I have turned the 21 Day Fix into a permanent healthy lifestyle choice. It works for me and we all know how hard it can be to find something that really works for our lives and bodies!
21 Day Fix One Pan Meals
Since most of these recipes (for portion control and measuring purposes on the 21 Day Fix) require measuring, use your measuring cup to mix ingredients. This cuts down on your dishes and keeps us even closer to a truly one pan meal experience. No one wants to do more dishes than they have to, right?!
Breakfast
Breakfast is the most important meal of the day, that doesn't change when you are on the 21 Day Fix or Ultimate Portion Fix program. One thing I have discovered over the years is that I'll be more inclined to make breakfast if it is easy to clean up and doesn't require too many dishes.
These great one pot meals are easy to prep, great for busy mornings, and fit perfectly into the 21 Day Fix program!
Healthy Make Ahead Sausage and Eggs Casserole | The Foodie and The Fix | If you like to have breakfast ready in advance this casserole recipe is excellent. Doesn't get much simpler than sausage and eggs for breakfast…only now it's ready ahead of time and all you have to do is reheat for breakfast on the go.
Kale, Tomato, and Quinoa Breakfast Bake | Whitney Delong Fitness | This breakfast bake recipe is packed with nutrients and flavors the whole family will love. Making breakfast for dinner? This makes an excellent choice for an easy dinner with a breakfast twist!
Sausage Gravy | The Foodie and The Fix | You might be thinking "how can I have sausage gravy on the 21 Day Fix" and the answer is simple…The Foodie and The Fix is whipping up all your favorites but with approved FIX ingredients!
Zucchini and Sausage Breakfast Casserole Skillet | My Zucchini and sausage breakfast skillet is amazing! It's so simple to prepare and tastes great. This recipe is hiding a ton of veggies which is nice when you need to get in your greens or convince the kids they're not eating something super healthy.
Fajita Breakfast Casserole | No matter how you choose to prepare this fajita breakfast casserole you can do it all in one dish! I love using the Instant Pot to make this breakfast recipe because it's quick, easy, and bursting with flavor.
Easy Yogurt Breakfast Bowls | I don't always want something warm in the mornings…these easy yogurt breakfast bowls are tasty, cool, and refreshing for those hot summer mornings.
Lunch & Dinner
Let's be honest, we all need easy dinner recipes. They're the only thing keeping us sane during the weeknight dinners and lunches that seem to consume those precious few non-work hours. Lucky for all of us there are some incredible options out there! Here are some of my favorites, many of which can be ready in 30 minutes or less.
Sheet Pan Steak and Veggies | Damn Delicious | Steak doesn't have to take forever and it doesn't have to mean a bunch of extra cleanup. You can enjoy your favorite steak flavors with veggies all on one pan, all cooking while you enjoy your life without hovering over the stove!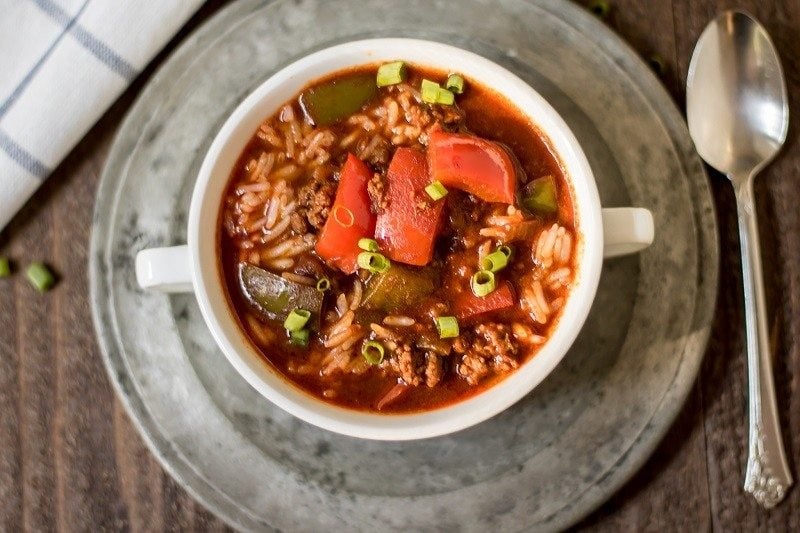 Crockpot Stuffed Pepper Soup | My Crazy Good Life | The crockpot really shines in this recipe…you'll be amazed how some simple ingredients come together to create such a delicious final result. This is definitely one of my favorite ground beef recipes.
Pasta With Sherry Mushroom Meat Sauce | The Foodie and The Fix | Hello! Who doesn't love a one pot pasta dish?! This FIX friendly version is amazing and it comes together beautifully, makes an excellent recipe for those special occasions (you'll be finding all kinds of reasons to celebrate so you can make it again and again)!
21 Day Fix Loaded Pizza | Garlic Diaries | You can totally make pizza at home without having to dirty a bunch of dishes or dump it out of a cardboard box. This 21 Day Fix pizza has got it all and your family won't know they're enjoying something that is actually good for them!
Baked Salmon, Shrimp, and Asparagus | Valenina's Corner | Two different kinds of seafood and veggies…in one pan?! How easy is that?! I love the combo of flavors in this delicious seafood recipe and it is so easy to make I never want to cook anything else.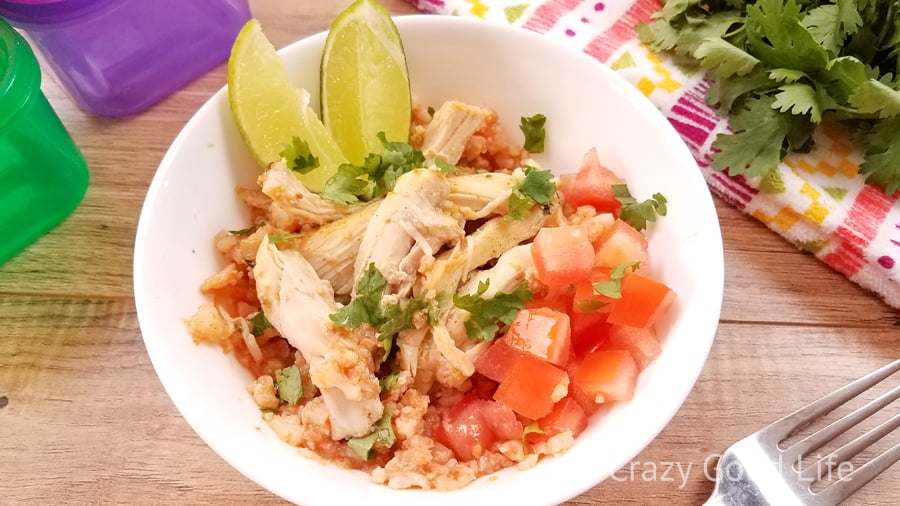 Instant Pot Spanish Rice with Chicken | My Crazy Good Life | Chicken and rice never looked so good! I love that this recipe includes so many greens, they are much easier to check off each day when they're in delicious recipes like this. I also really enjoy being able to throw some chicken breasts into the Instant Pot and have a nearly "instant" dinner for the whole family!
Lemon Garlic Sheet Pan Dinner | Carrie Elle | Carrie's lemon garlic sheet pan dinner is a favorite of ours. It's another delicious way to put those chicken breasts to good use and with just one pan to clean up you won't have to stress about who does the dishes tonight :)
Healthy Homemade Hamburger Helper Recipe | This is one of my favorite new recipes. It's got a nice little kick from the green chilies and it's so indulgent the family doesn't even know it's good for them!
Slow Cooker Pot Roast | The Fitness Focus | A pot roast in the slow cooker is about as easy as it gets for dinner recipes. Are you sick of trying out a new chicken recipe every night? Not to worry this pot roast will have the whole family singing your praises, they'll never know it's a healthy dinner choice!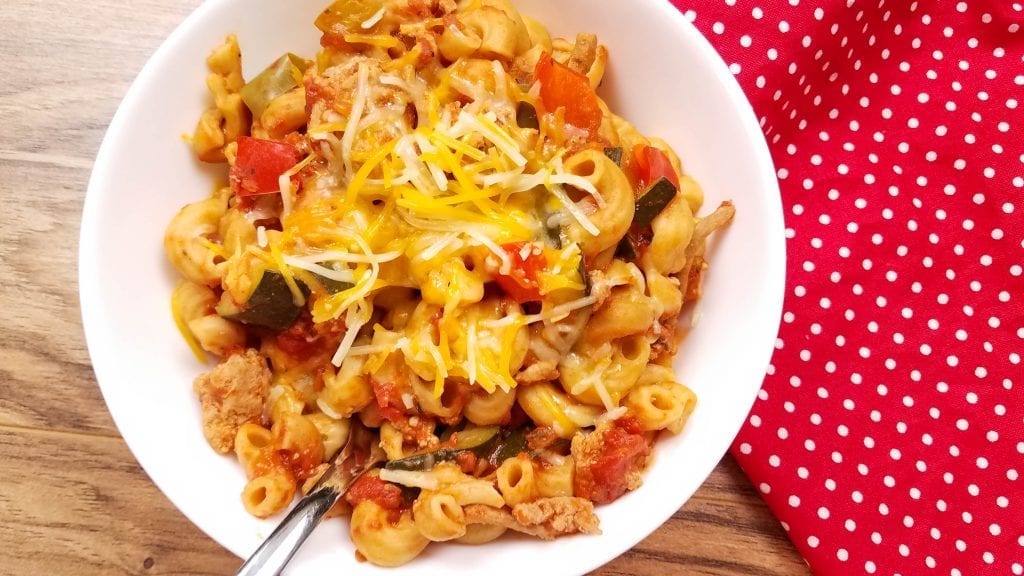 Thai Shrimp & Vegetables | The Foodie and The Fix | If you love stir fry you have to give this shrimp and veggies recipe a try, it's got all of your favorite flavors but with a fun twist!
Instant Pot Goulash | My Crazy Good Life | My pressure cooker goulash is so easy to make and the whole family loves it! This is a staple in our meal plan each week!