These 21 Day Fix one pot meals mean less clean up, more time spent doing fun stuff, and a healthy meal the whole family will love.
It's truly the perfect scenario, at least in my world! These recipes are all delicious, 21 Day Fix compliant for me, and healthy options for the rest of the family. It doesn't hurt that they're easy to make and require me washing just one pot or pan!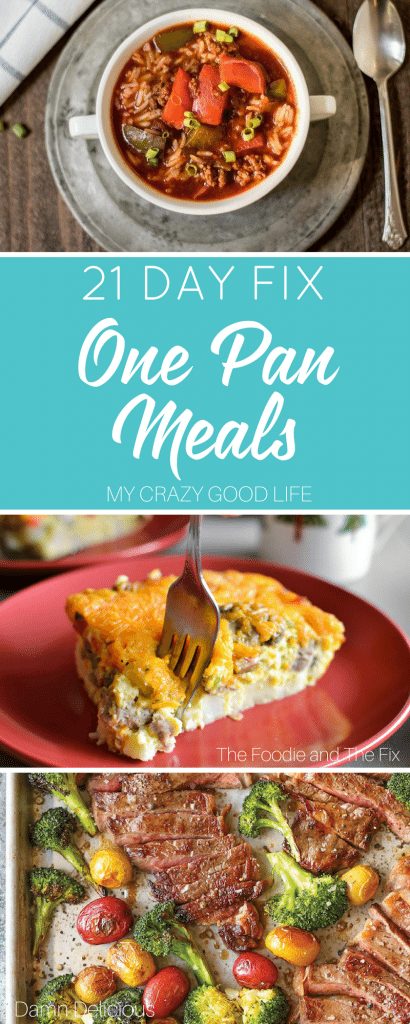 If you are new to the 21 Day Fix you can get the system here. Learn more about it here. And this is a must have tool kit that I've put together during my experience with the program. I have turned the 21 Day Fix into a permanent healthy lifestyle choice. It works for me and we all know how hard it can be to find something that really works for our lives and bodies!
21 Day Fix One Pan Meals
Since most of these recipes (for portion control and measuring purposes on the 21 Day Fix) require measuring, use your measuring cup to mix ingredients. This cuts down on your dishes and keeps us even closer to a truly one pan meal experience. No one wants to do more dishes than they have to, right?!
21 Day Fix One Pan Meals | Breakfast
Healthy Make Ahead Sausage and Eggs Casserole | The Foodie and The Fix
21 Day Fix Fruity Oatmeal Bake | Potentially Lovely
Crockpot Breakfast Casserole | Confessions of a Fit Foodie
Kale, Tomato, and Quinoa Breakfast Bake | Whitney Delong Fitness
Sausage Gravy | The Foodie and The Fix
21 Day Fix One Pan Meals | Lunch & Dinner
Sheet Pan Steak and Veggies | Damn Delicious
Crockpot Stuffed Pepper Soup | My Crazy Good Life
Pasta With Sherry Mushroom Meat Sauce | The Foodie and The Fix
21 Day Fix Loaded Pizza | Garlic Diaries
One Skillet Lazy Zucchini Lasagna | Confessions of a Fit Foodie
Baked Salmon, Shrimp, and Asparagus | Valenina's Corner
Instant Pot Spanish Rice with Chicken | My Crazy Good Life
Lemon Garlic Sheet Pan Dinner | Carrie Elle
Slow Cooker Pot Roast | The Fitness Focus
Thai Shrimp & Vegetables | The Foodie and The Fix
Instant Pot Goulash | My Crazy Good Life