I'm always on the hunt for great 21 Day Fix dairy free low carb meal plan options. Meal prep and planning is a must for me. I've turned the 21 Day Fix into a permanent healthy lifestyle choice so I need to be prepared. Planning ahead keep me on track and focused!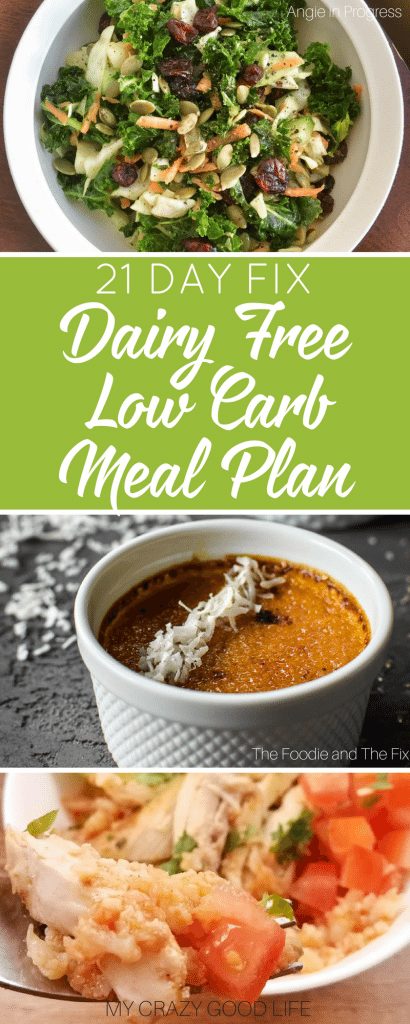 These recipes all have one thing in common…actually they have two things in common…wait, wait, THREE things in common! They are all 21 Day Fix friendly, dairy free (or very easily dairy free), and they are low carb! Hopefully there is something here that will delight everyone. Make sure to let me know which ones you try and which ones you enjoyed the most!
21 Day Fix Dairy Free Low Carb Meal Plan
As always folks, don't make all this food. You'll be swimming in way too many leftovers. Pick a few from each category and make those…you can always come back and use this list for several weeks of 21 Day Fix dairy free low carb meal plan goodness.
If you need recipes broken down by specific calorie requirements check these meal plans out, this one is not broken down in that way. These will all have container counts and that is how you will need to track them.
21 Day Fix Dairy Free Low Carb Meal Plan | Breakfast
Egg Muffin Cups | My Crazy Good Life
Sausage and Zucchini Quiche | Confessions of a Fit Foodie
Breakfast Scramble | Beach Ready Now
Pumpkin Coconut Creme Brûlée | The Foodie and The Fix
Dole Whip | My Crazy Good Life
Cinnamon Bun French Toast Cups | Confessions of a Fit Foodie
Pumpkin Pie Energy Bites | Vanessa.Fitness
21 Day Fix Dairy Free Low Carb Meal Plan | Lunch
Kale Blueberry Salad (Skip the Cheese) | Carrie Elle
Kale & Cabbage Salad | Angie in Progress
Steak Fajita Zoodles | My Crazy Good Life
Dijon Vinaigrette | The Fit Housewife
Lemon Garlic Sheet Pan Dinner | Carrie Elle
Buffalo Chicken Bites | My Crazy Good Life
Avocado Chicken Salad | Sorey Fitness
Fall Salad (Skip the Cheese) | Carrie Elle 
Mason Jar Salads (Skip the Cheese) | My Crazy Good Life 
21 Day Fix Dairy Free Low Carb Meal Plan | Dinner
Butternut Squash Soup | My Crazy Good Life 
Spinach Turkey Burgers | Crazy Strong Mom 
Asian Stuffed Peppers | Carrie Elle
Grilled Greek Chicken and Veggies | Fit to Savor 
Mole Chicken Chili | The Foodie and The Fix
Basil and Peach Pork Chops | Glitter and Greens
Delicious Zoodles Recipe | Carrie Elle
Spanish Rice with Chicken | My Crazy Good Life
Oven Baked Crispy Chicken | Confessions of a Fit Foodie
Pork Carnitas | My Crazy Good Life
Crock Pot Balsamic Pork Tenderloin | Fit to Savor