This 21 Day Fix Mason Jar salad is the easiest thing to meal prep! They can be made up to a week ahead of time, and you can customize them with any ingredients you like. More green containers? Easy–add cucumbers, more tomatoes, or even zucchini. Need more red containers? Add chicken or beef to the recipe.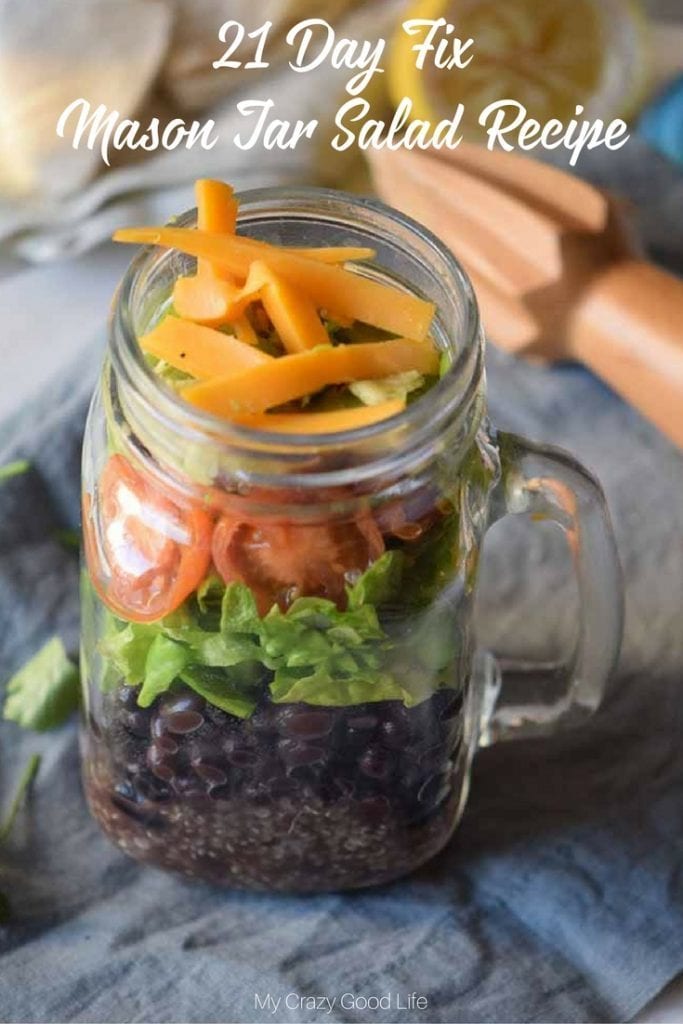 I don't love cheese, so I don't include it in my mason jar salads, but I know there are a lot of cheese lovers out there! Customize this salad with anything you'd like, but be mindful of the container count before you close them up and put them in the fridge for the week.
Measurements and Ingredients for 21 Day Fix Mason Jar Salad
1 yellow container of quinoa
1/2 yellow container cooked black beans
1 green container of lettuce
1/2 green container of tomatoes
1/2 green container carrots or yellow peppers, shredded
Optional:  1 blue container of cheddar cheese
1 teaspoon chili powder
1/2 teaspoon paprika
Salt and Pepper to taste
Directions
Boil two cups of water or chicken broth, add quinoa. I love the added protein in the chicken broth, and if you're feeling extra healthy, swap it out for bone broth!
Add salt and pepper, paprika, and chili powder, and let it cook for 20 minutes or until done.
Warm black beans and set aside.
Layer your Mason Jar with your preferred salad ingredients.
These jars can be refrigerated for a week, so they're perfect for meal prep! Container count will vary based on your ingredients–count carefully!
You might like these similar posts on My Crazy Good Life: