This is something that we're going to be doing for the next few weeks…Showing you some 7 day, 21 Day Fix meal plan set up's that are quick, easy, and on point. It's as good for me as it is for anyone else. Having a meal plan already figured out from start to finish saves me so much time and energy! The great thing about this week's meal plan is that it includes Shakeology. A 21 Day Fix meal plan with Shakeology means even less prep work. In a pinch all you need is a a shaker bottle and a scoop and you are ready to go!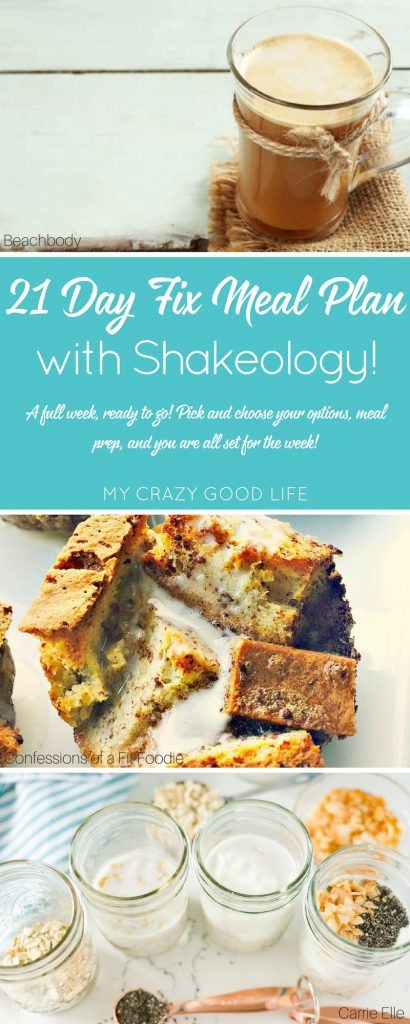 Most of these recipes can be prepped relatively easily. Sure, you could make everything the day of, but why not do some simple meal prep and have things ready to go for the whole week? If you need some meal prep tips, I've got you covered! If you missed last weeks meal plan, you can get this 21 Day Fix Summer meal plan into your rotation as well. The best part about a 21 Day Fix meal plan with Shakeology is that you know, one of your meals each day is going to be super easy to prepare and take with you.
Plan accordingly so that your easy meal can travel with you when necessary. This 21 Day Fix meal plan will help with cravings and it can also help keep those drive through stops to a minimum!
21 Day Fix Meal Plan | 21 Day Fix Meal Plan with Shakeology
Don't forget–you choose your meals from the plan. Expect to eat leftovers for lunch and possibly dinner so don't plan on making ALL of the food. Pick and choose what works for you. If you can find one recipe that you can eat all week long, that's even better! The best 21 Day Fix meal plan is the kind that makes your life EASIER.
Sunday
Monday
Tuesday
Wednesday
Thursday
Friday
Saturday
What options did you choose to make your 21 Day Fix meal plan with Shakeology? Have you found any new favorites that you'll be including in your next weekly meal plan?
6