Vegetables are typically included in any diet plan you may follow. The health benefits of eating vegetables and their lack of fat and calories help make them the perfect food for people who are watching what they eat. In the 21 Day Fix meal plan, vegetables have their own colored container–green. Use the green container for vegetable sides during dinner, or as a salad for lunch, or even a snack. 21 Day Fix green container recipes don't have to be boring–you can do more than just steam raw veggies for this container!
Before I share the recipes, I want to talk about zoodles for a second. Zoodles are the easiest way to get some veggies into your diet, especially if you're struggling with them on the 21 Day Fix! Take a look:
Zoodles are another great way to get creative with your 21 Day Fix Green Container. Before you know it that green container will be the best part of your day! You can make zoodles with a spiralizer, there are a ton of other vegetables that you can spiralize too! There are many different ways to use the green container in the 21 Day Fix meal plan. Get creative so that you never get tired of eating veggies while dieting!
Need an extra set of 21 Day Fix containers? You can order them right from Amazon!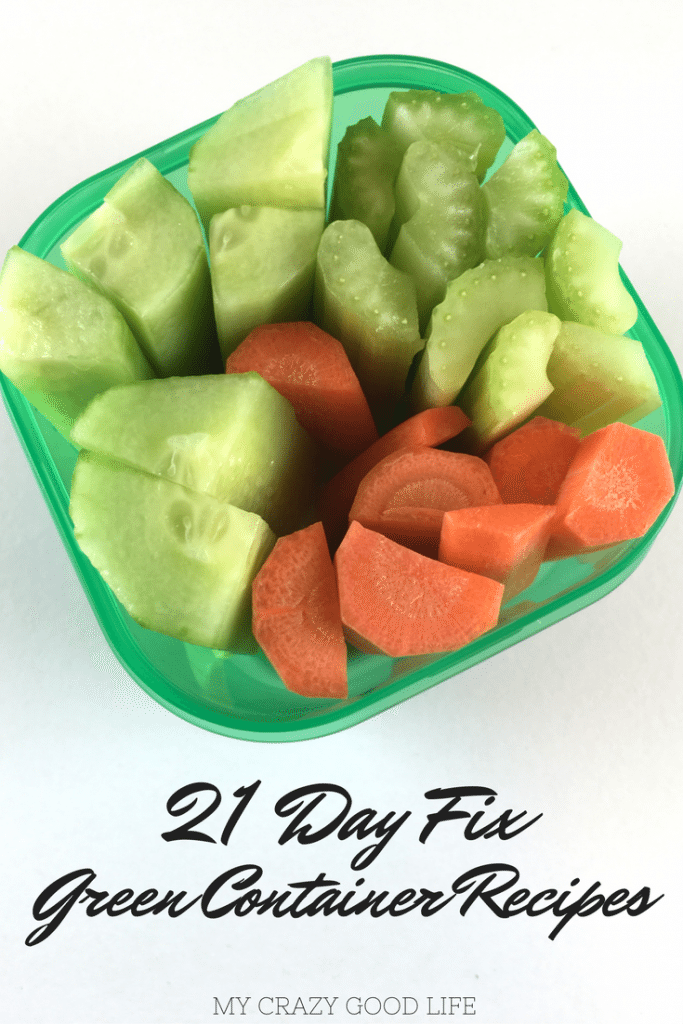 21 Day Fix Green Container Recipes:
Steak Fajita Zoodles | My Crazy Good Life
Spicy Shrimp and Avocado Lettuce Wraps | The Garlic Diaries
Mini Veggie Egg Cups | Katy Ursta
Zucchini Cakes | Meghan Guilford
Chicken and Zucchini Noodle Caprese | Skinnytaste
Healthy Ranch Chicken Skillet | Fit Mom Angela D
Healthy Stuffed Shells | The Burlap Kitchen
Chicken and Broccoli Mac and Cheese | The Colbert Clan
Chicken Fried Rice | Fit Possible Coach
Green Bean Casserole | Pureatz
Cauliflower Mash | Dana Nicole Fitness
Asian Stir Fry | Momma Fit Lyndsey
Enchilada Soup | Potentially lovely
Philly Cheese Steak | Resolution Slim Down
Chickpea Salad | Beach Ready Now
Caprese Spaghetti Squash Bake | The Fit Housewife
Quinoa Mac and Cheese | Sara Spisak
Easy Bean & Cheese Burrito | Finding Motivation Everyday
Portobello Mushroom Pizza | Focused on Fitness