This site contains affiliate links. Please see Policies for more information.
This 21 Day Fix Green Breakfast Smoothie is the perfect quick breakfast recipe!
Today I'm thrilled to be sharing ​a delicious 21 Day Fix green smoothie recipe with you from Lisa at 2 Share My Joy. This healthy green smoothie is perfect for those of you who are working your way into the green smoothie game–it's delicious and easy to make!


Are you searching for a healthy breakfast idea that will provide energy, boost your metabolism, and make you feel full for a long time?
Today I am sharing one of my 21 day fix smoothies that is super easy to prepare and will definitely help you start the day right.
This healthy green smoothie provides clean eating and is 21 day fix friendly. You will not need any protein powder or Shakeology. You just need fresh and seasonal food. This smoothie is also great for kids and toddlers.
The greek yogurt and chia seeds contain fiber and protein which will help you stay full longer. The orange, chia seeds, and spinach are also known for their metabolism boosting properties.
"According to a study conducted by the researchers at Scripps Clinic, citrus fruits such as lemons, limes, oranges and grapefruit possess chemical properties that help decrease insulin levels, promoting weight loss." – (Healthy eating)
As you can see this green breakfast smoothie will fill you, boost immunity, speed up metabolism, and give you long lasting energy. You can read more benefits of this smoothie below or skip to the recipe.
(For more updates like this you can follow 2sharemyjoy on Facebook or Pinterest.)
Health Benefits of the Green Breakfast Smoothie
Fitness and staying healthy is one of my passions. Smoothies really help me to get a better nutrition and boost my immunity. Here are some more reasons to drink smoothies:
Boost your immunity
Get better nutrition
Stay or get healthy
Feel more energized and fit throughout the day
Higher intake of fiber, minerals, and vitamins
Help lose weight
Show you ways to make healthy snacks (2go)

Benefits of Greek yogurt
According to Yogurt Nutrition Greek yogurt is filled with Vitamin B12, it is high in potassium and low in sodium, rich in calcium and has a thicker consistency than the normal yogurt.
"Greek yogurt is made by separating out the liquid whey"
Separating the liquid whey also eliminates some carbohydrates and sugar, leaving the yogurt richer in protein while still enjoying a "light" food.
Benefits of Chia seeds
According to Healthline 2 T of chia seeds contains:
Fiber: 11 grams.
Protein: 4 grams.
Fat: 9 grams (5 of which are Omega-3s).
Calcium: 18% of the RDA.
Manganese: 30% of the RDA.
Magnesium: 30% of the RDA.
Phosphorus: 27% of the RDA.
They also contain a decent amount of Zinc, Vitamin B3 (Niacin), Potassium, Vitamin B1 (Thiamine), and Vitamin B2.

Benefit of apples
"An apple a day keeps the doctor away," right?
"Apples are extremely rich in important antioxidants, flavanoids, and dietary fiber.The phytonutrients and antioxidants in apples may help reduce the risk of developing cancer, hypertension, diabetes, and heart disease." (Medicalnewstoday)
One apple contains about 17% of the daily value of vitamin C. Therefore it boosts your immunity and makes a great fall and winter food.

Benefit of oranges
Did you know that one orange provides 130% of your daily Vitamin C?
"Also of note, a high potassium intake is associated with a 20 percent decreased risk of dying from all causes." (medicalnewstoday.com)
Other health benefits of oranges include lower risk of cancer, increased heart health, improved skin, and lower blood glucose levels.
Green Breakfast Smoothie Recipe
In the summertime you can substitute the orange with pineapple and it will taste delicious. Due to the citrus fruit you won't taste any spinach.
The smoothie equals 1 red container, 1.5 purple containers, 1 green container, 1/2 orange container or about 250 calories.
Note: You can add more chia seeds if desired or add whole oats to your smoothie (yellow container). I did not add the oats because I would rather save the yellow container for dinner or treat swaps.
I fill the blender cup about 1/4 to 1/2 with water and the smoothie makes about 16 oz.
Weight Watchers points: 2 Blue Points | 4 Green Points | 2 Purple Points | 1 2022/2023 Point using fat free Greek yogurt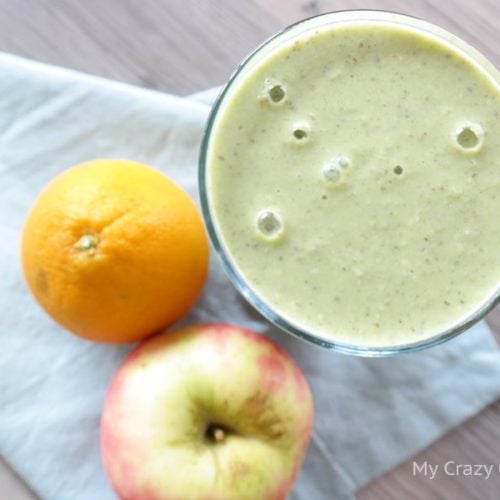 click the stars to rate!
Easy Green Breakfast Smoothie
Servings 1
This easy Green Breakfast Smoothie is the perfect quick breakfast recipe!
Ingredients
3/4 cup greek yogurt
1 orange
1/2 apple
1 hand full of spinach
1 tbsp chia seed
water as desired
Instructions
Add all ingredients to a blender, blend well.
Notes
The smoothie equals 1 red container, 1.5 purple containers, 1 green container, 1/2 orange container or about 250 calories. Note: You can add more chia seeds if desired or add whole oats to your smoothie (yellow container). I did not add the oats because I would rather save the yellow container for dinner or treat swaps. I fill the blender cup about 1/4 to 1/2 with water and the smoothie makes about 16 oz. Weight Watchers points: 2 Blue Points | 4 Green Points | 2 Purple Points | 1 2022/2023 Point using fat free Greek yogurt
Nutrition
Calories: 323kcal | Carbohydrates: 49.2g | Protein: 20g | Fat: 7.2g | Saturated Fat: 2.7g | Cholesterol: 8mg | Sodium: 76mg | Potassium: 880mg | Fiber: 11.9g | Sugar: 35g | Calcium: 250mg | Iron: 2.3mg