This site contains affiliate links. Please see Policies for more information.
Finding new and healthy ways to enjoy my favorite flavors is a must. Boredom usually leads to unhealthy eating so I try and keep things fresh and fun in the kitchen! It also helps that mixing things up keeps my family on their toes and trying new things.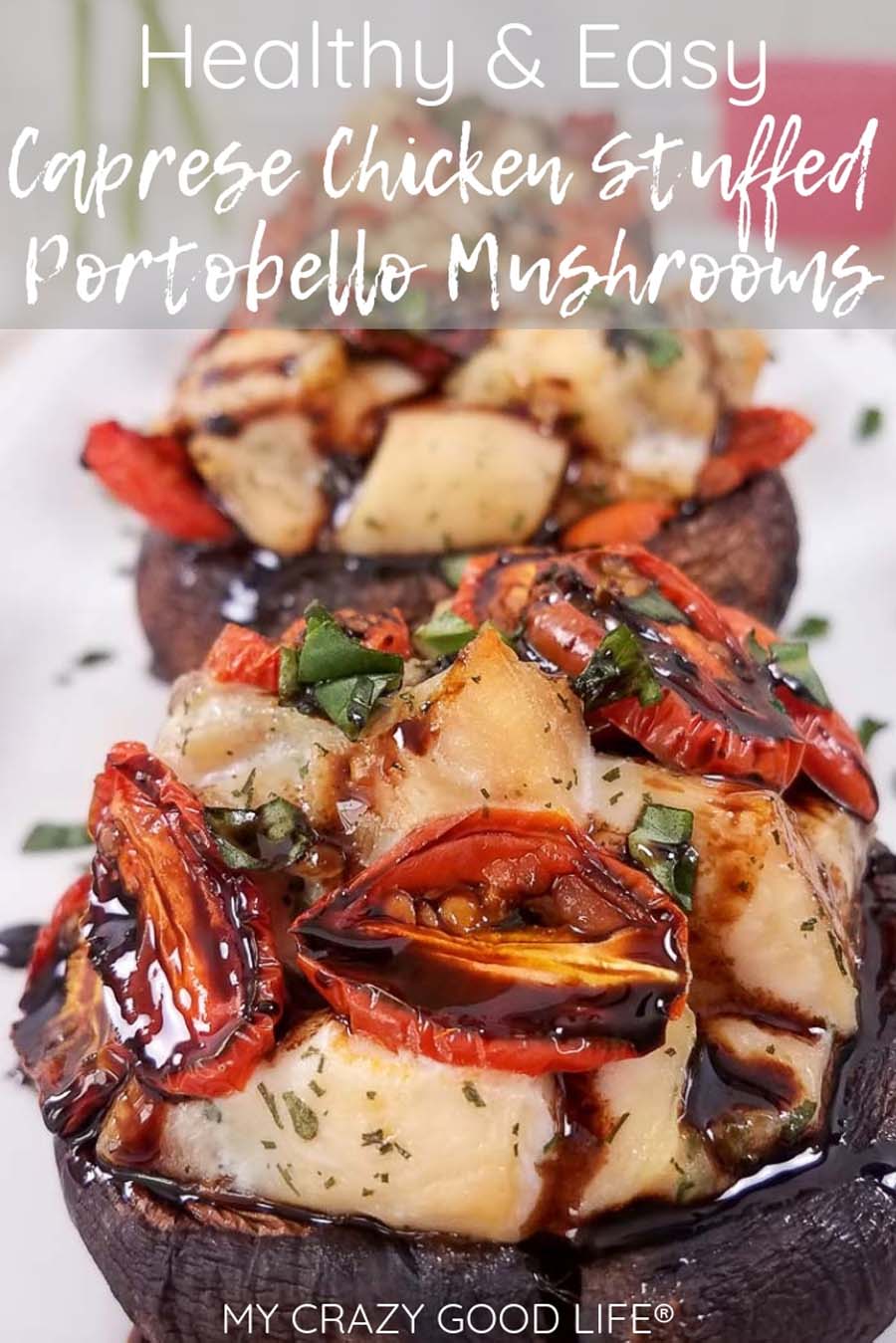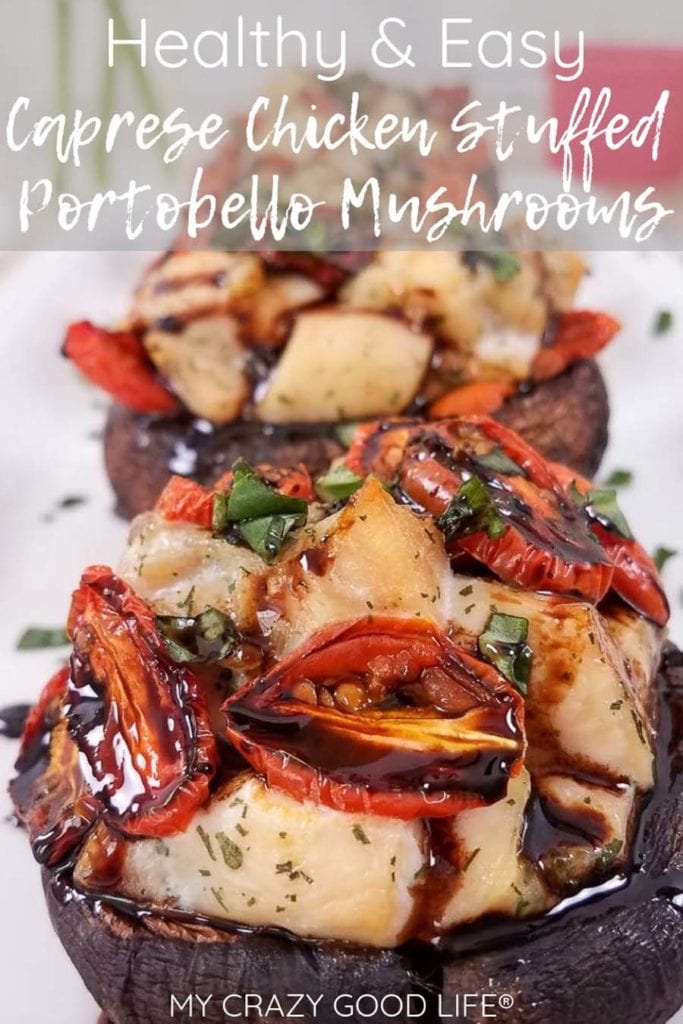 If you are not a mushroom fan you might want to give these caprese chicken stuffed portobello mushrooms a try before skipping them on the basis of 'ew, mushrooms!' The combination of flavors and textures work really well together.
How to clean portobello mushrooms:
Cleaning mushrooms is easier than you might think. For this stuffed portobello mushroom recipe you'll definitely want to start with clean mushrooms. Here are some easy tips for how to clean portobello mushrooms:
Do not soak mushrooms.
Use a damp paper towel or a soft mushroom brush to clean the surface and remove any dirt or debris.
You can also rinse with cool water and towel dry.
Remove the stems (they're edible but they don't have the best texture or flavor)
Scrape out the dark brown / black "gills" of the mushroom. (Also edible but they'll turn everything inside a weird color and get mushy so it's best to clean them out)
Use a spoon to clean out the "gill."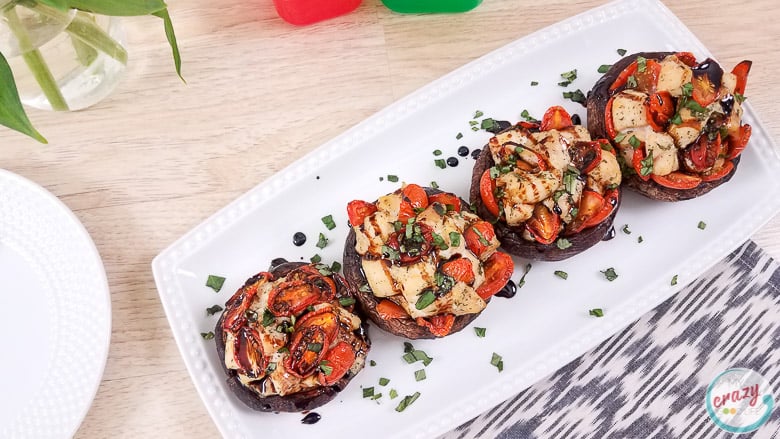 How to cook portobello mushrooms:
These stuffed portobello mushrooms are baked, but you can cook these mushrooms in a variety of ways. See the directions above for cleaning portobello mushrooms and then prepare them in any way you like!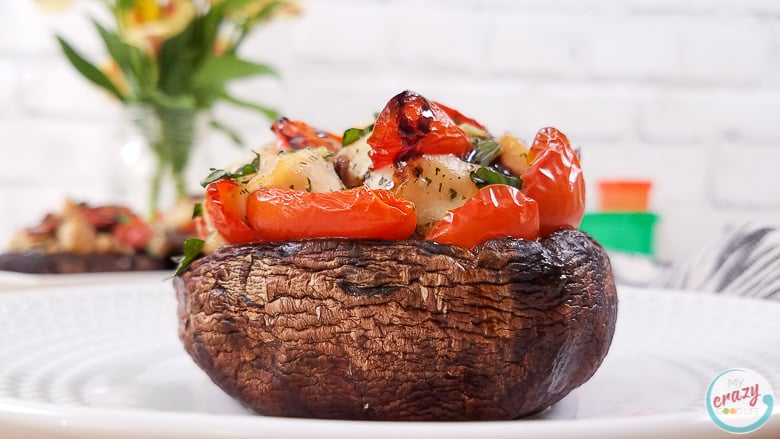 I like mushrooms cooked and raw. They are delicious in salad and also go great in this risotto recipe!
Why doesn't this chicken caprese recipe have cheese?
Easy! I don't like cheese. BUT that doesn't mean you can't enjoy these caprese chicken stuffed portobello mushrooms with some cheese.
Feel free to add some to the recipe if you want it and your healthy lifestyle guidelines allow for it!
Healthy Eating Plans:
I don't include any cheese in the Weight Watchers Freestyle points or the 21 Day Fix / Portion Fix counts for this recipe, so please keep this in mind.
21 Day Fix: Whole Recipe: 5 green containers, 2 red containers, 2 teaspoons
Per Mushroom: 1 1/4 green container, 1/2 red container, 1/2 teaspoon
Weight Watchers:
This recipe makes 4 servings.
Each mushroom is just 2 Blue Plan Points / 3 Green Plan Points / 2 Purple Plan Points. That's a great recipe for lunch or dinners that you can enjoy with a per serving point value of less than 5!
2B Mindset:
Absolutely! There are no FFCs in these delicious stuffed mushrooms so you can enjoy them on 2B Mindset for any meal! I don't think I'll be serving them up for breakfast any time soon but as a lunch or dinner option you can't go wrong. You could even add these alongside your favorite whole wheat pasta at lunchtime.
Trim Healthy Mama:
This would be an FP recipe for THM and you'd need to sub in Yacon Syrup…which tastes of figs. You could leave off the sauce to avoid that!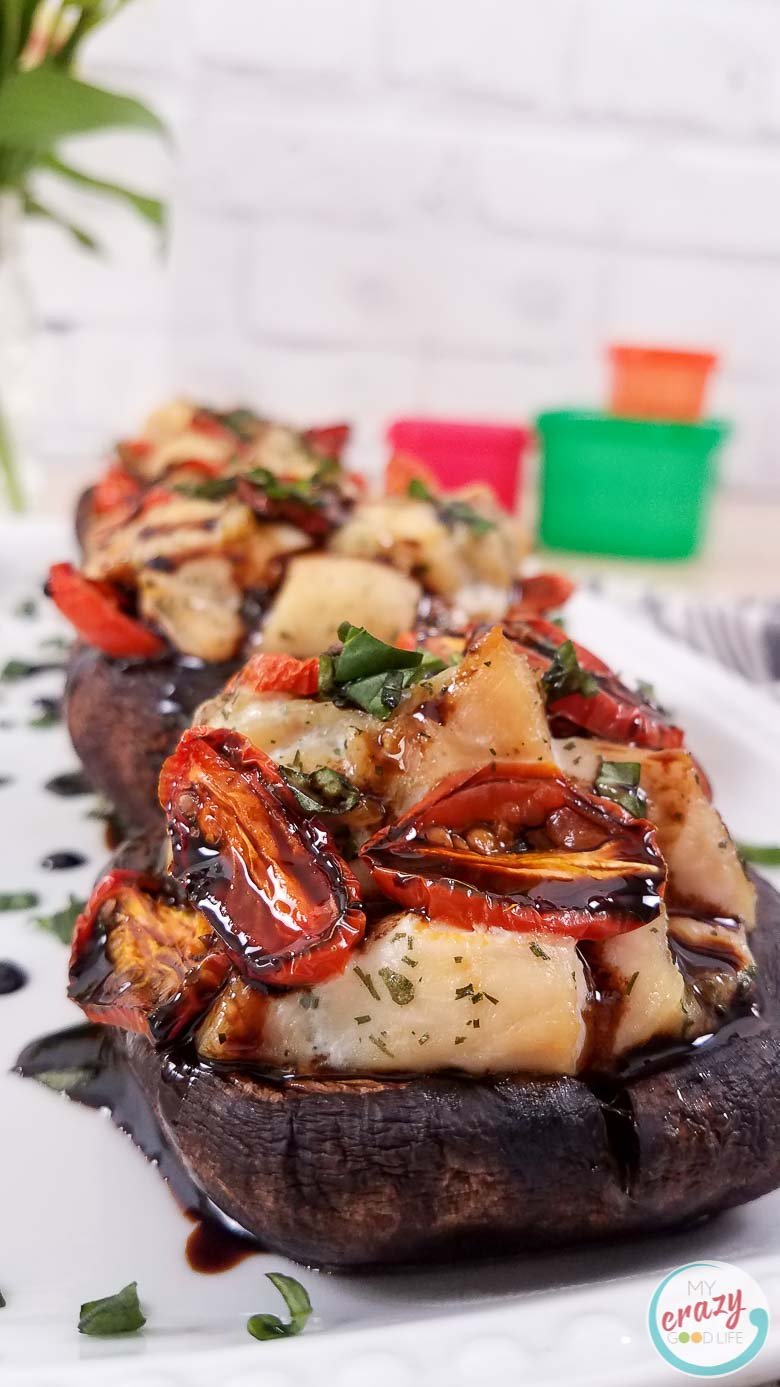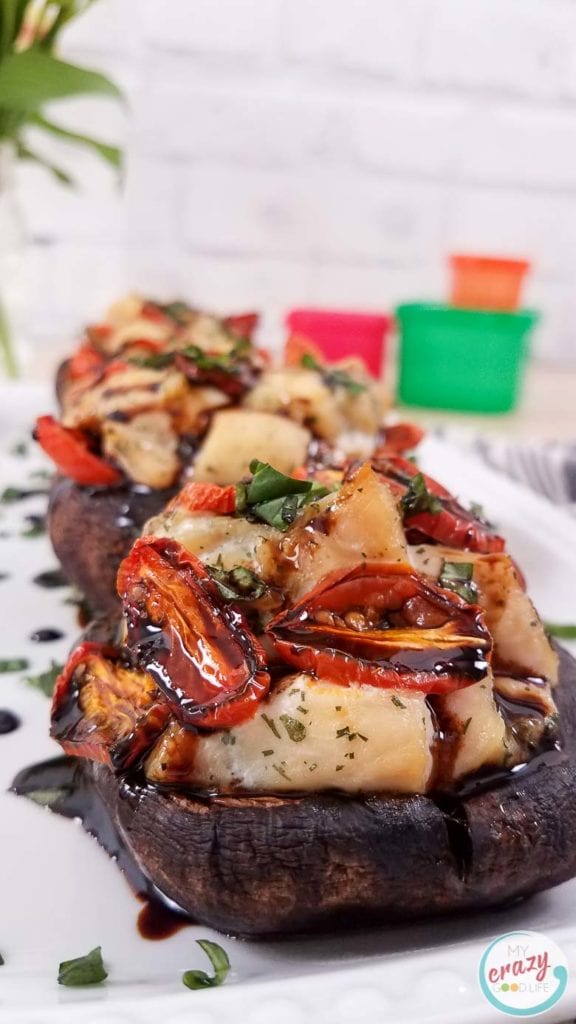 More delicious and healthy recipes: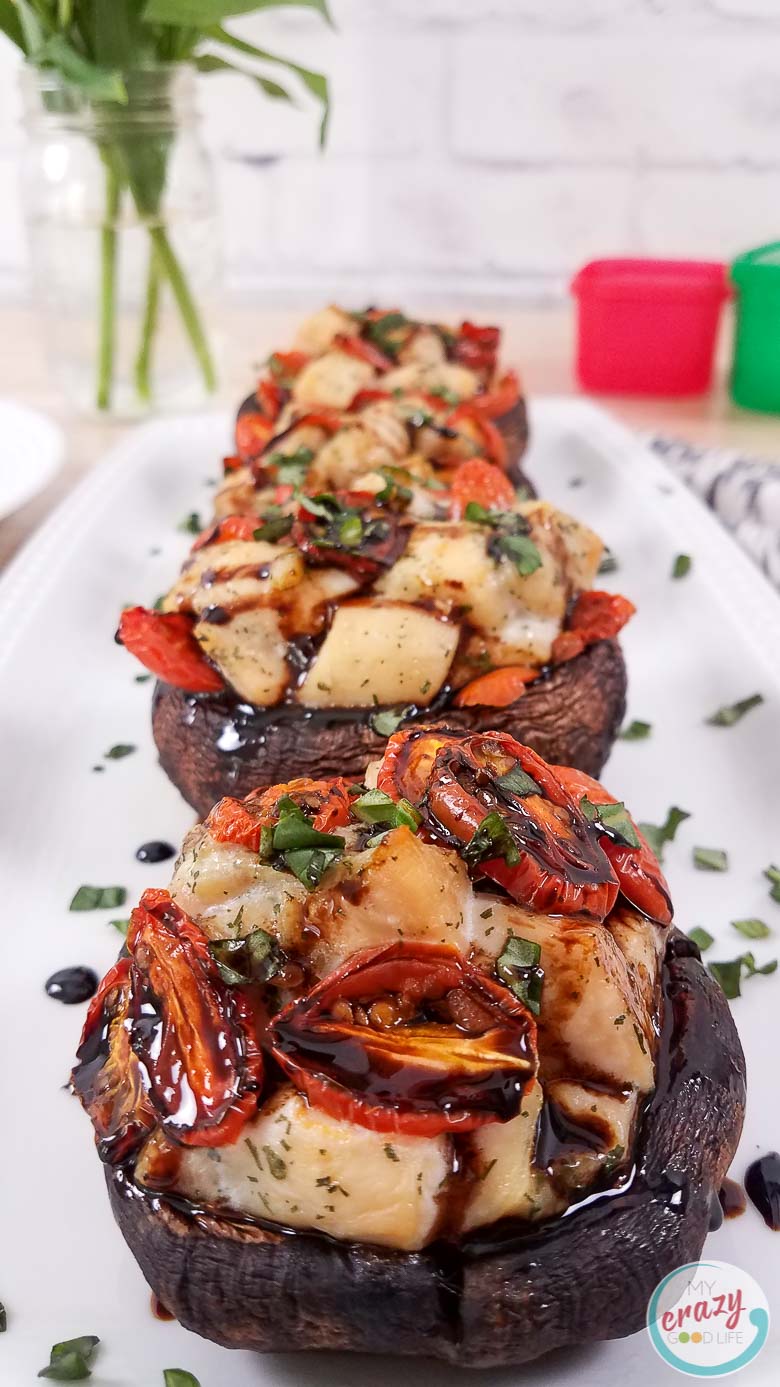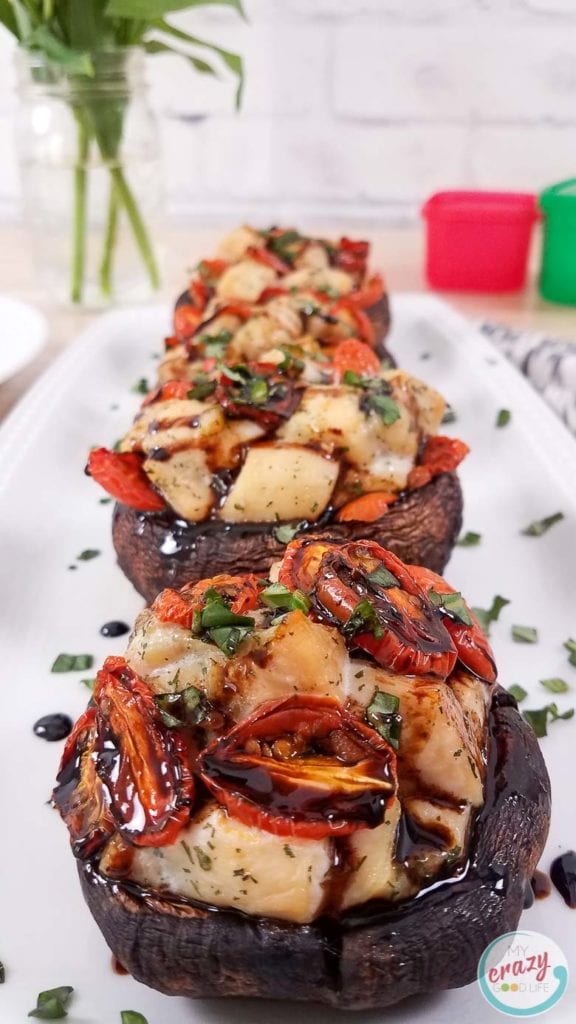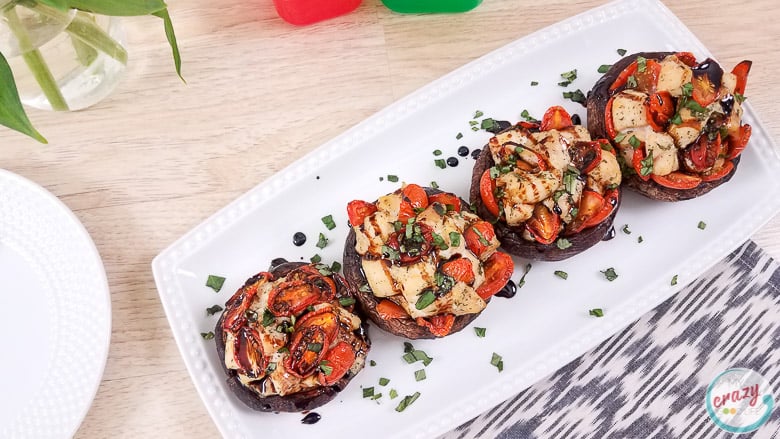 click the stars to rate!
Caprese Chicken Stuffed Portobello Mushrooms
Servings 4 Servings
These Caprese Chicken Stuffed Portobello Mushrooms are a delicious lunch or dinner! A large portobello mushroom topped with a caprese chicken inspired mixture can be easily baked for a healthy dinner. I love how hearty and versatile portobello mushrooms are!
Equipment
Cutting Board

Kitchen Knife
Ingredients
1 chicken breast cut into bite sized cubes
1 tsp olive oil
1 tsp garlic salt
1/2 tsp dill dried
1/2 tsp parsley dried
4 portobello mushrooms washed, dried, and the stem removed
1 tsp olive oil
1 cup cherry tomatoes sliced
1/4 cup fresh basil chopped
glaze:
1/4 cup balsamic vinegar
2 tsp honey
Instructions
Preheat the oven to 425 degrees F.

In a bowl, mix together the chicken, 1 tsp oil, garlic salt, dill, and parsley. 1 chicken breast , 1 tsp olive oil, 1 tsp garlic salt, 1/2 tsp dill, 1/2 tsp parsley

Next, place the mushrooms in a baking pan and lightly cover the mushrooms with the remaining teaspoon of oil. Sprinkle with a pinch of salt on both sides. 4 portobello mushrooms, 1 tsp olive oil

4) Fill each mushroom with the seasoned chicken.

Add the tomato slices to the mushrooms. Be sure to slide some pieces in between the chicken so they stick. 1 cup cherry tomatoes

Bake the mushrooms uncovered for 20-25 minutes in the oven.

During the last 5 minutes of baking add the balsamic vinegar and honey to a sauce pan and heat on high heat while mixing. Let the vinegar come to a simmer. Continue to stir the vinegar until it reduces and thickens to a glaze. 1/4 cup balsamic vinegar, 1/4 cup fresh basil

Remove the mushrooms from the oven. Sprinkle with the basil and drizzle the balsamic glaze over before serving. 1/4 cup fresh basil
Notes
Counts: 5G 2R 2 teaspoons Per mushroom: 1 1/4G, 1/2R, 1/2 tsp Weight Watchers: 2 Blue Plan Points / 3 Green Plan Points / 2 Purple Plan Points per mushroom Note: If the glaze cools and thickens too much in the sauce pan you can save it by reheating and adding an additional 1-2 tsp of vinegar to the glaze. This will loosen it so that you can drizzle the glaze.
Nutrition
Serving: 1Mushroom | Calories: 135kcal | Carbohydrates: 10g | Protein: 14g | Fat: 4g | Saturated Fat: 1g | Cholesterol: 36mg | Sodium: 663mg | Potassium: 614mg | Fiber: 1g | Sugar: 8g | Vitamin A: 278IU | Vitamin C: 9mg | Calcium: 16mg | Iron: 1mg