This site contains affiliate links. Please see Policies for more information.
Did you know that elevation can affect Instant Pot cooking times? Here are some Instant Pot High Altitude Cooking time adjustments for you to save!
You all know how much I love my Instant Pot, and how I love to post healthy recipes for you to follow. After receiving a few emails from readers about their Instant Pot recipes not turning out I decided I needed to investigate a little.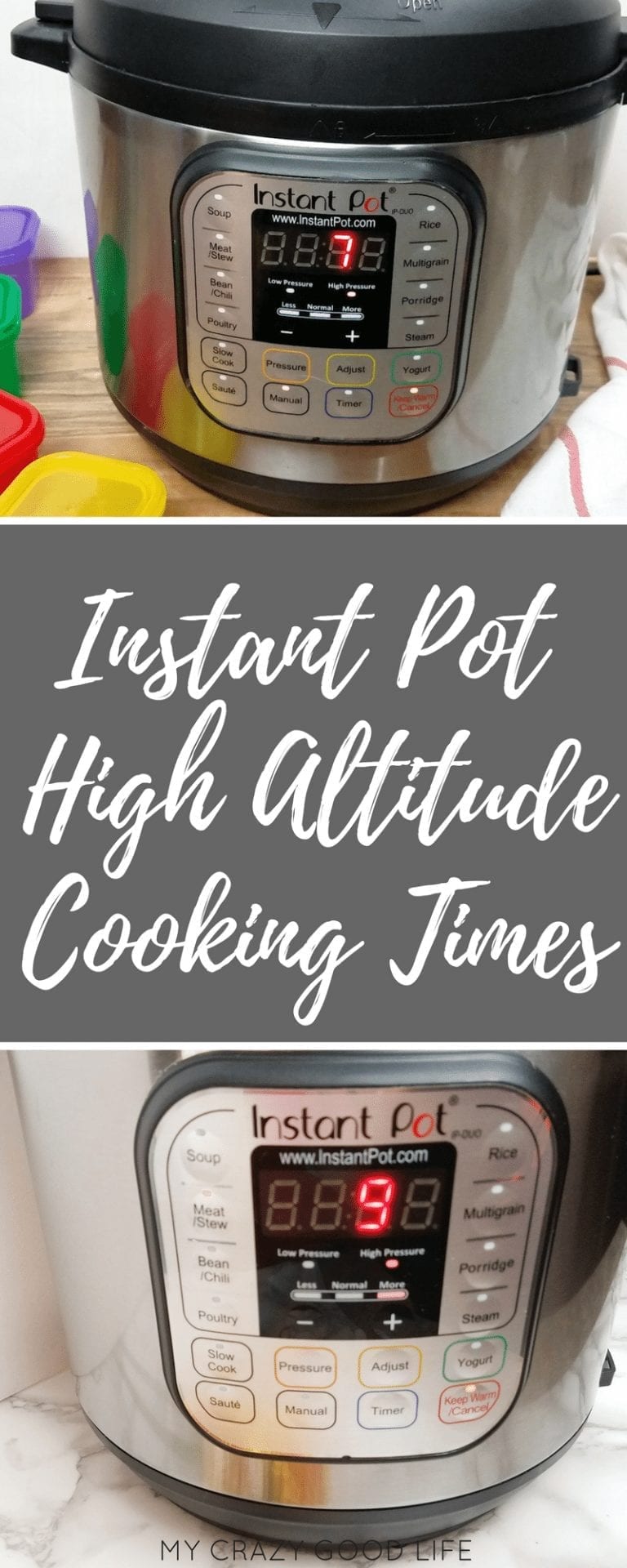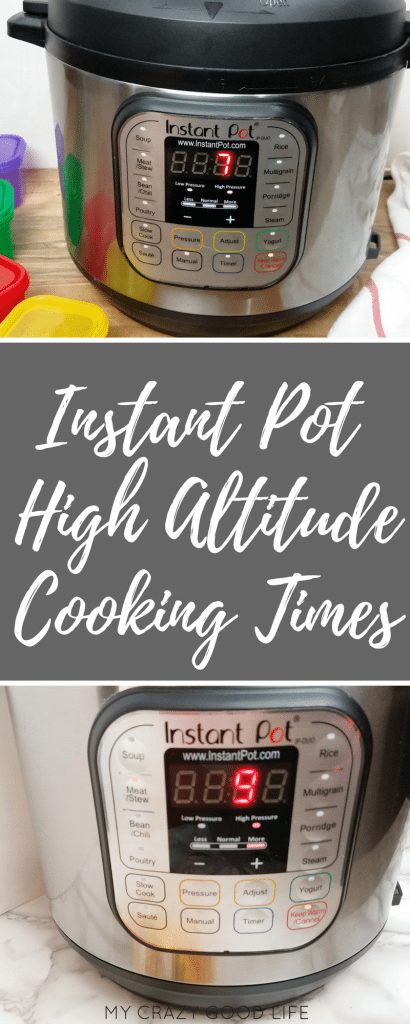 Instant Pot High Altitude Cooking Time Adjustments
Did you know that pressure cookers are affected by altitude? I think I had a vague recognition that this could happen but I never really thought about it too much.
The truth of the matter is that the internet connects us all with no regards to altitude. So the recipes that I'm creating at 1, 516 ft might not actually work out quite right for you at a higher or lower altitude!
I try and help everyone get the best results from any of the recipes that I share here at My Crazy Good Life. Thanks to altitude differences, a recipe that worked perfectly for me in Arizona might not cook through if you're remaking it in Colorado.
This is so stressful to me!
I decided to research and create a printable for you so that you could easily convert Instant Pot cooking times to whatever elevation you're in! This might require you digging into recipe authors a little online and trying to determine what elevation their recipe was tested at.
Click here to download the Instant Pot High Altitude Cooking Time Adjustments Chart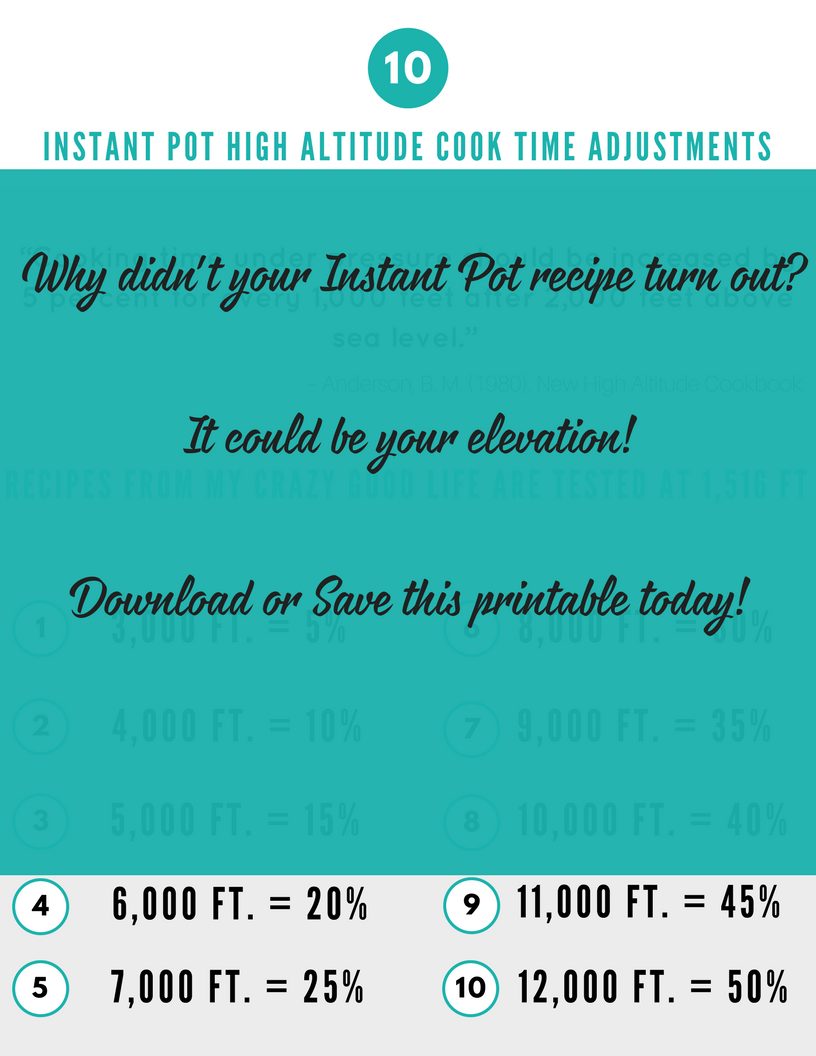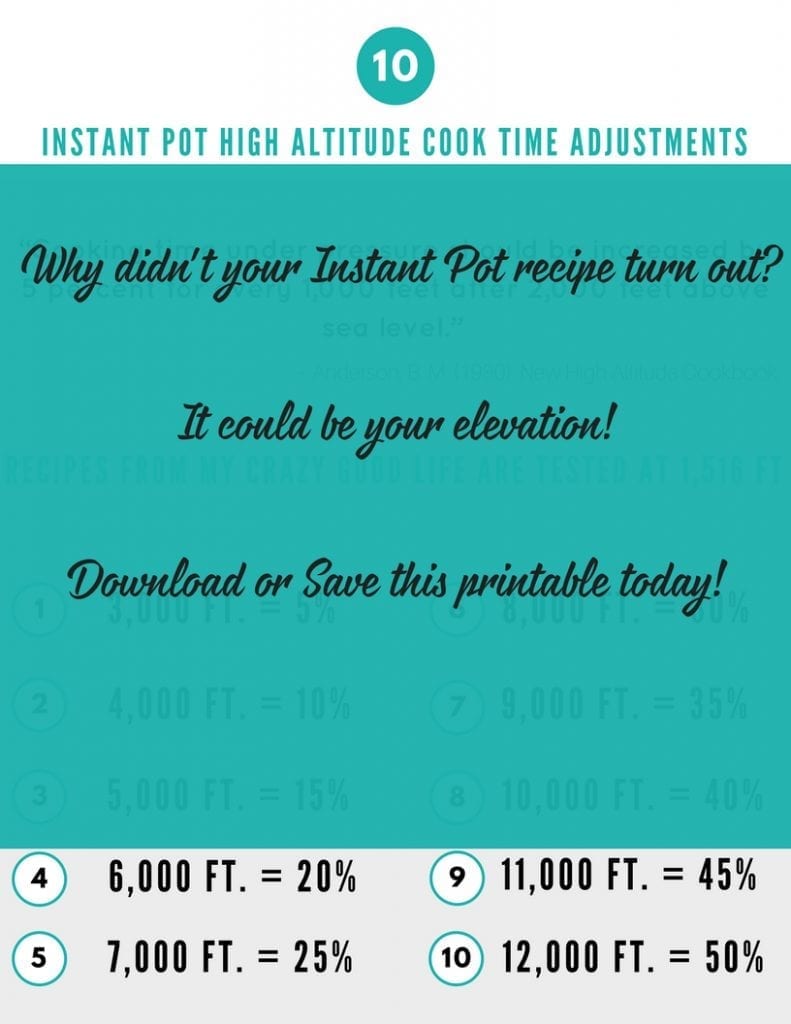 Cooking with the Instant Pot is quick and easy. With these Instant Pot high altitude cooking time adjustments you can figure out exactly how much time you need to add in order to replicate the results in your home…no matter where you are (or how high up you might be)!
Did you know about these US cities that are at some staggering elevations? If you live near any of these places you might have an increased elevation and not even know about it!
Brian Head, UT | 9,800 feet
Bozeman, MT | 4,816 feet
Leadville, CO | 10,200 feet
Mammoth Lakes, CA | 7,920 feet
Fort Davis, TX | 4,900 feet
Davis, WV | 3,100 feet
Knapp Creek, NY | 2,349 feet
Steven Springs, PA | 2,530 feet
Mountain City, TN | 2,418 feet
Beech Mountain, NC | 5,506 feet
If you want to learn what the exact (or close to exact) elevation is of the place where you live, work, or do most of your Instant Pot cooking you can click this link right here and do a search!
These Instant Pot high altitude cooking adjustments might help you save some 'dinners gone wrong' and fix issues you might be having with recipes that you find online. Don't be afraid to leave a comment asking what the altitude is for some of your favorite online recipe creators!
Give these Instant Pot high altitude cooking time adjustments a try and let me know how it works for you! Any of the delicious recipes in my Instant Pot Favorites eBook would be great for this experiment.