Instant Pot recipes are all the rage, however, not everyone has access to one or a similar programmable pressure cooker. If you are looking for ways to convert Instant Pot recipes to crockpot this post should help.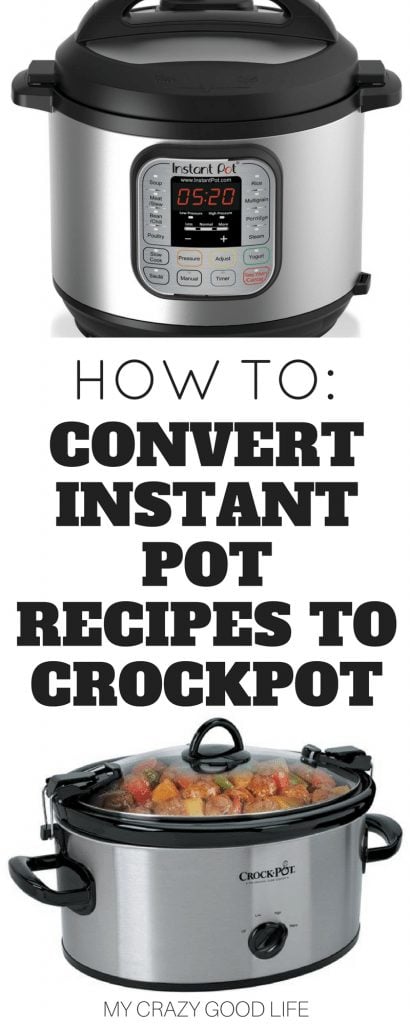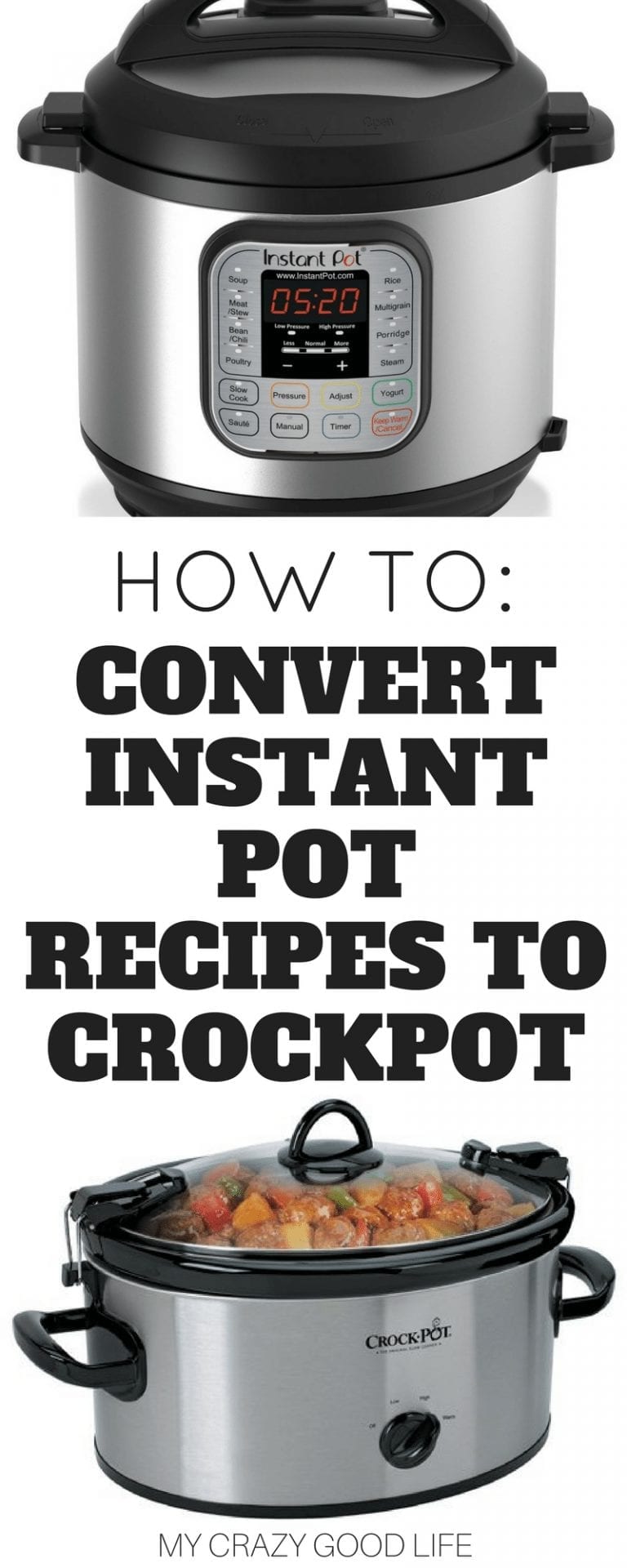 A lot of us have a crockpot sitting around, if you use yours everyday or even if you only use it a few times a month, it's a great device that can help make life in the kitchen easier.
Use these tips and tricks to convert Instant Pot recipes to crockpot cooking so that you can enjoy all the amazing recipes you find online!
How To Convert Instant Pot Recipes To Crockpot
I have a post all about how to convert recipes to Instant Pot cooking times right here –>> Convert Recipes to Instant Pot Cooking <<—– This post will help you convert your favorite recipes to Instant Pot cook times!
Now let's dig into the opposite side of things and figure out how to convert Instant Pot recipes to Crockpot cooking times.
Things to Remember:
It's never going to be an exact science. Everyone's recipes are a little bit different, everyone has a unique device that is going to vary slightly from person to person, and if you are like me and have a favorite crockpot that's been hanging around for years…well we all know they tend to wear out just a bit over time!
Avoid dairy ingredients until the end of the cooking process. This is a good tip for any recipe but especially when dealing with crockpot and pressure cooking recipes. Dairy is sensitive and if it's not cooked or added to a recipe properly it can spoil, curdle, and ruin your whole recipe.
If you are moving from an Instant Pot to Crockpot cooking you'll likely need to adjust the sizing because Crockpots can handle a larger meal size. This can be a real blessing if you are cooking for a big family or if you want to double a recipe for the sake of meal prep!
The Quick Way: Pro Tip For Converting From IP to Crockpot
I try to keep in mind that not everything is meant to be cooked in the crockpot. The same goes for the Instant Pot. Make sure that the recipe you are trying to convert is suitable for the crockpot.
Now for the good stuff: the cheaters path to quickly converting Instant Pot recipes to Crockpot cooking!
Find a similar recipe and use that as a base for your temperature and cooking time base. A great example is cooking something like my Instant Pot Lasagna. Although my recipe is a healthier alternative you can use a regular crockpot lasagna recipe as a base. This makes the process simple when you want to convert from Instant Pot recipes to Crockpot cooking.
How to Convert Instant Pot Recipes to Crockpot Cooking Times
Probably the most difficult part of of converting any recipe is figuring out how long to cook and at what temperature.
There are some resources out there that will give you a general idea of how much you are cooking and what temperature/time it will require. Here is a guide that will give you cooking times, fill levels, and even some conversions between high and low temperature cooking time!
Remember that when you are cooking meat it's important to be sure that the internal temperature reaches a safe level. Use the guides as a resource but always check your meat temperatures before eating.
Keep Track of What Works
One of the easiest ways to learn how to convert Instant Pot Recipes to Crockpot cooking is through trial and error. Keep track of what works and what does not. You can make adjustments and before long you'll be a pro at converting recipes!
Add Liquid When Necessary
When cooking with an Instant Pot there is very little moisture lost. This means that there doesn't need to be a lot of liquid to begin with. Cooking in the Crockpot is very different because it's not a sealed environment and the cooking process takes a lot longer.
Make sure you add enough liquid especially when cooking things like pasta, rice, and meat. This will help avoid dried out or undercooked meals! Also, make sure you're not adding too much liquid, so your meal doesn't turn out too watery.
Looking for some great Instant Pot and Crockpot recipes to try?
How to cook vegetables in the Instant Pot
Weight Watchers Stuffed Pepper Soup IP and Crockpot Instructions
Crockpot Cinnamon Rolls with Cream Cheese Frosting