This site contains affiliate links. Please see Policies for more information.
Once I learned how to Air Fry Frozen Vegetables, it became my favorite way to make them. I'm finding that more than anything, I'm using frozen vegetables when I cook with my air fryer.
The cooking time changes a bit when using frozen vegetables vs fresh vegetables, and based on the type of vegetable, but these instructions should help a bit if this is your first time using your air fryer to cook frozen vegetables.
I live about 25 minutes from a grocery store and I love being able to use frozen veggies for everything I can–they're picked at the peak of freshness, so rest assured you're not compromising your health when using frozen vegetables.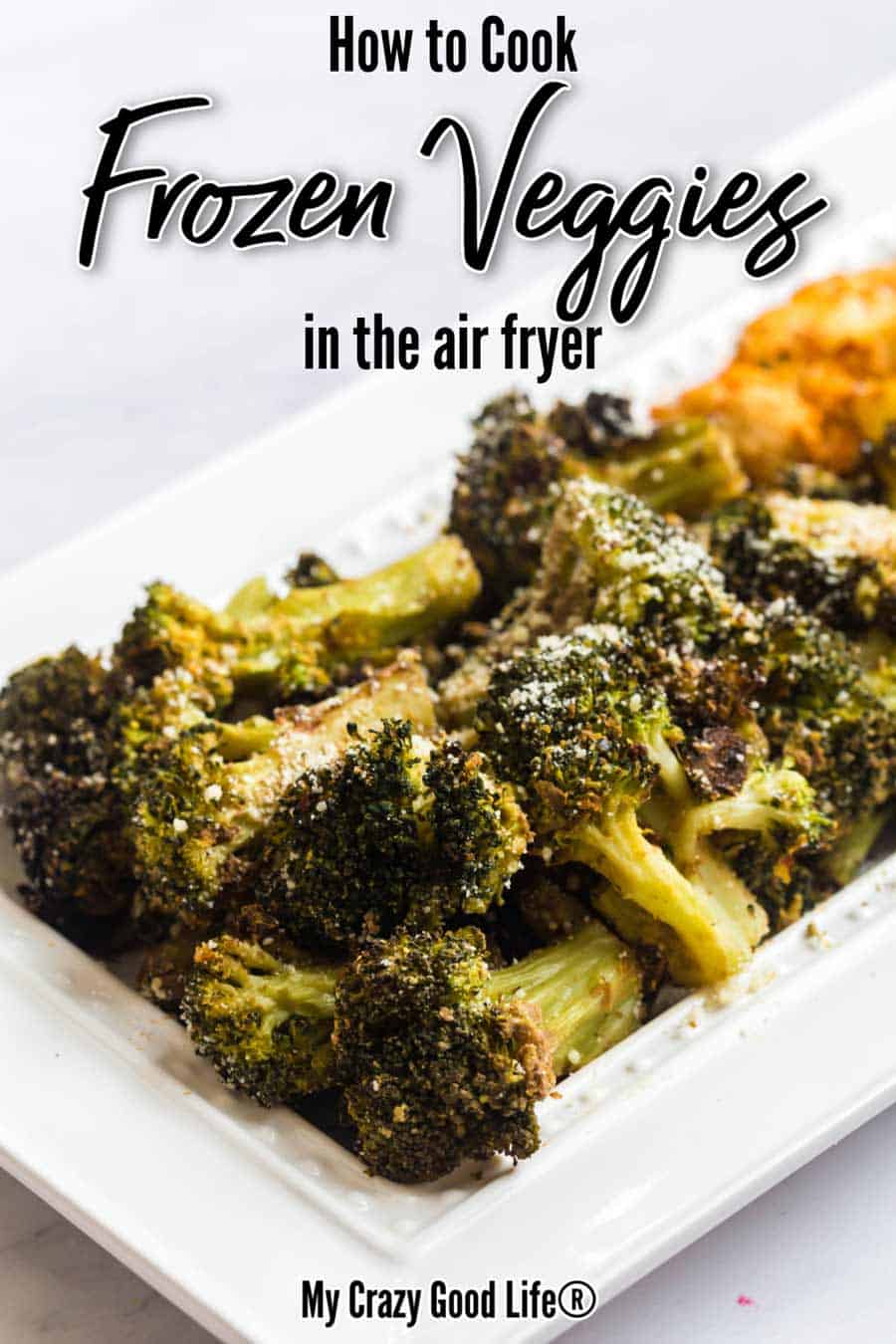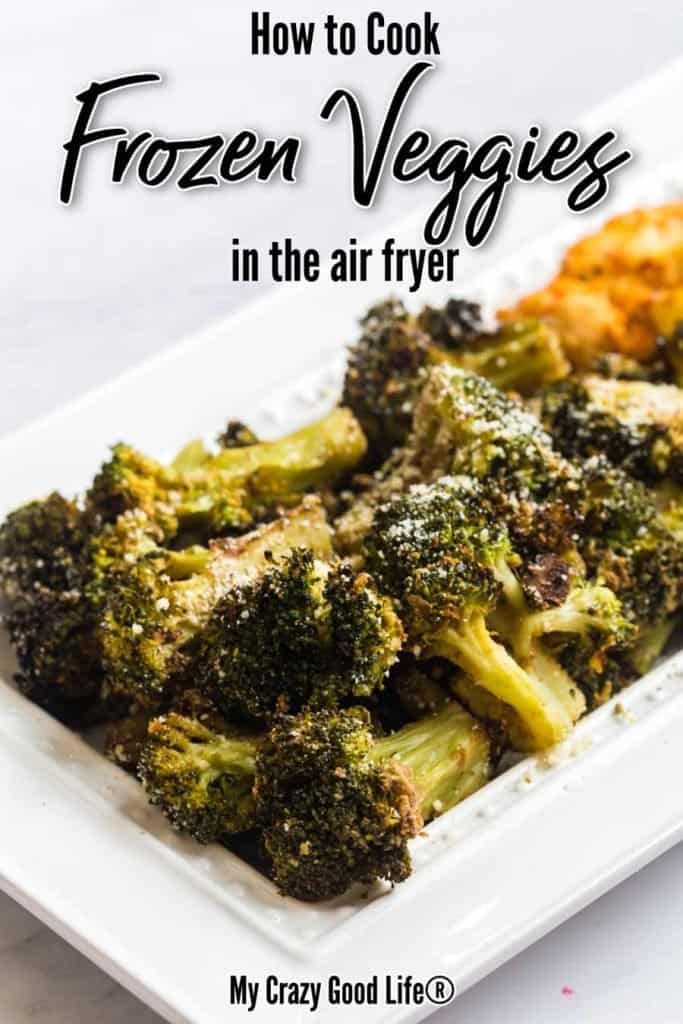 Your Ultimate Guide to the Best Air Fryer Frozen Vegetables
Broccoli florets: Definitely a favorite because it tastes just like roasted broccoli, but it's faster!
Okra: Not one of my favorite vegetables, typically, but I love that the air fryer crisps it up a bit.
Green Beans: These are so easy and they're perfect for snacking!
Cauliflower: All around, my favorite vegetable to cook any way–in the last year I've developed a love affair with cauliflower.
Sweet Potatoes: Roasted sweet potato chunks sprinkled with cinnamon are a delicious treat.
Brussel Sprouts: Mixed with some onions and mushrooms, this is a meal in itself, or the perfect healthy side dish!
What is an air fryer?
An air fryer is like a countertop convection oven. It is different than deep frying because it cooks food by blowing hot air around it. It technically doesn't need any oil, but by not using oil your food might come out a bit dry (with all of that air blowing, it's easy to dry food out if it's overcooked in the air fryer).
Most people use an air fryer for things that are typically deep fried like a frozen bag of sweet potato fries, french fries, or onion rings. I think it's a great option to make vegetables as an easy side dish for a meal.
I lightly spray olive oil or avocado oil on the foods that I put in my air fryer. They cook evenly and don't dry out. Also, spray oil can help your seasonings stick to the vegetables.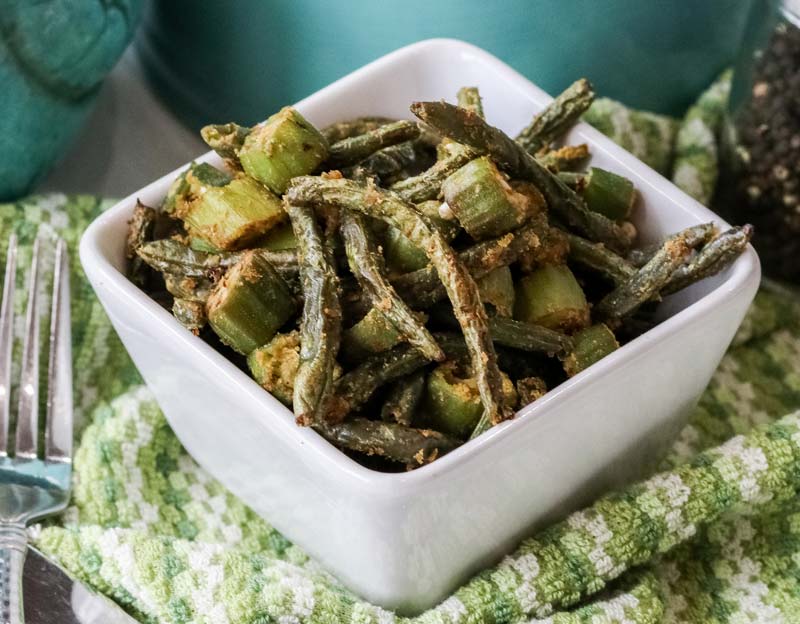 Can you put frozen vegetables in the air fryer?
Yes! Don't worry about thawing or pre-cooking. You can easily cook fresh or frozen vegetables in the air fryer. Air frying vegetables takes a little more time to cook–about 20 minutes total–because you're defrosting the veggies as they go through the cooking process.
How to Air Fry Frozen Vegetables
Depending on the size of your air fryer, pour about 6 ounces of your frozen vegetables into a large bowl. Try to get your vegetables into as much of a single layer as you can.
Spray a light coating of olive oil onto the vegetables.
Add your toppings now, depending on your recipe. I add nutritional yeast to all of my frozen vegetables because it makes for a great bread-like coating, has a buttery-nutty flavor, and adds a little protein.
Toss your veggies and the seasonings well.
Cook in the preheated air fryer at 400º for about 20 minutes, opening the fryer to toss and mix the veggies every few minutes.
Recipe Tips
Cook at a higher heat so that the vegetables don't have a chance to get soggy as they cook.
Use spray olive oil to lightly coat your veggies before seasoning instead of drizzling olive oil on them–drizzling oil on frozen veggies causes the oil to freeze right away, and the vegetables don't often cook evenly.
If you'd rather not spray oil on the vegetables, that's fine, but watch for them to become dry.
Remember that you might lose some seasoning at the bottom of the air fryer. Plan for that and add a little extra at the end of your cook time if you'd like.
Always try to place your vegetables in a single layer when air frying–it allows the heat to circulate better and cook more evenly.
Think outside the box! Frozen vegetables in the air fryer can be the best way to get those veggies in in a low carb way.
This recipe is always part of my healthy Thanksgiving menu. It's a favorite with my guests.
Optional seasonings for Air Fryer Vegetables
Salt & Black Pepper
Italian seasoning
Garlic Powder and Onion powder
Montreal Seasoning
Balsamic vinegar
Parmesan cheese
Nutritional yeast
Frank's hot sauce
Garlic salt
Rosemary and Garlic
My favorite air fryer vegetable recipes
I can't give you a list of my favorite Air Fry Vegetables without adding my absolute favorite– Air Fryer Buffalo Cauliflower.
Broccoli with Balsamic & Parmesan
Ingredients
One half of a 12 ounce bag of frozen broccoli
Olive or Avocado oil spray
1/4 cup nutritional yeast, panko breadcrumbs, or homemade breadcrumbs
3 tbsp balsamic vinegar
Parmesan cheese, as an optional garnish
Pour half the bag (about 6 ounces) of broccoli into a bowl.
Spray olive oil on top of broccoli. If using frozen broccoli, do this quickly because it'll freeze and clump up.
Add nutritional yeast (optional, but it makes a great bread-like coating) and balsamic on top of it. Toss and mix well in the bowl.
Cook frozen broccoli in the air fryer at 400º for 20 minutes, opening to toss every few minutes.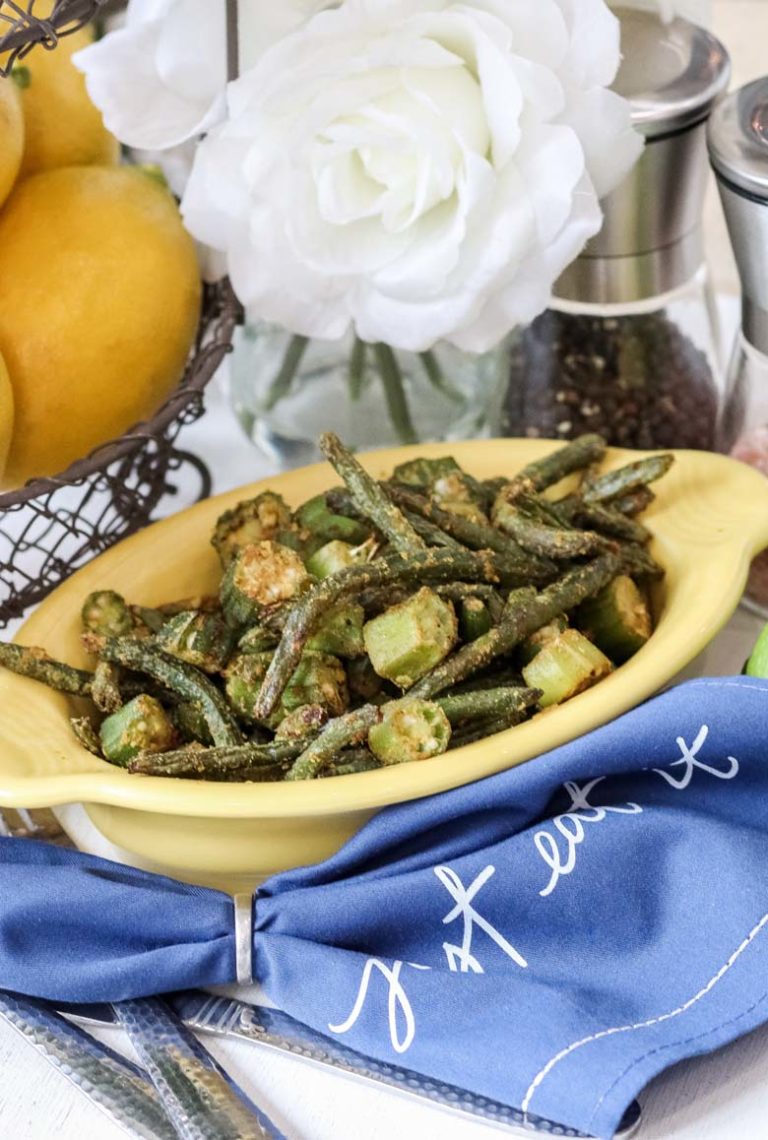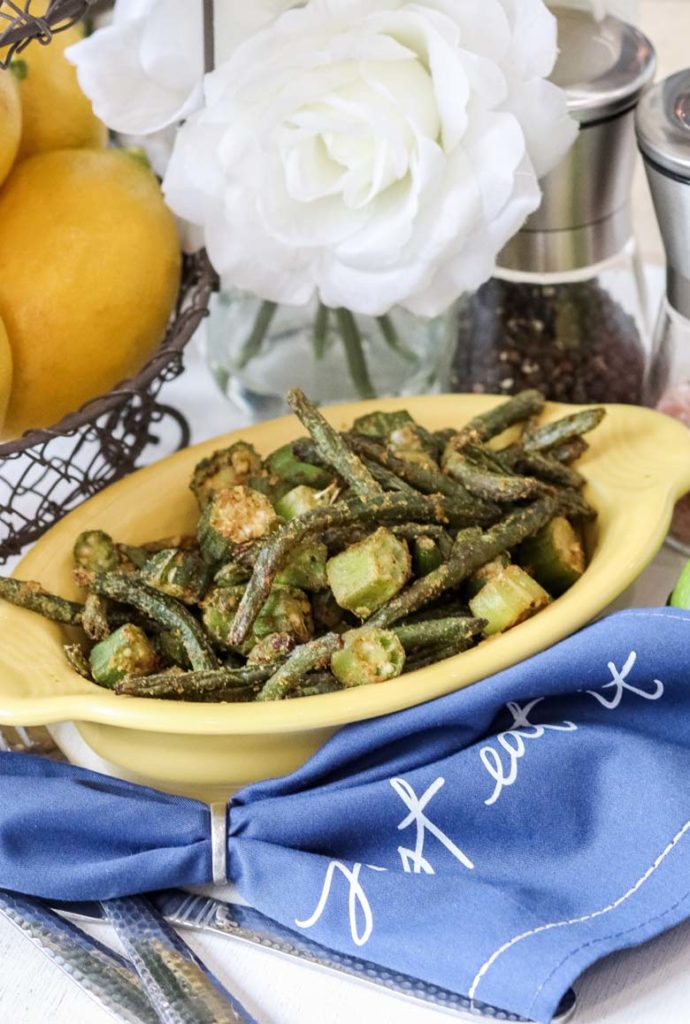 Okra or Green Beans
Ingredients
One half of a 12 ounce bag of frozen cut okra or green beans
Quick spray of olive oil
1/4 cup nutritional yeast
Salt and pepper to taste
How to make Air Fryer Okra or Green Beans
Pour half the bag (about 6 ounces) of okra or green beans into a bowl.
Lightly spray olive oil on top of the veggies. Do this quickly because it'll freeze and clump up.
Add nutritional yeast and salt and pepper. Toss.
Cook at 400 degrees for 20 minutes, opening to toss in the air fryer basket every few minutes.
Looking for the Best Air Fryer?
While I prefer the Ninja Foodi to use as my air fryer, you can easily use an Instant Pot with an air fryer lid or a Mealthy CrispLid. If you have a convection oven, simply use that–it's the original air fryer :)
It doesn't matter which air fryer model you have, as long as you learn to cook with it.
Healthy Eating Plans
21 Day Fix/Ultimate Portion Fix
Nutritional yeast is free if you're using one serving, but 1/2 cup will count for about 1/2 red container (this is an educated guess on my part, as nutritional yeast is not on the food list).
If you'd rather not use nutritional yeast, you can use whole wheat panko and count 1 yellow container for 1/2 cup, or use 6 Triscuts, crunched up, for 1 yellow container.
Most vegetables are free on Weight Watchers, depending on the myWW plan you're on. The breading and fats are where your points will come in.
These points are the same on Purple, Green, and Blue Plans:
1/2 cup of Nutritional Yeast is 2 points
1 tbsp of butter is 5 points
Olive oil cooking spray is zero points
1/2 cup of panko whole wheat breadcrumbs is 5 points
1/4 cup of Frank's Original Red Hot is zero points
1 tbsp of balsamic vinegar is 1 point