This site contains affiliate links. Please see Policies for more information.
Finding whole wheat breadcrumbs isn't easy, and when I do find them they're expensive! I decided to make my own, and am excited to show you how to make your own breadcrumbs. It's super fast and can help you out in a pinch, and you can use the bread right in your pantry!
Make these homemade breadcrumbs in your toaster, oven, or air fryer–I used my Ninja Foodi.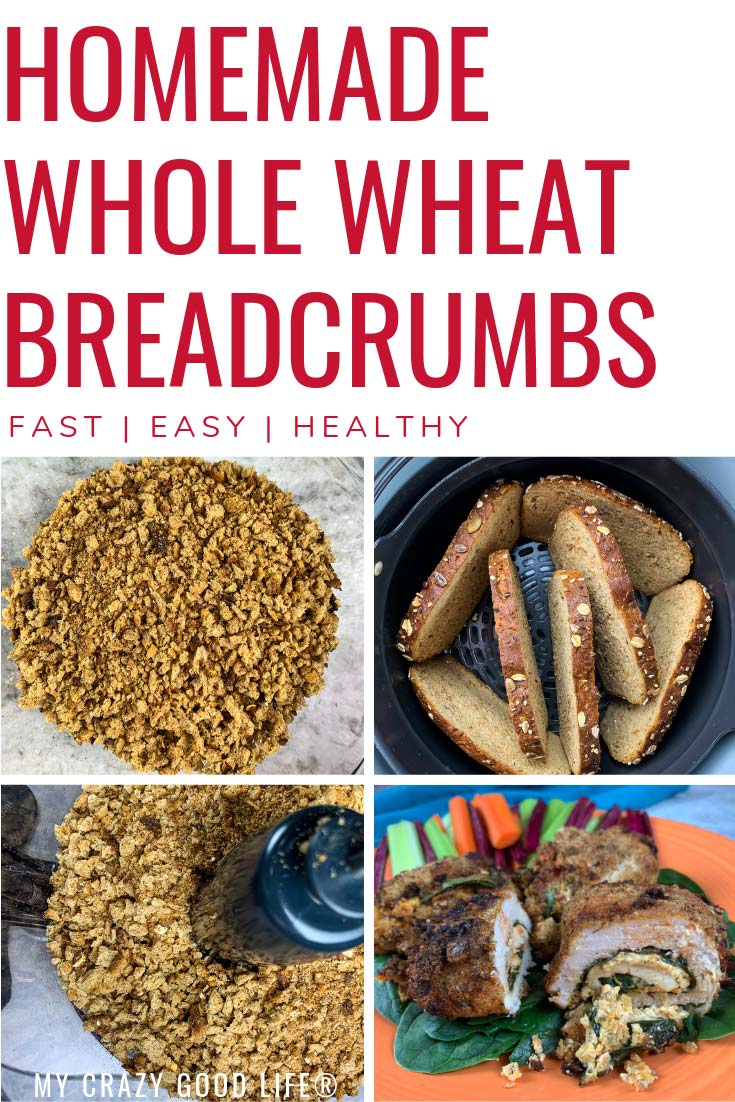 You can make these homemade bread crumbs with any type of bread you'd like–leftover bread, fresh bread, stale bread (as long as it's not moldy), gluten free bread…you can see where I'm going with this :) It took me about 20 minutes total to make these, and that was while I was making another recipe. Bottom line? It's quick!
Ingredients for homemade breadcrumbs: 
Note: 7 large slices of bread produced 3 1/2 cups of breadcrumbs. 
How to make bread crumbs fast:
Toast your bread in your toaster or on a single layer on a sheet pan or baking sheet in your oven. I used my Ninja Foodi on the air crisp setting for 7 minutes, and it was a perfect golden brown color.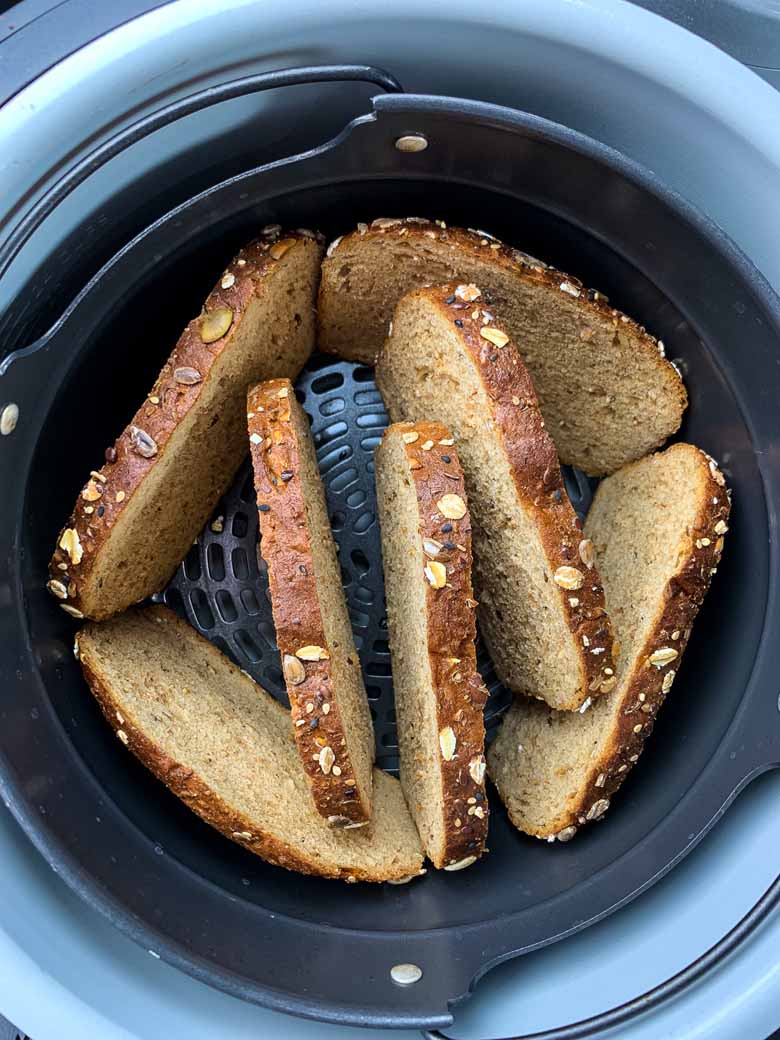 2. Break your bread apart into smaller chunks, and make sure it's dry. Dry bread is easier for the food processor to work with.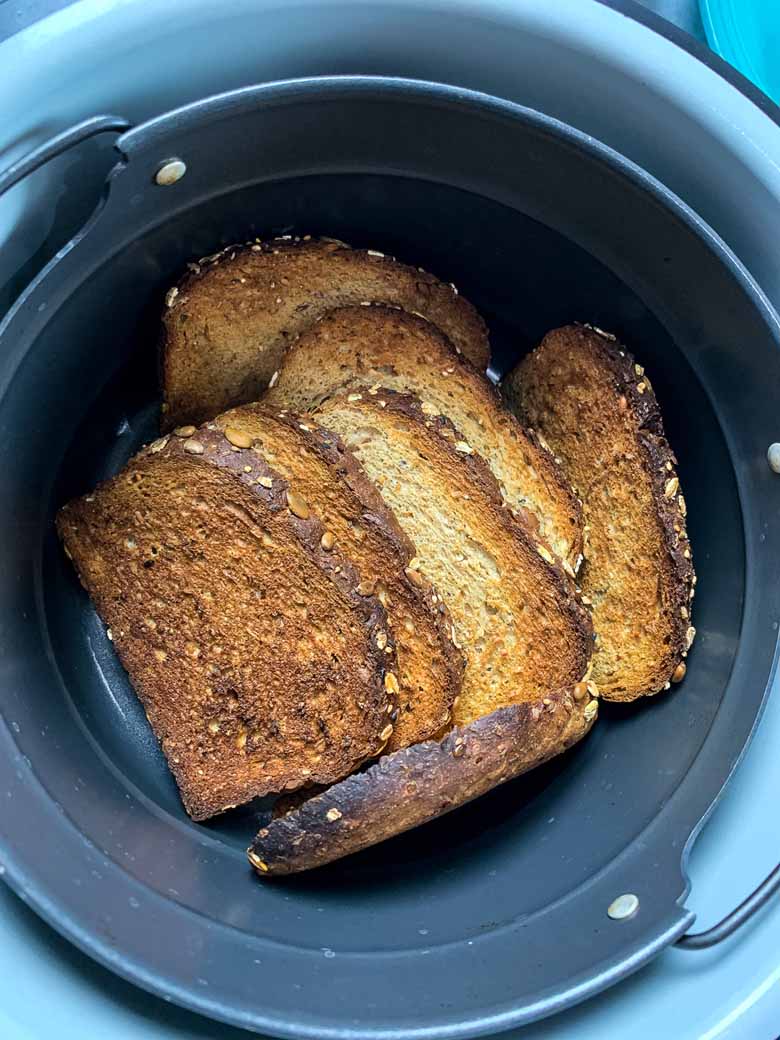 3. Add your bread to the food processor and pulse on low until desired size is reached.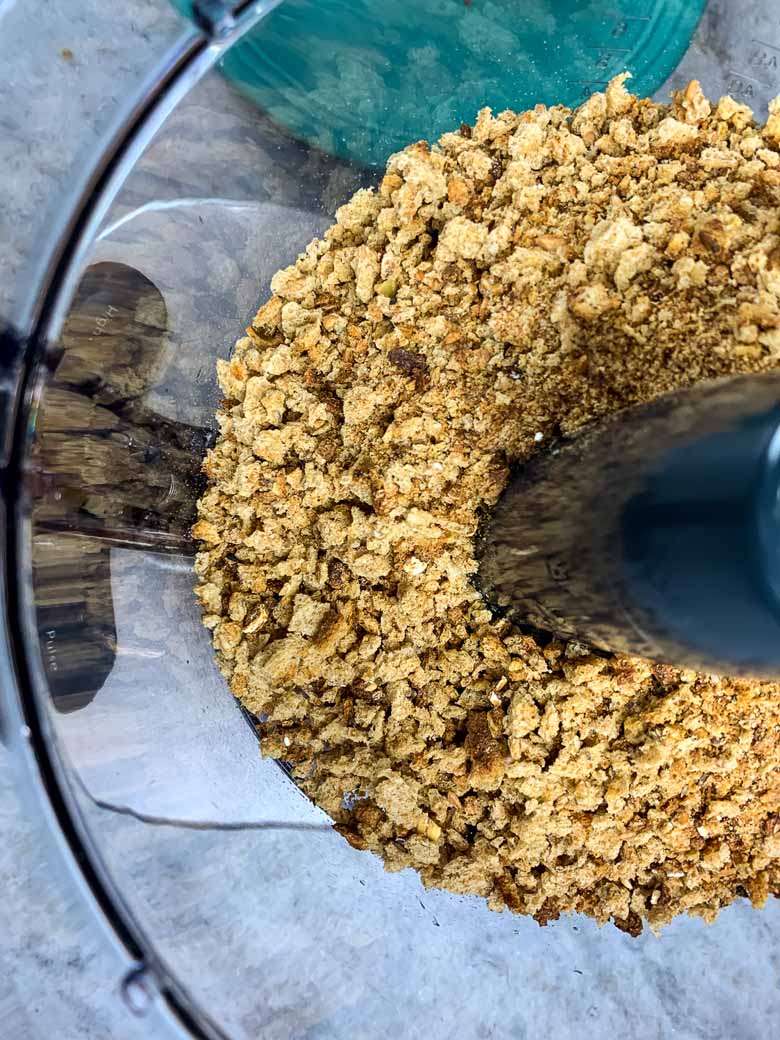 I love making fine crumbs because they adhere better in my recipes. I don't bread food a lot, but when I do I am a little picky about it.
How can I make breadcrumbs without a food processor?
I'd recommend using a good blender and blending the toasted bread in small batches. Also, you could use a chopper or even a cheese grater–it might be a little messy but it definitely can be done! You're going to want to make sure your bread is toasted well and very dry id you choose to make breadcrumbs using anything other than a food processor.
How to store these breadcrumbs:
Once your breadcrumbs are room temperature, store them in an airtight container in the fridge. Dry breadcrumbs without preservatives could still get moldy in the pantry. I prefer to make these in small batches so there is no waste, and since it's such a quick and easy thing to make I don't mind making them every time I meed them.
How to make Italian Breadcrumbs:
I love adding seasoning to these! It's super easy to do and can really complement the dish you're making. For Italian breadcrumbs, you can either add 2 tablespoons of Italian seasoning to your breadcrumbs or make your own by adding 2 1/2 teaspoons parsley, 1 1/2 teaspoon basil, 1 1/2 teaspoons oregano, 1 teaspoon thyme, and 1 teaspoon garlic powder to your mixture while it's in the food processor.
How to make breadcrumbs stick:
Cooking with breadcrumbs is pretty easy but I'll admit, sometimes they don't stick to what I'm cooking! I've found that the easiest way to make breadcrumbs stick is by dipping your food into an egg mixture before dipping it in the breadcrumbs. I like to scramble an egg with a fork and use that.
If you have really stubborn breadcrumbs, I've seen many people double dip their food–dip in egg, breadcrumbs, then egg and breadcrumbs again. I haven't had to do this but it's an idea!
What recipes can I use these in?
Here are some of my favorite ways to use homemade breadcrumbs:
Trim Healthy Mama:
For this to be an E you will need to use 100% sprouted whole wheat bread. Ezekiel bread would be a great choice!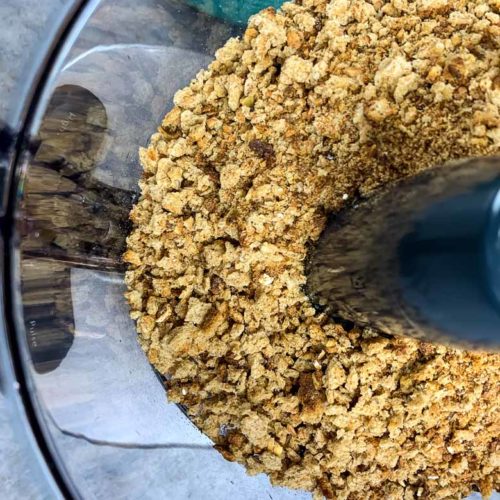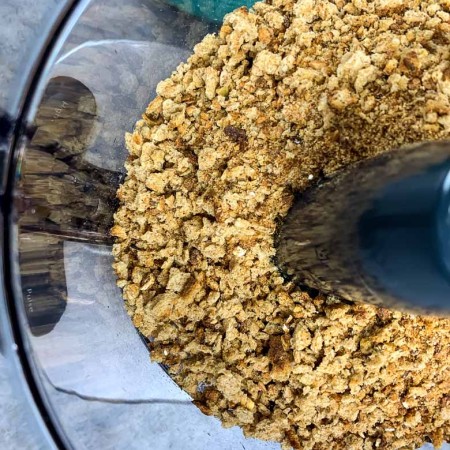 click the stars to rate!
Homemade Breadcrumbs
Approximate Serving Size: Just over 1 cup
Servings 3 servings
Wondering how to make bread crumbs fast? This easy recipe for homemade breadcrumbs is super easy and results in the perfect whole wheat breadcrumbs for your recipes. #breadcrumbs #wheat #wholewheat #easy #staple
Equipment
Food processor

Toaster, Oven, or Air Fryer
Ingredients
7 slices whole grain bread I used large slices of Dave's Killer Bread
Instructions
Toast your bread in a toaster, oven, or air fryer. I toasted mine for 7 minutes in my Ninja Foodi on Air Crisp. 7 slices whole grain bread

Break your bread into smaller chunks and make sure they're dry inside.

Add the bread to your food processor and pulse on low until you get to your desired size. The more you pulse, the finer the bread crumbs will be.
Nutrition
Calories: 161kcal | Carbohydrates: 27g | Protein: 8g | Fat: 2g | Saturated Fat: 1g | Sodium: 261mg | Potassium: 162mg | Fiber: 4g | Sugar: 4g | Calcium: 70mg | Iron: 2mg