This site contains affiliate links. Please see Policies for more information.
If you haven't heard about the Whole30 program, let me introduce you! The Whole30 program is a healthy way of living that cuts out non-whole foods. You're understanding the name now right?!
Whole30 Recipes are focused on helping you cut out any kind of ingredients that might be causing your body unknown harm. So many people have gone through this program and found that it helps them in ways they did not expect.
Cutting out processed foods from your daily life can seem daunting and overwhelming. With these Whole30 Recipes you won't even notice that things you used to use everyday are missing from the ingredients list!
One of the features of the Whole30 program that I really like is this 30 day mindset. Not everyone is equipped to sign on and change their entire life.
One single month is something that almost all of us can handle. We can do anything for thirty days if it means we can see and feel awesome results. If you are on the fence about the Whole30 program, if you have food allergies, or maybe you just want some new healthy recipes to add to your list I recommend you check out these tasty options.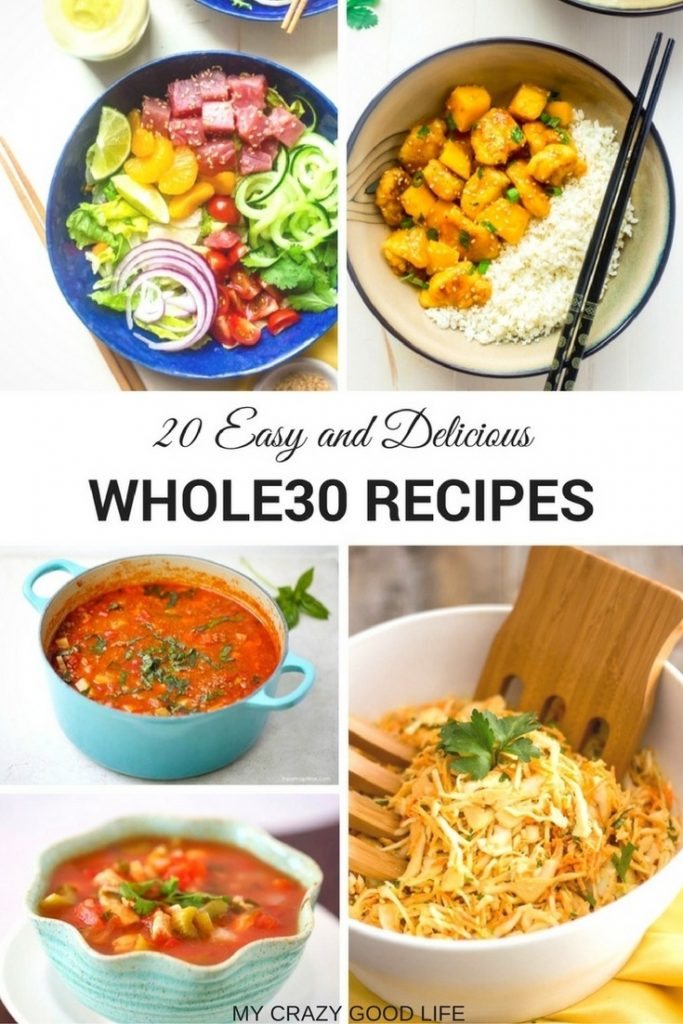 Whole30 Recipes:
Turmeric Roasted Carrots from thenaturalnurturer.com
Warm Taco Style Salad from thehealthyfoodie.com
Rosemary And Garlic Roast Chicken Breasts And Potatoes from bowlofdelicious.com
Homemade Frozen Fish Sticks With Tartar Sauce (and Whole30 Update!) from bowlofdelicious.com
Squeaky Clean Coleslaw Whole30 Compliant from thehealthyfoodie.com
Paleo Chicken Tikka Masala from healthynibblesandbits.com
Mexican Chicken Soup from iheartnaptime.net
Jerk Shrimp Stew With Cauliflower Rice {whole 30 + Paleo} from foodfaithfitness.com
Slow Cooker Spicy Stuffed Cabbage Casserole (whole30 And Paleo Approved) from bowlofdelicious.com
Sweet Potato & Kale Gratin (whole30 Day 8) from acalculatedwhisk.com
Hearty Vegetable Soup from iheartnaptime.net
Mango Chicken With Cauliflower Rice from foodfaithfitness.com
{whole30} Crock Pot Cilantro Chicken W/cauliflower Rice from honeygheeandme.com
Veggie-loaded Avocado Tuna Salad from thenaturalnurturer.com
Paleo Chicken Fajita Bowl from jaysbakingmecrazy.com
Curried Beef & Butternut Stuffed Peppers from fedandfit.com
Citrus Tuna Ceviche Bowls from foodfaithfitness.com
Paleo Whole30 Chicken Salad from jaysbakingmecrazy.com
Zucchini Pasta With Chicken And Scallion Avocado Sauce {whole30} from paleorunningmomma.com
Slow Cooker Garlic Balsamic Whole Chicken from realfoodwholelife.com