This site contains affiliate links. Please see Policies for more information.
Halloween is fast approaching. I can't believe that we're already through summer…it's crazy how the time flies by! I think it's safe to say that Halloween foods are easy to come up with.
We have all been to at least one party with the sliced up grapes and the spaghetti brains right?!? Or maybe you're the one who brought the Coffin Pop Tarts last year?
One thing that can be a little more difficult to come up with are some amazing Adult style Halloween Drinks. There's only so much spiked red punch a girl can drink before she needs something a little more creative!
Halloween is the perfect holiday for experimenting with cocktails. If you love practicing your drink making skills then you've come to the right place. Whip up a few of these Adult Halloween Drinks for your next party or get together and wow the crowd with these creative and fun cocktails.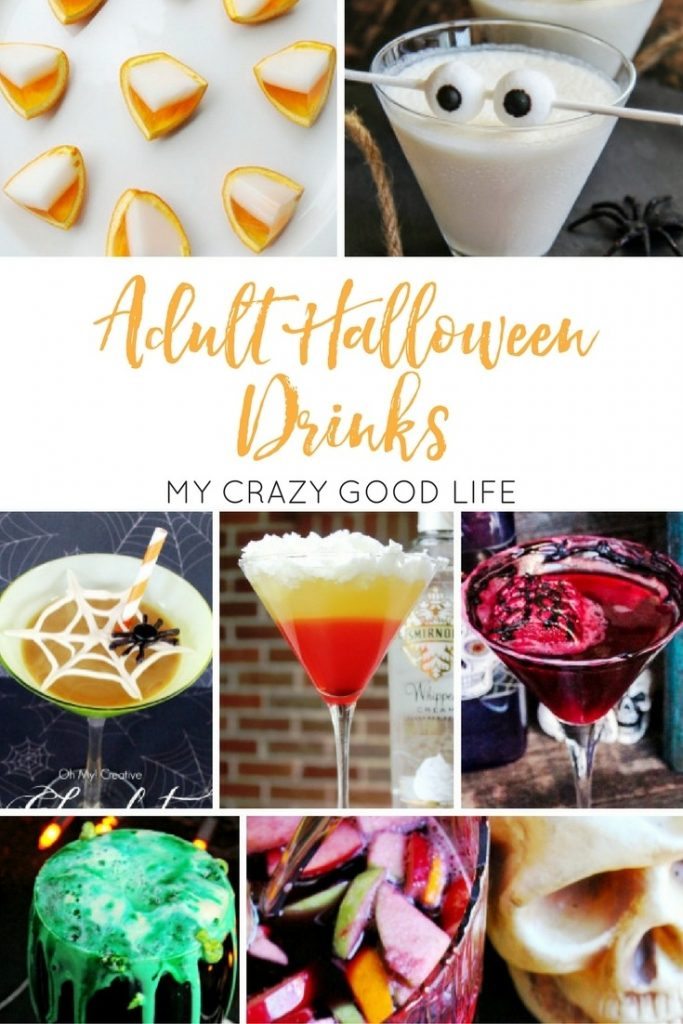 Adult Halloween Drinks:
Totally the Bomb – Zombtini
Recipe Girl – Halloween Sangria
Recipe Diaries – Witches Brew
Self Proclaimed Foodie – Zombie Shooter
Oh My Creative – Chocolate Spider Web Martini
Eat Drink Love – Candy Corn Martini
This Mama Loves – Halloween Cranberry Martini
That's So Michelle – Candy Corn Jello Shots
Totally the Bomb – Booger Beer Cocktail
Tammi Lee Tips – Candy Corn Cocktail
Create Celebrate Explore – Ghost-Tini
The Shabby Creek Cottage – Black Widow Venom
The Flavor Bender – Witches Heart Cocktail
Self Proclaimed Foodie – Vampire Cocktail
Martie Knows Parties – Ghost Martini
Bread, Booze and Bacon – Draculas Bite Jello Shots
Kara's Party Ideas – Hocus Pocus Fizz
Did you try them all?!? Do you have a favorite adult Halloween drink recipe that you get to dust off each year? I promise not to tell if you decide to convince everyone that you've come up with these creative drinks all on your own.
Enjoy with you favorite goblins and ghouls and have some fun!