This site contains affiliate links. Please see Policies for more information.
If you don't live near a gym you probably understand the draw of free online workouts. With these great workouts there is no need for a subscription, fees, fancy gym equipment, or leaving the house! You can get your exercise at home with these free workouts. Your home workout search just got a whole lot easier.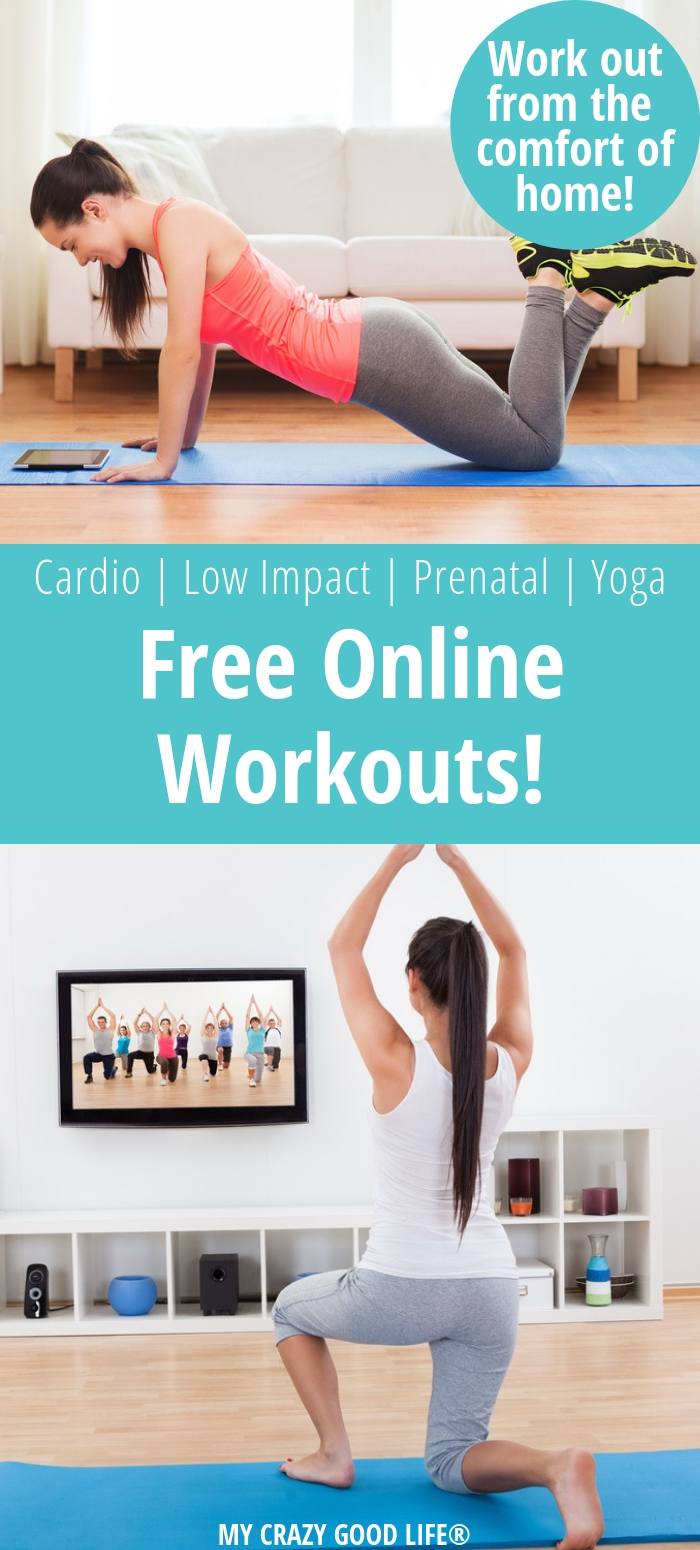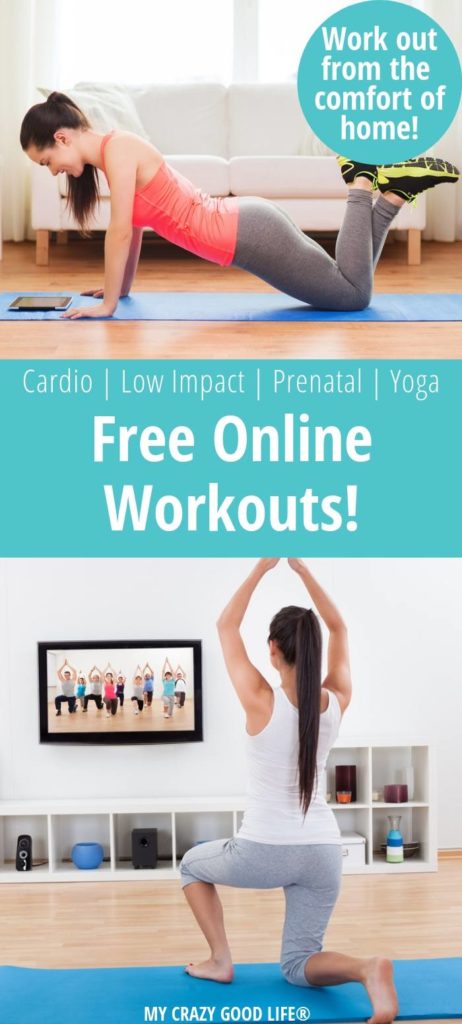 What are the benefits of doing home workouts?
During those hot summer months there is nothing worse than trying to workout outdoors. For others, getting a workout in might mean leaving the house and driving a long distance to the gym. Still others might not feel comfortable working out in a gym environment. If any of these scenarios apply to you, there is a quick and easy solution: free online workouts.
Another benefit of an online workout program is that you don't have to hire a sitter for your kids or pets. There's no need to arrange daycare or work schedules. You can fit in any of these free online workouts when you have the time, in the comfort of your own home.
Finally, let's not forget about the environmental and budgetary benefits of working out for free at home. You don't have to drive, (that's saving the environment and money) and you don't have to pay for the workouts or a gym membership! The savings really start to add up after a few weeks.
How do I stay motivated with online workouts?
I'm sure a few of you like to go to the gym because of the community aspects, if that is the case you can cultivate that same experience while doing online workouts. Find friends or family members, and even neighbors who have similar goals and set up a time to workout together.
If you are worried about staying motivated without other people at the gym watching your progress you can always find a group online to help hold you accountable. There are free fitness groups on Facebook and other social media sites that can help take the place of a trainer or workout class at the gym.
Another option is to set up incentives that will keep you on track. After all, you know you better than anyone else. What will keep you focused day after day? What will get you to push yourself?
Find a reward system that works and stick to it!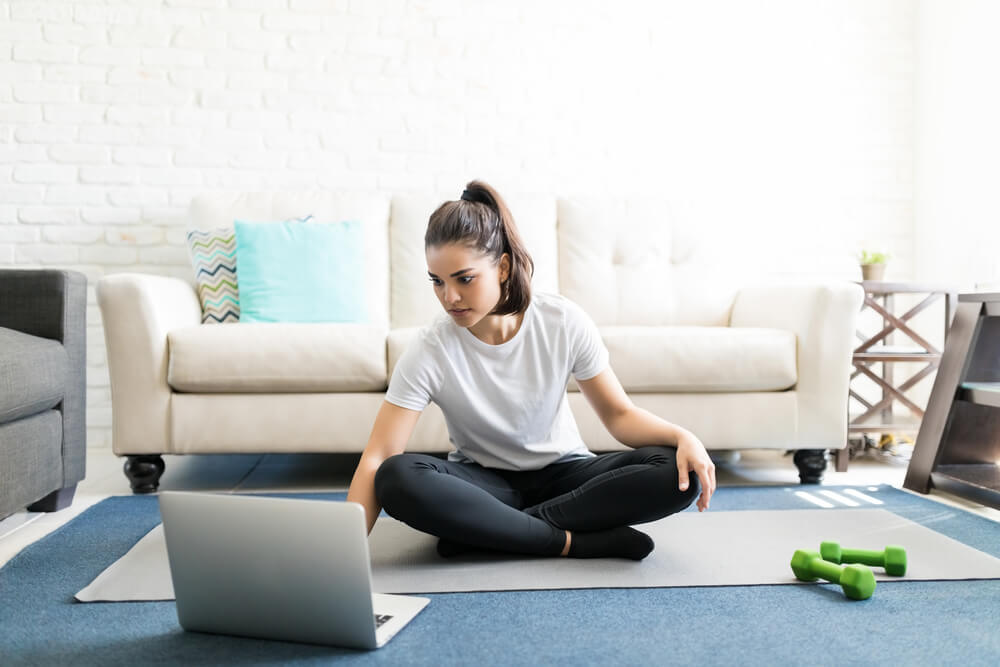 Is there a way to track and monitor my progress with home workouts?
One of the major benefits of working out on gym equipment is that it tracks your stats for you. Things like heart rate, steps, calories burned, etc. are all monitored and recorded. Don't worry, there are ways to track these things at home!
One of the easiest and most popular options is a smart watch or fitness tracker. They're relatively inexpensive nowadays and they can monitor your heart rate, calories burned, steps, and overall workout progress in real time.
I have an Apple Watch and it's a great tool for keeping me organized in my personal and business lives. I also use it as a tool for  keeping me on track with diet and exercise!
How do I find a free online workout that is right for me?
These workouts are broken down into categories. You can choose the home workouts that are right for your needs or work your way through several of them for a total body workout at home. With these great workout videos all you'll have to do is imagine Jillian Michaels is in your living room spouting out inspirational quotes and get to work!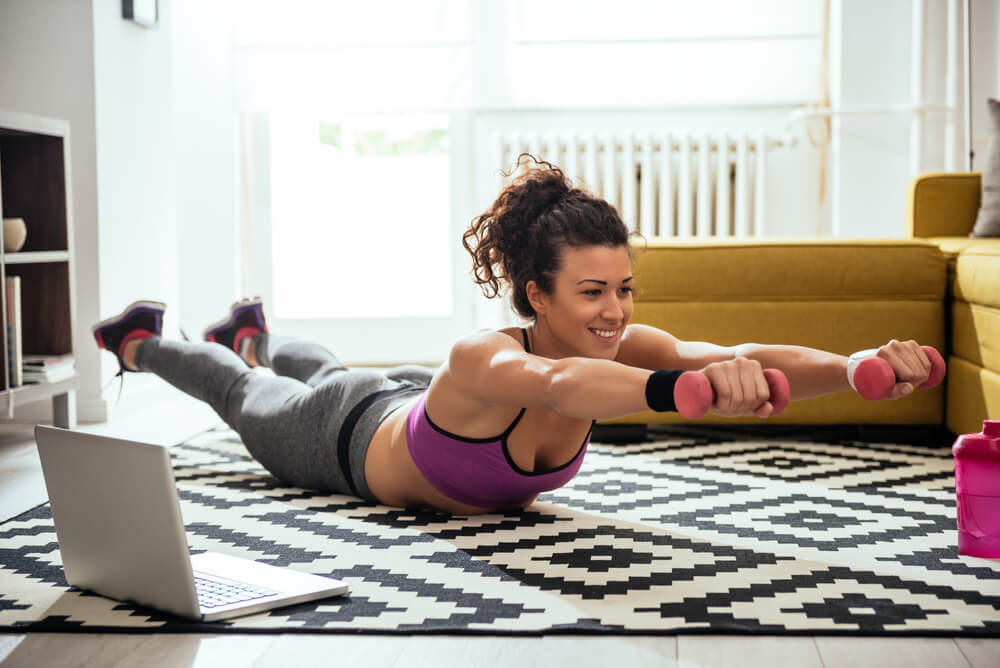 Free Online Upper Body Workouts
20 Minute Home Upper Body Routine | We're going to start from the top and work our way down, right? This upper body workout is a great choice for working out at home. Pair it with a leg workout to get in a full body exercise routine.
Upper Body & Abs Workout | Don't forget about those abs! Just because they're in the middle doesn't mean we can skip them!
21 Upper Body Dumbbell Exercises | If you have a set of dumbbells you can get in an even better workout in at home. This free online workout shows you how to make good use of those free weights!
Intense No Equipment Upper Body Workout | Just because we are working the arms doesn't mean we can't have an intense workout. This is a great choice if you don't have the option of using weights, resistance bands, etc.
Upper Body Workout for Toned Arms, Chest, and Upper Back | Get an all over sculpted look with these exercises. They're specifically designed to help you tone your entire upper body!
Home Upper Body Workout Without Weights | If you have weights to use that is awesome but if not it can be an added expense. This free online workout shows you how to use workouts online to get a great burn without any added equipment.
Free Online Lower Body Workouts
30 Day Abs and Butt Challenge | No screen needed, just print out one of these and get started!
No Equipment Butt & Thigh Workout | You can sculpt your lower body with home workouts that require no added equipment. There are awesome workouts out there that don't require a gym membership!
17 Minute Home Leg Workout Routine | Add this awesome lower body video into your workout routine to make sure you are paying attention to your legs! Sculpt, tone, and work those big muscles in your legs for a great calorie burn as well!
5 Minute Lean Legs Circuit Workout | Who doesn't have time for a few rounds of a 5 minute workout? Add this workout to any of these other online options to get a full body burn! You can get a high energy workout that helps build muscle without leaving your home!
14 Minute Butt, Thigh, and Ab Workout | You can work everything from the chest down in this awesome online workout. There's plenty of intensity and no equipment required!
Lower Body Sculpt Workout | Everything about this one is in the name, you can sculpt your lower body with this video. It is a full online workout video lasting more than 45 minutes!
10 Minute Lower Body Workout | Working out at home doesn't have to take forever. You can get a quality workout for your lower body with this excellent 10 minute workout video! Strength training doesn't have to mean hours in the gym!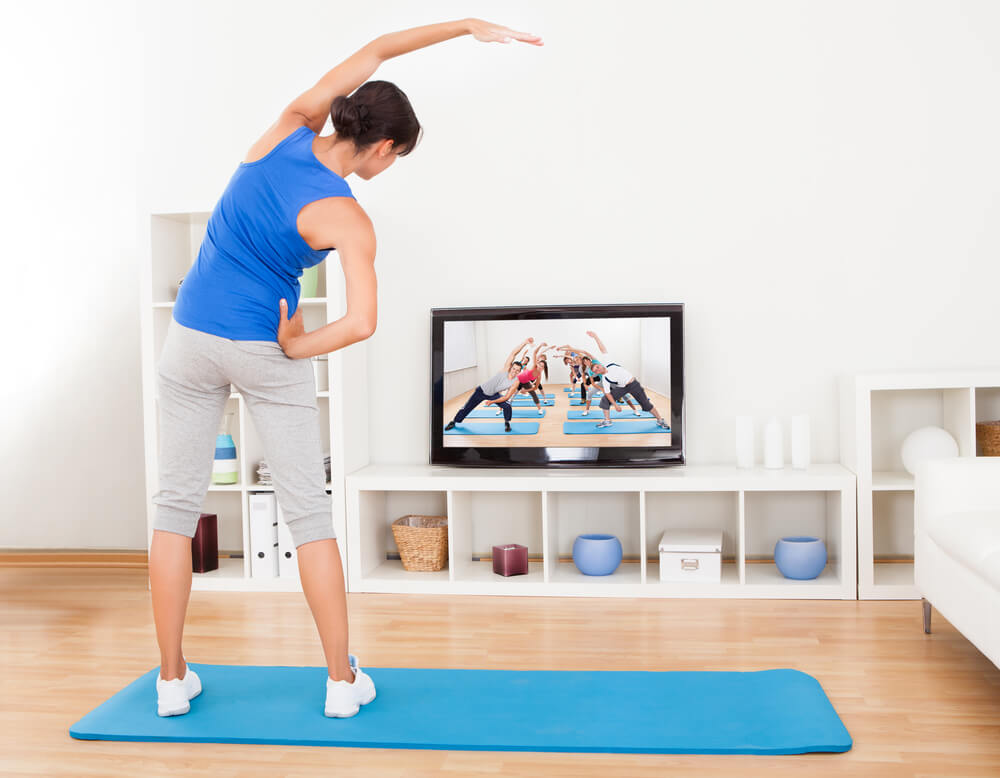 Free Online Cardio Workouts
15 Minute Beginner Cardo Workout | This cardio workout is a great place to start if you are new to the world of online workouts. There's no equipment needed for this workout so you can do everything at home without any extra stuff!
Fat Burning Cardio Workout | For a fat burning workout that's about 35 minutes long you can use this free video workout. It's awesome for getting your heart rate up! No equipment needed so you can do this workout anywhere.
32 Minute At Home Cardio Workout | This is considered a bodyweight only workout so you don't need any equipment and there's no excuses here, it's free, online, and available no matter where you are!
Cardio Dance Workout | This is a relatively low impact dance workout that you can do for free online! It's great for those of you who need something fun and entertaining to keep you motivated with online workouts.
Beginners Dance Workout for Cardio | Here's another option for dance workouts! It's a beginners video so you don't have to be a professional dancer to keep up, get a good workout, and enjoy yourself.
Advanced HIIT Cardio Workout | Here's a more challenging option for those of you who need something more than beginner or regular online workouts! Interval training can get you in awesome shape, finding workouts online doesn't have to be difficult. These options are easily accessible via computer, phone, or smart tv!
Free Online Low Impact Workouts
Low Impact 30 Day Workout Challenge | You don't even need a computer for this one–it's the perfect challenge to print and do daily.
Low Impact 30 Minute Cardio Workout | This a cardio starter workout and it's a great place to begin with your low impact online workouts!
Burn Major Calories with this Online Cardio Workout | Don't worry, there are modifications for this workout to make sure you can complete it with a low impact option!
Beginners Low Impact Cardio | This video is a great option for free online workouts. You get cardio without being hard on the joints! Protect your knees and low back with a cardio option that is designed to be low impact.
Low Impact Cardio & Toning Workout | For this workout you'll need a set of dumbbells if you want to challenge yourself a bit though they're not required! It's like having a personal trainer in your living room!
Fat Burning Low Impact Cardio Workout | A great option for burning fat without the high intensity of a traditional cardio workout. You can still get your heart rate up into the fat burning zone and lose weight without damaging your joints!
Free Online Prenatal Workouts
25 Minute Prenatal Bodyweight Workout | No equipment necessary for this workout which is great for a prenatal workout. There's no lugging around gear. Just set up, turn on this video, and go!
40 Weeks of Fitness Online Prenatal Workout Series | You can get into great shape while pregnant with this awesome prenatal series. It's 40 weeks of workouts that you can do for free online! This is a great youtube channel for prenatal workouts!
20 Minute Prenatal Pilates | If you like pilates here's a great prenatal workout that will allow you to follow the system you love without impacting your pregnancy.
30 Minute Prenatal Strength Workout | Building up your straight is smart during the prenatal stage! You want your body to be in tip top shape for a healthy and happy pregnancy!
20 Minute Full Body Pregnancy Workout | Just because you are pregnant doesn't mean you can't get a great all over workout! Here is a full body pregnancy workout!
Prenatal Pilates Series | If you like pilates here is an entire series of prenatal workouts for you to try!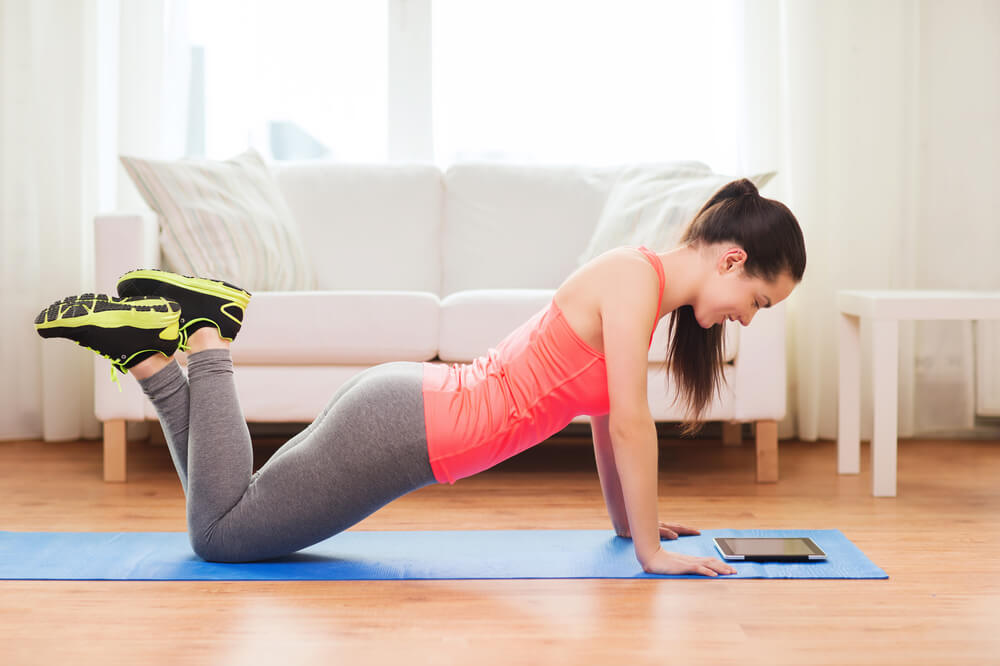 Free Online Yoga Workouts
Free Yoga Workout, 45 Minutes | You can take a full yoga class from the comfort of your own home! Check it out and see what you think!
Yoga For Complete Beginners | Maybe you want to get started with yoga but don't know how? Here's an awesome online class to help you learn the basics!
30 Days of Yoga Series, Day 1 | This series is all online and completely free. You can get into yoga as a beginner or enjoy any of these workouts wherever you are in your yoga journey.
20 Minute Everyday Vinyasa Flow | Here's a free yoga workout that you can do from the comfort of your own home each and every day!
30 Minute Yoga for Strength and Flexibility | How about a yoga routine to help with strength building and flexibility? You can focus on these two common areas of interest with this free home workout routine.
Gentle Yoga 25 Minute Morning Sequence | Looking for a positive home workout to start the day? This is a great choice. It's a free online workout that will help you get each day off on the right foot!
Do you have any other exercise posts I can check out?
I actually have some other workout and exercise posts that you should check out if you like at home fitness options! Here are a few of my favorites to share: