This site contains affiliate links. Please see Policies for more information.
I received the Flexispot all in one desk exercise bike to try out in order to facilitate this review. As always, all opinions are my own! 
If you are looking at all in one desk exercise bike options you know that there are a few things you need to have. There needs to be space to work, quiet operation (this is HUGE!), effective design, and it should be easy to assemble! Check out the Flexispot all in one desk exercise bike to learn more about my experience with this desk and exercise bike in one!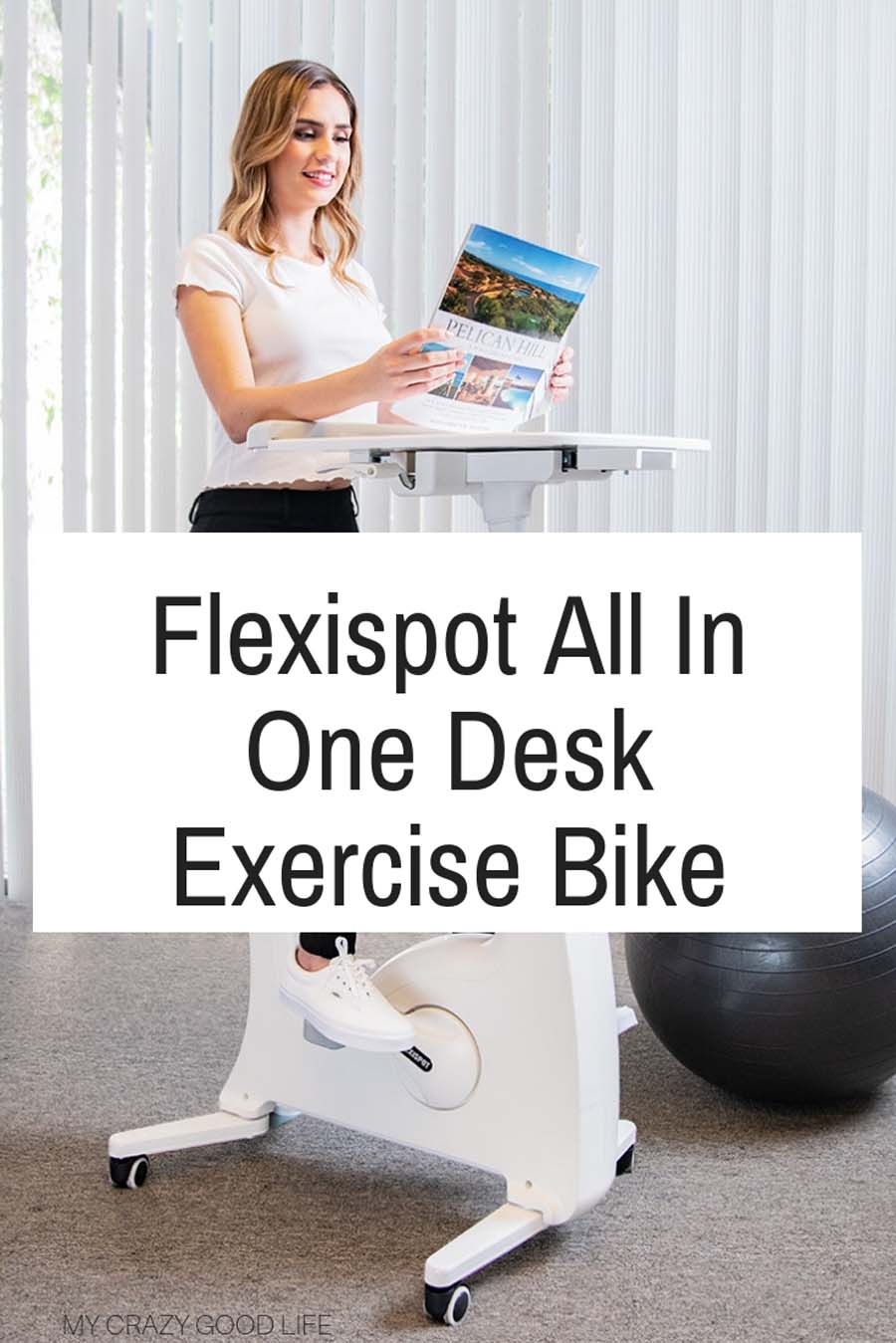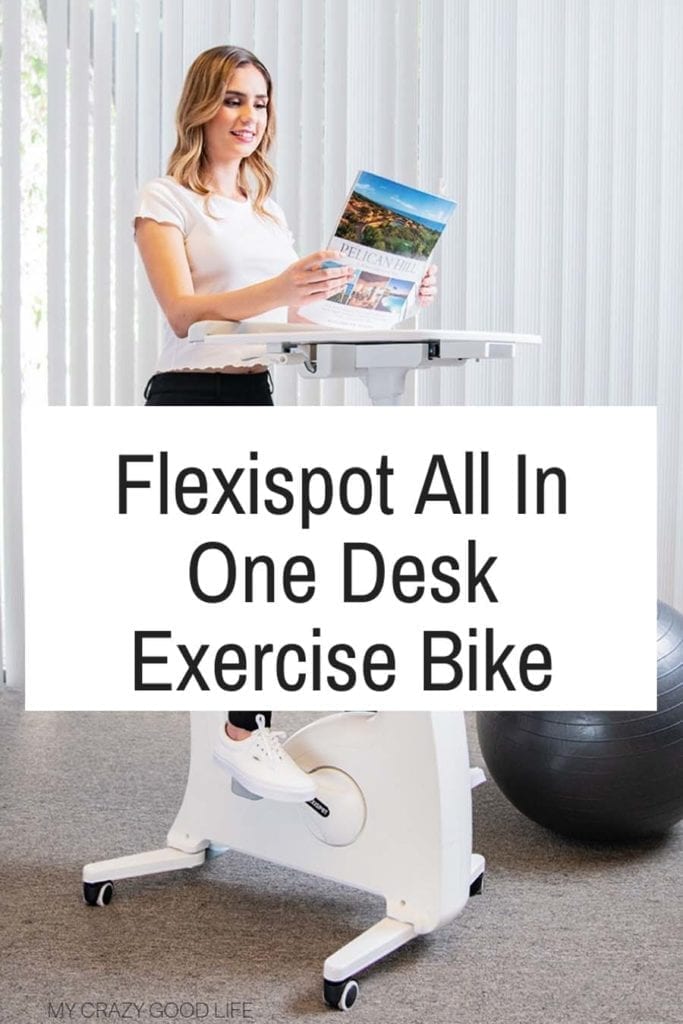 Flexispot All In One Desk Exercise Bike
Over the years as more computer/internet/desk jobs have emerged, there has been a lot of talk about being mindful of how much time we spend sitting and staring at a screen every day.
First, we had desk risers to get our eyes up and our backs straightened out. Next, we had all sorts of under the desk contraptions to move our feet and legs while we worked. More recently, we had standing desks (I still love mine!) and now, finally, we have the best of both worlds: an exercise bike with a stable workspace attached!
The Flexispot all in one desk exercise bike is a standing desk that also offers an added benefit of light cardio exercise in the form of cycling. Now, you don't have to choose between time spent working and time spent working out. While the Flexispot won't replace a cardio workout, it will most definitely supplement your current routine, keep your heart pumping more during the day, and keep your legs and core engaged while working.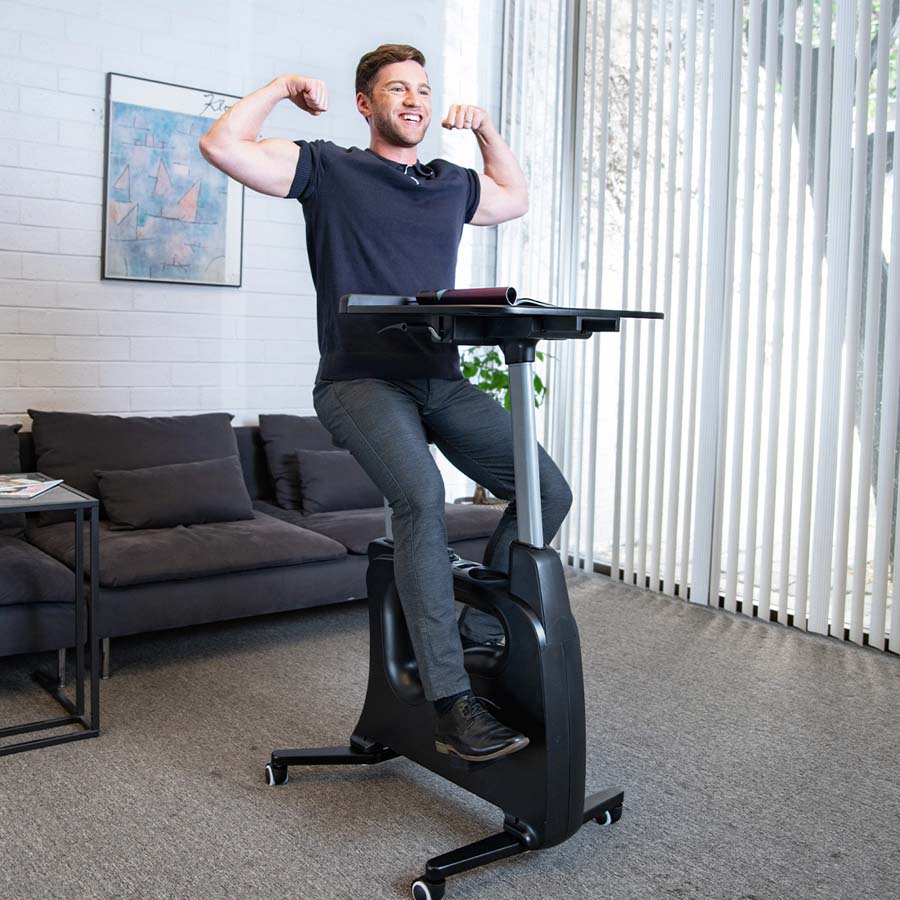 Who can benefit from a Flexispot desk?
Anyone who sits down to use it! There are 8 different resistance levels on the bike and of course you can use it as a stationary bike without doing work at the desk. You can clear your brain with some drawing or coloring, you can use the desk to hold a computer to work, or even to watch your favorite shows. For those of you who are like me and work from home, it's a great way to beat those extra pounds that come along with sitting behind the screens all day long.
What is an Exercise Bike Desk?
It's almost exactly as it sounds! The Flexispot desk exercise bike is similar to a stationary bike. It includes a stable workspace attached to a stationary bike so that you can exercise while you are sitting at your desk, working!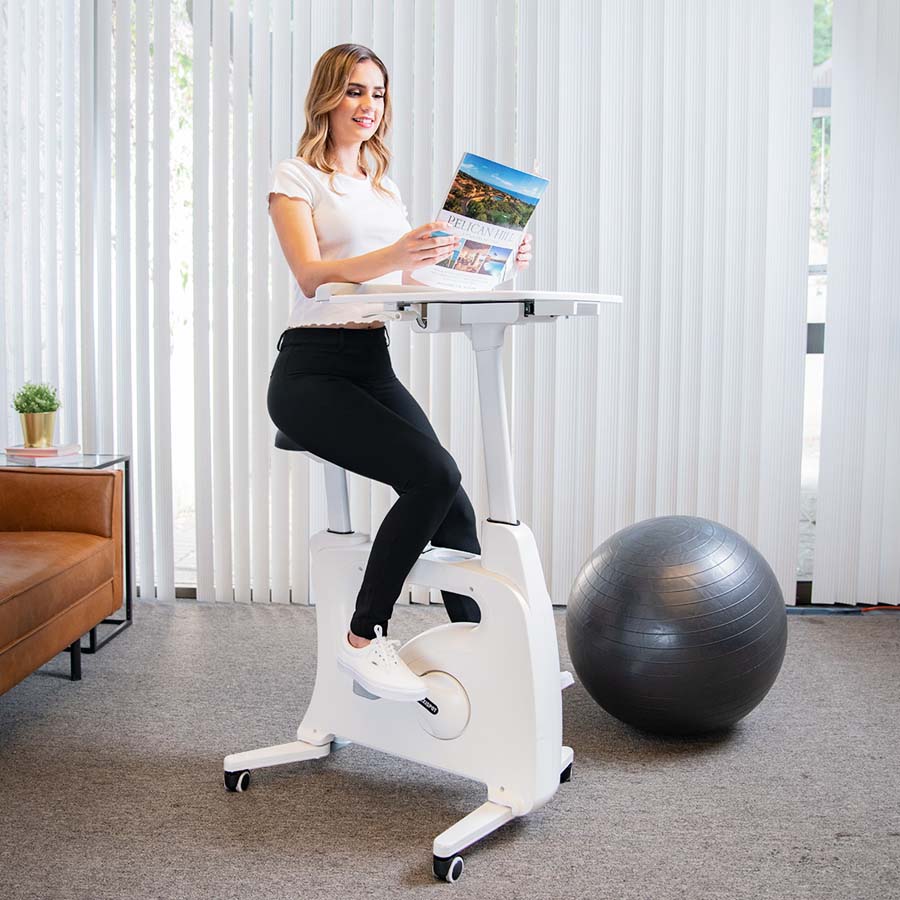 Can I use the Flexispot desk as a standing desk?
Yes! The Flexispot desk easily transforms into a standing desk. You can use the desk with the added benefit of the stationary bike but you can also use it as a standing desk. Not only does this help you combat a sedentary lifestyle, it also helps with pain and stiffness associated with sitting for a full day behind a computer screen!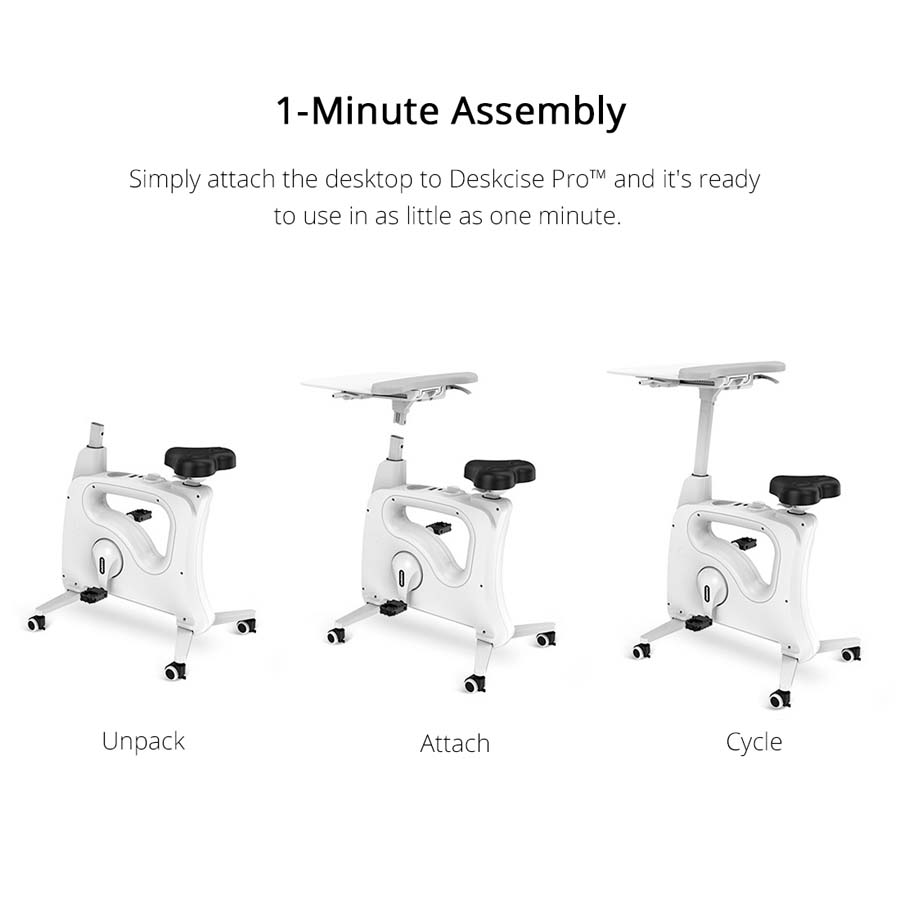 Is the Flexispot Desk Exercise Bike difficult to assemble?
Not at all! One of the first things I noticed when exploring their website is that the bike can be assembled in 1 minute…and while it took me a few more minutes than that to set up it was super easy and much quicker than I had expected. Not having to do a lot of complicated assembly work is a major plus for me. I like when something arrives and I can pull it out and start using it right away…no one wants to wait for someone else to come home for another set of hands, right?
The Flexispot desk exercise bike is comfortable!
You might be thinking "I can't sit on an exercise bike all day" and of course you'd be right. But here's the thing…the Flexispot desk is not an exercise bike. It's an exercise bike desk. It has been designed and created with your comfort and durability in mind. Premium materials and build quality means that you can enjoy the benefits of exercise and the comfort of a quality seat, all at once!
Personally, I switch back and forth between the desk bike, my standing desk, and a seated desk. I set a timer to remind me to move around and that really helps me to not get "stuck" in one position for too long.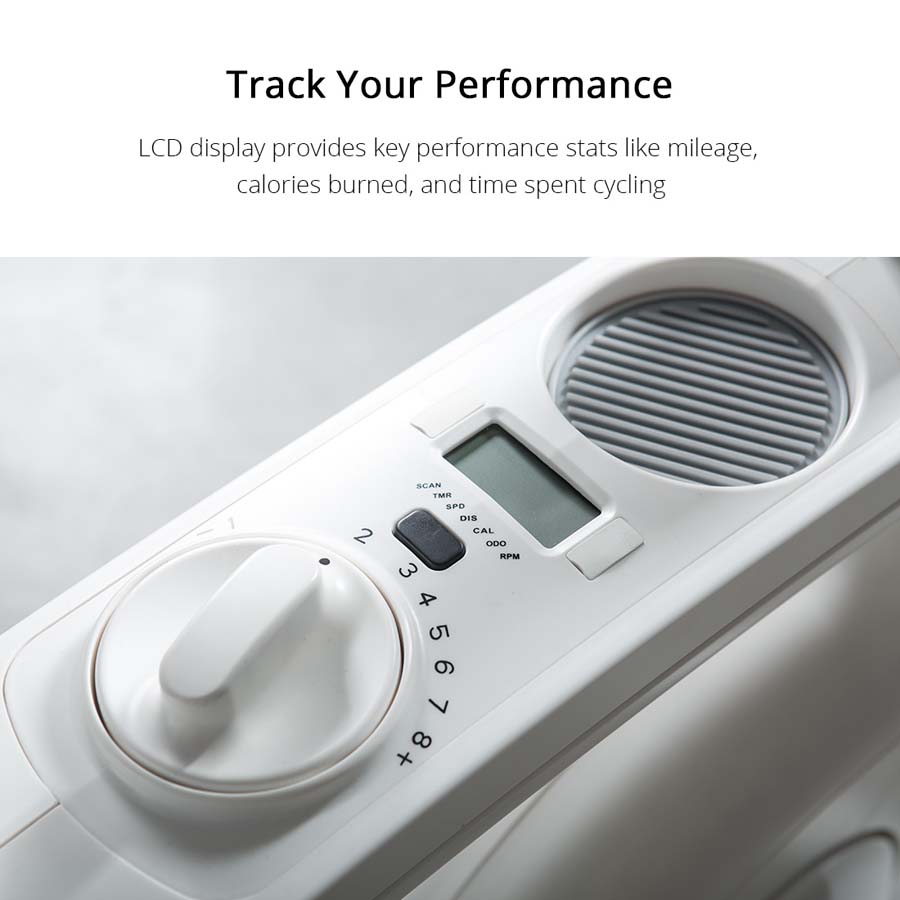 How much noise does this bike make?
Exercise bikes can be noisy and bulky but that's not the case with the Flexispot desk exercise bike. It's almost silent and in my case it takes up less space than a traditional desk/desk chair combo. I love that the bike is super quiet. Somedays I stick to an awesome schedule and I'm done working at a normal time…others I get the urge to power though and keep on working later in the day. I don't have to disrupt everyone else around me with a noisy exercise desk, and I appreciate that.
If you work in a shared office space the noise can be especially concerning, Flexispot is a great choice in that case!