This site contains affiliate links. Please see Policies for more information.
My Giant Jenga game is a fun at home project. This Giant Jenga DIY is perfect for backyard parties and family gatherings. Our Giant Jenga game is cheaper than buying one in the store too!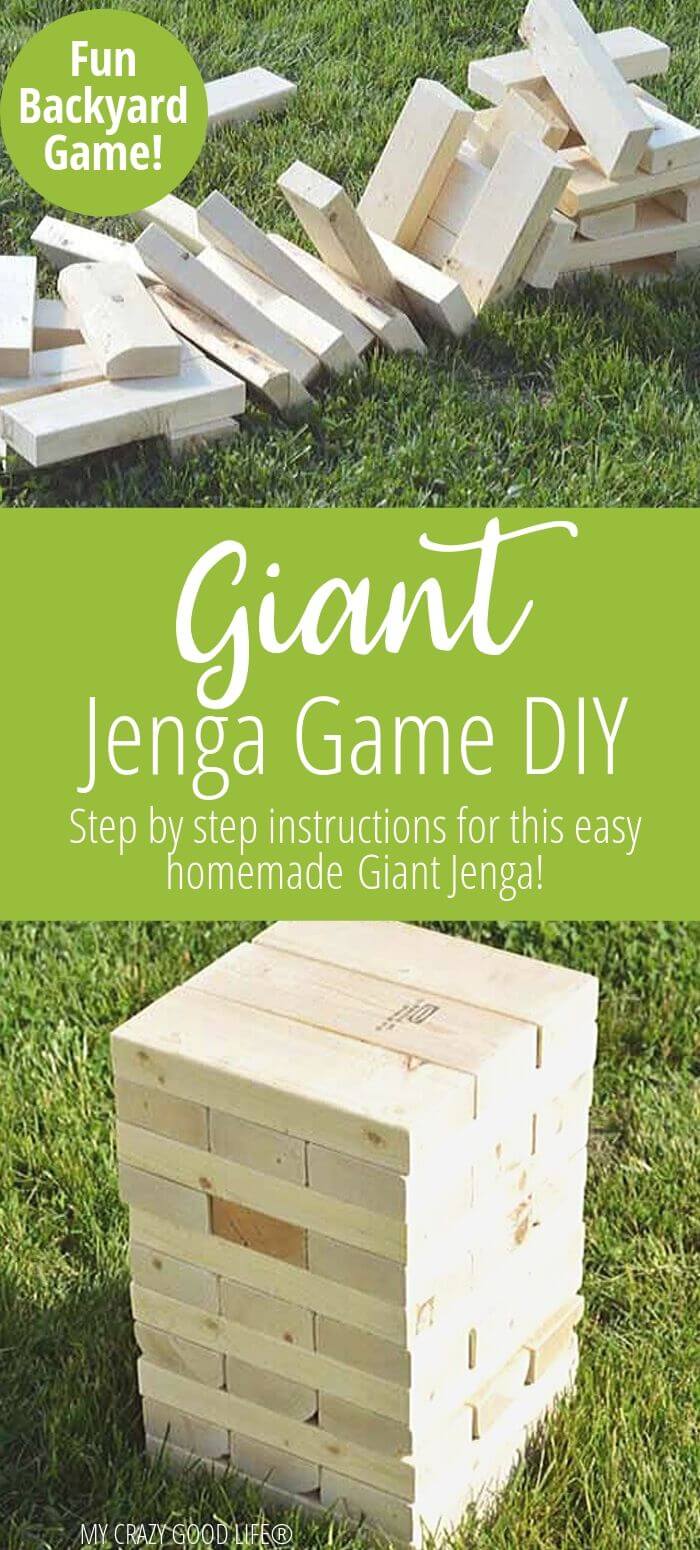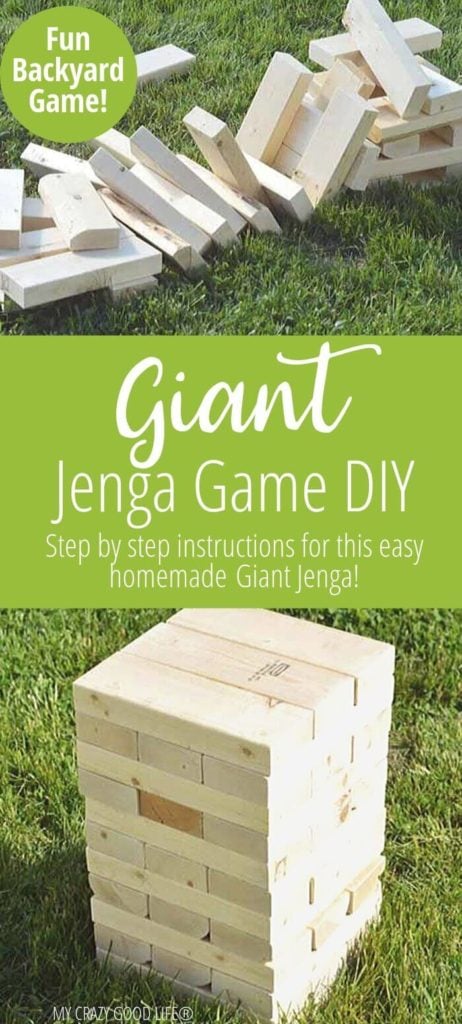 Can anyone build a Giant Jenga game?
Many people think that you need a lot of know-how, ability, or tools, when building something exciting and new. However, many times the projects are not as hard as you might think!
If you know how to cut wood using a saw then you have got all the know-how and expertise to make your very own DIY Giant Jenga game!
We used a power saw but you can use a hand saw if that is what you have at home. Making a life size Jenga yard game is easier with power tools but they're no necessary.
Giant Jenga Game DIY Tutorial:
There is no need for a ton of tools and fussing when building this DIY Giant Jenga game. With very few necessary tools and supplies you can have a DIY Giant Jenga of your own completed before you know it!
Another great thing about this project is that you can totally customize the finished project with paint or vinyl stickers. You can even get the whole family involved; kids love helping to paint or stain and this outdoor project is the perfect place for their creative hands to help!
If you don't like to use a saw or you don't have one you can easily use purchase the wood at a store that will cut it on site; this really is a project that anyone can complete.
Tools needed for a DIY Giant Jenga:
Saw – Electric saws work faster but an old school handsaw will work just as well.
Sander/Sand Paper – Rough edges can affect game play so you'll need to sand all surfaces before playing or finishing your DIY Giant Jenga. Use whatever kind of sander you have. A palm sander, belt sander, or good old fashioned sand paper will get the job done.
Wood – (3) 2x4x10 – This will make 11 layers. You can add more layers for an added challenge in playing Giant Jenga. It is a giant game after all…make it as giant as you want!
Do I have to use 2×4's to make this Jenga game?
We didn't try making ours with blocks that are more than 4 inches wide. If you used different sized lumber let us know how it turned out!
I would assume you could probably make a set from different sized lumber but I wouldn't be able to tell you precisely how many pieces you'll need or where to make your cuts!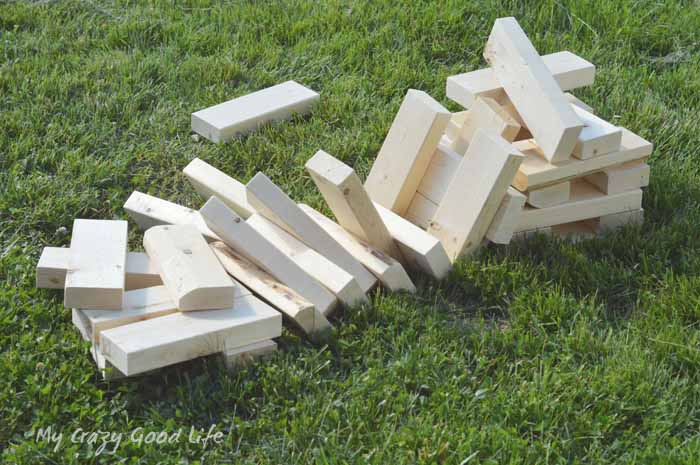 Optional items for decorating your giant Jenga DIY project:
Spray Paint – You can use any type of paint but spray paint will dry quickly and be water resistant in case your DIY Giant Jenga is going to be living outdoors.
Wood Stain – If you prefer a more natural wood look you can stain your DIY Giant Jenga instead of painting it. Be sure to follow all the directions on your particular brand/type of stain to avoid any issues. I prefer waterproof spray on stain.
Shellac – A final coat of shellac will keep your DIY Giant Jenga looking great for years to come but it can also be kind of a pain to apply and dry so if you need your game right away this might be a step for another day.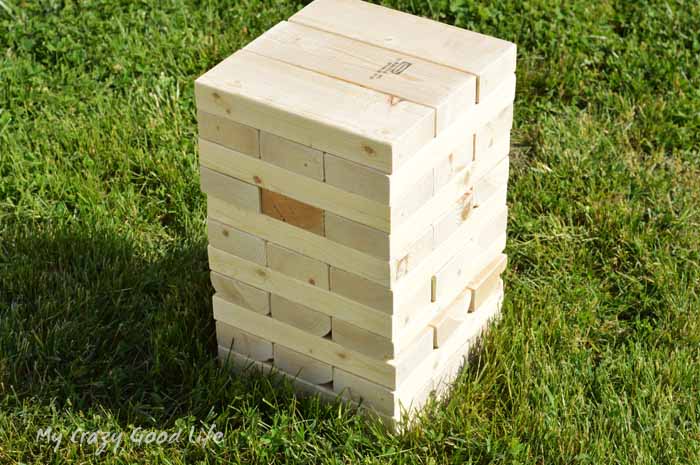 Directions for building a Giant Jenga:
1. Cut the 2×4's into pieces that are 10 ½ inches long. This is a particular length because you will want the length to match the width of three 2×4's lying next to each other. If not, they will not align to make a perfect square when stacked (like the original Jenga game).
If you are unable to cut the wood or don't own a saw it's no problem! Purchasing your wood at a place such as Home Depot, Lowes, or other hardware stores often gives you the option to have the wood cut on site (for a small fee). Some places will cut the wood to size for free so make sure to ask!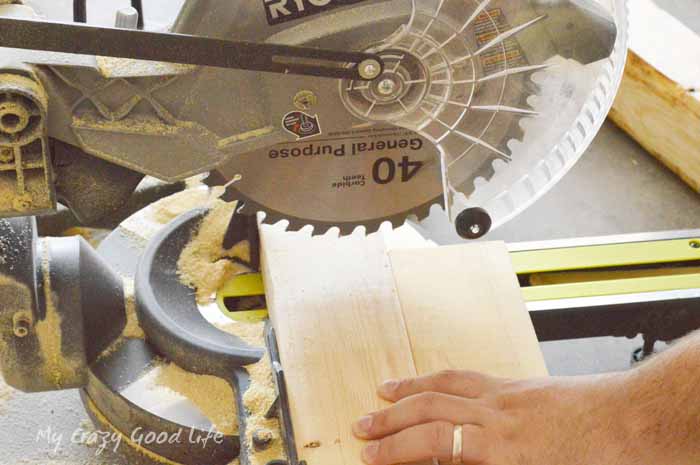 2. Smooth edges are essential for gameplay. Use 150-220 grit sand paper to remove splinters and reduce the friction while sliding the game pieces out of the stack. Sanders are pretty cheap to purchase if you don't already have one.
Another option is to hand sand the 2×4's. Pay particular attention to the cut edges and corners. Sand the edges well to avoid any pieces getting hung up when the boards are side by side.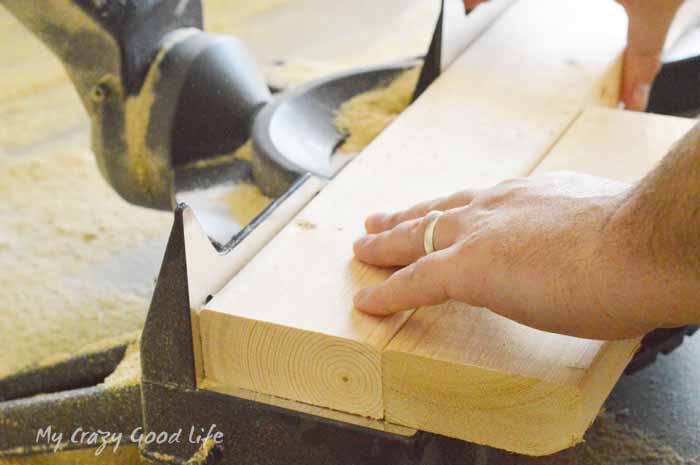 3. Once you have sanded your 2×4's you may want to protect them by painting or sealing them. This will prevent the boards from warping if exposed to moisture.
Shellac and wood stains are excellent ways to protect your game. Paint will not only protect the Giant Jenga pieces, but is a fun option to customize your set. Make each Jena block a work of art, color code layers, or make it match your home decor. The possibilities are endless.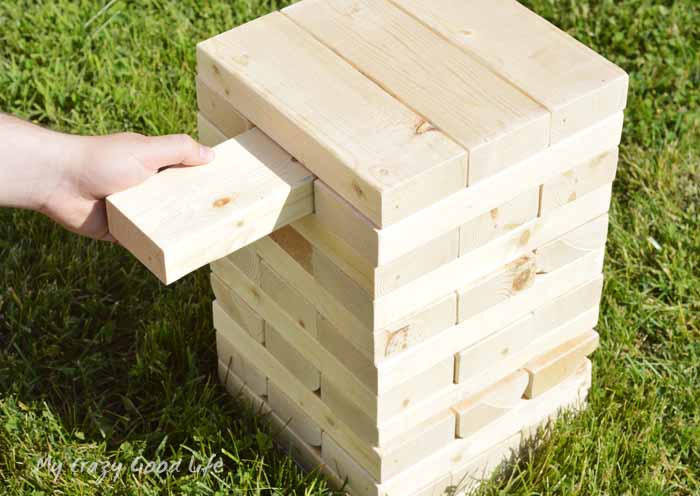 Please note, these are all optional but are great for adding your own personal touch. Spray painting the pieces various colors would be a fun addition as well and a great way to get the whole family involved in the building process.
Is this a cost effective alternative to buying Giant Jenga sets?
Many Giant Jenga block sets are $50 or more online. You can add a little sweat equity to some plain wooden block and save yourself some money!
These giant tumbling timbers games make a great gift for families that love spending time outdoors. If you know someone who spends time in their backyard grilling, hanging out, or even partying they would probably love a giant yard game like Jenga!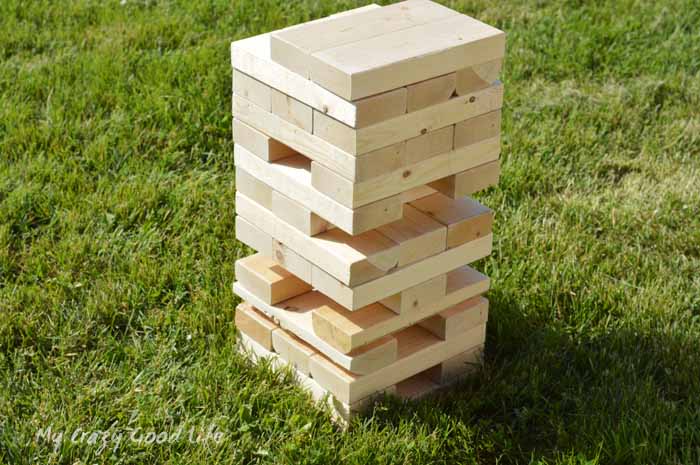 Looking for other yard games giant or otherwise?
Have fun building this one and while you are at it you might want to make this DIY three hole washers game too!