DIY Outdoor Game: Three Hole Washers Game
This is a classic outside game that ranks right up there with horseshoes, toss across, and cornhole. It is a lot of fun but can be difficult to find already made in stores. There are lots of options to special order these games, but they can be pricey and expensive to ship due to weight and size.
If you are looking for a more cost effective option: no worries! All you need to do is grab your drill and some wood and I'll show you how to make your own Washers Game DIY using this step-by- step tutorial.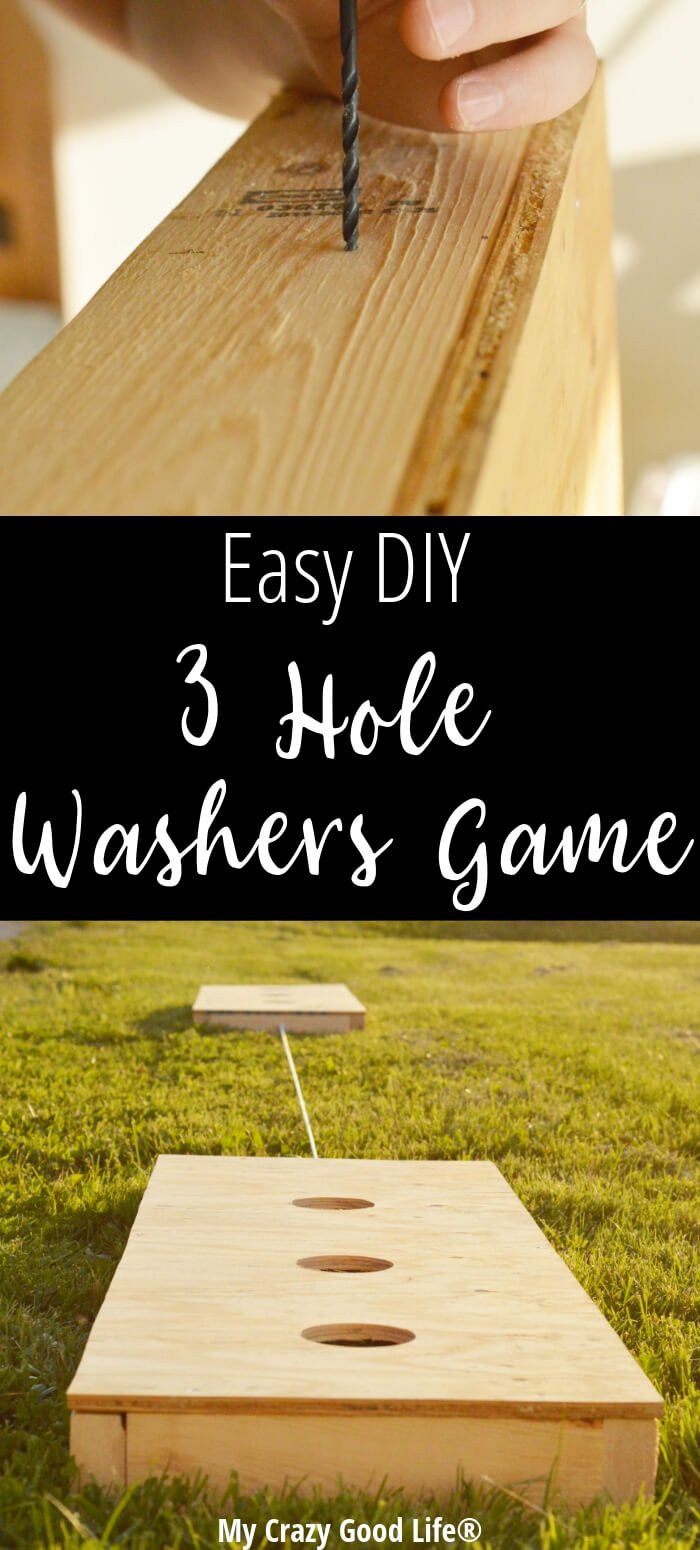 Tools needed for 3 Hole Washers Game:
If you have any questions about these tools or other supplies, click the links to find them on Amazon.com.

Materials needed for Three Hole Washers Game:
3 – 2x4x8
1 – Sheet of Plywood (I recommend a minimum thickness of 1/2″)
11 Feet of Clothes Line Rope
Official 3 Hole Washer Board Dimensions:
Regulation board size is 12 inches wide by 48 inches long. However, there are variations available out there that range in size from 12″ wide by 32″ long to 16″ wide by 48″ long. Our preference is for 16″x48″, which is what these directions are based on. Feel free to adjust to your preference as we did. The main point is to have fun with family and friends!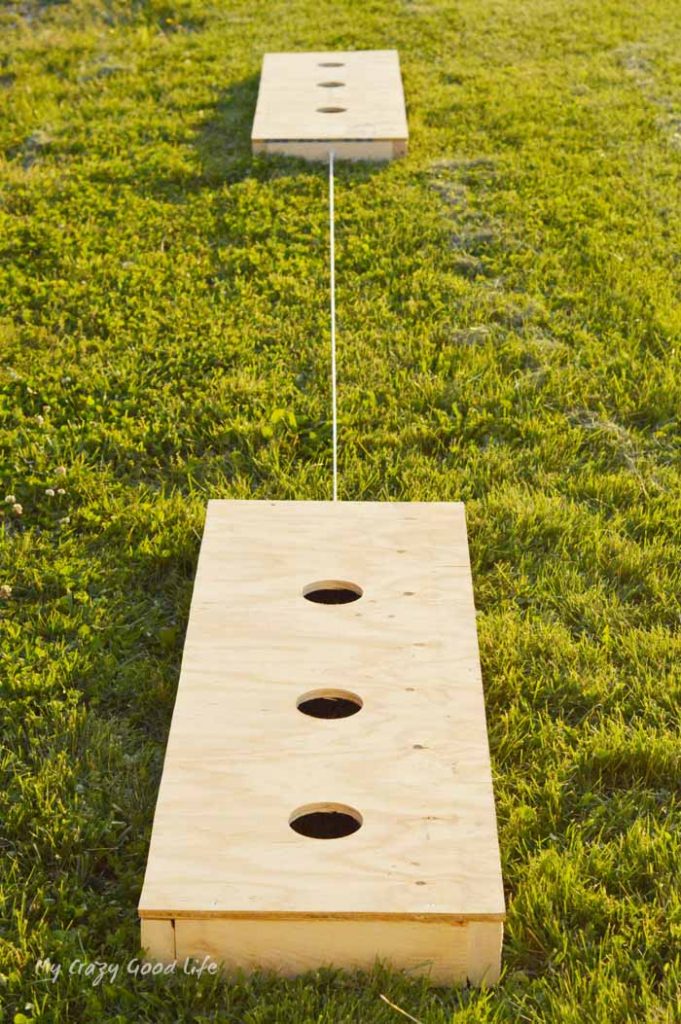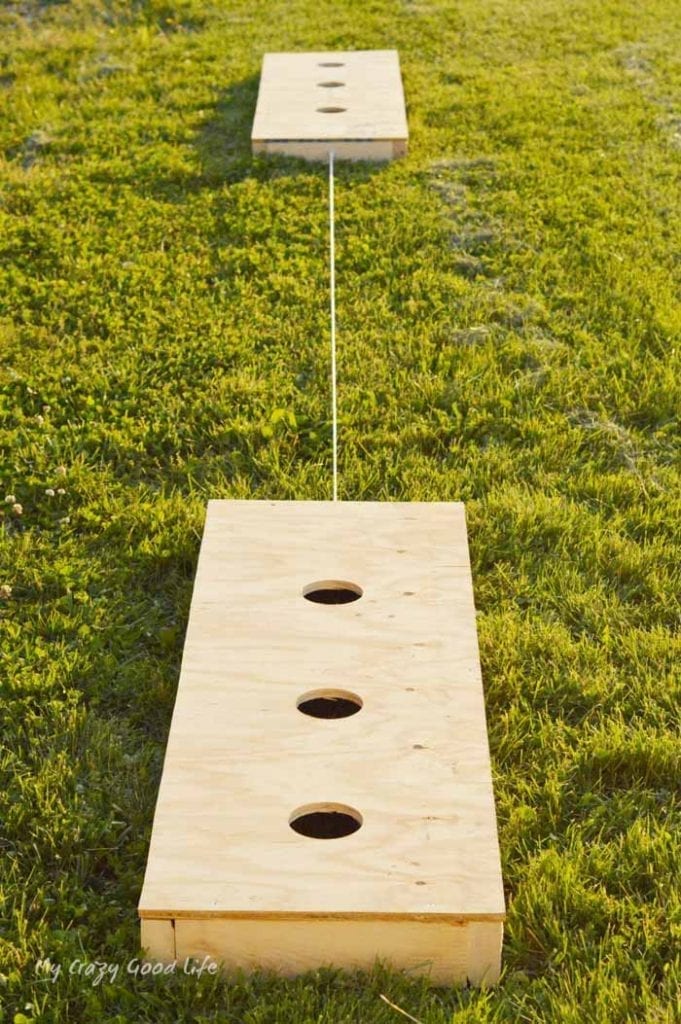 How to Build 3 Hole Washer Boards:
1. Cut your 2×4's for the frame – You'll need 4 that are 48 inches long and 4 that are 13 inches long. I like to use a miter saw for these cuts.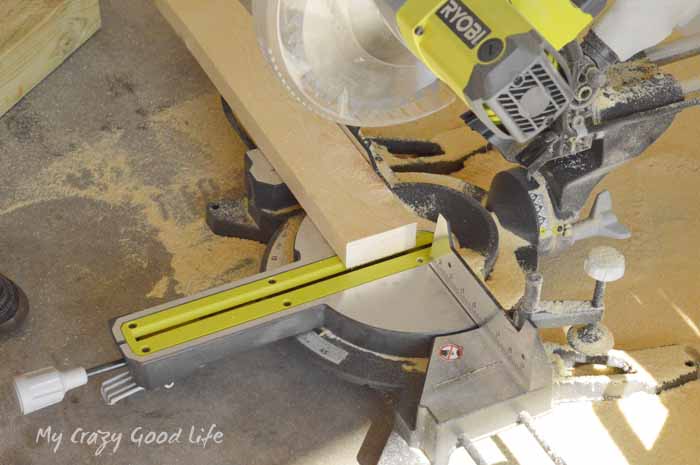 2. Cut your sheet of plywood for the surface. You'll need 2 pieces that are 16 inches by 48 inches. Plywood comes in 4′ by 8′ sheets. Most hardware stores will also sell half-sheets, or can custom cut for a small fee. I use either a table saw or skill saw for this cut. However if you're not comfortable with power saws or limited on transportation space, take advantage of the the cut services from your local hardware store.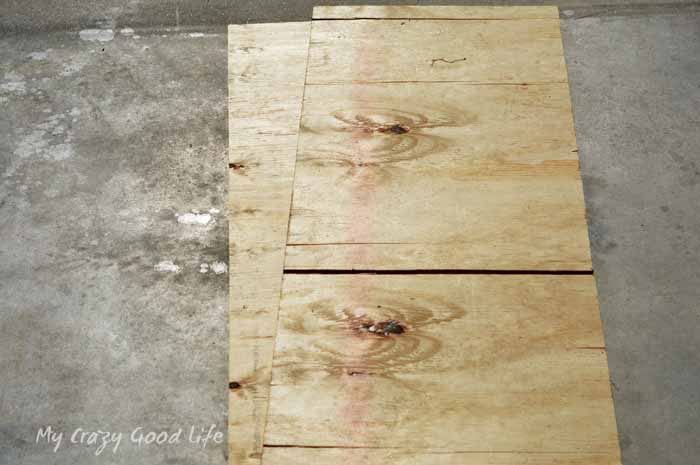 3. Next, you will lay two of your longer pieces of 2x4s and two of the shorter pieces on top of one of your plywood pieces to form a box shape. The plywood will act as a guide to keep your frame square.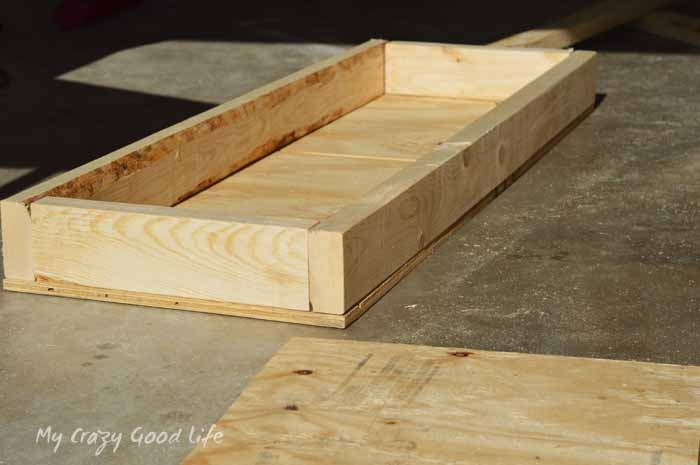 4. You will then need to use your 3-inch wood screws to attach the the 2×4's to form the frame. When screwing near the edges of a 2×4's your chance of splitting increase. To prevent this, I recommend drilling pilot holes before screwing together.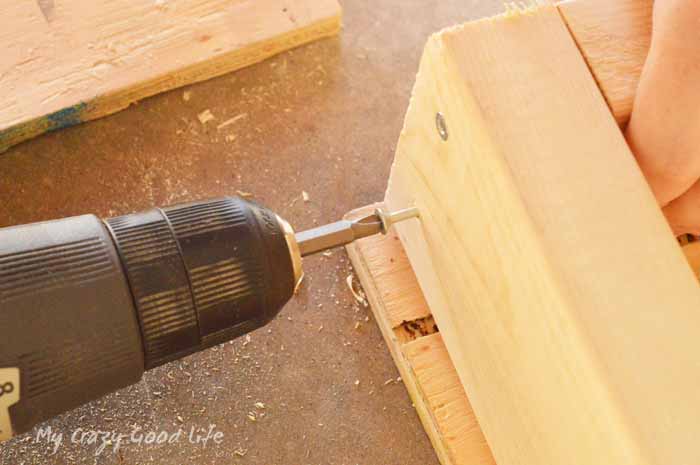 5. Slide your plywood out from under the frame and place on top. Align the edges to the frame and screw the top to the frame with screws. 3″ screws are a bit of an overkill. You can use shorter ones if you have them. I recommend a minimum length of 1.5 inches and placing 2 screws on each of the shorter sides and 4 on the longer sides.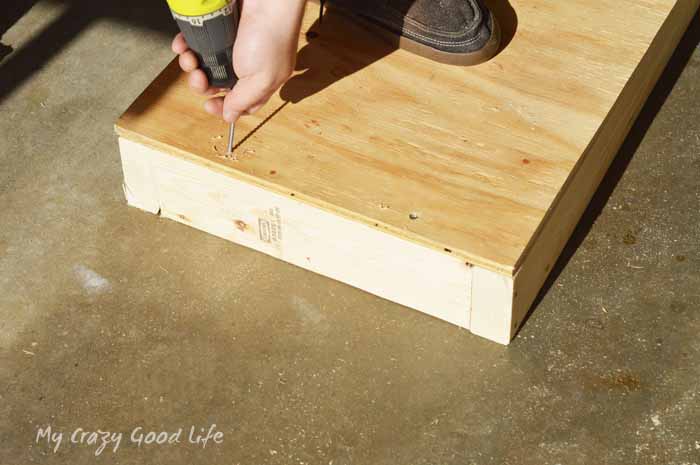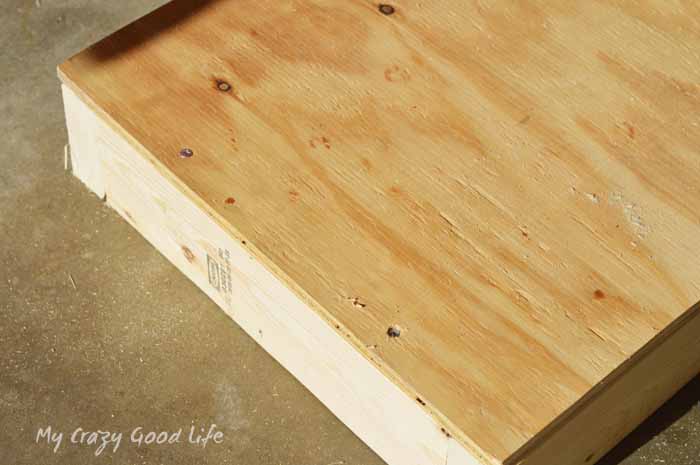 6. Repeat steps 3-5 to make the second box.
7. Take your boxes and find the center (8 inches from the side) and draw a line down the middle. Here we used a scrap piece of wood as a straight edge. Next, measure where the holes will go – Along the center line, make a mark at 8 inches, 24 inches, and 40 inches.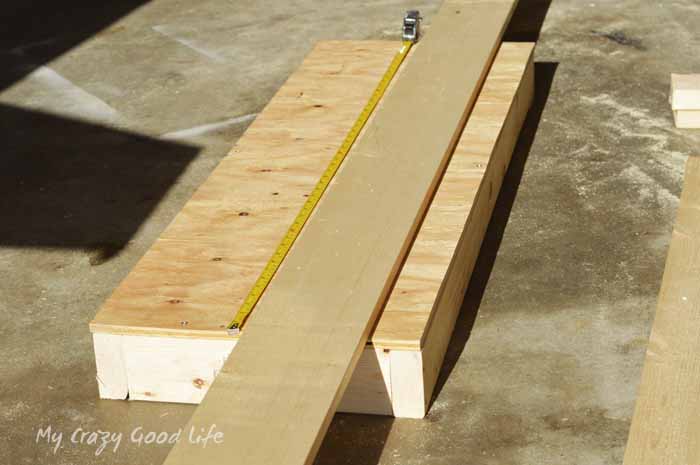 8. At each mark, use your drill and hole saw to cut a hole (you should have three total holes on each box in a straight line).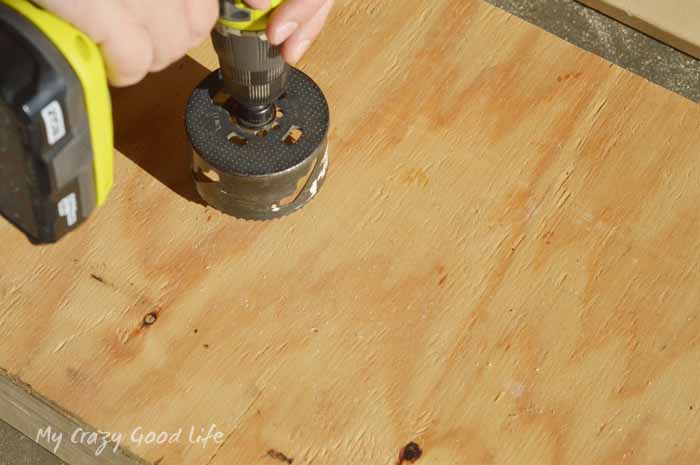 9. Adding the rope is optional, but does help keep the throwing distance consistent and saves time in setting up the game. You'll need 2 eye bolts and the rope. The eye bolts attach to the bottom of the board (the short end 2×4). Drill a pilot hole into the center of the 2×4 frame and thread in the eye bolt.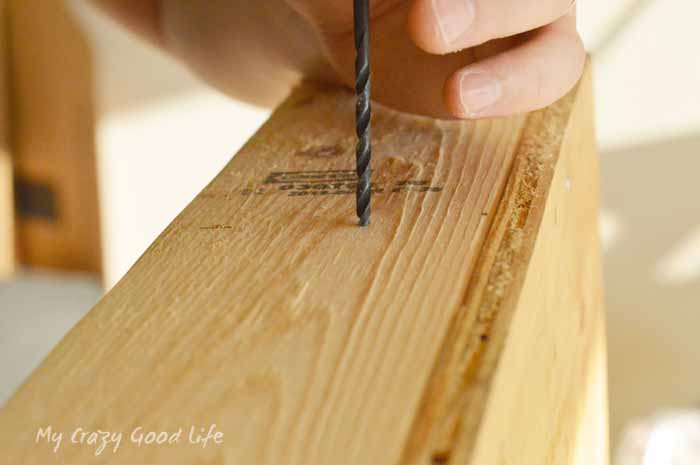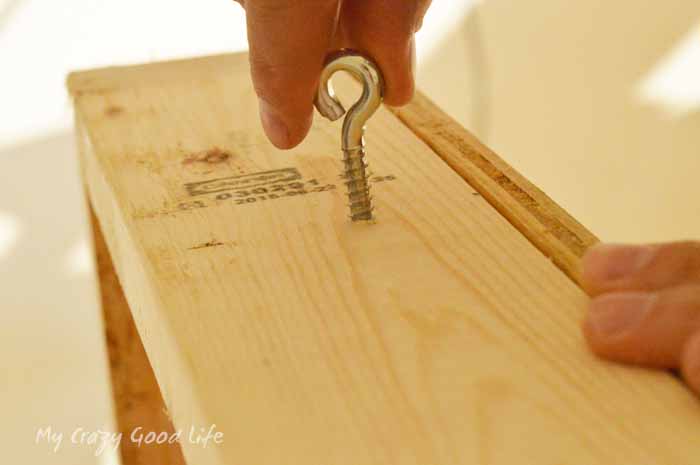 10. Set the the boards 10′ apart, with the eye bolts facing each other. Tie the rope to the eye bolts of both boards.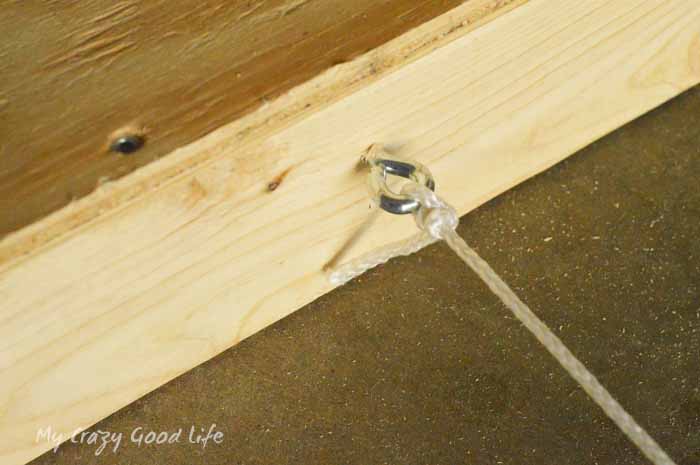 11. Optional step – Finish the surface by sanding down the edges to remove splinters and rough spots. You can also paint or stain your boxes to customize to your liking. Another option is to cover in indoor/outdoor carpet, this helps to reduce the washer bounce when tossed.
How to Play 3 Hole Washers
Place your boards 10 feet apart on level ground.
Each individual or team throws 4 washers (one at a time), and whoever scores the 21 points first wins  the game.
Playing with one person teams: 
Each player throws their washers from the same side over to the opposite board (facing longways).
The player who throws first will throw all four washers, then the second player throws their washers.
The player that scores the most in each round gets to throw first on the following round.
After the scores are written down (or remembered), each player moves to the opposite board to continue the game until one player scores 21.
Playing with two or more on a team: 
Just like in the singles version, team members throw from opposite boards. First player throws four washers, then the first player from the opposite team throws their four washers.
Opposing team members now pick up the washers and throw them back in the same fashion.
The team that scores the most in each round gets to throw first on the following round.
The game ends when the first team scores 21 points.
Rules for 3 Hole Washers Game
In order for a throw to count, the washer must completely fall into the hole.
If a washer is knocked into the hole (by a member of either team), the point goes to the player who originally threw the washer.
You can cancel out the apposing team's score in the same round by out scoring them. For example Team A scores 6 points, then Team B scores 10. Team B records their score for the round of 4 points.
How to keep score in the 3 Hole Washer Game:
One point is earned for the hole closes to the front of the board
Three points are earned for the center hole
Five points are earned for the last hole on the board.
Play to 21 points–not over or under (team members must hit exactly 21 points to win the game). If the team scores over 21 points, they go back to 16!
What are the other names for 3 Hole Washers?
This game goes by many names–Holy Boards, Holy Board Game, Washer Toss, Texas Horseshoes, Washer Game, Washer Board Game, Three Hole Washer Game, and Washers. Whatever you call it, make these easy boards to have a ton of backyard family game fun.
Looking for more fun outdoor game ideas?
Outdoor Giant Jenga A life-sized version of the original, this DIY Giant Jenga is easy to make and so fun to play!
Plinko Take turns dropping chips and aiming for the higher valued points along the bottom.
Ladder Golf A classic outdoor game that kids love!