This site contains affiliate links. Please see Policies for more information.
I've partnered with Allergan to raise awareness of Chronic Migraine by sharing my story and why I use BOTOX® to treat my disease. I've suffered from headaches and migraines for more than twenty years, until my neurologist recommended BOTOX® injections as an effective treatment option for Chronic Migraine six years ago.
Please see Indication, Important Limitations, and Important Safety Information below.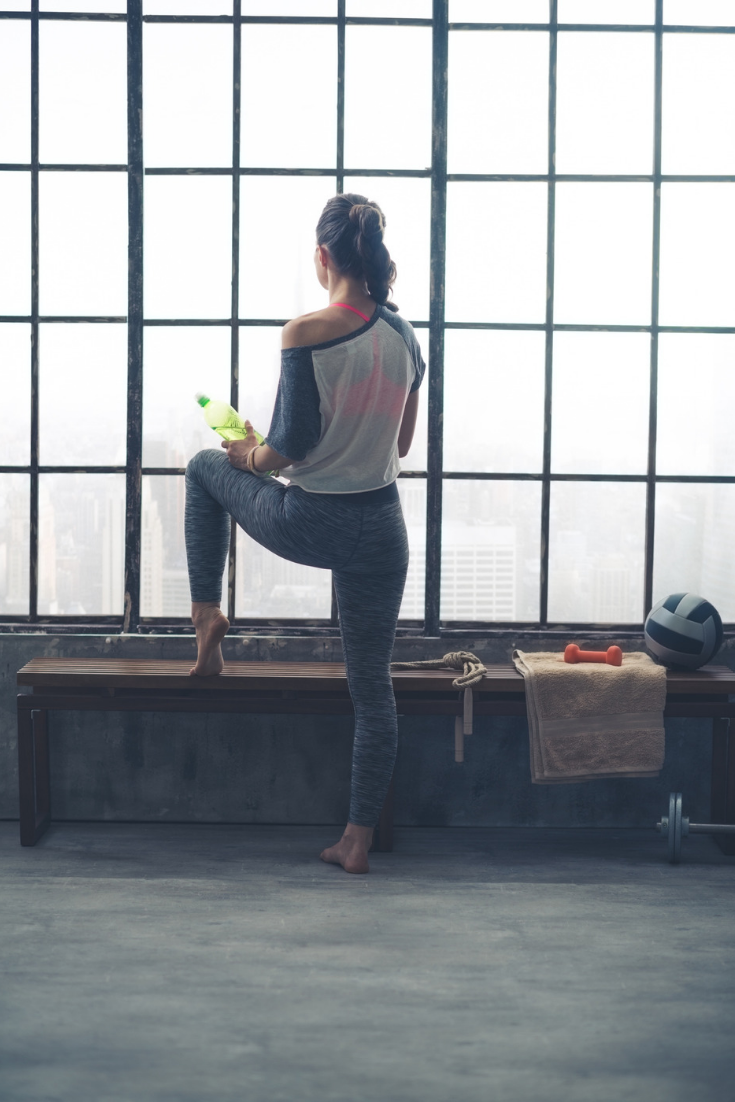 What is Chronic Migraine?
Chronic Migraine is a distinct disease where someone experiences 15 or more headache days per month (at least 8 of those days/month, has the features of migraine headache), with each headache lasting four hours or longer. I explained a lot about Chronic Migraine in this related post if you want to read more.
Remember, this isn't just a headache or even a migraine. This is Chronic Migraine, a distinct disease that is debilitating, doesn't allow me to work full-time, and impacts my daily life.
What were your migraines like when you were diagnosed?
Around the time of my Chronic Migraine diagnosis, I was having about 20 headache days per month. I was taking prescription preventive medication every day for my migraines as well as medication to stop the migraines when they came on. The treatment regimen I was on wasn't working for me.
When did you first hear about BOTOX® as a potential treatment option for Chronic Migraine?
My grandfather is actually the person who first told me about BOTOX® for Chronic Migraine. Years ago, he followed the news that BOTOX® was approved by the FDA for the treatment of Chronic Migraine and would often send me newspaper articles about it. I initially resisted a bit, because I was unsure of exactly what it was and how it would work.
About six years ago, I decided to look into BOTOX® for a few reasons. My headache and migraine days were getting out of control, and I felt frustrated that my migraines sometimes caused me to miss spending time with my family. I was feeling overwhelmed and tired of trying different medications and not meeting my treatment goals. I knew I needed to try something different.
My neurologist suggested BOTOX® and explained the benefits and risks with treatment. My neurologist was also a Chronic Migraine patient, and she let me know she received BOTOX® injections for her Chronic Migraine, and it reduced the number of headache and migraine days she had experienced. I remember her saying to me, "We've finally got your medications stable and you're not meeting the treatment goals we've set. Let's try this and see what happens."
After my health insurance company approved it, I began my injections.
How has BOTOX® worked for you?
Though only a doctor can diagnose Chronic Migraine, I can tell you that since I began receiving BOTOX® injections every three months, the treatment has significantly helped me reduce my headache and migraine days each month. BOTOX® prevents on average 8 to 9 headache days and migraine/probable migraine days a month (versus 6 to 7 for placebo).
I've found that for my Chronic Migraine, my current treatment regimen has been great at meeting my treatment goals.
What are the side effects of BOTOX® for Chronic Migraine?
My neurologist told me that a common side effect that some people experience is neck pain. I am also always advised by my neurologist that if I feel neck weakness, I should call her immediately. Always remember to contact a medical professional right away if you are taking this treatment and experience any side effects.
How much does BOTOX® cost?
My medical insurance does cover my treatment, but you should ask your insurance company if they cover BOTOX® injections for Chronic Migraine. Most insurance companies do cover the cost of the treatment, and there's a savings program that may also cover any additional out-of-pocket costs for those who are eligible. Here's a link for more information on the BOTOX® Savings Program. 
Does BOTOX® hurt?
It's relative. In my experience, the injections hurt much less than a migraine does, so I focus on that while I'm getting them. You may feel mild discomfort. Injections feel like tiny pinches or pinpricks.
I'm not a fan of needles, but the injections go by fairly quickly, they take about 15 minutes. I sit down and they ask about my migraines, then the doctor sends for the pharmacist who prepares the medication for us. I sign a release and then the doctor gives me a series of injections.
My doctor always asks if I want breaks (I don't take them). I receive 31 injections in my head and neck. After the injections, I'm able to leave and drive home or go run errands.
Where do they inject BOTOX® for Chronic Migraine?
There is a protocol that doctors follow for BOTOX® for Chronic Migraine. The medication is injected in 7 muscle areas of the head and neck. The injections are given in specific places, and doctors get Product Information that includes information about the protocol in every box to help ensure proper administration of injections.
Is there anything you can't do after getting BOTOX® for Chronic Migraine?
I proceed as I normally would. I practice alternative and traditional yoga five times a week.
Of course, BOTOX® for Chronic Migraine has to be prescribed and administered by your doctor. Please refer to the BOTOX® Prescribing Information and Important Safety Information for more information.
Talk to your doctor and visit www.BotoxChronicMigraine.com for more information about Chronic Migraine and BOTOX®.
BOTOX® (onabotulinumtoxinA) Important Information
Indication
BOTOX® is a prescription medicine that is injected to prevent headaches in adults with chronic migraine who have 15 or more days each month with headache lasting 4 or more hours each day in people 18 years or older.
It is not known whether BOTOX® is safe or effective to prevent headaches in patients with migraine who have 14 or fewer headache days each month (episodic migraine). It is not approved for adults with migraine who have 14 or fewer headache days a month.
IMPORTANT SAFETY INFORMATION
BOTOX® may cause serious side effects that can be life threatening. Get medical help right away if you have any of these problems any time (hours to weeks) after injection of BOTOX®:
Problems swallowing, speaking, or breathing, due to weakening of associated muscles, can be severe and result in loss of life. You are at highest risk if these problems are pre-existing before injection. Swallowing problems may last for several months.
Spread of toxin effects. The effect of botulinum toxin may affect areas away from the injection site and cause serious symptoms including: loss of strength and all-over muscle weakness, double vision, blurred vision and drooping eyelids, hoarseness or change or loss of voice, trouble saying words clearly, loss of bladder control, trouble breathing, trouble swallowing.
There has not been a confirmed serious case of spread of toxin effect away from the injection site when BOTOX® has been used at the recommended dose to treat chronic migraine.
BOTOX® may cause loss of strength or general muscle weakness, vision problems, or dizziness within hours to weeks of taking BOTOX®. If this happens, do not drive a car, operate machinery, or do other dangerous activities.
Do not receive BOTOX® if you: are allergic to any of its ingredients (see
Medication Guide for ingredients); had an allergic reaction to any other botulinum toxin product such as Myobloc® (rimabotulinumtoxinB), Dysport® (abobotulinumtoxinA), or Xeomin® (incobotulinumtoxinA); have a skin infection at the planned injection site.
The dose of BOTOX® is not the same as, or comparable to, another botulinum toxin product.
Serious and/or immediate allergic reactions have been reported, including itching, rash, red itchy welts, wheezing, asthma symptoms, or dizziness or feeling faint. Get medical help right away if you experience symptoms; further injection of BOTOX® should be discontinued.
Tell your doctor about all your muscle or nerve conditions such as ALS or Lou Gehrig's disease, myasthenia gravis, or Lambert-Eaton syndrome, as you may be at increased risk of serious side effects including difficulty swallowing and difficulty breathing from typical doses of BOTOX®.
Tell your doctor about all your medical conditions, including if you: have or have had bleeding problems; have plans to have surgery; had surgery on your face; weakness of forehead muscles; trouble raising your eyebrows; drooping eyelids; any other abnormal facial change; are pregnant or plan to become pregnant (it is not known if BOTOX® can harm your unborn baby); are breastfeeding or plan to (it is not known if BOTOX® passes into breast milk).
Tell your doctor about all the medicines you take, including prescription and over-the-counter medicines, vitamins, and herbal supplements. Using BOTOX® with certain medicines may cause serious side effects. Do not start any new medicines until you have told your doctor that you received BOTOX® in the past.
Tell your doctor if you received any other botulinum toxin product in the last 4 months; have received injections of botulinum toxin such as Myobloc®, Dysport®, or Xeomin® in the past (tell your doctor exactly which product you received); have recently received an antibiotic injection; take muscle relaxants; take allergy or cold medicines; take sleep medicine; take aspirin-like products or blood thinners.
Other side effects of BOTOX® include: dry mouth, discomfort or pain at injection site, tiredness, headache, neck pain, eye problems: double vision, blurred vision, decreased eyesight, drooping eyelids, swelling of eyelids, dry eyes; and drooping eyebrows.
For more information refer to the Medication Guide or talk with your doctor. You are encouraged to report negative side effects of prescription drugs to the
FDA. Visit www.fda.gov/medwatch or call 1-800-FDA-1088.
Please see BOTOX® full Product Information including Boxed Warning and Medication Guide