This site contains affiliate links. Please see Policies for more information.
Monkey Kingdom is the newest of Disneynature's films and it's out today! Go to see the movie this week, April 17-23, and Disneynature will make a donation in your honor to Conservation International to help protect monkeys and other endangered species in their natural habitats.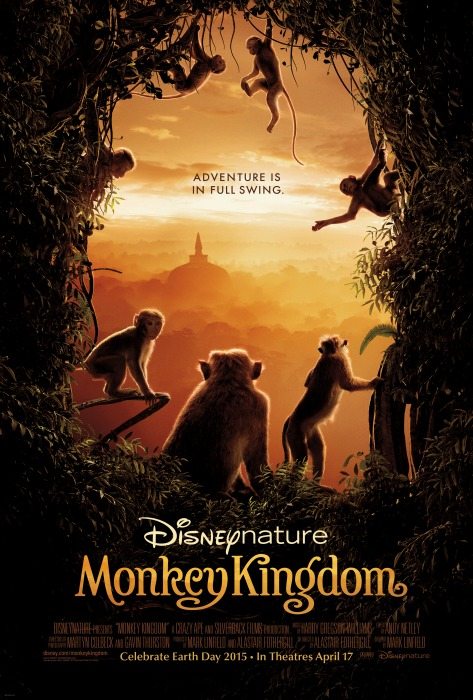 I was fortunate to see the last Disneynature movie, Bears, with a theater full of children–I was able to hear their reactions and the comments from their parents. I viewed Monkey Kingdom with only adults, so I wasn't able to capture those first thoughts from the kids. In my opinion, however, this movie has very similar content.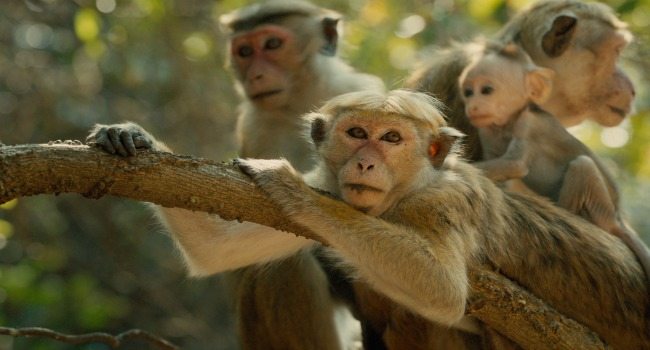 Monkey Kingdom is a heartwarming movie filmed over the course of three years on the South Asian island of Sri Lanka. The movie follows Maya and Kip, a mother and son monkey family, as they learn to survive in the monkey kingdom. The movie is heartwarming and made me smile, laugh, and maybe even shed a tear or two.
There are a couple of scenes that allude to two monkeys dying which might disturb young viewers, but similar to Bears, the movie is very sensitive to the young audience. To see if this movie is a fit for your young child, take a look at the trailer:
Narrated by Tina Fey, Monkey Kingdom explains the monkey class system and how they provide for themselves and their families in the wild. There are several hilarious scenes where monkeys find food in places they probably shouldn't–outdoor markets and even a home! The film is educational but definitely not drab or boring–it kept my attention the entire time. The length is just under 90 minutes, perfect for providing some entertaining down time.
Want to take it a step further? Here are some Monkey Kingdom Activities from Disney in the Desert.
I attended press events with Disney and ABC TV, which included a viewing of Disneynature's Monkey Kingdom. I was provided with an expenses paid trip to Los Angeles in exchange for my coverage about the events. No other compensation is given. Of course, opinions and experiences are my own.