This site contains affiliate links. Please see Policies for more information.
Inspired by the Marvel comic of the same name, Big Hero 6 is–hands down–my favorite Disney movie thus far.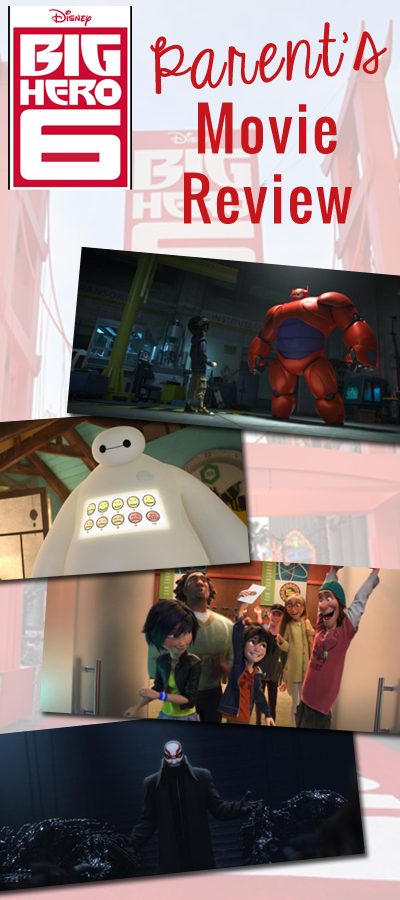 Big Hero 6 Parent Review
The official summary from Walt Disney Animation Studios:
From Walt Disney Animation Studios, the team behind "Frozen" and "Wreck-It Ralph," comes "Big Hero 6," an action-packed comedy-adventure about the special bond that develops between Baymax (voice of Scott Adsit), a plus-sized inflatable robot, and prodigy Hiro Hamada (voice of Ryan Potter). When a devastating event befalls the city of San Fransokyo and catapults Hiro into the midst of danger, he turns to Baymax and his close friends adrenaline junkie GoGo Tomago (voice of Jamie Chung), neatnik Wasabi (voice of Damon Wayans Jr.), chemistry whiz Honey Lemon (voice of Genesis Rodriguez) and fanboy Fred (voice of T.J. Miller). Determined to uncover the mystery, Hiro transforms his friends into a band of high-tech heroes called "Big Hero 6." Inspired by the Marvel comics of the same name, and featuring breathtaking action with all the heart and humor audiences expect from Walt Disney Animation Studios, "Big Hero 6" is directed by Don Hall ("Winnie the Pooh") and Chris Williams ("Bolt"), and produced by Roy Conli ("Tangled"). The film hits theaters in 3D on Nov. 7, 2014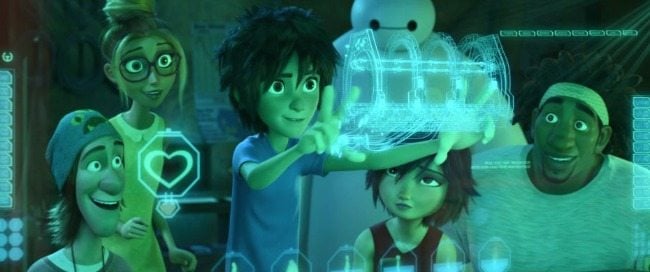 Baymax (the big white robot) is actually a personal healthcare robot created by Tadashi. While Baymax is trying to heal Hiro, he turns him into a super hero. Here's the original Baymax: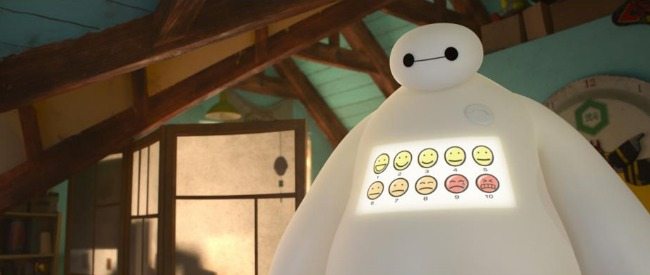 And here is Baymax 2.0:
Here are the things we LOVED about Big Hero 6:
The main character of the story, Hiro, is a boy genius. Smart = cool in Big Hero 6.
All of the Big Hero 6 team are smart–they met in the robotics program at San Fransokyo Tech College.
Two of the Big Hero 6 team are girls, and they're strong and smart characters who are great role models for your kids.
The movie is funny! Baymax has some funny quirks and shows real human qualities.
The soundtrack! The Big Hero 6 Soundtrack is amazing. Our favorite is the Immortals song by Fallout Boy.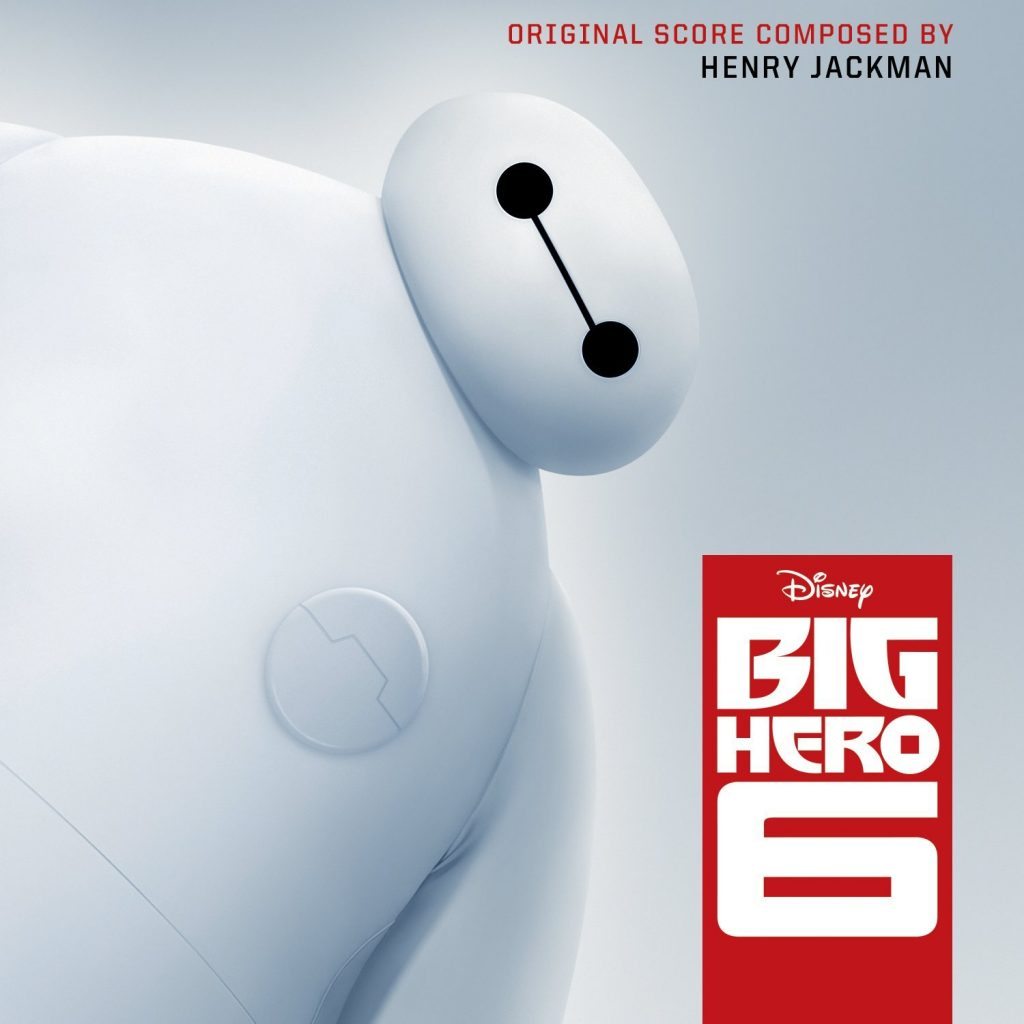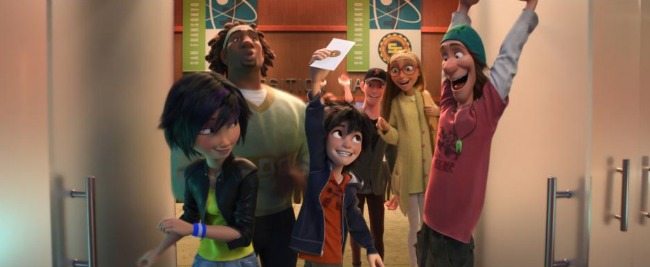 *Spoiler Alert*
Here are the things you'll want to know about before taking your little ones to see Big Hero 6:
Hiro's brother, Tadashi, dies in a fire at the beginning of the movie. Disney did an amazing job with this scene. Tadashi runs into a burning building to save his beloved professor and there is an explosion. The scene is short and not graphic at all, but some children may be sad.
There's a villian (of course!). Yokai wears a mask and dresses in black. He chases the Big Hero 6 team on moving waves of microbots, which you can see in the video below. If you have sensitive kids you might want to show them his picture below as well as the video so they're prepared.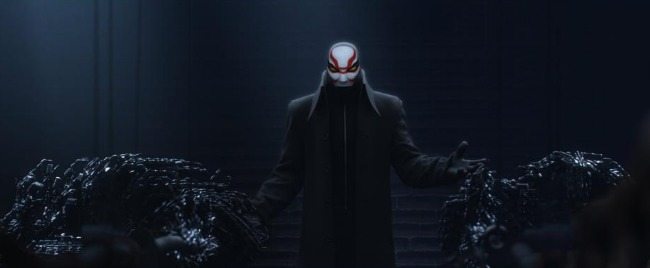 Here's a video that gives you a good idea of the "bad guy" in the movie–Yokai:
I'm confident that both you and your kids will love Big Hero 6. You might want to prep very young or sensitive children about the scenes I mentioned above, but the rest of the movie by far sets an upbeat tone.
I mentioned above that this is by far my favorite Disney movie. Tell me… what's your favorite Disney movie?
Media provided by Walt Disney Studios Motion Pictures. I attended a screening of Big Hero 6 to facilitate this review. 
Click here to see my other posts about Big Hero 6!