This site contains affiliate links. Please see Policies for more information.
Guys.
You know I'm not a movie buff. I enjoy them, but I normally don't go around telling all of my friends–young and old–to see one. But… you have to see The Jungle Book. Preferably in the theater. Sooner rather than later (it opens today, April 15th!).
I've seen it three times now, and each time is better than the last. Each time I get a little teary-eyed, a laugh a whole lot, and fall in love with the movie a little more. I'll admit, maybe it's because I know a bit about how the movie was created, but I truly think that it doesn't really matter that I have the scoop–it's just an all around great movie for the entire family (we'll talk about kid's ages in a minute).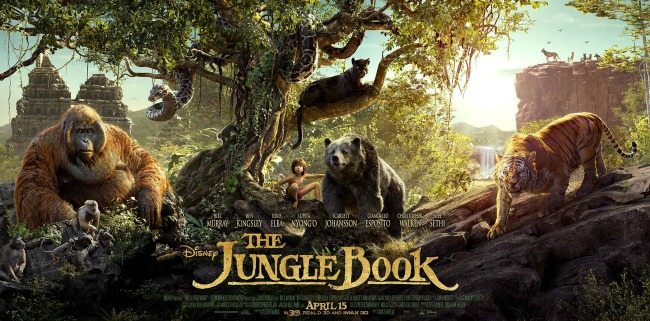 Directed by Jon Favreau ("Iron Man"), based on Rudyard Kipling's timeless stories and inspired by Disney's classic animated film, "The Jungle Book" is an all-new live-action epic adventure about Mowgli (newcomer Neel Sethi), a man-cub who's been raised by a family of wolves. But Mowgli finds he is no longer welcome in the jungle when fearsome tiger Shere Khan (voice of Idris Elba), who bears the scars of Man, promises to eliminate what he sees as a threat. Urged to abandon the only home he's ever known, Mowgli embarks on a captivating journey of self-discovery, guided by panther-turned-stern mentor Bagheera (voice of Ben Kingsley), and the free-spirited bear Baloo (voice of Bill Murray). Along the way, Mowgli encounters jungle creatures who don't exactly have his best interests at heart, including Kaa (voice of Scarlett Johansson), a python whose seductive voice and gaze hypnotizes the man-cub, and the smooth-talking King Louie (voice of Christopher Walken), who tries to coerce Mowgli into giving up the secret to the elusive and deadly red flower: fire. The all-star cast also includes Lupita Nyong'o as the voice of the fiercely protective mother wolf Raksha, and Giancarlo Esposito as the voice of wolf pack's alpha male Akela. "The JungleBook" seamlessly blends live-action with photorealistic CGI animals and environments, using up-to-the-minute technology and storytelling techniques to immerse audiences in an enchanting and lush world. The wild adventure swings into theaters in 3D on April 15, 2016.
And if by chance you haven't seen the trailer yet:
The Jungle Book is a heartwarming and funny movie that might be a little intense at times for younger viewers. Jack (my 11 year-old boy) called the intense parts, "jump scares." That means that it's not scary for much longer than a second or two–just enough to make you jump. The only
violence
I can talk about is that between animals, but… they're animals. The tigers and bear and wolves fought to protect one of their own. There is
no swearing
or inappropriate language, and of course
no alcohol or drug references
. The Jungle Book is rated PG and is 105 minutes in length. The following video clip is a great representation of a typical "intense" scenes from The Jungle Book:
If your child was ok to watch that clip, you'll be fine taking them to see the movie.
Should I take my child to see The Jungle Book?
Yes! It's a wonderful family movie. Those with younger children or children who don't like to be startled might want to think twice about bringing them. I usually tell you when to take bathroom breaks with your little ones to avoid intense scenes, but I think in this movie you'd be missing some of the best scenes!
King Louie could be intimidating, but I liked him a lot. Here's a clip of the beginning of his scene so you can get a feel for him:
Parents, I recommend watching as many of
The Jungle Book clips
 (there are about 15 of them!) as you can. You'll have a feel for the age that's appropriate in your home. Also, your kids might love this
fun virtual reality video
–it's fun on your computer, but I really recommend watching it on your mobile device so you can move around a little. I was able to use a real set of virtual reality goggles when I was at The Jungle Book media day last week, and it was a blast!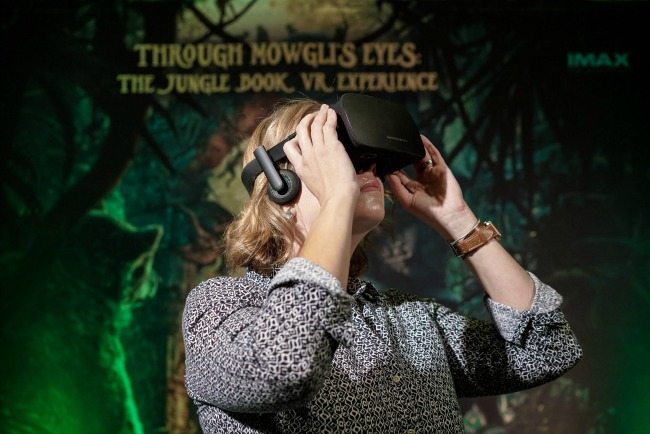 Will I let my kids see The Jungle Book?
Yes! Mine are 11 and 15, so they're definitely old enough. Jack has already seen it. While in the theater for the screening, there were tons of little ones I heard one 4-5 year old gasp when there was an intense scene, but other than that I didn't hear anything that would make me thing it was super scary for them. Again, the focus is on the funny scenes, and the theme of family being everything.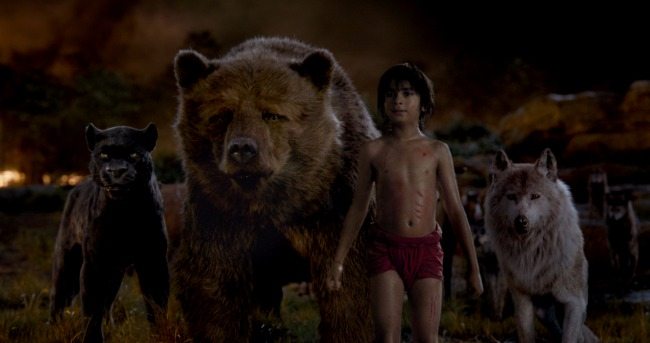 Jack and I chatted on the way home about his cousins seeing The Jungle Book–they're 7. One of them LOVES animals of all types, and loves the silly B-role movies like Sharknado. The other isn't so much into the animals and silly movies, but she will love the songs and all of the adorable animals in the movie. They'll both be seeing the movie soon, and they'll be just fine watching it.
Speaking of animals… These is a very, very special animal in The Jungle Book that you should know about. It's called a Pangolin. You can catch him here in this video of Baloo:
The pangolin is the
#1 most endangered animal
in the world right now. We were able to speak to Jeff Flocken, North American Regional Director for the International Fund for Animal Welfare, about the pangolin and why Jon Favreau decided to give the pangolin a cameo in The Jungle Book.

The pangolin is a mammal that is found in Asia and is used for their meat (it's a delicacy in Asia) and scales (which are ground up to be used as a traditional medicine). There is no estimate as to how many pangolins are left on this earth because they're especially fragile with regard to diet, human interactions, etc. Jeff mentioned that they're unable to be kept alive outside of their natural environment except for the six that are alive in zoos right now–one in the San Diego zoo.
The IFAW is conducting a drive to get supporters to sign a petition showing support for pangolin protection. The drive will be live soon, and when it is I'll be adding the information here as well as sharing on all of my social channels. 
After reading this, you'll be one of the few who will truly get Baloo's joke to the pangolin in The Jungle Book. And now you have a way to help them from becoming extinct!

Fan Tip: The Jungle Book has a fun visual compilation at the end, so plan on staying for at least the first song during the credits!