My favorite place at the Disneyland Resort is Cars Land in California Adventure Park. While in Disneyland for the Disney Social Media Moms conference, I learned some fun facts about Cars Land and had to share them with you!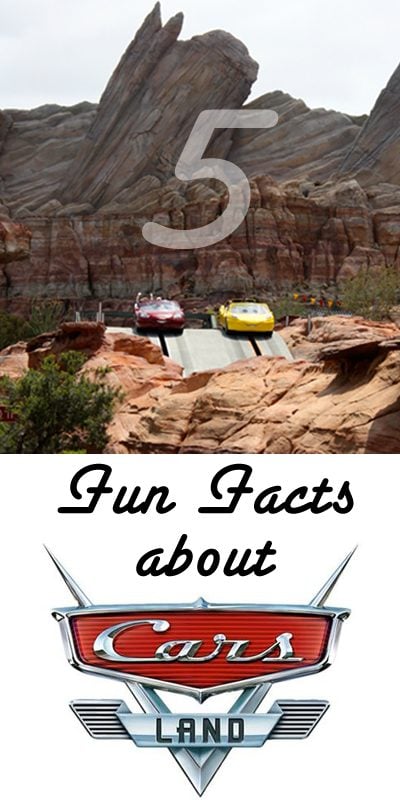 1. In 2008, when Cars Land was just a twinkle in the eye of Imagineers, a Concept Team toured Route 66 with a historian (who happens to be the voice of Sheriff in Cars) while taking notes about the "must have" landmarks for Cars Land. You can see the video here:
2. Every. single. thing. in Cars Land–from the buildings to the signs to the benches–was inspired by something seen on Route 66. The one exception is all of the beautiful trees you see. Imagineers understood that in the sometimes hot California sun, their guests could get uncomfortable. They decided that it was more important to add trees to the Cars Land than to stick 100% to the concept from Route 66.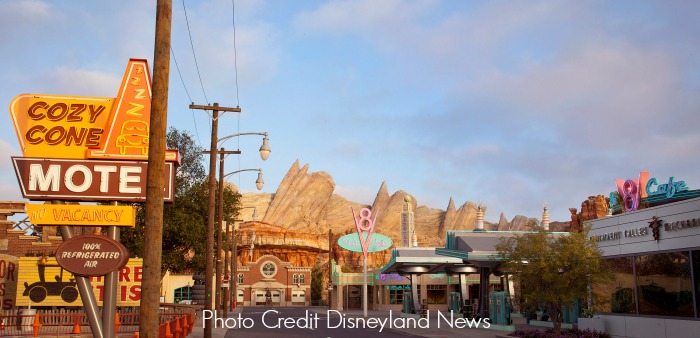 Two of the most impressive landmarks that were replicated for Cars Land are Cadillac Ranch and the Cozy Cone Motel:
Cadillac Ranch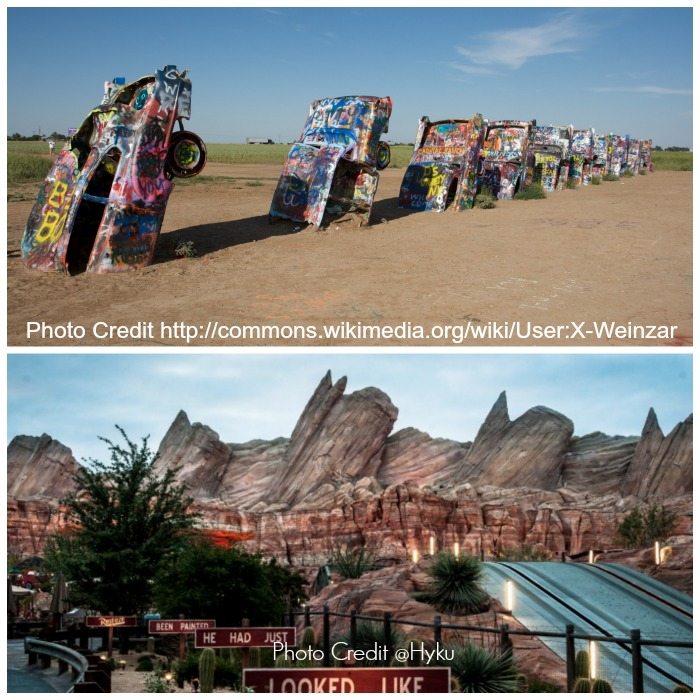 Cozy Cone Motel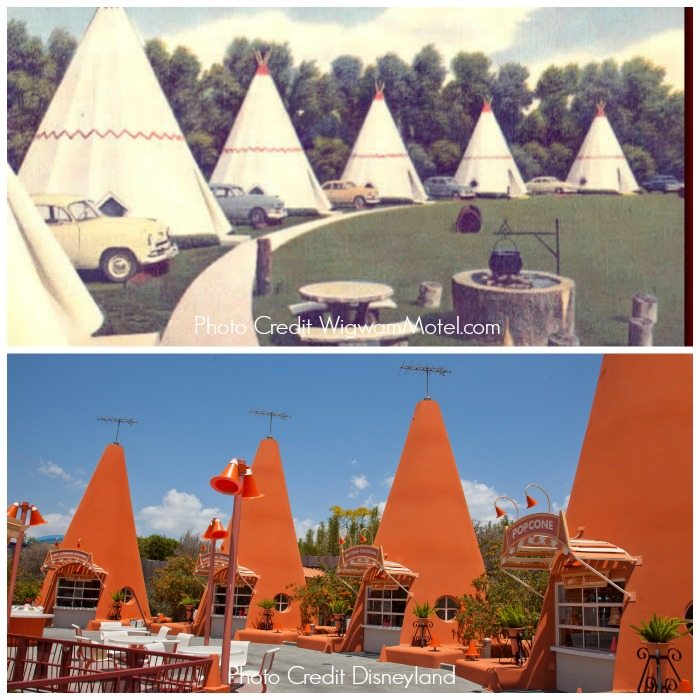 3. At nearly 300,000 sq. ft., the mountain range is the largest rock construction in any domestic Disney theme park and stands 125 feet at its highest peak (the 1959 Cadillac). The six peaks of the mountain range represent Cadillac tail fins from 1957, 1958, 1959, 1960, 1961 and 1962.
4. The car-acters of Radiator Springs include Lightening McQueen, Mater, and Red the Fire Truck. Did you know that Red will "sing" Happy Birthday to you if you tell him it's your special day?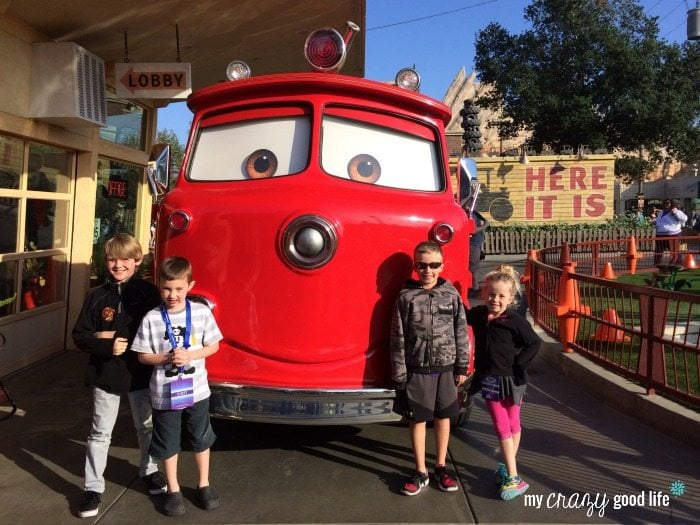 5. Radiator Springs Racers is the most popular ride in Cars Land. Actually, it's the most popular ride in all of California Adventure! The line for Fast Passes begins the minute the park opens, and Fast Passes are usually gone by mid-morning. The average wait (as of today) is 120 minutes. Here's a video of Radiator Springs Racers from start to finish.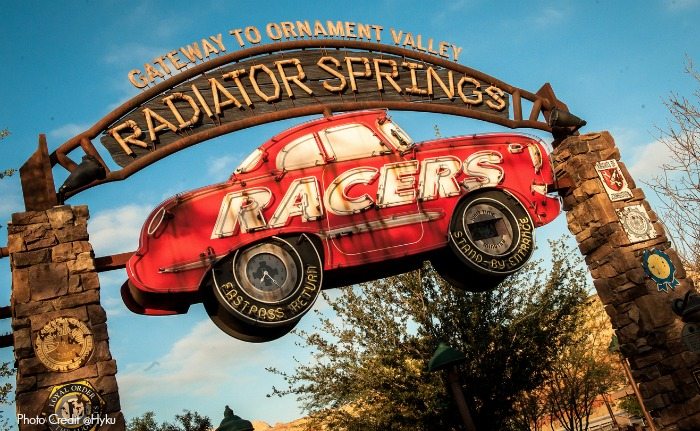 Radiator Springs Racers Facts:
top speed is 40 mph
can be compared to the Test Track ride at Walt Disney World
you'll never know who will win the race–a random car is chosen each time!
after tractor-tipping, if your car re-enters town and turns left, you'll receive a tire change at 

Luigi's Casa Della Tires

if your vehicle turns right, you'll receive a coat of paint at 

Ramone's House of Body Art (my favorite part!)
Some of my personal tips about Cars Land? Ok, ok–I'll share.
1. The soft-serve ice cream at the Cozy Cone Motel is my favorite treat in Cars Land. The line is usually a little longer at this cone, but it's worth it!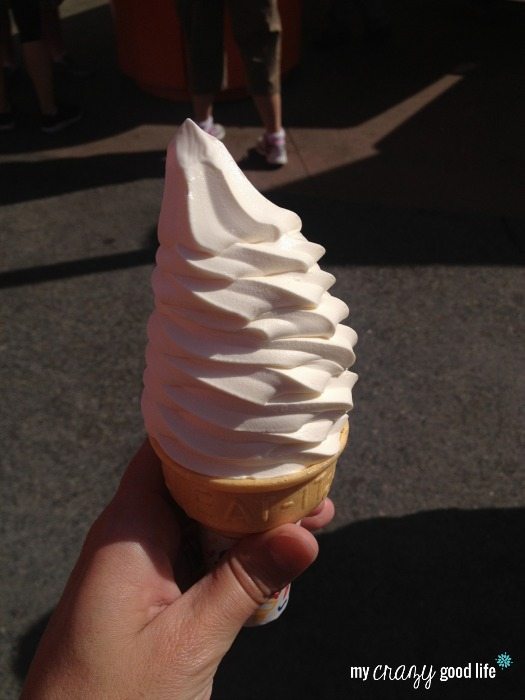 2. If you're dying to ride Radiator Springs Racers, but don't want to wait for 2 hours, split up your group and get in the single rider line. You'll stay together throughout the wait, and then be split up for the ride at the last minute. The wait for single riders is usually 35-45 minutes.
3. The most under-rated ride in California Adventure (in my opinion) is Mater's Junkyard Jamboree. Go on… ride it!

 So tell me… what's your favorite thing about Cars Land?
This post is not sponsored. I have been the guest of Disneyland several times in the last few years and am sharing my favorites with you.