This site contains affiliate links. Please see Policies for more information.
Images in this post courtesy of Disneyland Resort. 
It's no shocker that there's something new and exciting happening at Disney California Adventure Park. For those of you who might be interested in a visit, of if you just like to keep up on all things Disney, today I'm sharing with you a little piece of what there is to experience during Summer of Heroes at Disneyland Resort.
*We recently visited Disneyland Resort during the Summer of Heroes and I wrote all about it right here!*
Before we get started, you are going to need a few things. You're going to need some dancing shoes, a good camera to capture all the memories, and maybe a nice travel backpack for those long days at the park!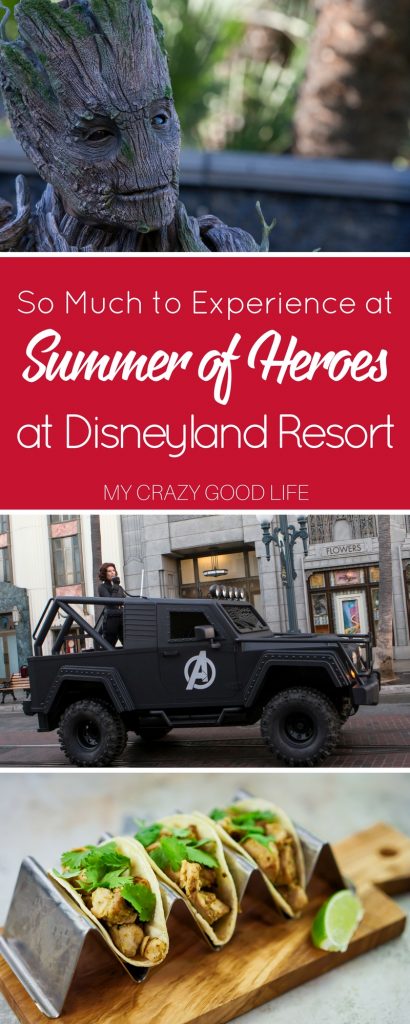 Before you leave make sure to check out these tips from a Disney pro! If you are looking for somewhere to stay, you can't beat the Grand Californian, here are three reasons why we loved it! And finally, make sure some of these snacks are in your bag for your trip.
So Much To Experience During Summer Of Heroes At Disneyland Resort
One thing is for certain, you won't be disappointed. Everything from new food choices to collectable sippers and straws, there's a little bit of super hero flair for everyone in the family to enjoy.
What to Do During Summer Of Heroes At Disneyland Resort:
One of the main new attractions for this epic Summer of Heroes installment at Disneyland Resort is The brand new Guardians of the Galaxy. It's here and the ride is officially open! It's called Guardians of the Galaxy – Mission: BREAKOUT.
You go on a epic adventure with Rocket as you attempt to rescue the Guardians of the Galaxy way up in the Collector's Fortress. What could be more fun than that? A dance off perhaps? Get your fill of GotG fun with Star Lord, Gamora, and Groot all dancing the day away at Guardians of the Galaxy Awesome Dance Off!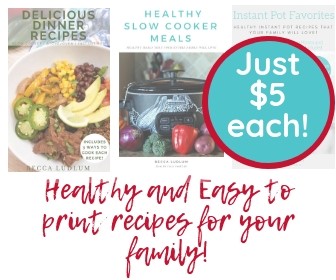 The fun doesn't end there, the park is packed full of great new characters for you and the family to encounter. It's the summer of super heroes so it makes sense that you're now able to get up close and personal with all of your favorite heroes.
Captain America and Spiderman are both said to be roaming around in Hollywood Land and make sure to keep your eyes peeled for an appearance by Black Widow! You can even visit the Avengers Training Initiative and the Hero Action Center to learn the ropes and practice your own super hero moves.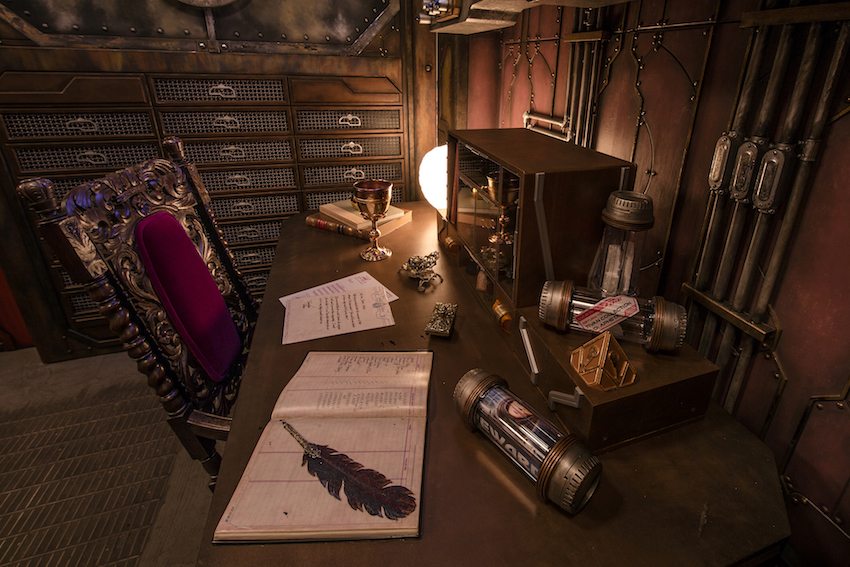 After all of that fun and excitement you are sure to have worked up an appetite. So now we'll move on to my favorite part: the food and drinks. Whenever there's a new event, like Summer Of Heroes At Disneyland Resort, they create new menu options to suit the theme.
This summer is no different and the options are amazing!
Where to Eat During Summer Of Heroes At Disneyland Resort:
There are so many tasty new eats for the Summer of Heroes at Disneyland Resort. Everything from shaved ice to epic nachos, the list is pretty incredible. You can read all about it here. Some of the standouts and my personal favorites are detailed below!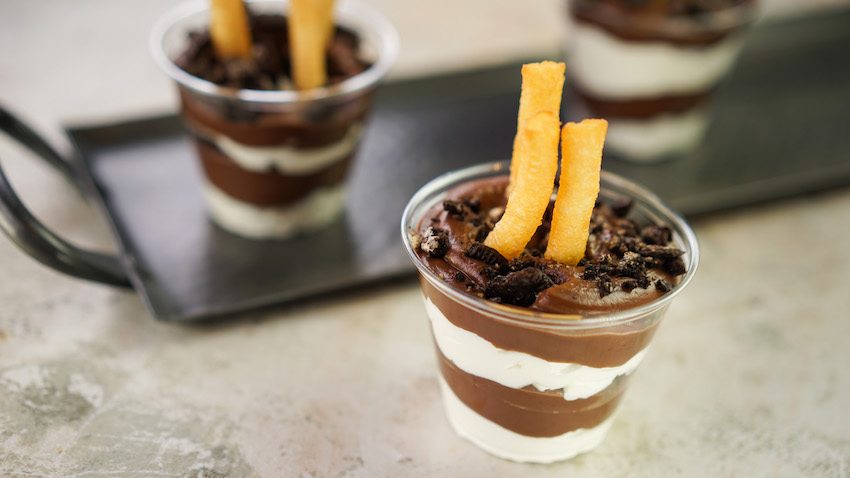 Biofrosties sells shaved ice and during a hot summer visit to any park, it's a nice treat and a great way to cool down. Of course I am over the moon about the I Am Shave Ice flavor, it's root beer and vanilla and totally Groot themed!
They also have some new flavors on the menu like Spider Venom, Ice Reactor, Smash Ice, and Whistle Blue. All of the delicious flavors you know and love with a little super hero twist of their own.
If you like collecting the novelty items from the parks, Summer of Heroes at Disneyland Resort will not disappoint in that area either. You can pick up the Groot Sipper, Spiderman Straw, and new GotG popcorn bucket. They're available at various spots for food and drinks but all can be picked up at Award Weiners.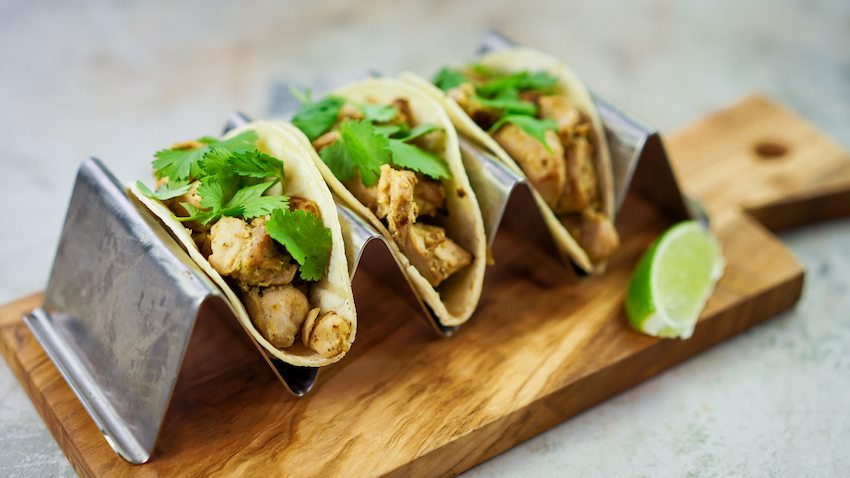 Award Weiners is also serving up some fun on a bun for Summer of Heroes. Stop by for an Angry Little Pudding Cup which has funnel cake fries, cookies, chocolate pudding, and whipped cream. Or if you need something a little more substantial just ask for Quiver of Funnel Cake Fries topped with mango and raspberry coulis!
Schmoozies has perhaps the most delightful menu happening…doughnuts! They have a rotating menu of doughnuts including Gamma-Sized Doughnut which is filled with blackberry and black currant.
The All American Doughnut has apple and streusel topping, the Spider Bite is a cinnamon spiced doughnut, and the Local Favorite which is a maple bacon filled doughnut with maple cream topping!
If you are looking for another cool down option you can check out the smoothies at Schmoozies as well. They have a whole new menu of delicious flavors with a super hero twist. One place you don't want to miss is the Knowhere Eats location.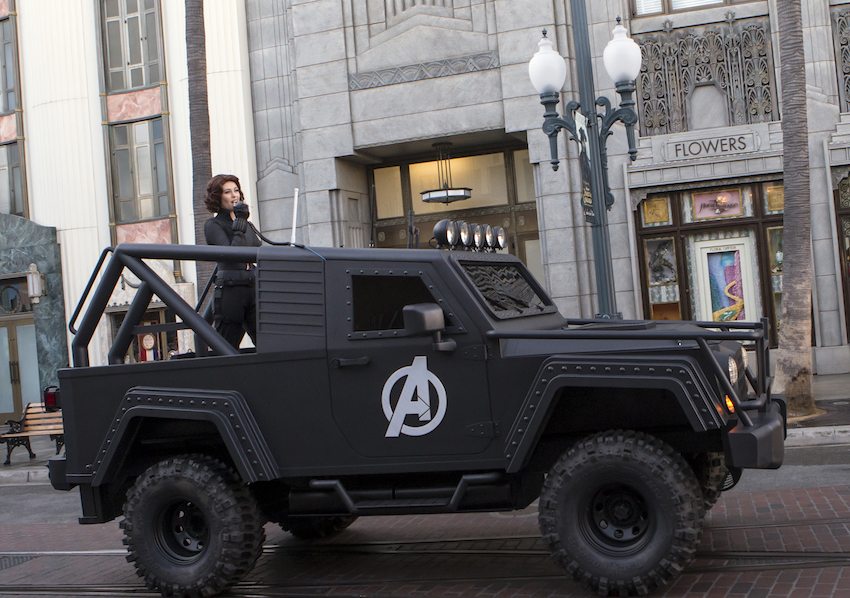 They're serving up some out of this world nachos and tacos! The Most Dangerous Tacos in the Galaxy feature Barbacoa beef with green onion slaw, purple cabbage, pickled onions, habanero salsa, and green tortillas. They also have Space Outpost Tacos which are filled with chicken, chopped cilantro, and onions.
And finally for my favorite option…Obviously Nachos made with fried blue corn tortillas with red pepper cheese sauce, mojo-marinated chicken, chipotle crèma and green onions. The best part is that all of these options are available as a vegetarian dish as well!
If you know me, you know that I also have to top off the day with one of these delicious margaritas from Knowhere Eats. They have a Hot Flare Margarita made with jalapeño, and a Solar Flare Margarita made with watermelon! Both delicious options for a cool and refreshing end to the day at Summer of Heroes at Disneyland Resort–I plan on trying one when we visit the parks next month!
So lace up your space boots and get out there to explore everything happening during #summerofheroes!
Looking for more Summer of Heroes fun? My friend Parker at All for the Boys has some of his favorite Summer of Heroes highlights… from a teen perspective!