This site contains affiliate links. Please see Policies for more information.
Did your little one accidentally touch the elf on the shelf? Maybe you forgot to move the elf on the shelf? I have a few Elf on the Shelf emergency tips!
These Elf on the Shelf emergency tips can help get you out of a bind if you have a situation that you need to explain to the kids.
Thinking about introducing your Elf on the Shelf? Looking for some hilarious or naughty elf on the shelf ideas?
Having a sleepover? Check.
Did your kids touch the elf? Gotcha covered.
Need something super quick before the kids wake up? I've got that, too.
Here are some Elf on a Shelf emergency tips!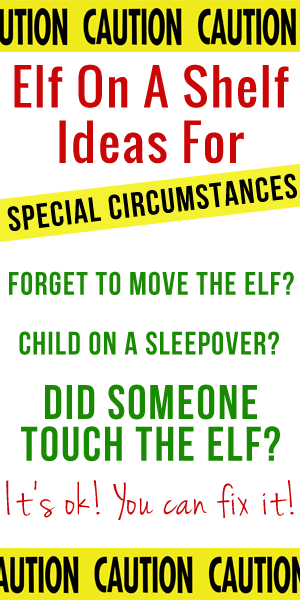 Elf on the Shelf Emergency Tips
If you have an Elf on the Shelf, chances are that you've had an emergency or two to deal with. The great thing about Elf on the Shelf is that it's all about creativity! You can accessorize your elf just like you can creatively get him out of any of these situations!
Elf On A Shelf Having A Sleepover
A friend was spending the night and he missed his elf, Eli! We set up a couple of syrup bottles with straws to make it look like Eli came to visit our elf, Louie! Louie left a note talking about his time with Eli. This was so exciting for the kids!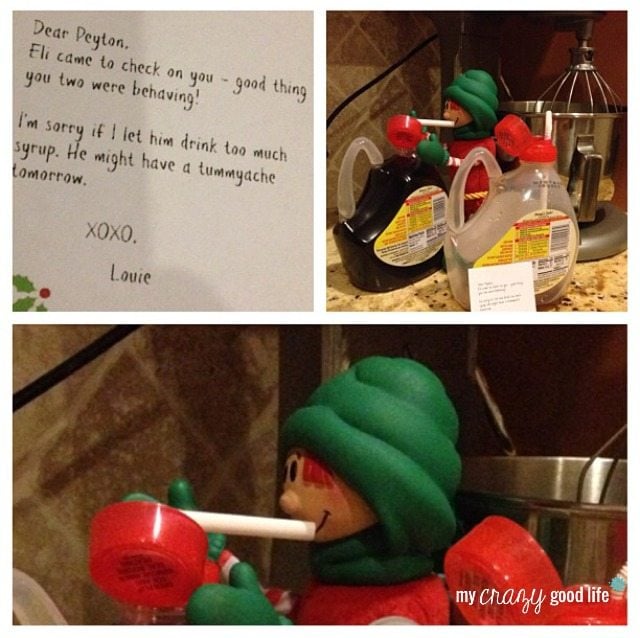 What do I do if we touched the elf on the shelf?
Don't worry! He needs to stay in the freezer for 24 hours, but he likes it there!
Add some marshmallows with toothpicks next to him and write a note (this Elf made a mistake in her letter!). My son was devastated when he touched our elf accidentally–be sure to let the kids know it's ok.
I used food safe markers to write on the marshmallows, but if you're sure your little ones won't eat the marshmallows, you could use any marker!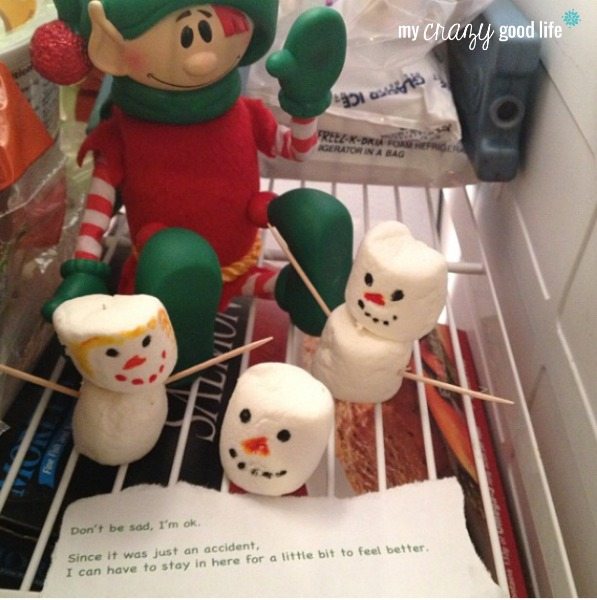 Forgot to Move the Elf on the Shelf?
Did you forget to move the Elf on the Shelf last night? It's ok!
Take advantage of those movable arms and have him point to something–anything!
The undecorated tree?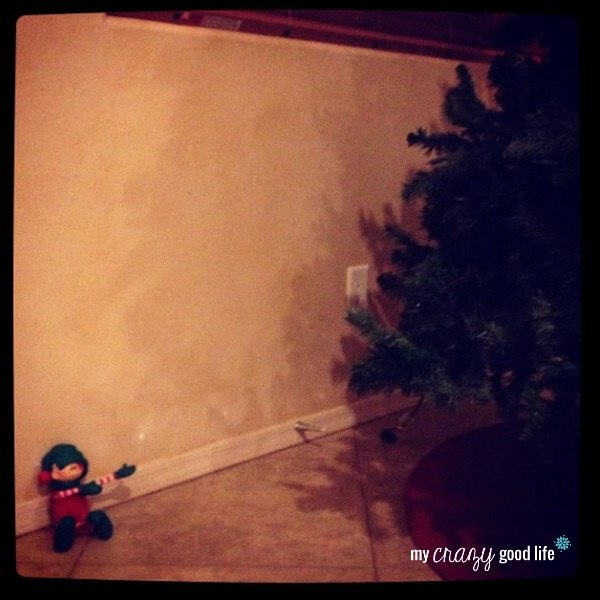 The kitchen pantry? Maybe he's hungry for breakfast!
How about sticking him in the bathroom and have him point to the sink? He's reminding the little ones to wash their hands, of course!
Don't stress, Mom and Dad–maybe the elf was really comfortable where he was and wanted to stay there for another day. That's ok too!
To make sure you don't forget your elf again, take a picture of him and use it as your phone wallpaper. It'll be the last thing you see before you go to bed, and it'll remind you to move him!
Click here for more fun (and kind of naughty) Elf on the Shelf ideas!
Save