This site contains affiliate links. Please see Policies for more information.
This Caramel Apple Martini is a taste of fall!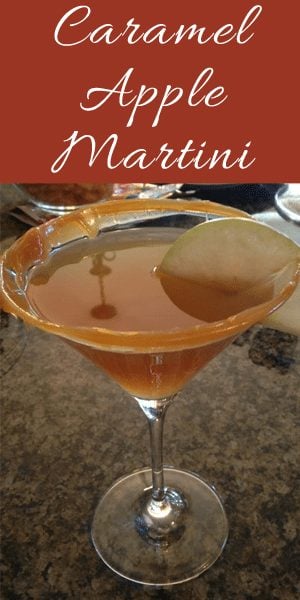 Autumn is my favorite season for a variety of reasons, including the wonderful flavors. This caramel apple martini is like fall in a glass.
The simple recipe is the perfect way to ward off the damp chill and earlier sunset of November or to end a day of tween/teen craziness on a high note.
You'll need:
2 ounces of caramel vodka
3 ounces apple cider
Shake and enjoy!
I know, it's ridiculously simple. But I feel like the best part of fall are the simple pleasures. There are more complicated recipes out there, but this does the trick for being a happy autumn treat without a lot of work.
The recipe is also easily adjusted. Similar recipes call for equal parts vodka to cider and that works. Often, though, I'll just put in one shot worth of vodka to a glass of cider.
It is delicious warmed, chilled or at room temperature.
To make this drink extra special, rim the glass with caramel. I had some leftover caramel apple dip in the refrigerator, so I poured some on a plate and heated it in the microwave for a few seconds – just enough to make it a bit runny. Run the rim of the glass around the caramel.
Garnish with an apple slice.
With it all prettied up like that, it is a perfect drink for entertaining.
Rimming a glass with caramel and garnishing it also makes apple cider special, which is a great way to make kids or those who don't feel like drinking alcohol included in the festive fun.
Cheers to a fabulously fun last few weeks of fall!
This recipe was provided by the wonderful Shannan of Tween Us. When she's not entertaining company with her fabulous drinks, she's writing about the latest tween news and apps.
If you would like to enjoy this cocktail on Weight Watchers it would count as 8 Points for Blue, Green, and Purple Plan.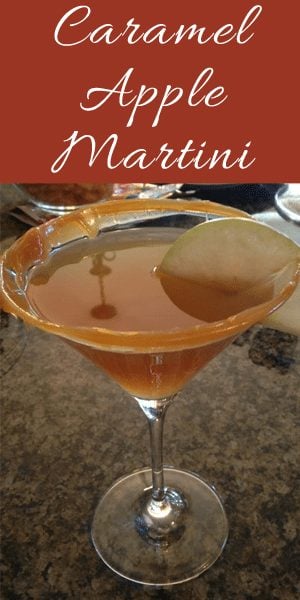 click the stars to rate!
Caramel Apple Martini
Servings 1 person
This Caramel Apple Martini recipe is sure to please your holiday company!
Ingredients
You'll need:
2 ounces vodka caramel flavored
3 ounces apple cider
Instructions
Mix them together and shake.
Nutrition
Calories: 170kcal | Carbohydrates: 9g | Protein: 0g | Fat: 0g | Saturated Fat: 0g | Cholesterol: 0mg | Sodium: 3mg | Potassium: 85mg | Sugar: 8g
Save