This site contains affiliate links. Please see Policies for more information.
We have an annual themed Halloween party and this is the first year we asked the kids to dress to theme with us–we usually just let them wear whatever they're trick-or-treating in. This year, though–family Halloween costumes!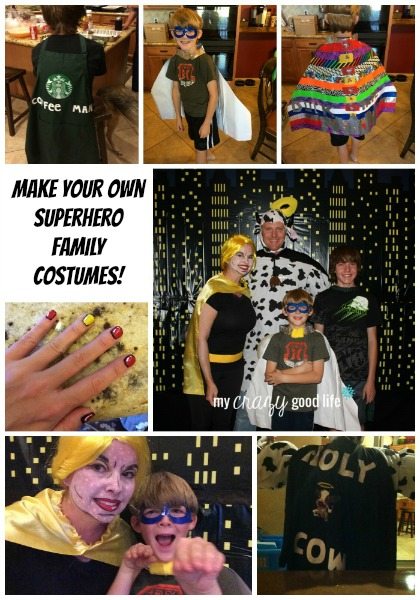 We knew it was a lot to ask of the boys to dress to theme rather than what they would wear out with their friends, so we were enthusiastic with whatever they chose!
Family Halloween Costumes
We used dark fabric transfer paper for my cape, Steve's cape and Michael's apron/cape.
Michael decided to be Coffee Man. We bought a Starbucks-green apron and printed a Starbucks logo and the Coffee Man text on the transfer paper. Michael wore the apron as a cape!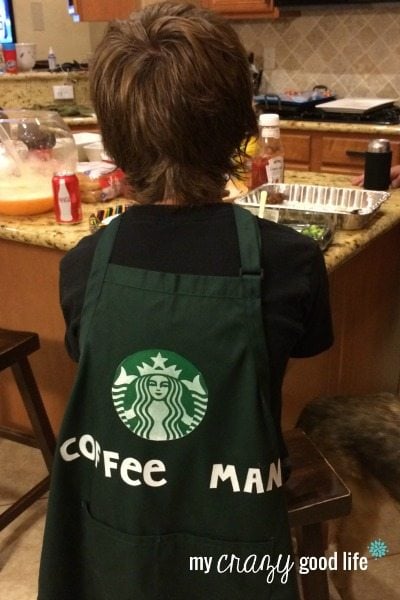 Jack was… Duct Tape Man. Any surprise there?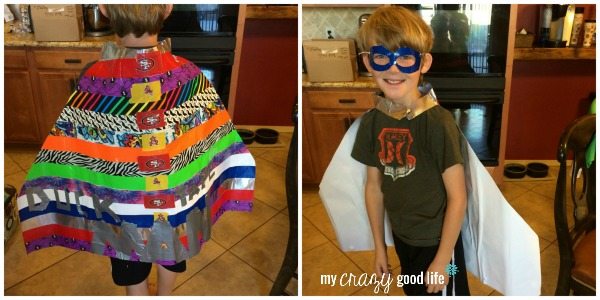 We used a large piece of paper for the cape and covered one side with duct tape. We thought it might get too heavy if the cape were made entirely from duct tape. He made the goggles out of duct tape and an elastic string.
Steve was Holy Cow–his superpower was turning milk into… wine.
He wore a Camelbak filled with wine under his costume and filled people's glasses with his udders.
Not even kidding about that one.
I knew there was a strong possibility that someone else would come as SuperMom, but I didn't want to totally let that costume idea go.
Jack suggested WonderMom, and I decided to put a twist on it by doing my makeup like an old comic book character: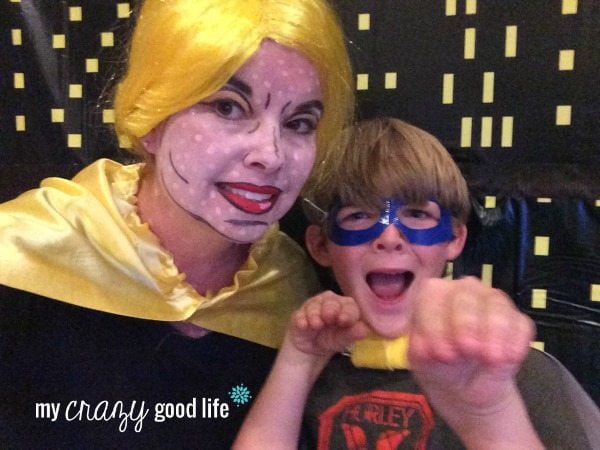 Using liquid eyeliner, white Halloween face paint sticks, white cream makeup, red lipstick and gold eyeshadow, I made myself a 2D comic book character.
I followed along with a video tutorial, and changed it up by using white cream makeup on my face as a base, and using white face paint for dots instead of red. I also drew white dots on my arms and neck.
I made my cape using this no-sew cape tutorial and wore black leggings, a black shirt and black boots. I found a yellow belt at a thrift store.
Here's another look (when my friend Matt let me borrow his Google glass!):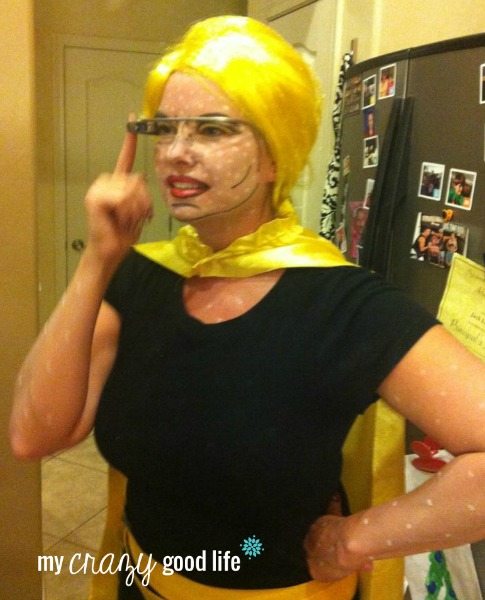 I also did my nails like a 2D character, with a black outline and a white stripe where the light was shining:
We bought a few props for a photo booth like a cityscape backdrop and these great printable super hero photo booth props: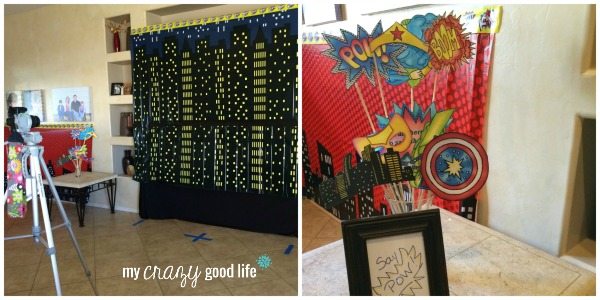 The photo booth was a hit! Here I am with Karen (Robin) and Courtney (Glitter Girl):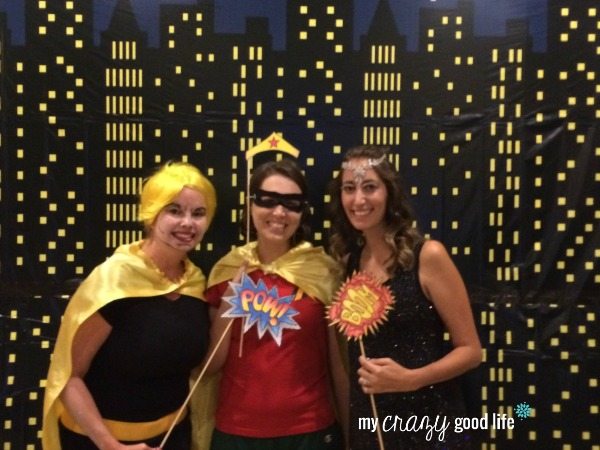 Want to see a few more fun costumes?
Here are Professor Positron and Bubble Girl: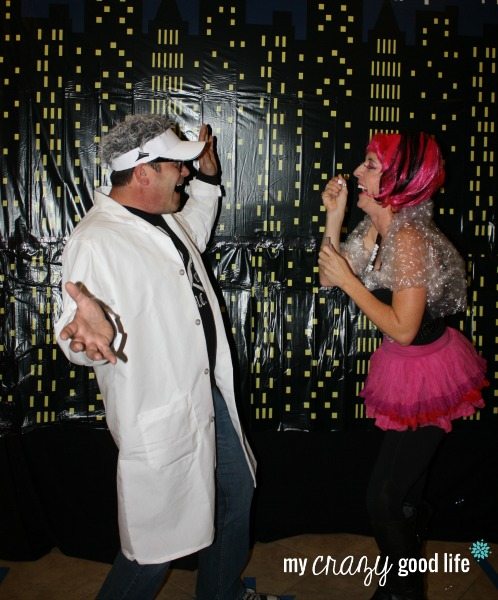 And two of our favorite families full of awesome costumes: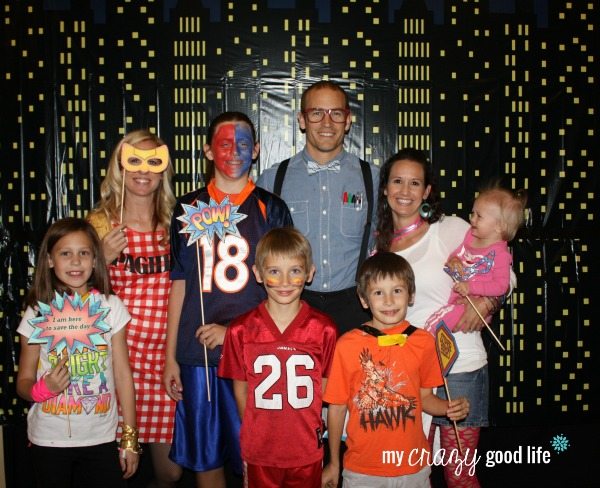 Super Duct Tape Girl, Super Spaghetti, Super Broncos Fan, Super Nerd, Super Mom, Super Cute Baby, Super Duct Tape Boy and Super Cardinals Fan.
Seriously. We couldn't have asked for better friends to share this Halloween with!
Hosting a family friendly party with family friendly costumes is a great way to spend quality time with your kids.
We're already thinking about next year!