This site contains affiliate links. Please see Policies for more information.
This post about teen internet safety and the teen internet contract download is sponsored by McAfee.
As summer comes to an end and the first day of school is rolling its way around the country, I wanted to share some of the tips that work for our family with regard to helping teens stay safe while online on their mobile devices.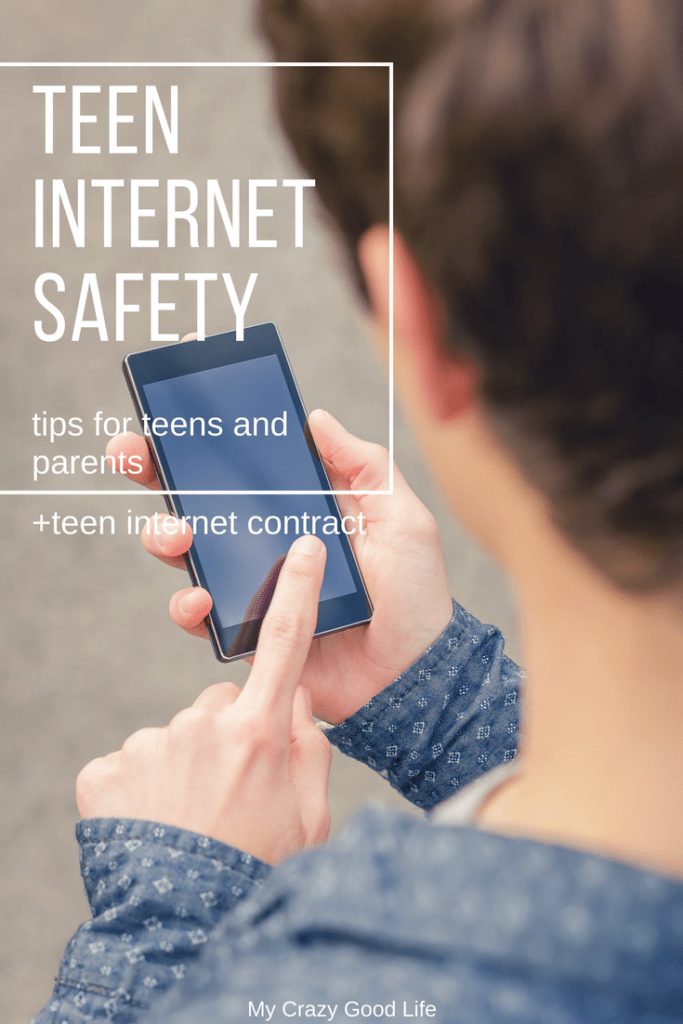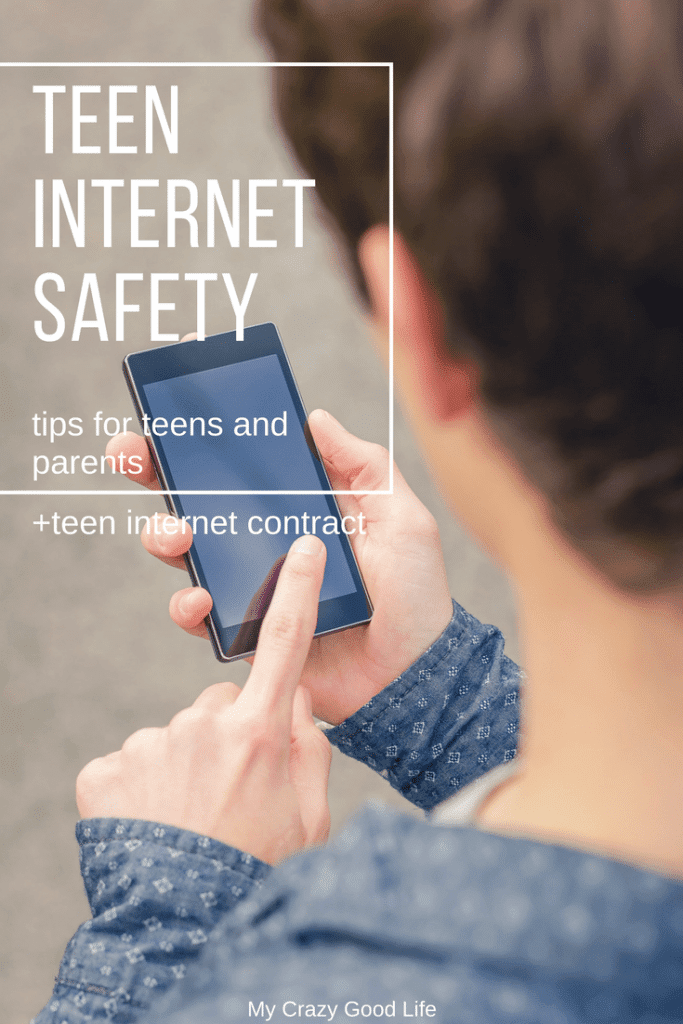 As you know, teens are a different breed than younger kids. They are much more independent and (I say this with love) think they already know everything there is to know about life. As parents, we are here to gently nudge them towards the right path and hope they make the right decisions. Sometimes, though, they don't realize how important something is–I truly think this is true about teens and smartphones. 
Looking for a Printable Cellphone Contract for Kids? 
Background Information for parents about Teen Internet Safety
Snapchat locations, movie ticket purchases, social media account setup…These are all things that are commonly happening on your teen's devices and things that put them (and you!) at risk.
Allowing Snapchat (or any other social media network) to access their location can show predators how to find your child. Purchasing anything on an unsecure network (public Wi-Fi) can put the payment account in danger–and setting up social media accounts that allow access to strangers and online predators can be very dangerous. We need to talk with our teens about how to be responsible with their devices.
Talking Tips for Teen Internet Safety 
Here are my talking tips for you and your teen. I've also added a teen internet safety contract version (download here) because I know it works so well with a lot of your families. Statistics below come from a recent cybersecurity study by McAfee.
Discourage foul behavior by discussing the rule, "If you wouldn't say it out loud, don't say it online." Almost 1 out of 4 students are bullied online (called cyberbullying). Make sure your teen knows to stay at arm's length from both sides of this issue by following the rule above and also reporting online bullying to a parent or directly to the social media platform.
Stay on task when using the internet at school. My kids go to technology forward schools that encourage the use of the internet throughout the school day, and my high schooler doesn't even have books at his school. Though more than half of students spend over three hours a day online for school, about half of the students in the survey have seen kids using their devices for cheating on exams and other projects, and accessing content that is supposed to be banned from school campuses.
Public Wi-Fi isn't secure–it's a hackers dream, and if your teen isn't careful it could be your own account that is compromised. Remind your teen to wait until they get to your home Wi-Fi network to make purchases and enter other sensitive information into their phone.
Teens aren't above the "don't talk to strangers" rule–especially online. Whether they're giving online "friends" their home address, location information, or even their phone number, teens don't seem to understand that this rule isn't just for little kids. As I mention in the teen internet contract, nobody needs to know where you are except for your mother.
Don't share passwords–to your phone, your social accounts, to anything. There is no reason someone else besides your parents would need them.
I use McAfee Total Protection on all of our devices to help protect us against data and identity breaches. This product can help ensure that your devices have protection against malware, phishing attacks, and device-specific protection in the event of loss or theft.
Features of McAfee Total Protection include:
Award-Winning Antivirus
Safe Web Browsing
Free Support
Password Manager
Multi-Device Protection
File Lock

We have the subscription on all of our devices and I love the security and virus protection features!
This post is sponsored by McAfee.