This site contains affiliate links. Please see Policies for more information.
If your child is getting their first cell phone or smart phone, you might want a cell phone contract to help lead your discussion about rules and expectations. You can find my printable smartphone contract below, your tween's first cell phone contract here, and my teen internet talking tips and contract here.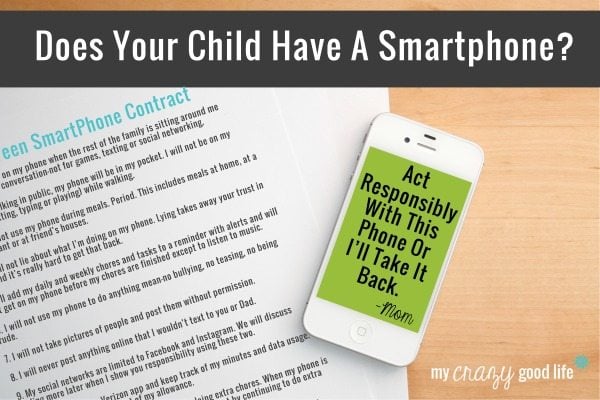 How many cell phones do you have in your house? We have three – and they're all smartphones. iPhones, specifically, but you knew that already.
The jump from regular cell phone ($10/month) to smartphone ($30/month) is a steep one. There was a lot of thought around it, and here's what we came up with.
We had an extra iPhone when Steve upgraded–if Michael was going to keep his regular cell phone, he would need a new one since it was falling apart. We already had an extra smartphone.
Michael is going to get a smartphone within the next few years, like all of the other high schoolers he knows. I'd like to teach him the responsible way to use a smartphone sooner than later. It's the way we feel about debit cards and a lot of other issues, as well. Teach them the right way before they learn the wrong way on their own.
Michael already had an iPod Touch. That means he was managing two expensive pieces of technology (his cell phone and his iPod), which we didn't think was a great idea for a kid. Eventually, one of them was going to turn up missing.
Michael would help pay for his smartphone. Because his current allowance wouldn't cover the price increase, we added on more chores to his weekly schedule. This way, he gets to keep some of his allowance and he also pays for some of the phone.
We're not afraid to take the phone away. In fact, it happens often. The phone is ours and it's a privilege. If he violates any parts of our contract (see below), the phone is ours until we feel he has earned it back. It has been returned within a day and it has been taken for over a month.
I'm sharing our family's smartphone contract with hopes that it'll give you an idea or two for your own tween or teen. Michael came up with the ideas for this (he had to come up with this in order to get the smartphone) and I have edited it for the web.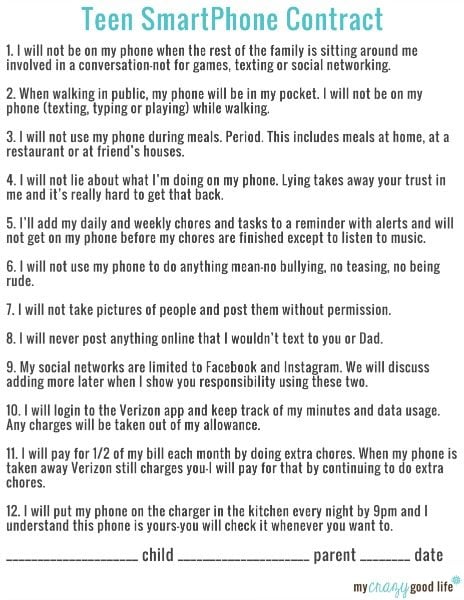 To print this smartphone contract and use it for your tweens and teens, please click here.
Tomorrow, my bright and shiny new iPhone 5S will be at my doorstep and we will again have an extra iPhone–a 5. Will Michael get my "old" iPhone 5? Probably.
He's responsible with his phone, he follows our rules and he's got good grades. He's playing football and managing his 13-year old life pretty darn well.
Does he need the 5?
No.
But sometimes it's nice to do fun things for your kids when they show responsibility, right?
Does your child have a smartphone? What are some rules you have surrounding that situation?
Save