This site contains affiliate links. Please see Policies for more information.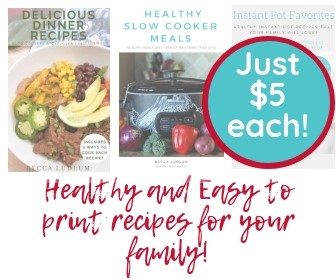 Welcome to Tween/Teen Tuesday at My Crazy Good Life! Today we're talking about what to feed your family during sports season without resorting to fast food or prepackaged foods.
___________________________________________________
Football season is here and soccer season begins next week.
I've dubbed it, "making four meals a day" season.
The boys eat breakfast, I pack them lunch, make dinner after school and then they have a snack when they get home–it's an eating frenzy here, folks.
The kids have to be at their best out on the field (or court, or mat, etc.) and filling them with unhealthy foods is not helping their performance during practice. Their growing bodies need healthy foods and a variety of food groups to keep up with their practices.
Because of our hectic schedule during wrestling season last year, I know I ate unhealthy foods due to poor meal planning. I didn't have time to make a healthy dinner so I often skipped eating (making me crazy hungry later, which led to making poor food choices) or ate a quesadilla while running out the door with the kids, and I vowed to not do that again this season.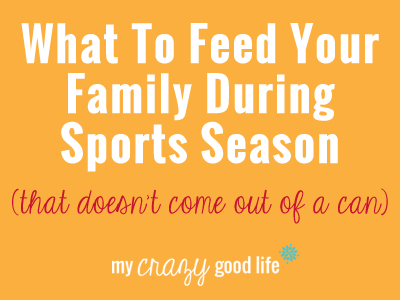 The first thing I do for the week is plan. We have been eating dinner at 3:30 in the afternoon so Michael isn't eating right before his 6:30 football practice. The kids come home from school starved, so eating right after made the most sense.
I don't have the time to begin making dinner at 2:30 every day, so we rely on meal planning to get us through the week. Here's an example of what our week's worth of meals look like (I didn't mean for this to look like a Costco ad):
Monday
Make your own burritos with Costco's seasoned shredded beef, tomatoes, lettuce, cilantro, onions and salsa served on tortillas.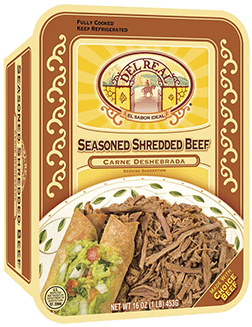 We buy the packages of seasoned shredded beef and chicken at Costco and freeze them in small portions. When the kids get home I heat the meat, cook our favorite uncooked flour tortillas (also from Costco) and pull out all of the toppings I chopped the night before.
Tuesday
Grilled chicken and peppers.
Tuesday morning I pull chicken breasts from the freezer and put them in a Ziplock bag with some marinade. I de-seed and de-stem a few peppers stick them back in the fridge. When the boys get home after school, the chicken is thawed and marinated and we stick that on the grill with the whole peppers. It's faster to grill them this way (rather than slicing them first) and we just cut them up while eating.
Wednesday
Chicken salad ring with crescent rolls.
We don't have these much, but I make an exception during sports seasons. The boys love them, they're easy and I can pack veggies into it. Sometimes I make a chicken and vegetable mix (with mayonnaise), but lately I have been relying on Costco's prepared chicken salad and adding in my own vegetables (frozen broccoli, edamame or peas). Here are directions for making a ring out of crescent rolls. When the boys get home I make the ring, add in my pre-cooked vegetables and cook.
Thursday
Make your own burritos – yes, again. The boys love them, and I can always switch from shredded beef to chicken if they want something different. I usually chop up some vegetable toppings the night before or morning of.
Friday
Grilled chicken and veggies. If the boys want peppers again, I'll grill them. Otherwise, I'll grill whatever vegetables we get from our weekly fruit and vegetable delivery to go with the chicken.
_________________________________
For chicken marinades, we use the Cilantro-Lime marinade from Costco: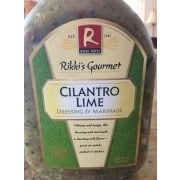 or spices from the Santa Cruz Chili Company. They're simple, but yummy.
What are your go-to meals during sports seasons?