This site contains affiliate links. Please see Policies for more information.
This 21 Day Fix Meal Plan D printable is perfect for those of you who need to get in all of the containers on the 2,100 calorie eating plan. This Ultimate Portion Fix meal plan is a great place to learn how to plan your week.

What is the 21 Day Fix?
If you are new to Beachbody and their lineup of programs you might not be familiar with 21 Day Fix, in that case, you've come to the right place! I have loads of resources like printables, recipes, and tips for you to check out. I'll link them below so you check them all out!
Basically the 21 Day Fix is a nutrition and exercise program that is based on color coded containers that you use to measure and portion your food. The program teaches portion control, smart food choices, and guides you towards a more whole / natural foods lifestyle.
21 Day Fix resources:
Here's a glimpse of what you can find here at My Crazy Good Life for the 21 Day Fix!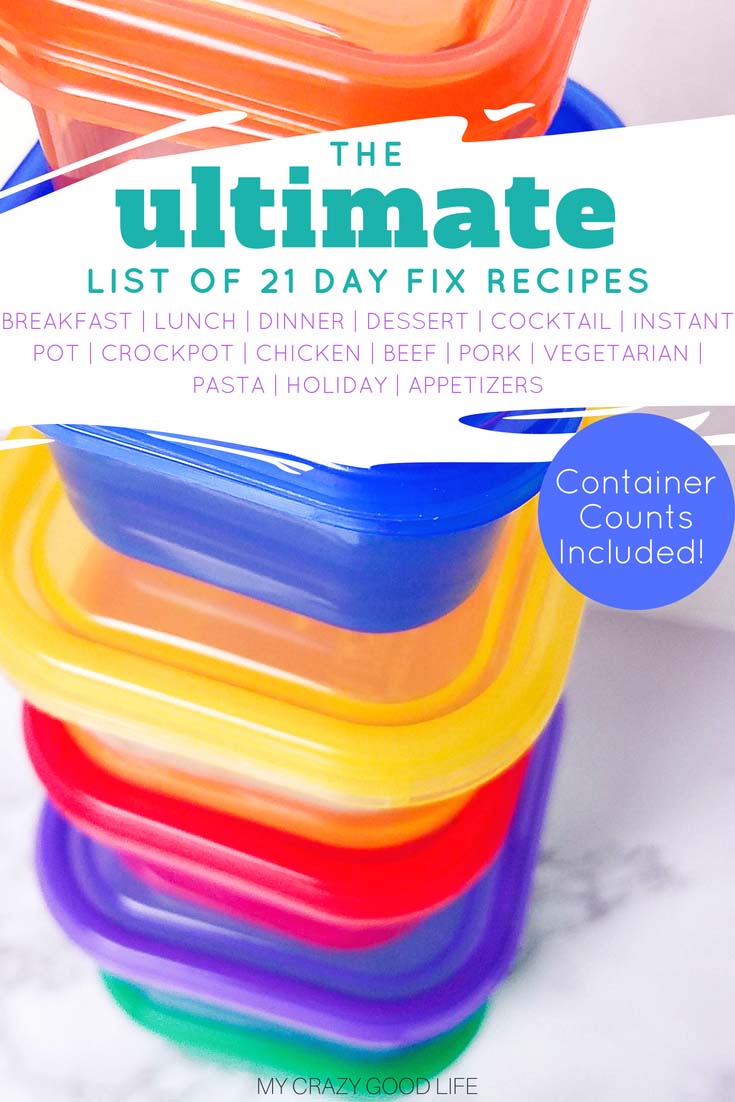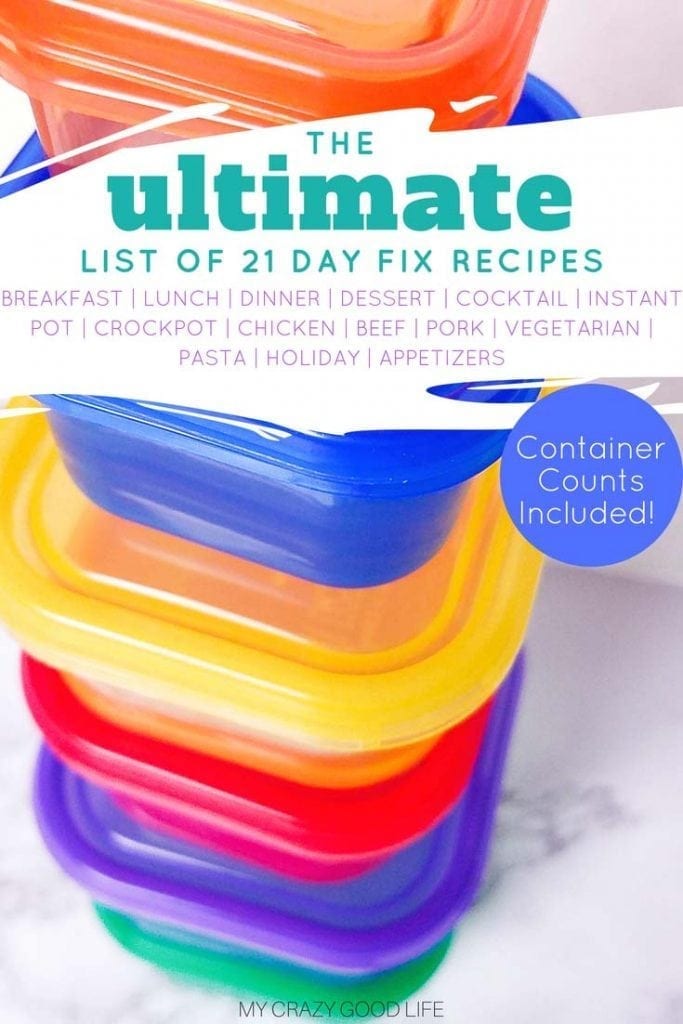 Who is the 21 Day Fix Meal Plan D for?
When you start the 21 Day Fix program you will calculate your bracket. It's based on a complicated algorithm that they make easy to understand and figure out for you. It will place you in 1 of 4 brackets. The calorie ranges are as follows:
Plan D | 2,100 – 2,299 (this one)
So far we've covered plans A – D and they are linked above. This particular meal plan is for those of you in calorie bracket D.
How does this 21 Day Fix meal Plan D work?
This meal plan is really easy to follow and understand. I'll break it down for you a bit here so you know where I'm coming from in creating it!
This meal plan is designed around the container counts that the 21 Day Fix program allots for Plan D. You have five days (Monday – Friday) detailed below and it includes everything from breakfast recipes all the way through to dessert recipes and snacks. Each meal that is linked is 21 Day Fix approved and the container counts with add ons and information are all listed next to the link.
When it comes to the weekends you will have some leftovers to use or if you don't do leftovers you can choose from the meals listed for the week and work those in. I am usually playing refrigerator clean out on the weekends and for lunches throughout the week so I  find that prepping / planning for seven days is usually a bit of overkill!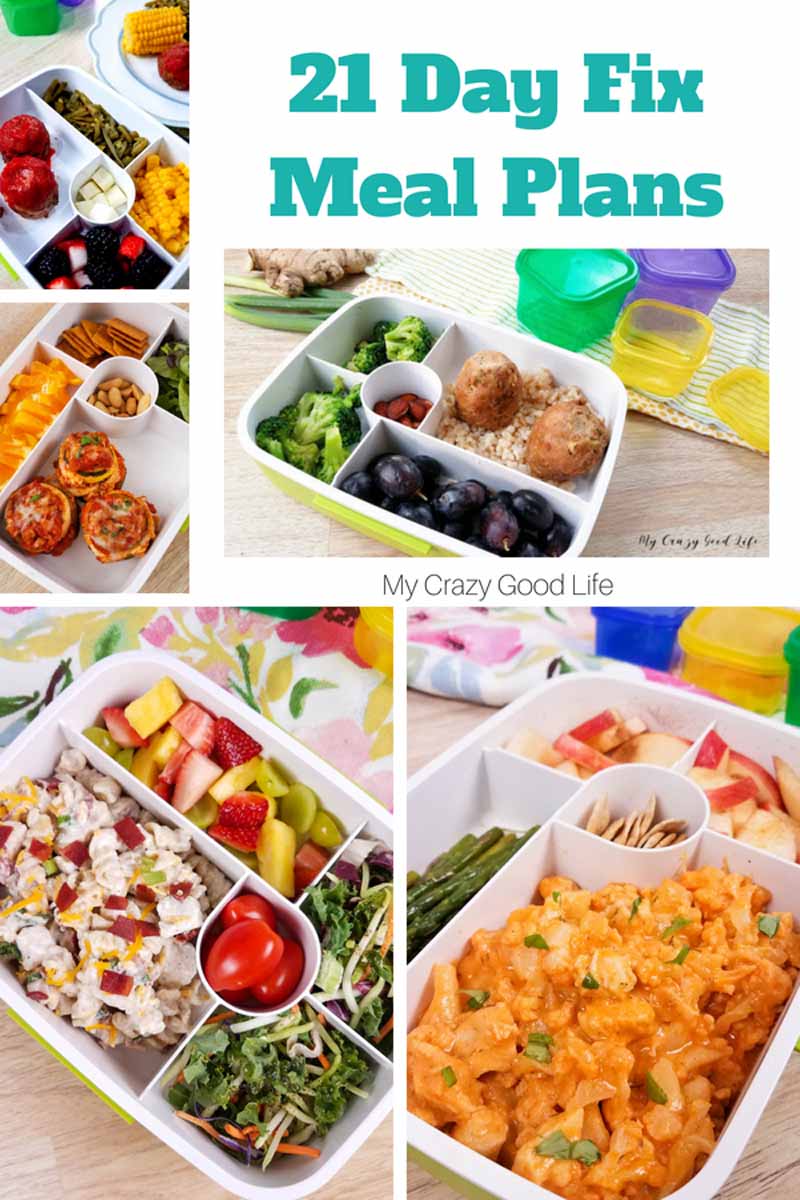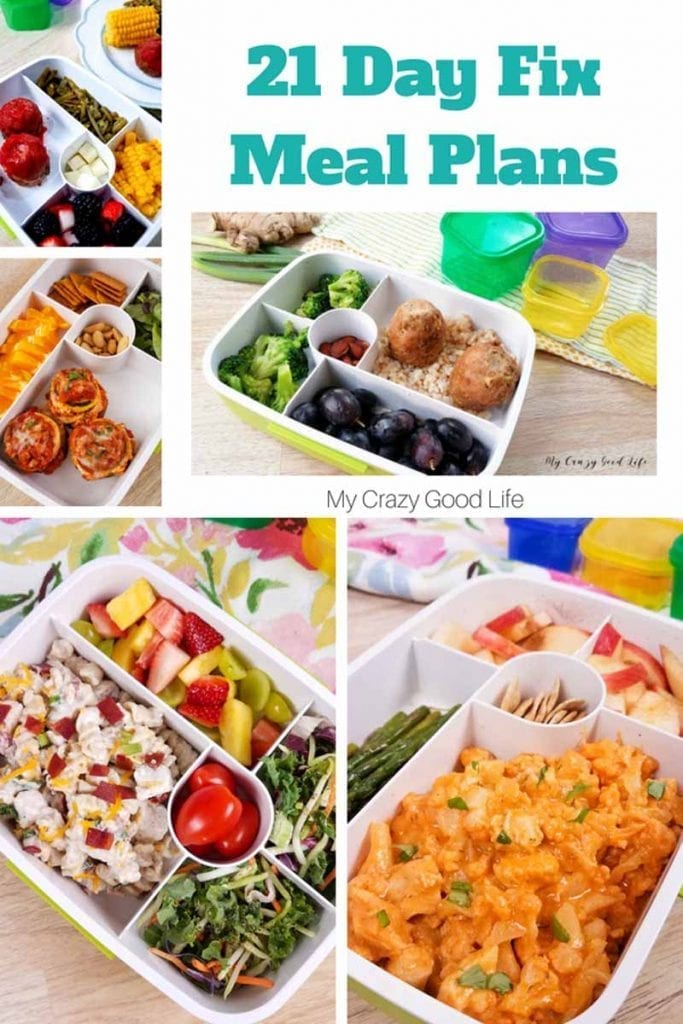 21 Day Fix Meal Plan D
*to download and print this meal plan, enter your email address in the teal box at the end of this post.*
Monday 
Breakfast | Pumpkin Spice French Toast (2 Yellow, 2 Teaspoons, 2 Sugar), Apples with nut butter (1 Purple, 2 Teaspoons)
Lunch | Crack Chicken 2 Servings (1/2 Blue, 3 Red)  Salad with Dressing and Berries (2 Green, 1 Orange, 1 Purple)
Dinner | Crack Chicken & Rice Casserole (2 1/4 Red, 1/2 Blue, 1 Yellow) Extra Chicken (3/4 Red) Mixed Veggies with Olive Oil (2 Green, 2 Teaspoons)
Snacks | Fruit Salad (2 Purple), Veggie Sticks (2 Green)
Dessert | Banana Oatmeal Chocolate Chip Cookies (1 Yellow)
Tuesday 
Breakfast | Sweet Potato Toast with Avocado (1 Blue, 1 Red, 1/2 Yellow) Pineapples with Yogurt (2 Purple, 1/2 Red)
Lunch | 2 Portions Egg Salad on Toast with lettuce and tomato (2 1/2 Red, 2 Yellow, 1 Green) Brussels Sprouts (2 Green)
Dinner | 2 Portions Mississippi Roast  (2 Red, 2  Teaspoons) Squash with EVOO (2 Green, 1 1/2 Teaspoon)
Snacks | Apples and Nut Butter and Sunflower Seeds (2 Purple, 2 1/2 Teaspoons, 1 Orange), Fresh Made Salsa and Corn Tortillas Toasted (1/2 Yellow, 1 Green)
Dessert | Sweetened Applesauce (1 Yellow)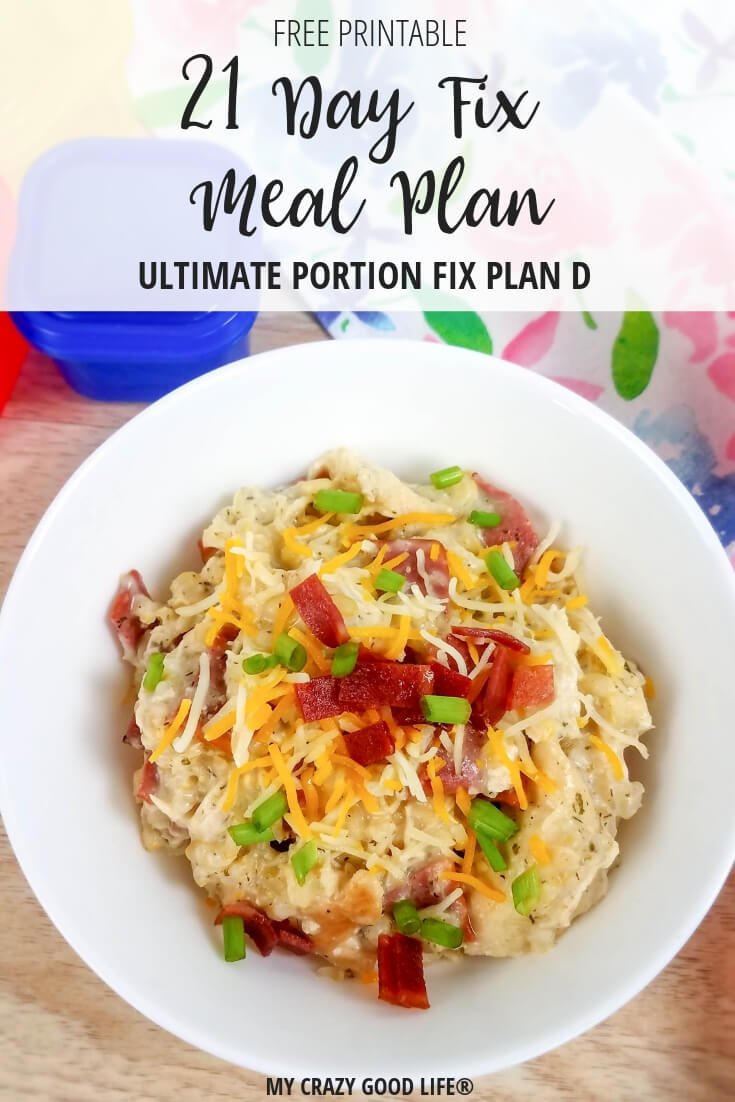 Wednesday  
Breakfast | 2 Portions Flour Free Pancakes topped with 1 Banana 1 1/2 Teaspoons Nut Butter and Shredded Coconut (2 Red, 1 1/2 Yellow, 2 Purple, 3 Teaspoons, 1 Orange)
Lunch |2 Portions Cauliflower Fried Rice, Sliced Pineapple (2.5 Red, 4 Green, 1 Purple)
Dinner | 2 Portions Goulash (1 1/2 Red, 1 Green, 2 Yellow)
Snacks | 1 Apple with Nut Butter, Sliced Cucumbers, 4 Whole Wheat Crackers, 20 Pistachios (1 Purple, 3 Teaspoons, 1 Green, 1/2 Yellow)
Thursday 
Breakfast | Breakfast Fried Rice (1/2 Green, 1 Red, 1 Yellow, 1/2 Sweetener) Yogurt with mixed berries (1 Purple, 1 1/2 Red)
Lunch | Buffalo Chicken Cauliflower Mac and Cheese (1 1/2 Red, 1 Green, 1 Blue) Sautéed Veggies with EVOO (1 1/2 Green, 2 Teaspoons)
Dinner | Jambalaya (2 Red, 1 Green, 1 Yellow, 1 Teaspoon) with and extra serving of Quinoa (1 Yellow) Green Beans with EVOO (1 Green 1 Teaspoon) Applesauce (1 Purple)
Snacks | Veggie Sticks with Dressing (1 Green, 1 Orange), Apples with Nut Butter (2 Purple, 2 Teaspoons)
Dessert | Peanut Butter Lava Cake  (1 Yellow treat swap)
Friday 
Breakfast | Scrambled Eggs with Tomato & Spinach (1 Red, 1 Green), Apple with Nut Butter (1 Purple, 1 Teaspoon)
Lunch | Tuscan Chicken Pasta (1/2 Green, 1 2/3 Red, 2 Yellow, 1/3 Blue) Grilled Asparagus with Butter (2 Teaspoons, 2 Green)
Dinner | Cajun Chicken Alfredo (1 1/3 Red, 2 Yellow, 1/3 Blue) Top with Extra Mozzarella (1/3 Blue) Steamed Veggies (2 1/2 Green)
Snacks | Yogurt with Fruit (1 Purple, 1 Red), Banana with Nut butter and Sunflower Seeds (1 Orange, 2 Purple, 2 Teaspoons)
Dessert | Chocolate Peanut Butter Wonder Whip with Cacao Nibs (1 Red, 1 Sweetener, 1 Teaspoon)

By entering your email address, you will be added to the My Crazy Good Life email list. You can unsubscribe at any time. The information will only be used to provide you with updates according to our privacy policy, found on our website. We will never sell your info. If you don't receive your sign up link or printables, please check spam. If you still don't see it, please email me at beccaludlum@gmail.