The 21 Day Fix and 21 Day Fix Extreme are the perfect ways to keep an eye on what you're eating and help you either lose weight or maintain a healthy weight. I know how difficult it can be to find 21 Day Fix recipes while eating so clean and wanted to pull these together to help you be successful!
This is a HUGE list of resources–don't be overwhelmed! I've made it easier to digest by linking to each specific category for you.
One easy way I've found to add green containers to any meal is with zoodles. Zucchini noodles (and other vegetable noodles) are easy to prepare and pack a nutritional punch. Here's a little about zoodles:
 I'm always pinning the yummy 21 Day Fix recipes I find on Pinterest – follow my 21 Day Fix Recipes, Prep, and Tips board!
21 Day Fix Recipes
Click each link for the related post. These recipes can be used for both the 21 Day Fix and 21 Day Fix Extreme.
21 Day Fix Instant Pot Recipes Definitely one of the more popular categories right now. The Instant Pot is a pressure cooker that can help with quick weeknight meals, meal prep, and so much more. You can read all about the Instant Pot right here, and decide for yourself if you need one :)
21 Day Fix Lunch and Dinner Recipes including tacos in a bell pepper, Philly cheesesteak stuffed peppers, and more!
21 Day Fix Crock Pot Recipes including beef stroganoff, cajun sausage soup, and ziti.
21 Day fix Crock Pot Recipes NOT Using Chicken
Fixed Chicken Crockpot Recipes
Dairy Free 21 Day Fix Recipes including coffee ice cream, meatloaf, and breakfast cookies.
21 Day Fix Chicken Recipes including hummus crusted chicken, BBQ chicken salad, Greek grilled chicken, and these super easy burrito bowls:
21 Day Fix Dessert Recipes including skinny margaritas, brownies, peanut butter and banana ice cream, and chocolate pudding.
21 Day Fix Snack Recipes including buffalo chicken dip, apple cookies, and salsa boats.
21 Day Fix Breakfast Recipes including apple cinnamon oatmeal, french toast wrap, and stuffed protein crepes.
21 Day Fix Pressure Cooker and Instant Pot Recipes
21 Day Fix Vegetarian Recipes including vegetable egg cups, cloud bread, and butternut squash soup.
If you're looking to learn more from the brains behind the 21 Day Fix, here's an interesting Q&A with Autumn Calabrese!
More 21 Day Fix Breakfast Recipes including Pumpkin Spice overnight oats, chocolate protein crepes, and cheddar and chive waffles.
21 Day Fix Dinner Recipes including pot roast, fried rice, cheddar baked potato soup, and macaroni and cheese.
21 Day Fix Recipes including Blueberry water, pulled pork sandwiches, protein pancakes, and brownie bites.
Shakeology Recipes including Snickers protein shake, peanut butter and chocolate, peanut butter mocha, and banana bread.
 Shakeology Snack and Drink recipes including Shakeology brownies, Thin Mint Shakeology, and Shakeology Fudgesicles!
21 Day Fix Chili Recipes Tons of delicious chili recipes, all 21 Day Fix approved!
21 Day Fix Vegan Recipes Looking for meatless recipes? I've pulled together a few to get you started!
For the salad lover in your life, try these 21 Day Fix Salad Dressing Recipes.
21 Day Fix Instant Pot Soup Recipes that'll keep you warm in the winter!
Gluten Free 21 Day Fix Recipes
21 Day Fix Instant Pot Dinner Recipes Seriously, the instant Pot is pretty amazing–here are some more Fixed dinner recipes!
21 Day Fix Instant Pot Recipes
Fix Friendly Holiday Dessert Recipes
Other 21 Day Fix Resources
What happens after the 21 Day Fix? Here's how to maintain your success using your containers.
Need help with meal planning? Here are 25 pre-made meal plans for the 21 Day Fix
Free printable planner stickers for the 21 Day Fix
What about Fast Food on the 21 Day Fix?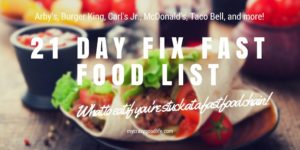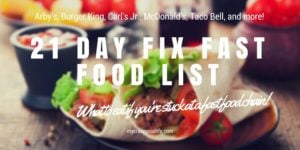 Good luck on your weight loss and maintenance journey!