This site contains affiliate links. Please see Policies for more information.
This 21 Day Fix Meal Plan C is for the 1,800 calorie range, and it includes recipes and container counts. This is updated for the Ultimate Portion Fix Meal Plan C, 1,800 Calorie Range.
Using this Meal Plan can help you stay focused and on track. It cuts down on the temptation to make bad choices throughout the day when you get hungry. I love that there's no guess work! The containers are figured out, ready to go, and it takes very little effort once the shopping is done :)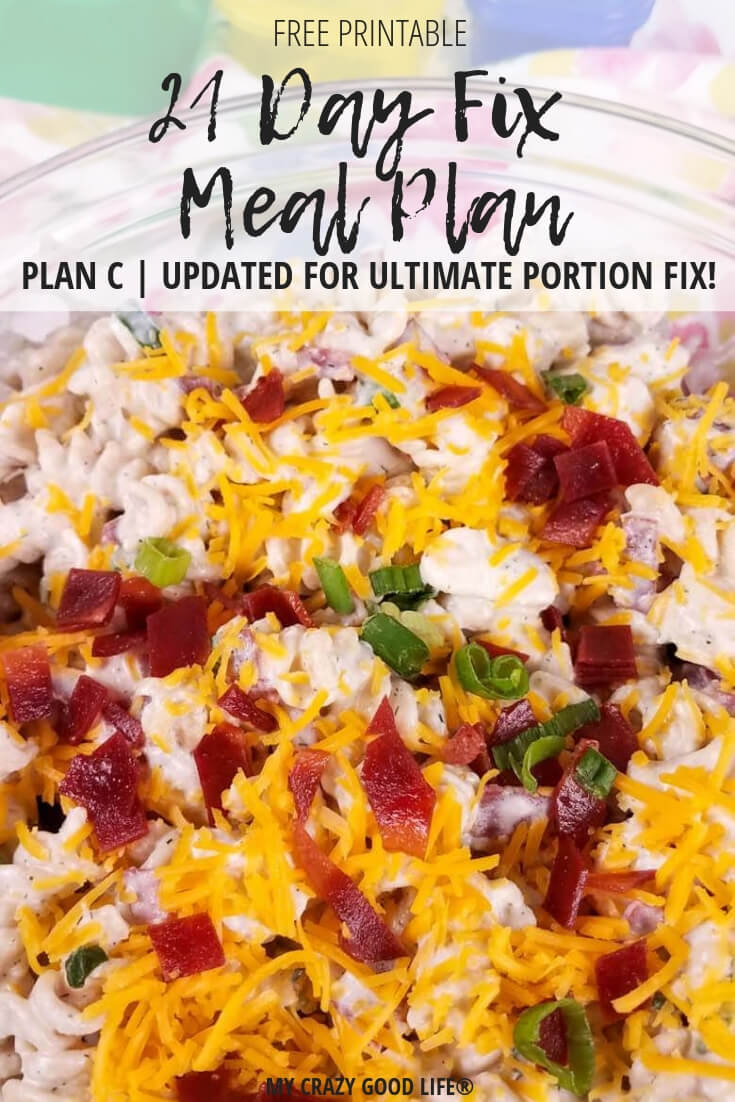 Are there more 21 Day Fix meal plans for me to try?
Absolutely! I'll link them below so you can see all of the great meal plans that I've put together for the 21 Day Fix. There are some speciality ones like vegan and cold recipes as well as others for the different calorie brackets.
Whatever you need, there's probably a meal plan here that can help you!
Is this an Ultimate Portion Fix Meal Plan C?
It is! There is nothing new about the 1,800 calorie bracket in the Ultimate Portion Fix–it's the same as the 21 Day Fix version. This meal plan is good to use for either program!
There's just something about having a meal plan in place that keeps me on track better than a day to day decision. The hardest part of using the 21 Day Fix meal plan C is making sure you get in all of your containers.
With this particular 21 Day Fix Meal Plan C and the other eating plans linked above, you can be sure that you will have all of your containers in for each day and there's no need to worry about choosing meals, laying it out, etc. That's all done for you :)
Another reason I love using meal plans is because it helps me do smarter and more cost effective shopping. If I know what I need for the week I can make one grocery trip to the store and get all the ingredients I need.
That means I'm not stopping throughout the week and picking up extra item, junk food, or impulse buys that I know we don't need in the house!
How do I use this 21 Day Fix Meal Plan C?
This particular meal plan is laid out for five days. That means all of your meals are figured out for the week. You have all of your options and container counts for the day included. For the weekend I usually eat leftovers because some of these recipes are going to make more food than you can eat for the day.
If you are only cooking for yourself on the Fix and making something else for your family (which you totally wouldn't need to do here, these recipes are amazing) then I'd recommend picking two or three days from the meal plan and repeating them for the full week. Many of these recipes will make multiple portions so you don't want all of that food to go to waste!
Another pro tip: prep your snacks ahead of time! Some of these breakfasts can be prepped in advance too. Then you won't have to worry about those steps each day. If you are really ambitious or you just love meal prepping, spend Sunday night getting your lunches, breakfasts, and snacks ready for the week.
You'll be amazed at how nice it is to just grab and go once your days are prepped. Thanks to some easy and delicious 21 Day Fix dinner recipes you won't have to spend half the night standing over the stove either!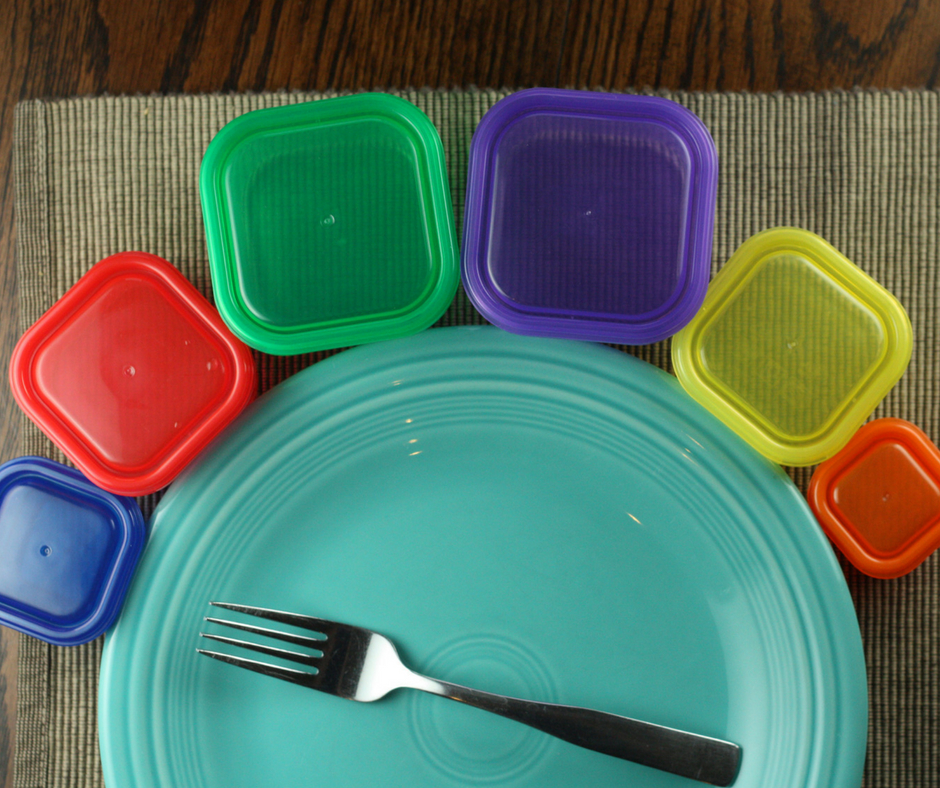 21 Day Fix Meal Plan C | Ultimate Portion Fix Plan C 1,800 – 2,099 Calories Per Day
*to download the free printable, please enter your email address at the end of this post*
Monday
Breakfast | Green Breakfast Smoothie with eggs or hard boiled eggs and whole grain toast (2 Red, 1.5 Purple, 1 Green, 1/2 Orange, 1 Yellow)
Lunch | Greek Kebabs with a 2 greens salad with avocado (1 Red, 2.5 Green, 1/2 Orange, 1 Blue)
Dinner | Chicken Gyro Bowls over quinoa or brown rice (1.5 Green, 1 Red, 1 Teaspoon, 2 Yellow)
Snacks | Hard Boiled Eggs (1 Red), Apple with nut butter (1.5 Purple, 2 Teaspoons), Brownie (1 Yellow)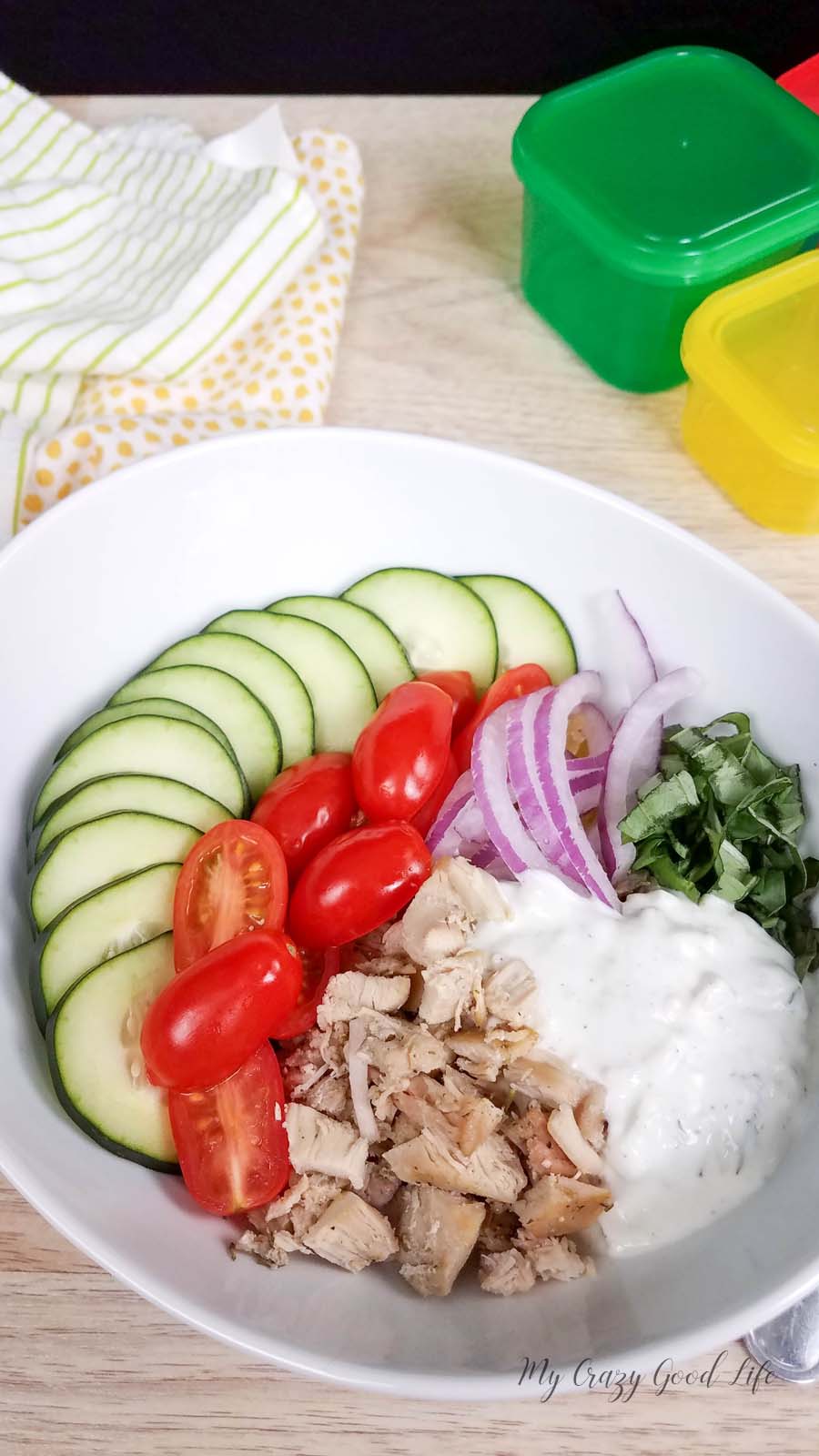 Tuesday
Breakfast | Fajita Breakfast Casserole (1 Red, 1 Green, 1 1/2 Teaspoons)
Lunch | Vegetable Chowder topped with 2 tbsp of shredded cheese, 6 slices of deli ham on 2 pieces of whole wheat bread ( 1 Red, 2 Yellow, 2 Green, 1 Blue)
Dinner | 4 Mini Meatloaves, Green Beans, half of a Sweet Potato with Butter and Shredded Coconut (2 Red, 1 1/2 Yellow, 1 Green, 1 Orange, 1 Teaspoon)
Snacks | 4 Whole Wheat Crackers, Greek Yogurt with Berries, Banana with Nut Butter Sliced Cucumbers (1/2 Yellow, 1 Red, 3 Purple, 1 Green, 2 1/2 Teaspoons)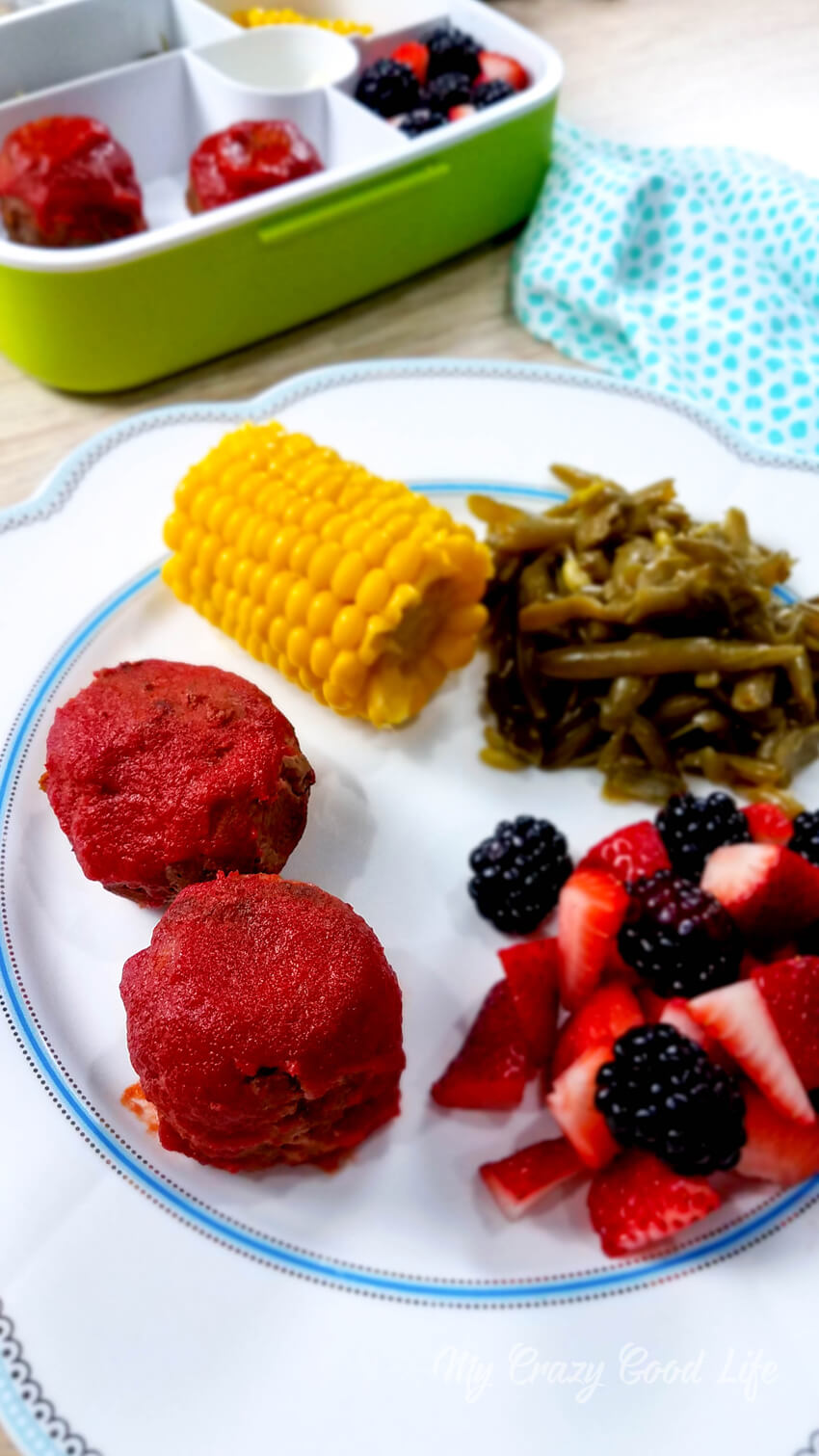 Wednesday
Breakfast | 4 Copycat Starbucks Sous Vide Egg Bites with whole grain english muffin and organic butter, and fresh fruit (1.75 Red, 1 Blue, 1 Yellow, 2 Teaspoon, 1 Purple)
Lunch | Crack Chicken Pasta Salad add 1/3 red extra chicken and some fresh veggies on the side (1 Yellow, 1 Red, 2 Green)
Dinner | Swedish Meatballs with Brussels Sprouts and Olive Oil, Sweet Potato, and Apple Sauce (1.5 Red, 2 Green, 2 Yellow, 1 Teaspoon)
Snacks | Carrot sticks with dressing (1 Green, 1 Orange), Apples with nut butter (2 Purple, 2 Teaspoons), 4 Slices Turkey (.75 Red)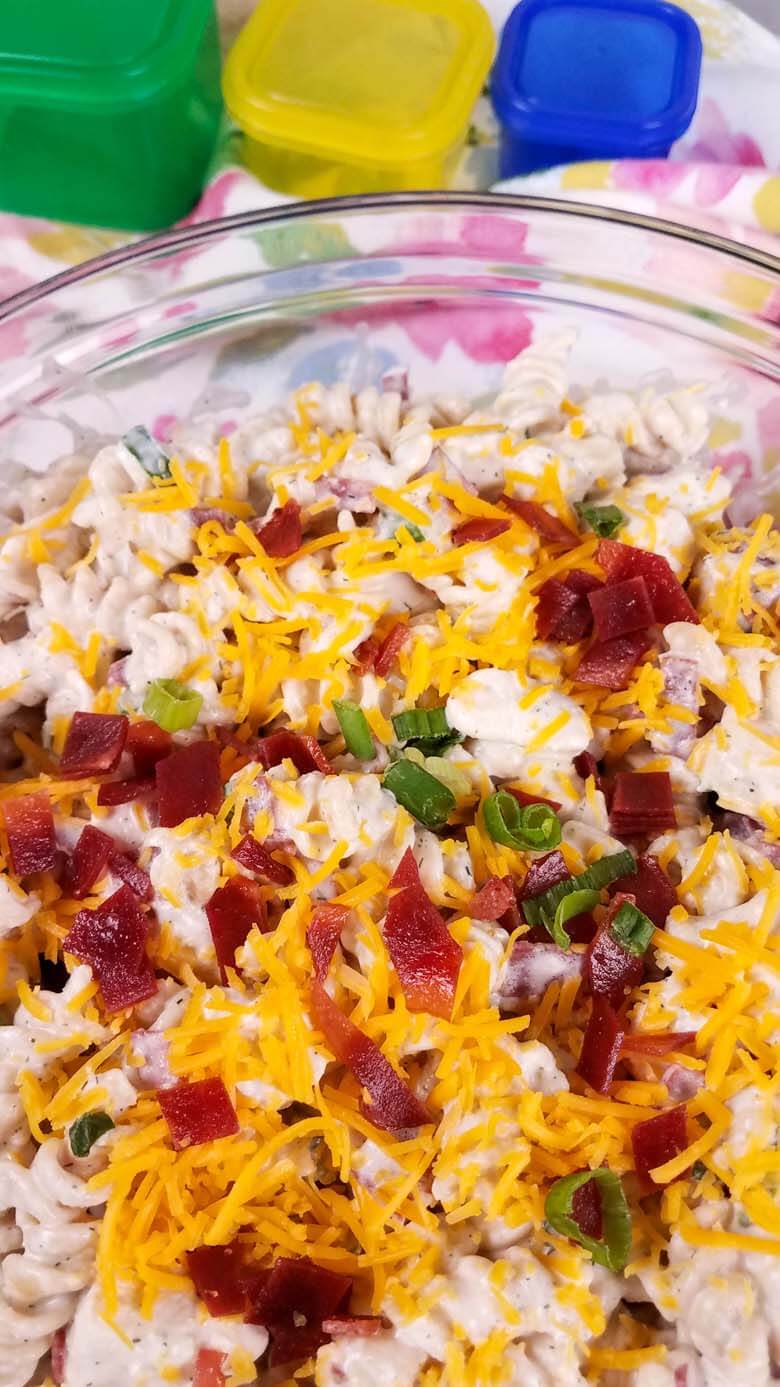 Thursday
Breakfast | Carrot Cake Overnight Oats omit the pecans with 1 banana and almond butter and eggs (1 Yellow, 1.5 Red, 2 Teaspoons, .5 Orange, 2 Purple)
Lunch | Instant Pot Jambalaya with broccoli and cauliflower add 1 yellow extra quinoa (2 Red, 2 Green, 2 Yellow, 1 Teaspoon)
Dinner | Carne Asada Burrito Bowl (1 Red, 1 1/4 Green, 1 Yellow, 1 Blue
Snacks | Snow peas (1 Green), Cucumbers (3/4 Green) Apple with Nut Butter (1 Purple, 2 Teaspoons), 3 Fat free turkey slices and sunflower seeds (.5 Red, .5 Orange)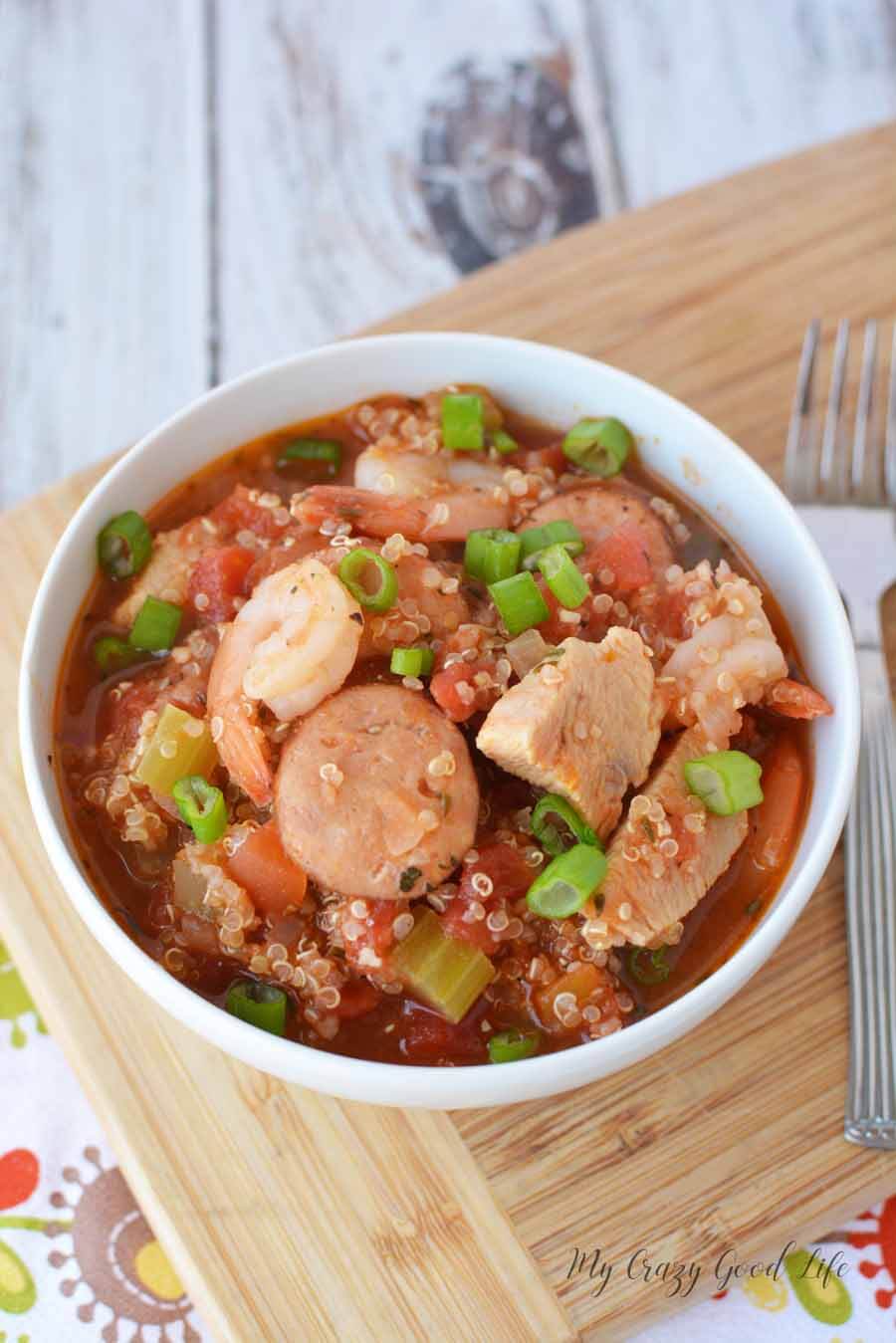 Friday
Breakfast | Fajita Breakfast Casserole with 2 extra eggs, extra veggies and a banana (1.5 Green, 2 Red, 1.5 Teaspoons, 1 Purple)
Lunch | Bang Bang Shrimp Pasta Salad with fresh or steamed veggies and oranges add an extra red of shrimp or other lean protein (2 Yellow, 2 Sweetener, 1.5 Red, 1 Green, 1 Purple)
Dinner | No Boil Creamy Chicken Cheesy Pasta Bake with steamed broccoli and toasted whole grain bread with garlic and butter (.5 Red, 1.5 Green, 1 Teaspoons, 1 Blue, 3 Yellow)
Snacks | Celery sticks with nut butter and seeds (1 Green, 1 Teaspoon, 1 Orange), Watermelon (1 Purple), Cloud Bread with mayo and turkey bacon (1 Red, 1.5 Teaspoons)

By entering your email address, you will be added to the My Crazy Good Life email list. You can unsubscribe at any time. The information will only be used to provide you with updates according to our privacy policy, found on our website. We will never sell your info. If you don't receive your sign up link or printables, please check spam. If you still don't see it, please email me at beccaludlum@gmail.