We all know that a great 21 Day Fix meal plan can make life so much easier. This one is great because it requires no heating meat!
If you hate warming up the house in the summer, don't have time to cook meat, or just prefer to have a quick and easy 21 Day Fix meal plan on hand, this is the one for you.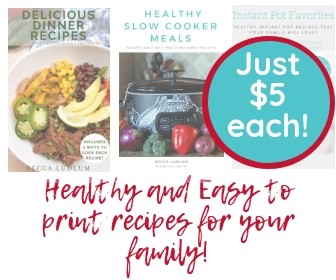 Check out all of these great recipes and you'll see how easy it is to prep this week of meals! If I do a few hours of meal prep on a Sunday night I can have my whole week under control.
It's a no brainer.
21 Day Fix Meal Plan | No Heating Meat
For this 21 Day Fix meal plan the recipes are all broken out by category. I would recommend you pick and choose so that you don't have to prep all of these recipes OR have a ton of leftovers and wasted food.
A few from each category should give you enough for the whole week (it's nice to have everything ready so you can choose what you want each day).
I try not to make more than I have to when I do meal prep. My Instant Pot makes it easy but I hate to waste food. So unless I know it's something my family will be eating at also, I try and keep from overdoing it.
Breakfasts
Egg Cups | My Crazy Good Life 
Two Ingredient Pancake Recipe  | My Crazy Good Life
Apple Cinnamon Oatmeal Cups | My Crazy Good Life
Pumpkin Overnight Oats | Carrie Elle
21 Day Fix Banana Split | Confessions of a Fit Foodie
Lunches
Sweet Potato Black Bean Quesadillas | Dis Food Diary (2 Yellow, 1 Blue)
Green Bean Salad with Tomatoes & Feta | Carrie Elle
Open Faced Avocado & Tomato Egg Sandwich | Dana Nicole Fitness
Thai Carrot Curry Soup | Carrie Elle
Dinners
Greek Yogurt Chicken Salad | Emily J Goodman (Use canned chicken or cold cuts) 
Dairy Free Butternut Squash Soup | My Crazy Good Life (Skip the Bacon) 
Pressure Cooker Mashed Potatoes from Cauliflower | My Crazy Good Life 
Avocado Chicken Salad | Confessions of a Fit Foodie (Sub Chicken Lunchmeat) 
Garlic Cilantro Cauliflower Rice | The Foodie and The Fix (Serve with Turkey or Chicken Cold Cuts or Beans for added protein) 
Desserts
Healthy Donut Recipe | My Crazy Good Life
Pumpkin Custard Tart | The Foodie and The Fix
Baked Apples | Carrie Elle
Pumpkin Spiced Apples | My Crazy Good Life
Peanut Butter Oatmeal Balls | Jackie Vetrano 
Snacks
Hard Boiled Eggs in the Instant Pot | My Crazy Good Life
Apple Cookie Snack Slices | My Crazy Good Life 
Easy Homemade One Step Salsa | My Crazy Good Life
Grapes & Cheese | 1 Purple & 1 Blue 
Peanut Butter & Celery | 1 Teaspoon & 1 Green 
Carrot  & Celery Sticks | 1 Green