This site contains affiliate links. Please see Policies for more information.
These Lime Coconut Bites are the perfect easy coconut dessert! I love the texture of coconut–real coconut. It's hearty and satisfying, and when you mix that with some honey and lime… it's perfection.
Whether you call these coconut balls, no bake energy bites, or something else, you're going to love them!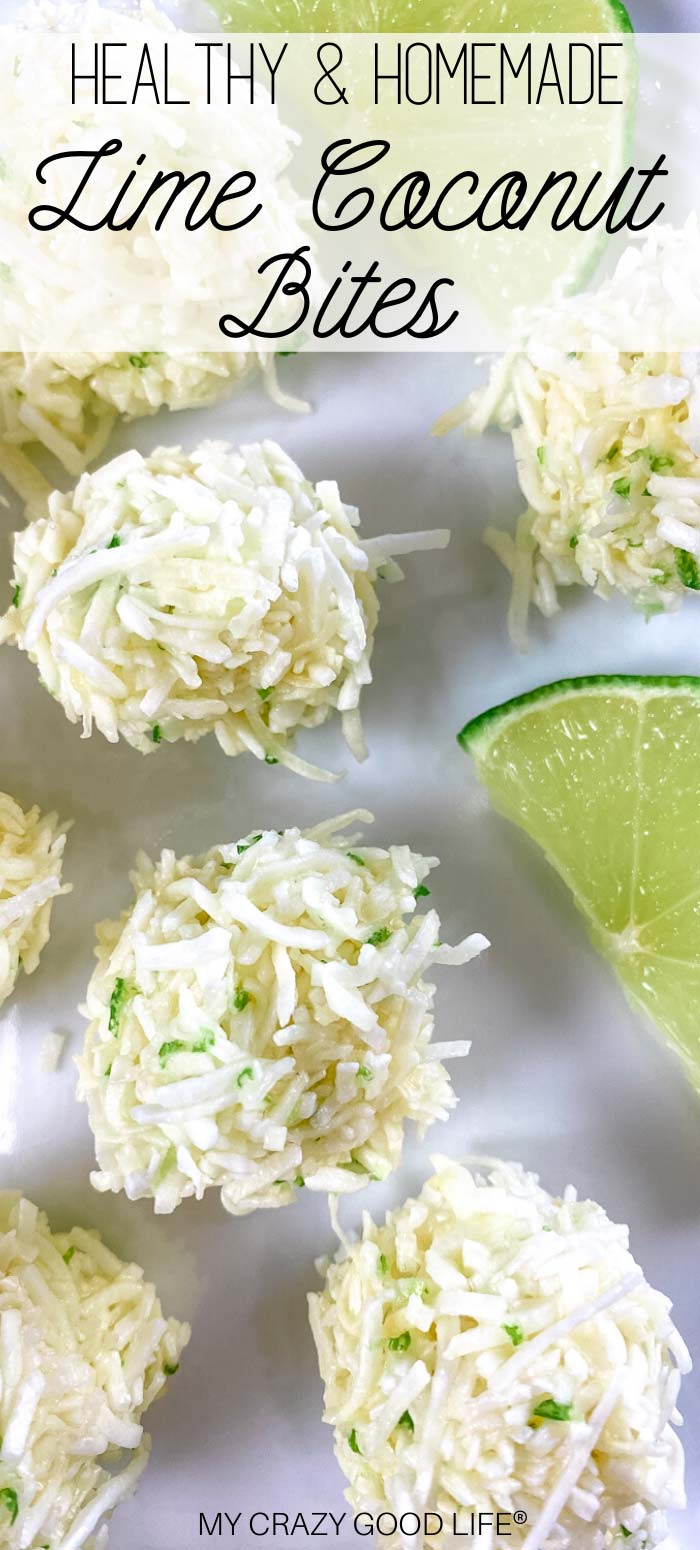 Ingredients in these Lime Coconut Bites:
Coconut Oil
Unsweetened Shredded Coconut
Honey (use vegan honey or a lesser amount of maple syrup to make these vegan!)
Lime zest and lime juice (you can use lemon instead, if you prefer!)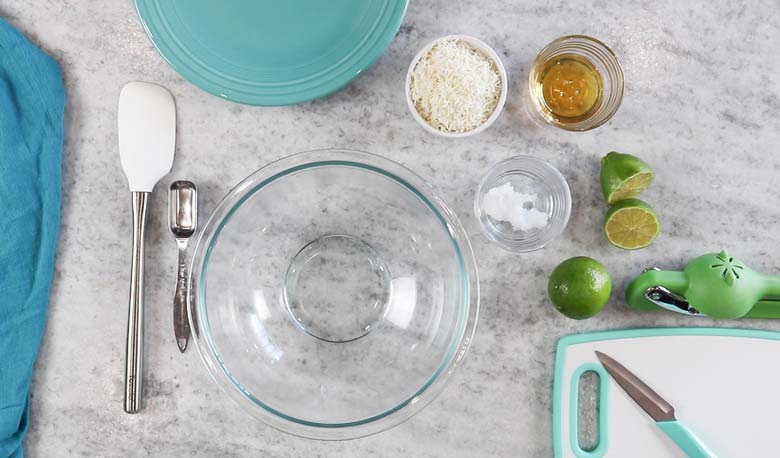 These are perfect to keep in the fridge or freezer for when company comes over, and you'll be the hero if you bring this healthy food recipe to a dinner party or happy hour! I love no bake desserts like these coconut bites–they're easy to pull together last minute, but taste so fresh and delicious.
These take about 20 minutes to make and 10 minutes to harden–about 30 minutes total!
Technically, coconut is a fruit–but it's a little different than most. It's high in fat instead of being high in carbs, and has several minerals that are good for you–including MCTs. Medium-chain triglycerides help promote weight loss, provide energy, and can help reduce soreness after a workout!
How to make these Lime Coconut Bites:
You can also make these in the food processor–they'll be easier to roll into a ball, for sure!
Start with room temperature ingredients. You might be tempted to microwave the honey and coconut oil, but remember that you have to form these into balls and if you microwave them, they'll be mush.
Add all of your ingredients to a bowl and stir. When zesting your lime, make sure to rest the zester on a stable surface and be careful of your fingers!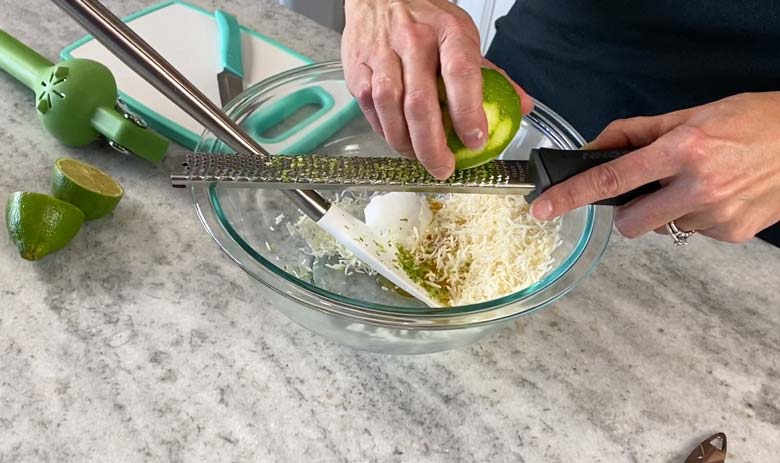 3. You'll probably have to get your hands dirty and mix the coconut mixture up by hand to get the coconut oil and honey incorporated.
4. Once you're done mixing the ingredients together, divide the mixture into 24 equal-ish portions. This will help you get evenly sized bites. It's super easy to double this recipe for a crowd, if you prefer!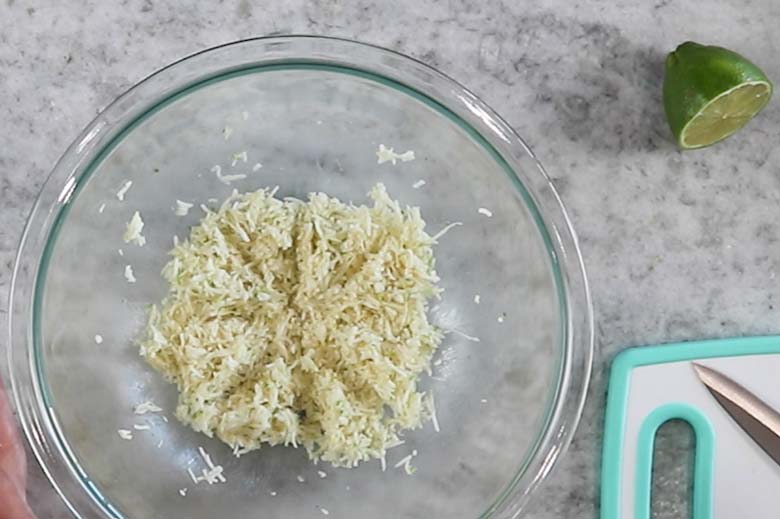 5. Roll your balls into equal sizes and place on a plate in the fridge for a few minutes to firm up.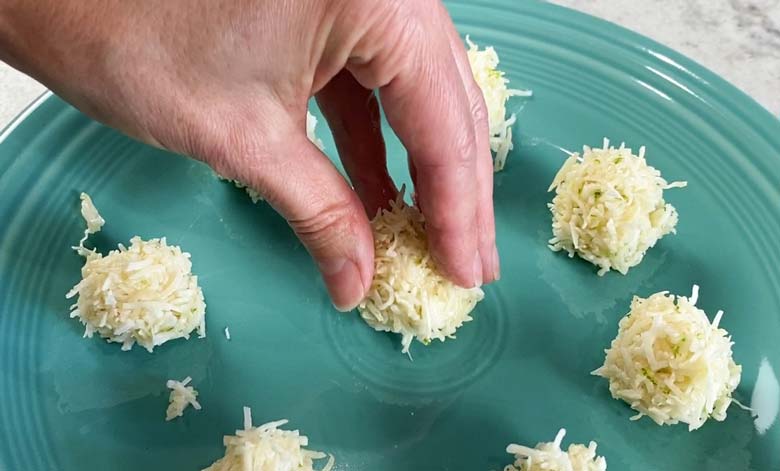 Store these for up to a day in the fridge on the plate, or up to two weeks in a plastic bag or container.
These coconut bites are:
gluten free
vegan when you use vegan honey, date syrup, or maple syrup
refined sugar free
no bake
Weight Watchers Counts
These delicious coconut desserts are 6 points each on the Blue, Purple, & Green plans. 2023 Points: 5
21 Day Fix Container Counts
Each of these bites is counted as one orange container and 1/2 tsp. If you're counting sweetener teaspoons, each bite contains one. If that confuses you, forget I mentioned it :)
Our Lime Coconut bites always make it into my healthy Thanksgiving meal plan as a light dessert option to offset the traditionally heavy flavors of Thanksgiving. Looking for another no bake recipe? You might love my peanut butter oatmeal protein balls! These can also be made with almond butter and you can add in chia seeds, flax seeds, and fresh coconut flakes!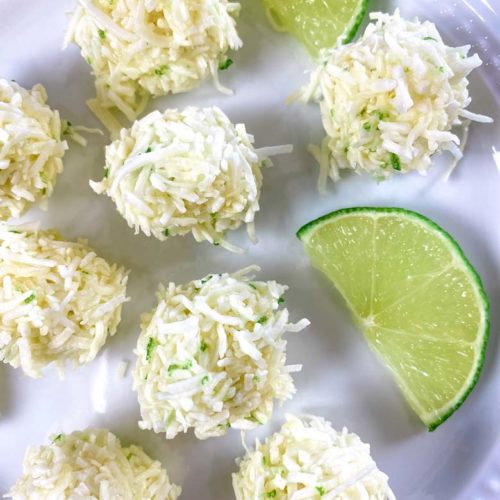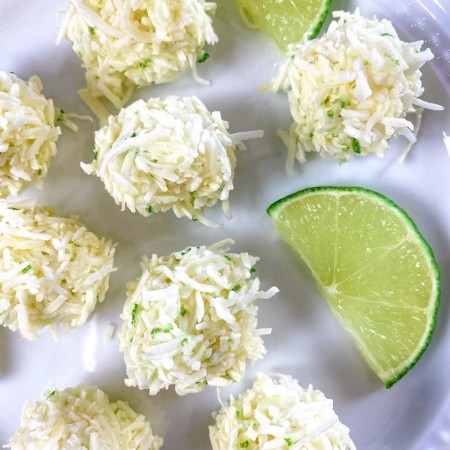 click the stars to rate!
Lime Coconut Bites
Approximate Serving Size: 1 bite
Servings 24 servings
These Lime Coconut Bites are a delicious and simple dessert recipe for those of you looking for a little sweetness. No added sugar in this recipe, and just four simple ingredients–lime, coconut, coconut oil, and honey. This is a vegan, gluten free, no bake dessert that your family will love.
Ingredients
3 cups unsweetened shredded coconut
8 tbsp honey if vegan, use vegan honey, date syrup, or a lesser amount of maple syrup
5 tbsp coconut oil
3 tsp lime juice
lime zest
Instructions
Zest the lime rind, then slice and squeeze the juice into a bowl. lime zest, 3 tsp lime juice

Combine the shredded coconut, honey, coconut oil, lime juice, and lime zest in a bowl and mix well. I've found that mixing by hand works best. 3 cups unsweetened shredded coconut, 8 tbsp honey, 5 tbsp coconut oil

Form into balls. It's ok if they aren't firm right now–after they sit in the fridge and chill for a bit they'll firm up.

Chill in the fridge (or freezer) for about 10 minutes or until desired firmness.

These can be stored for up to two weeks.
Notes
For the 21 Day Fix, each of these bites is counted as one orange and just over 1/2 tsp. If you're counting sweetener teaspoons, each bite also counts as one sweetener teaspoon.  Weight Watchers: The points for the new 2022/2023 points plan is 5.
Nutrition
Calories: 128kcal | Carbohydrates: 9g | Protein: 1g | Fat: 11g | Saturated Fat: 10g | Sodium: 5mg | Potassium: 63mg | Fiber: 2g | Sugar: 7g | Vitamin C: 1mg | Calcium: 3mg | Iron: 1mg