Just because the holidays are here doesn't mean you get a free pass to skip out on your healthy lifestyle! Instead, use this list to find some 21 Day Fix fall recipes that are healthy and fixed!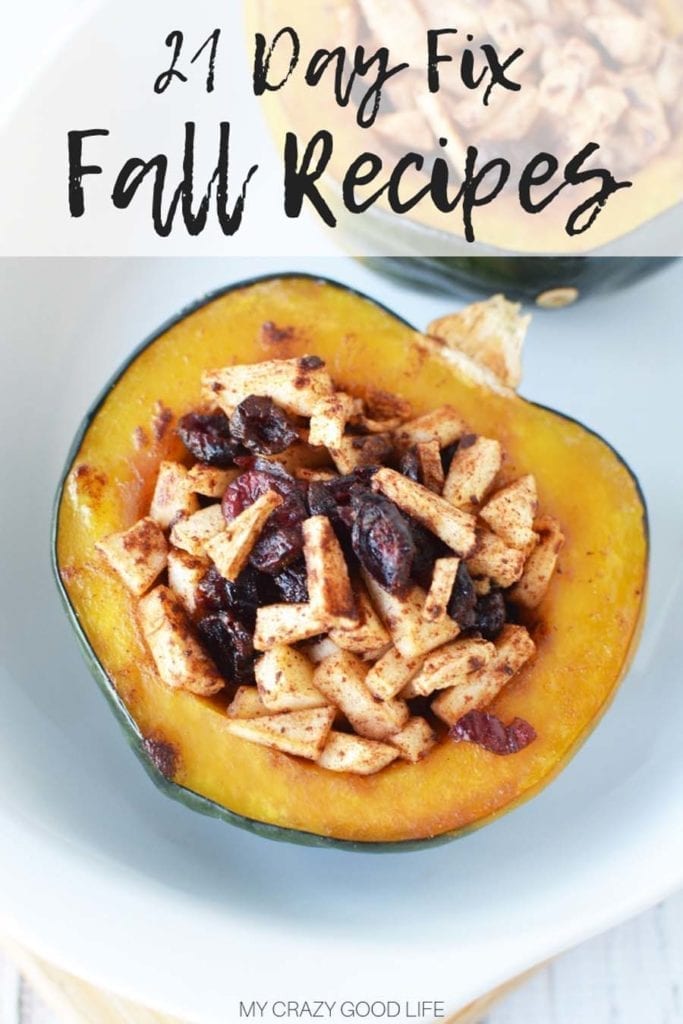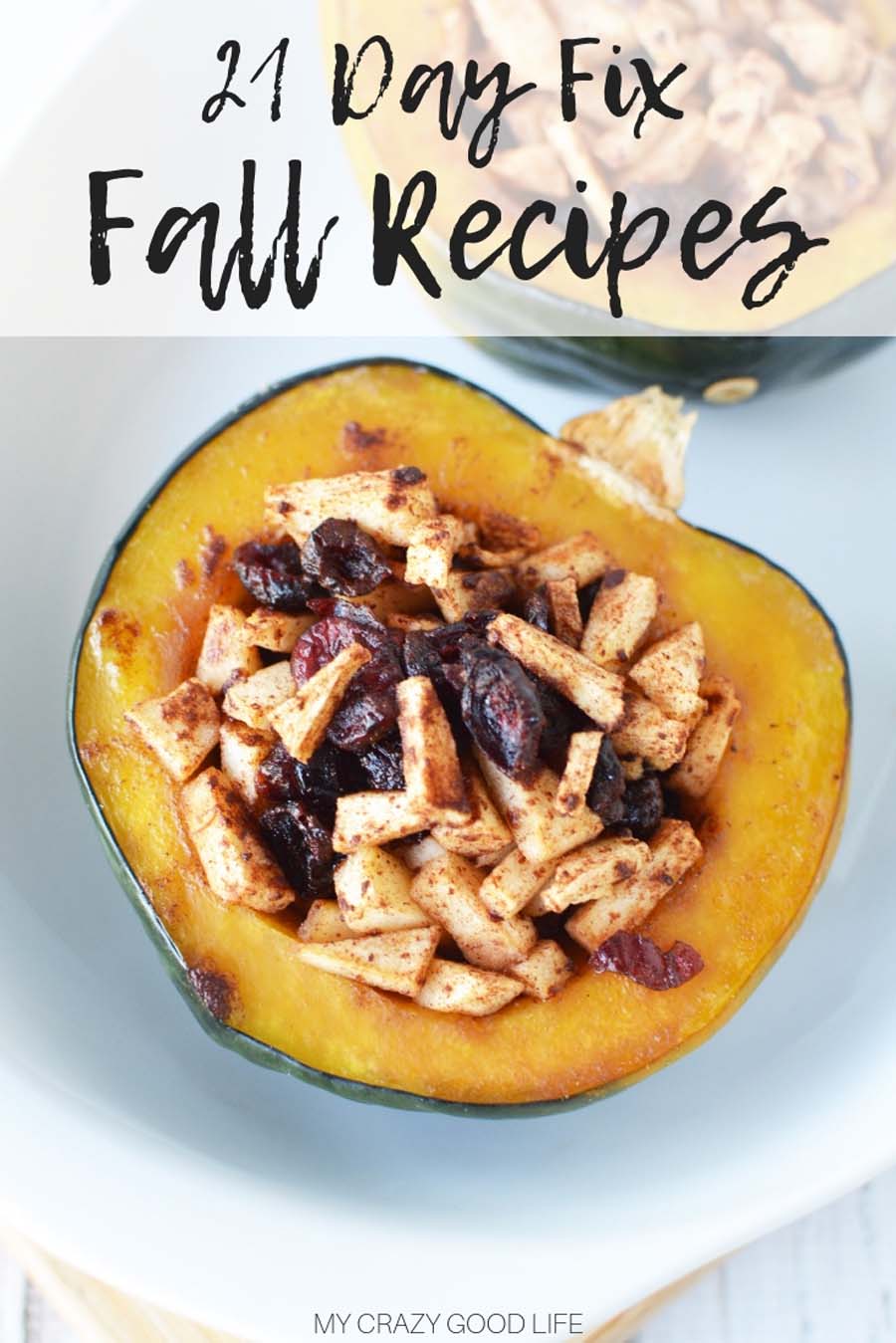 I love making my favorite recipes into 21 Day Fix versions that are equally tasty and healthy, as an added bonus! These 21 Day Fix fall recipes will help curb your cravings by giving you access to your favorite flavors and dishes without all the guilty calories and fat.
21 Day Fix Fall Recipes
I've broken it down by category here so that you can jump right to the section of 21 Day Fix fall recipes that you are looking for…I'd recommend trying them all though, they're delicious!
21 Day Fix Fall Recipes | Desserts
Pumpkin Pie Wonder Whip | My Crazy Good Life 
Sweet Stuffed Acorn Squash | My Crazy Good Life
Pumpkin Spiced Apples | 21 Day Fix Air Fryer Recipe | My Crazy Good Life
Post Workout Snack | Apple Cookie Snacks | My Crazy Good Life
Baked Apples | Confessions of a Fit Foodie
Instant Pot Apple Cinnamon Oatmeal Cups | 21 Day Fix Friendly | My Crazy Good Life
Pumpkin Custard Tart with Bourbon-Nutmeg Coconut Whip |  The Foodie and The Fix
Chocolate Pumpkin Cups | Confessions of a Fit Foodie
Pumpkin Oat Cookies | The Foodie and The Fix
Clean Pumpkin Pie | Confessions of a Fit Foodie
21 Day Fix Fall Recipes | Drinks
Apple Cider Margarita Shooters with Pumpkin Zest | My Crazy Good Life 
Apple Pear Sangria |  My Crazy Good Life
Apple Cider Margarita | My Crazy Good Life
Peanut Butter Pumpkin Protein Shake | Carrie Elle 
Chili Mocha | The Foodie and The Fix
Pumpkin Spice Coffee | Autumn Calabrese
21 Day Fix Fall Recipes | Dinner
Healthy Mississippi Pot Roast | My Crazy Good Life
Healthy Tuscan Chicken Pasta | Instant Pot | Slow Cooker | Stovetop | My Crazy Good Life
Instant Pot Lentil Tacos | Vegan Taco Recipe | My Crazy Good Life
Cream Of Chicken Soup Recipe | Healthy Chicken Soup | My Crazy Good Life
Dairy Free Butternut Squash Soup Recipe | Gluten Free | My Crazy Good Life
Stuffed Pepper Soup | My Crazy Good Life 
Pumpkin and Sausage Lasagna Rolls | The Foodie and The Fix
Pumpkin Pasta with Spicy Sausage | Confessions of a Fit Foodie
Mashed Cauliflower | My Crazy Good Life 
Rotisserie Chicken Soup With Salsa Recipe | My Crazy Good Life
Roasted Shrimp Cocktail with Cranberry-Horseradish Chutney | Confessions of a Fit Foodie
Instant Pot Sweet Potato Chili | My Crazy Good Life
Spaghetti Squash Taco Boats | Instant Pot | Slow Cooker | Oven Recipes | My Crazy Good Life 
Easy Roasted Sweet Potatoes | Carrie Elle
21 Day Fix Soup Recipes | My Crazy Good Life
Crustless Zucchini Quiche | Confessions of a Fit Foodie